This Italian style hot chocolate is rich and smooth and tastes like the real deal…melted chocolate. I love topping mine with a meringue kiss.
Enjoy it with our Nutella and Chocolate Palmiers for a festive treat!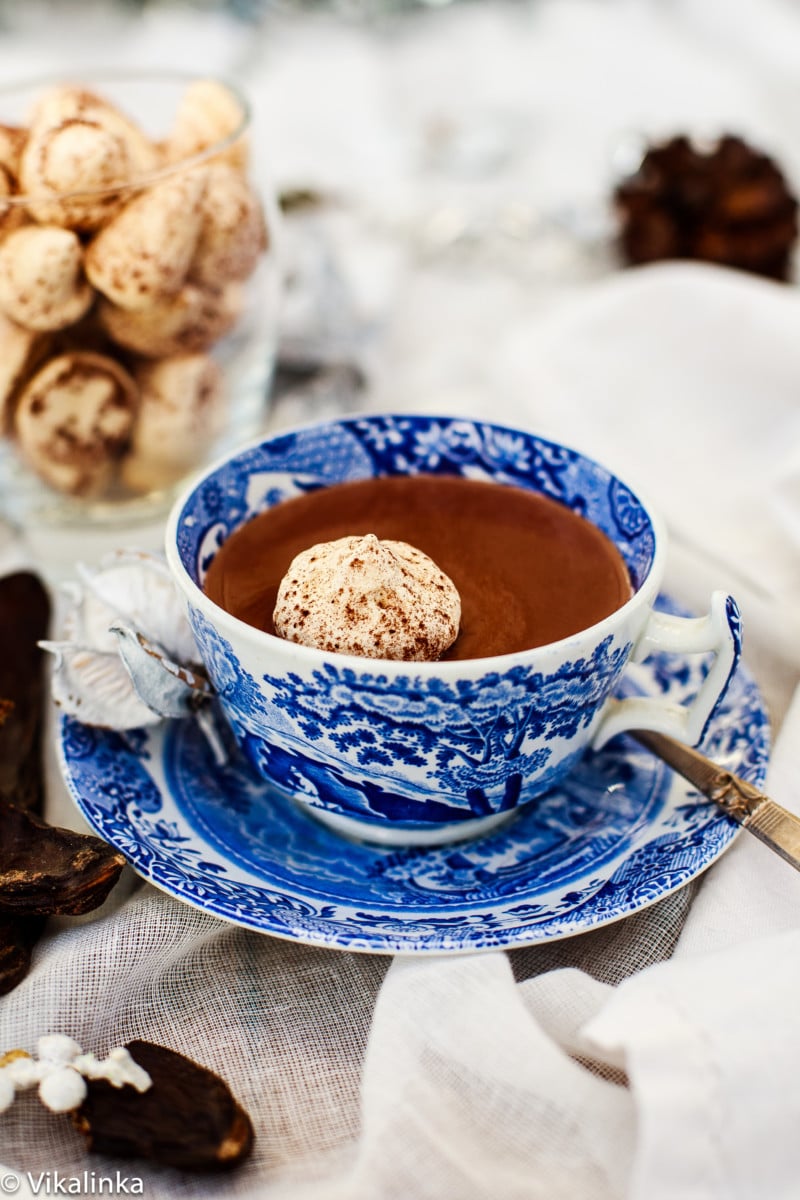 Do you remember the film Chocolat? Have you seen it loads of times like I have? If the answer to those questions is yes, then you will remember the main character's gift.
She was able to unmistakingly guess everyone's favourite chocolate treat. No one could stump her until Johnny Depp's character came along. No matter how often Vianne tried she was wrong, until at the end of the film, Roux (played by Johnny Depp) reveals that his favourite type of chocolate is hot chocolate.
My husband told me today, that having grown up on powdered hot cocoa mix, he could never understand how Roux could possibly choose hot chocolate when there are truffles, dark chocolate, milk chocolate, white chocolate, fruit and nut bars in the world.
Hot chocolate doesn't even taste like chocolate! Fair enough, he stayed true to his indignation until one day he had hot chocolate in Italy, which tasted like…well melted hot chocolate.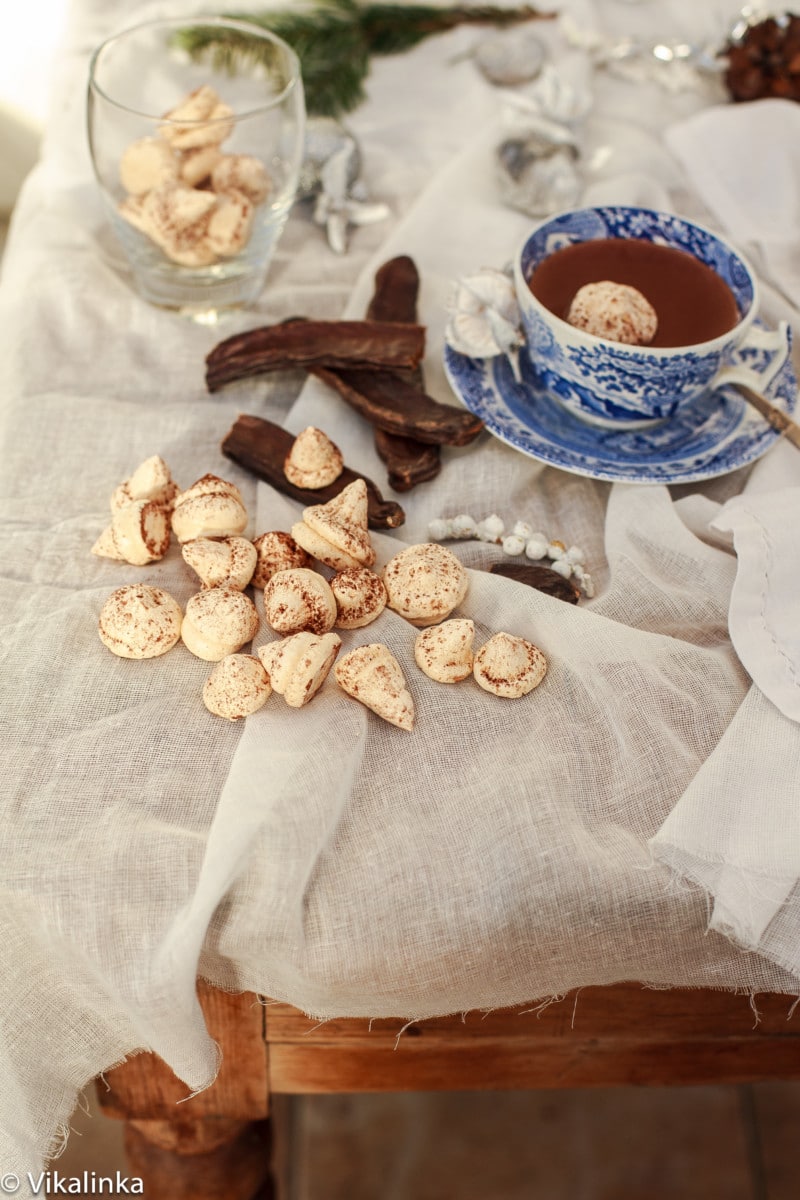 What is Italian Hot Chocolate?
Believe me, friends, the recipe I am sharing today tastes just like in the best Italian coffee bar.
It's smooth and rich and tastes absolutely divine. To get the authentic flavour and consistency you'd get in Italy, you will need to melt real chocolate. No cocoa powder is used in this recipe.
Since it is very rich, the serving size is quite small. Pour it in pretty tea or espresso cups and enjoy!
The recipe is a delicious mix of dark chocolate, milk and some warming spices. I wanted to make this drink especially Christmassy, so I used cinnamon, nutmeg, ginger, cloves and vanilla to perk it up. It is spiced with all the right things and topped with a gorgeous meringue kiss.
Say what! I know it's genius but the idea belongs to the amazing Meringue Girls. The things they do with meringue are so cool!!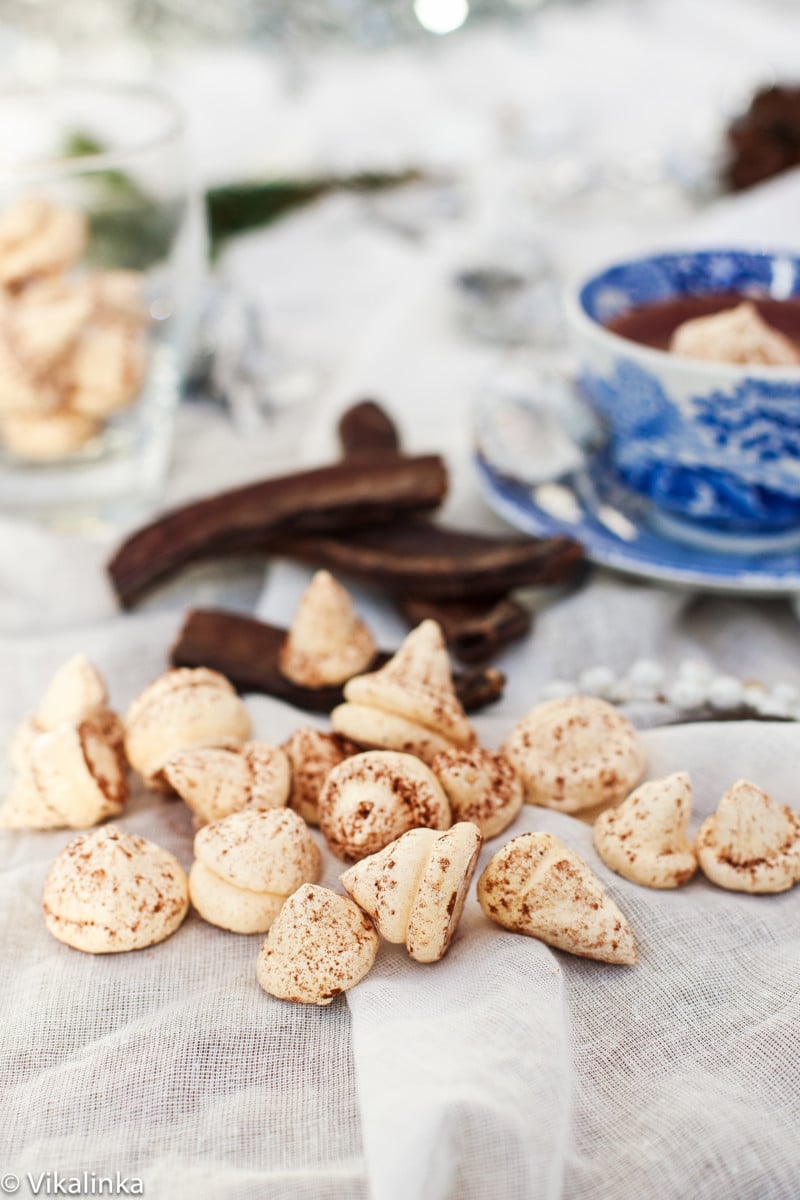 We all know what meringue tastes like but when you drop a meringue kiss into a steaming cup of hot cocoa, Christmas magic happens. The inside melts and turns into a creamy marshmallow encased in a thin crispy kiss-shaped shell.
There is nothing like it! You have to try it for yourself. My kids were absolutely thrilled that this reward was waiting for them at home on the last day of the school term!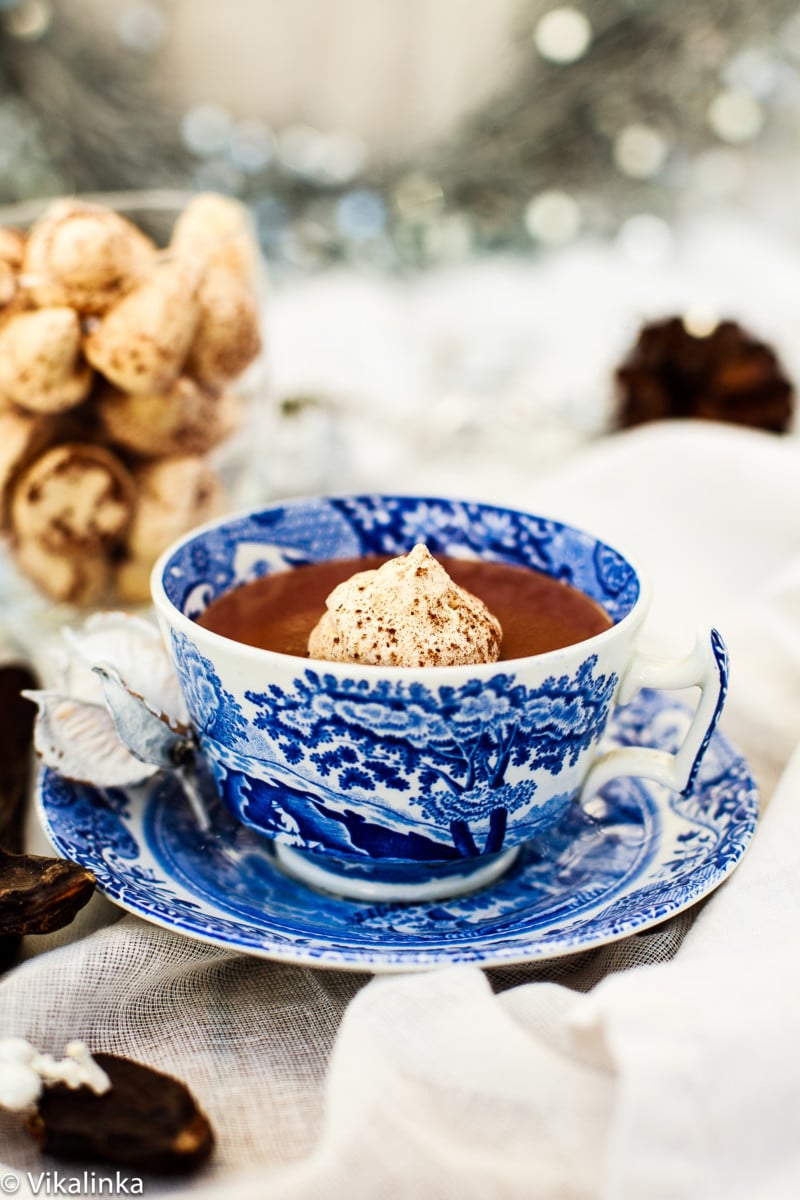 Favourite Festive Treats to Serve Alongside: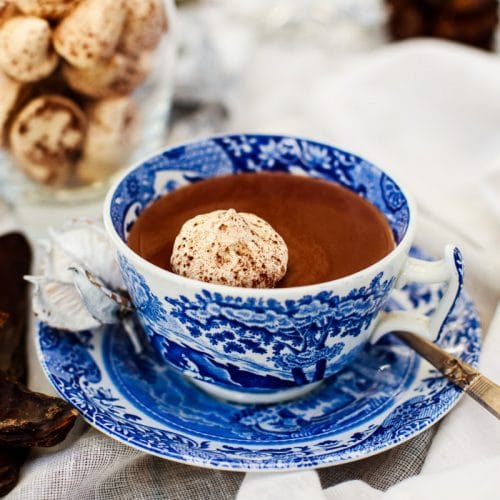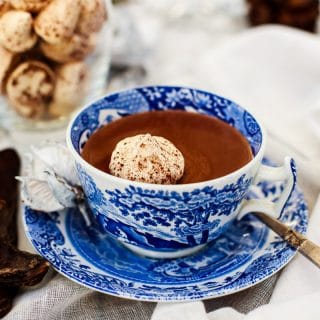 Italian Hot Chocolate with Floating Meringue Kiss (Christmas Edition)
Makes 4 servings of hot chocolate and 35 bite-sized kisses. Meringue kisses could be prepared well in advance and stored in an airtight container.
Print
Pin
Rate
Ingredients
For Meringue Kisses
150g/5

egg whites

300g/1 ½ cups

fine/caster sugar

1

tsbp

cocoa powder

for dusting
For Hot Chocolate
500ml/2 cups

whole milk

2

tbsp

brown sugar

1

tsp

cinnamon

¼

tsp

nutmeg

1/

tsp

ginger

¼

tsp

cloves

1

tsp

vanilla

100g/3.5 oz

dark chocolate

chopped
Instructions
For Meringue Kisses
Line a baking sheet with parchment paper.

Preheat oven to 400F/200C. Spread sugar on your baking sheet and heat it in the oven for 5 minutes until the edges start to melt.

While your sugar is in the oven put your egg whites in the bowl of a stand mixer (it should be grease-free) and start whisking first on slow and then on high speed until stiff peaks form.

Your sugar should be ready by now. Take it out of the oven and turn the temperature to 200F/100C.

With the motor of the stand mixer running start adding hot sugar to the egg whites 1 tbsp. at a time, avoid large caramelised clumps of sugar. Hot sugar dissolves much quicker in egg whites. Your goal is to have a smooth, free of grit mixture. Rub a small amount between your fingers to make sure sugar is completely dissolved.

Load the meringue mixture into a piping bag and pipe a bite-sized kisses using a plain tip or a star tip. It's your choice. Squeeze, pull and release. Don't worry if they are not perfect and uniform. Mine weren't!

Dust a tablespoon of cocoa over meringue kisses.

Bake for 40-60 minutes depending on the humidity outside. As soon as you can peel them easily off parchment paper they are done.
For Hot Chocolate
Pour milk in a medium saucepan, add spices and vanilla.

Bring to a simmer slowly allowing milk to infuse with spices.

When milk is just about to simmer (you see first small bubbles) add chopped chocolate and stir with a wire whisk, continue stirring until chocolate is completely melted and well incorporated into milk. It will take about 2 minutes.

Immediately take off the heat and serve.

Pour in small cups and top with a meringue kiss.