Making homemade eggnog is so easy with this recipe, I doubt you'll ever go back to the store bought stuff!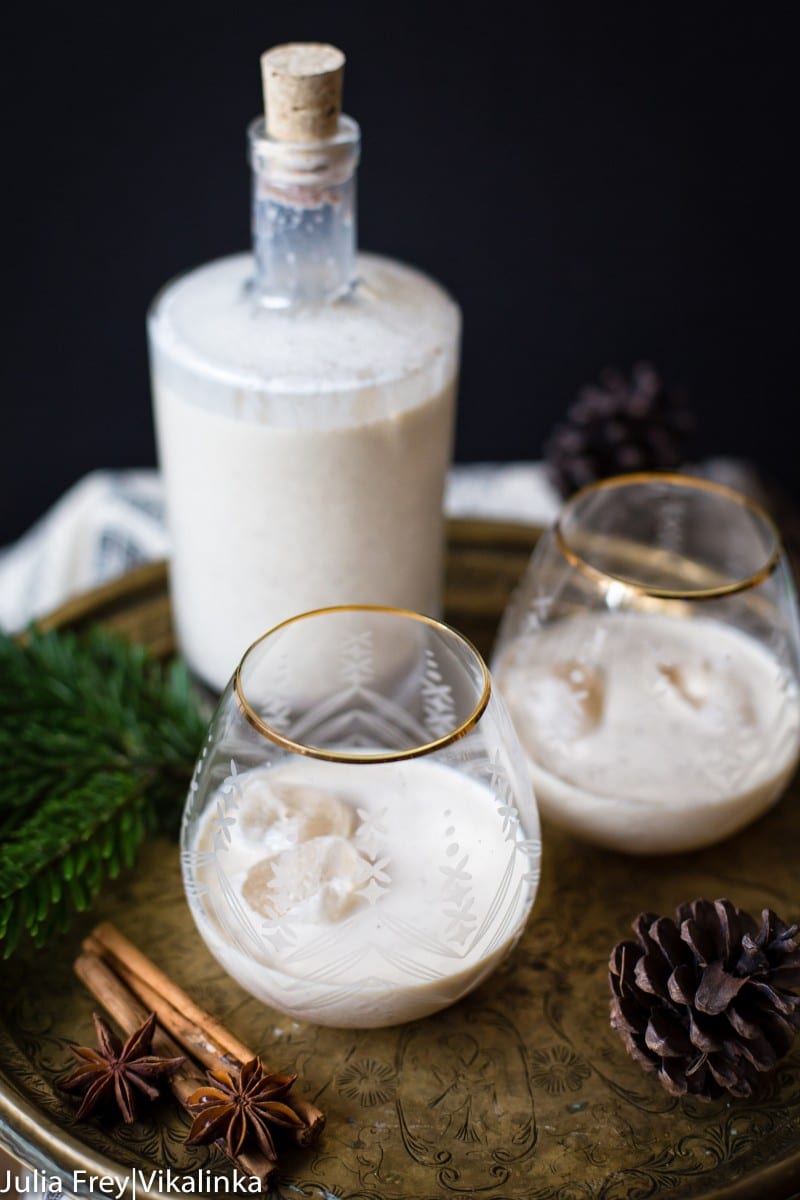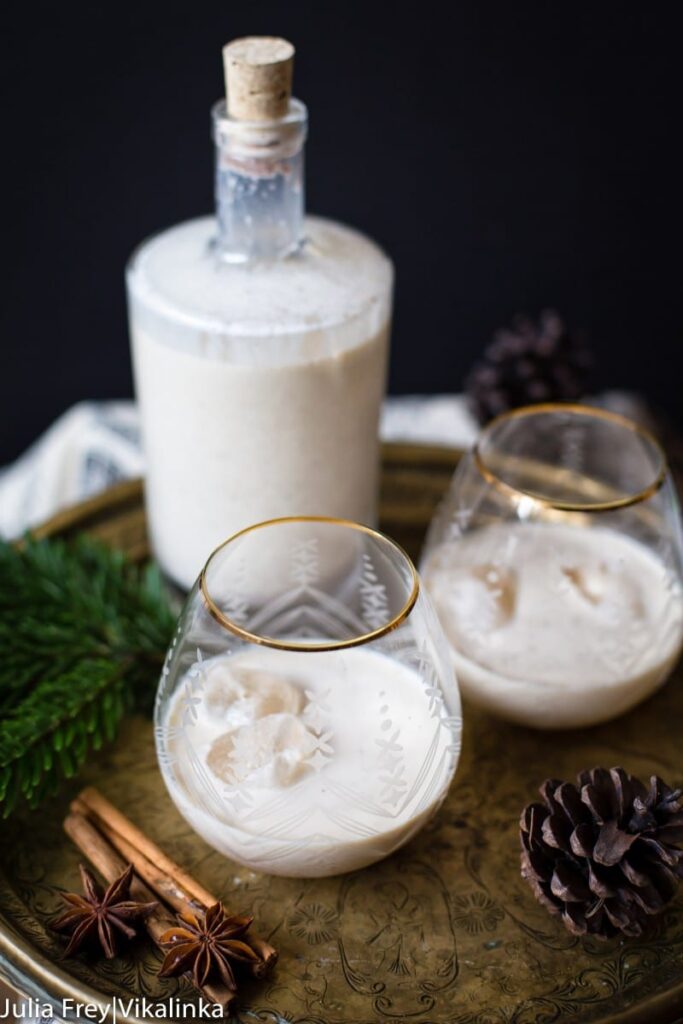 In roughly four weeks from now we will be celebrating our second Christmas in England (hmmm it was in 2012, now will be 8th!!) and so far this December has been much smoother than the last one.
A year ago I was completely lost. As Christmas season was approaching I felt nothing but anxiety over where to do my Christmas shopping. How to stock up on seasonal goodies and keep them in a tiny London flat. And lastly I grieved the absence of all Canadian holiday fare. Especially the last one.
First of all, do you know that English grocery stores do not sell cartons of eggnog? Are you as appalled as I was a year ago? Do you share my love for eggnog? If you do you will understand what an important ingredient it is to the holiday cheer!
You will also understand how crucial it is to have a great eggnog recipe. I've tried a few last year and made some pretty incredible drinks. Alas, they didn't quite taste like the eggnog we were all craving. My morning coffee was downright unconsolable.
Yesterday I threw all caution to the wind, which is my custom to do and created my own recipe. The results were…well let's just say as soon as I finished making it I left the house in a sprint to purchase a bottle of brandy because the taste was just perfect!
What gives eggnog its traditional taste?
What I discovered is that key to success is the right blend of spices and that's very personal.
The milk and the eggs are just the carriers of the taste. Cinnamon, vanilla, nutmeg, etc are what makes it taste like the eggnog we love.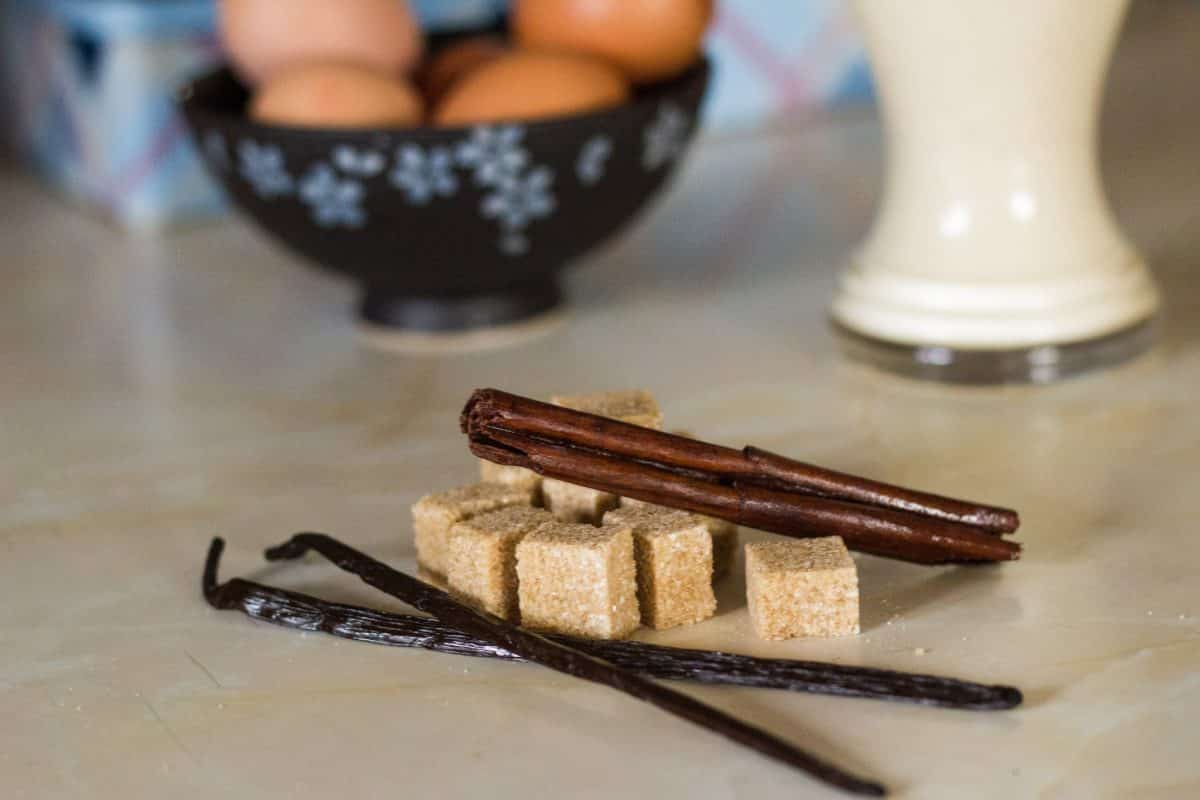 The recipe that I am about to share appeals to my taste but please feel free to adjust the amounts of various spices.
How do you make homemade eggnog?
Infuse the whole milk with wonderful spices like cinnamon, vanilla, nutmeg and mixed spice.
Separate egg yolks from egg whites. For this recipe we are only using egg yolks.
Whip the egg yolks with sugar until pale and frothy
Combine the egg mixture with the infused milk.
Strain the eggnog and add light cream, chill.
How to make the eggnog and not milky scrambled eggs
This homemade eggnog recipe is quite straightforward except for step 4, where you combine the eggs with the hot milk.
What usually happens when we apply heat to the eggs is they get cooked! Our main goal here is to "cook" the eggs, so they are safe to eat but not to end up with a batch of milky scrambled eggs. Trust me it's very easy to do and happens QUICKLY!
Here is how to avoid that. With your mixer still running slowly add half of the milk to the egg mixture to temper the eggs, blend well. Tempering should prevent the eggs from curdling in the next step.
Ways to enjoy your homemade eggnog
Enjoy with a dash of brandy or skip it if you prefer the non-alcoholic taste.
My absolute favourite way to drink eggnog is in my morning coffee.
Nothing can be more satisfying on a cold winter morning than sipping a cup of eggnog latte while watching your littles lazily eating breakfast by the light of the Christmas tree. Merry Christmas!!
More Christmas drink recipes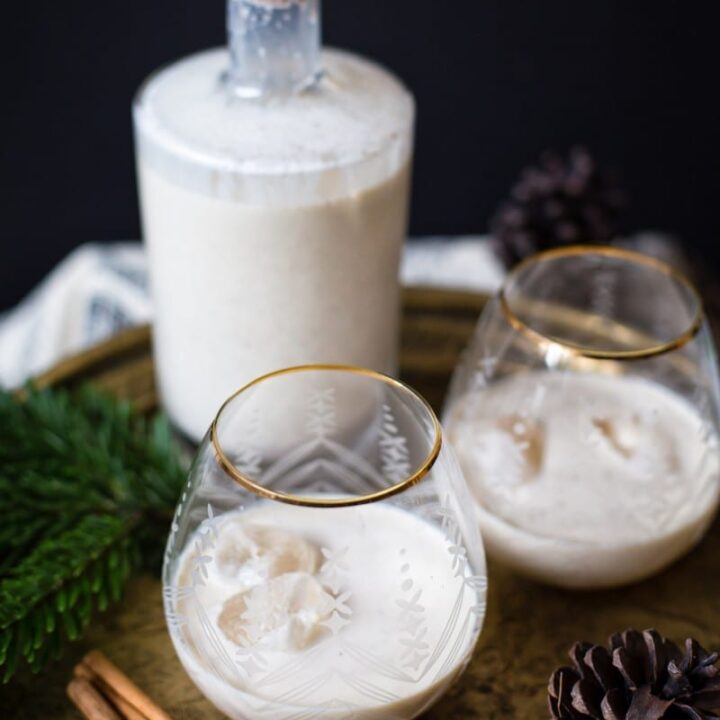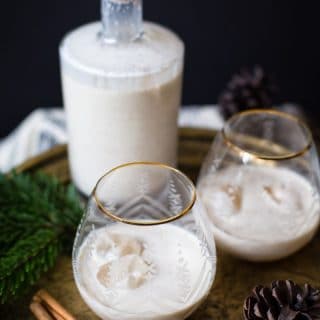 Ingredients
4

egg yolks

2

cups

/500ml whole milk

½

cup

/100g sugar

2

cups

/500ml half and half/single cream

1

vanilla bean

½

tsp

nutmeg

1

tbsp

mixed spice

a blend of cassia, coriander seed, caraway, nutmeg, ginger, cloves

1

stick

cinnamon
Instructions
Pour 2 cups of whole milk in the heavy bottomed sauce pan, slit open your vanilla bean and scrape out the seeds and add them to the milk, along with the cinnamon stick and the rest of the spices. Heat the milk over a low heat until the milk is hot and steamy and about to boil. You don't want the milk heating process to happen quickly because the milk needs time to soak up all the wonderful flavours.

While the milk is getting infused, separate your egg yolks from the egg whites and reserve the egg whites for a different use or freeze them. Whip your egg yolks with sugar in a medium sized bowl until the mixture is much paler in colour and doubled in volume. When your milk is ready take it off the heat and remove the cinnamon stick.

With your mixer still running, slowly add half of the milk mixture to the egg mixture to temper the eggs, blend well. Tempering should prevent the eggs from curdling in the next step. Then empty the contents into the saucepan with milk and heat through while whisking continuously on low heat. It took mine 2 minutes. Take off the heat, strain through a fine sieve to ensure eggnog is smooth and silky, add single cream to it and chill until cold.
Nutrition
Calories:
393
kcal
|
Carbohydrates:
25
g
|
Protein:
6
g
|
Fat:
31
g
|
Saturated Fat:
18
g
|
Polyunsaturated Fat:
1
g
|
Monounsaturated Fat:
9
g
|
Cholesterol:
227
mg
|
Sodium:
69
mg
|
Potassium:
208
mg
|
Fiber:
1
g
|
Sugar:
21
g
|
Vitamin A:
1116
IU
|
Vitamin C:
1
mg
|
Calcium:
175
mg
|
Iron:
1
mg
Post originally published on 12/2012, updated on 11/2018