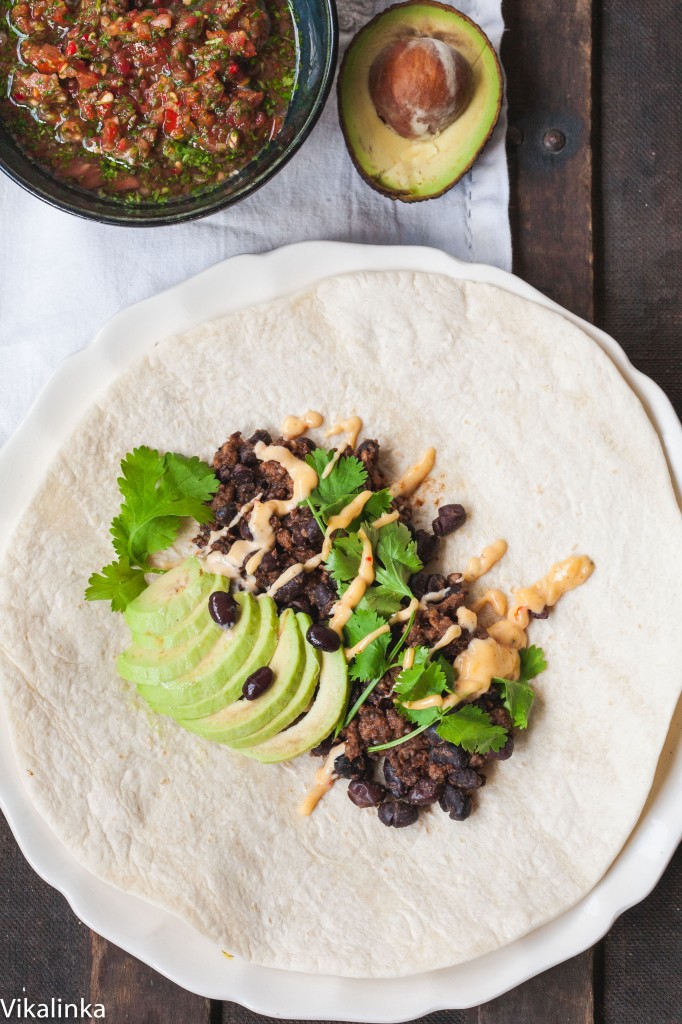 As long as I live I will be thankful to burritos and Mexican food in general. After all, it was them that my children accepted as food they were willing to eat without putting up a huge fuss.
The first food I was willing to feed them without sacrificing nutritional benefits. Who would've guessed that a food blogger's kids would be the pickiest eaters known to man?
Their first few years gave me a lot of agony. Thankfully, it's all in the past now and they happily eat nearly everything, but it was burritos that gave me the first glimpse of hope.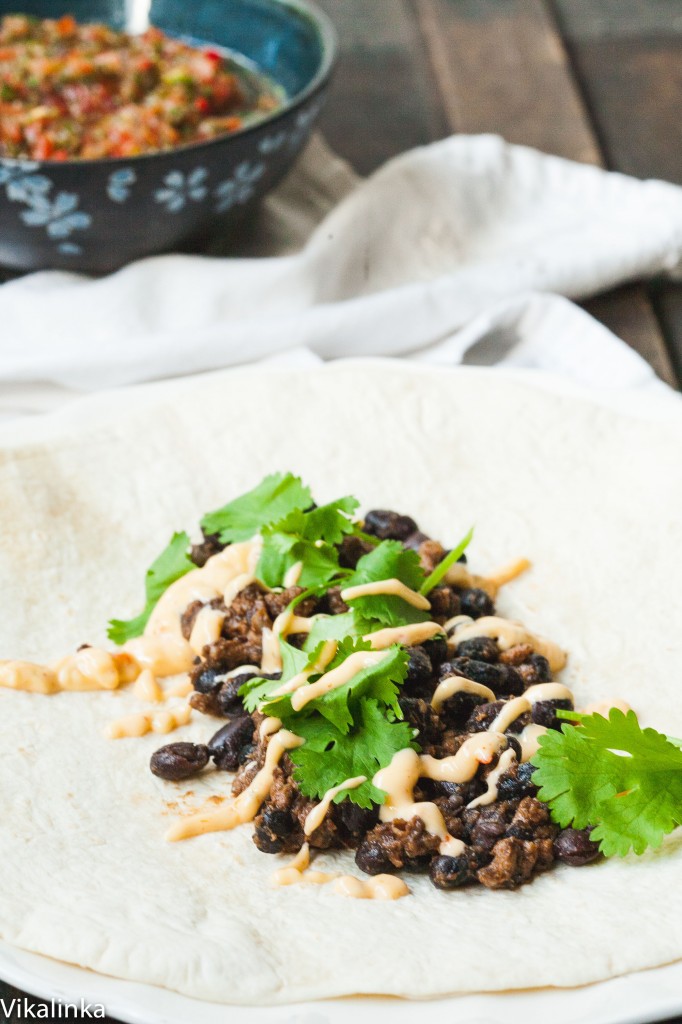 I always get a few cheers from them when I announce that burritos are on the menu. Needless to say, we have them often. Really often.
Based on the frequency it appears on our dinner table, I am quite shocked that I never shared this simple recipe I developed over time.
No pre-made taco seasoning or anything unnatural is hidden in these tacos, just meat and spices. It comes together so quickly and tastes so beautifully your family will think you ordered it from a restaurant!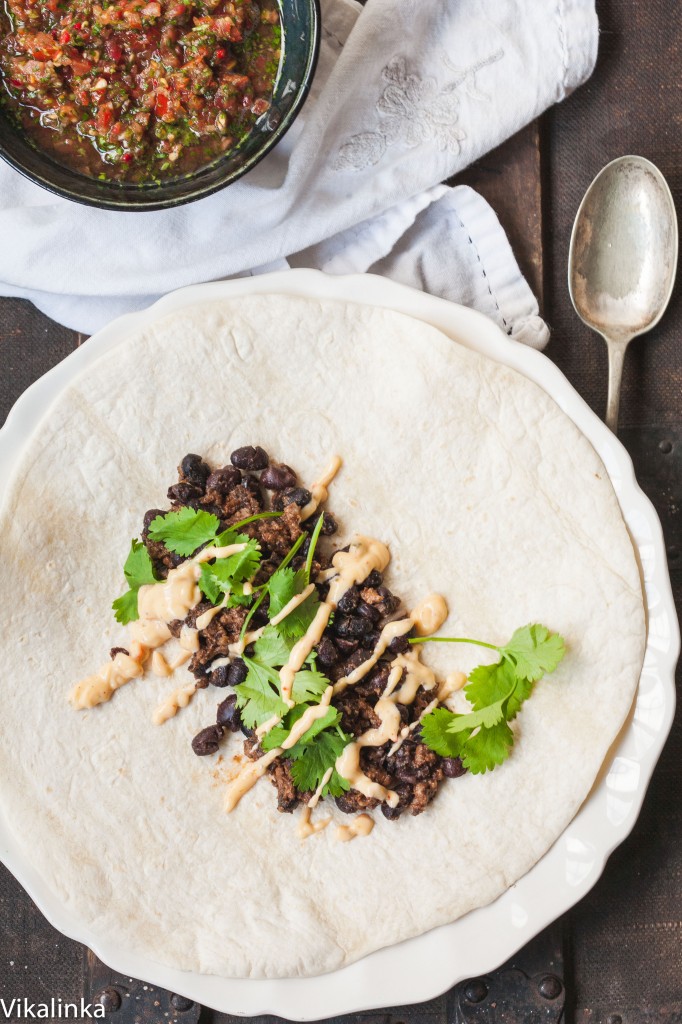 Two things that always accompany our burritos are homemade pico de gallo and my favourite guacamole recipe. I have to admit they were not love at first bite for my children but now they can't even imagine tacos or burritos without those delicious dips, and neither can I!
I do trick them by blending black beans into the beef filling. I used to mash the beans with a spoon but I got a lot of angry looks and complaints, so I opted out for a sneaky way of getting more fibre into my children's diet.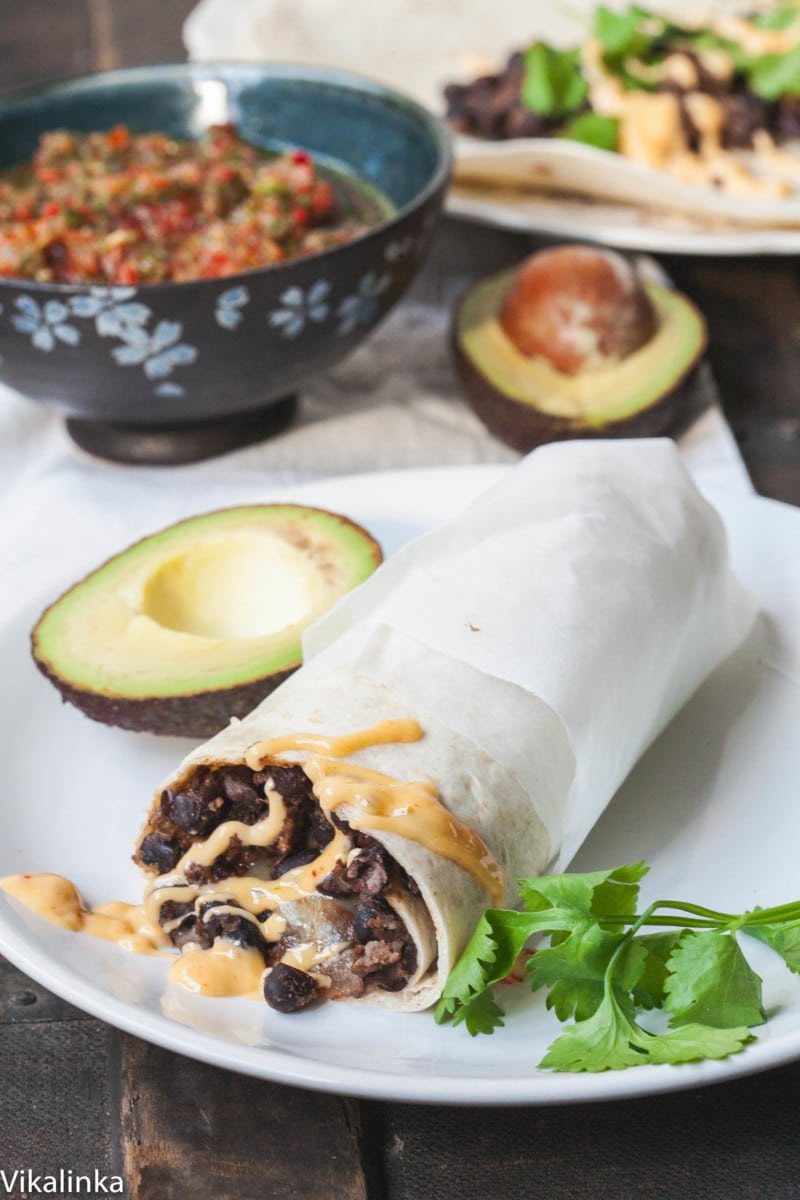 Also, blended black beans improve the texture of the beef filling by making it creamy and silky instead of lumpy!
They never know and Brad and I are so much happier and calmer this way. One day I will reveal "the big secret" to my kids but not today or any time soon.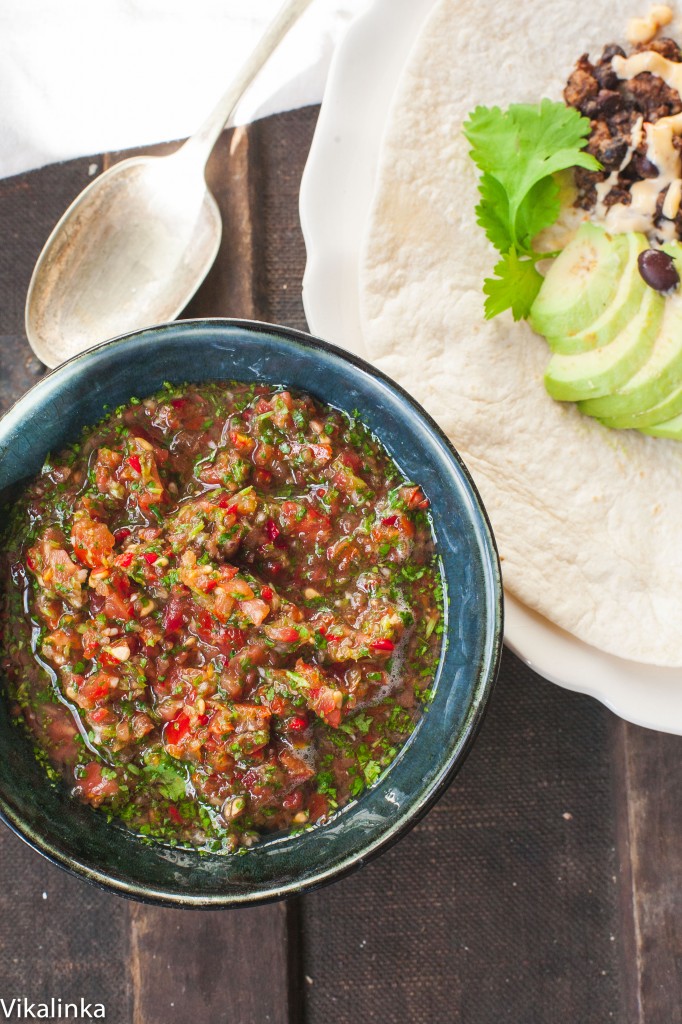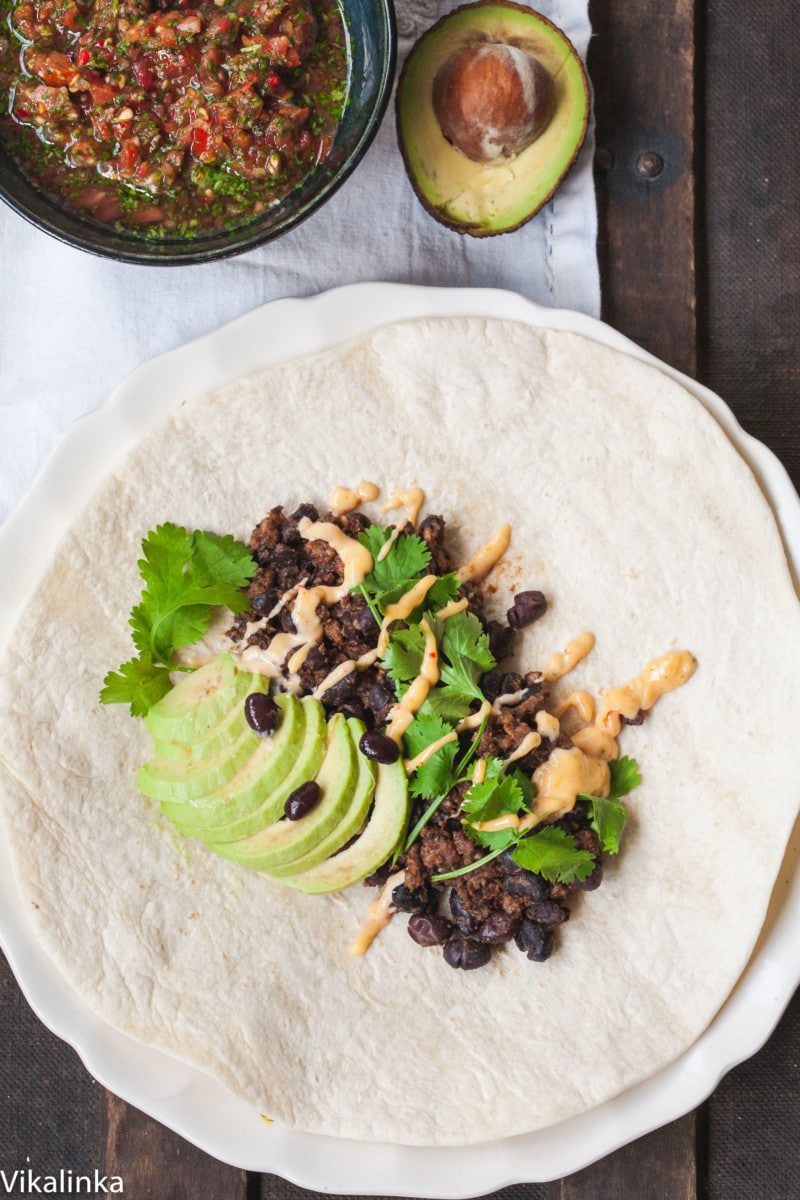 Ingredients
For the Beef and Black Bean Filling
2

tbsp

olive oil

1

lbs

ground beef

1-

onion

2-3

garlic cloves

1

tbsp

tomato paste

1-2

tbsp

cumin

2

tsp

coriander

1/2-1

tsp

chilli powder

1/2

tsp

chipotle paste

dry or canned

salt

125ml/1/2

cup

water

350g/1 1/2 cup

canned black beans

half of it blended in food processor or blender, another half reserved for optional add-ons.
For Pico de Gallo
4

tomatoes

large

1

red onion

medium

1/2-1

red chilli

25g/1

cup

cilantro/coriander

packed

1-2

garlic cloves

1/2

lime- juice of

salt to taste
For Peri Peri sauce
125ml/1/2 cup

cup- mayonnaise

light

1-2

tsp

peri peri sauce or any other hot sauce
Burrito add-ons (optional)
Sliced avocado

Grated Cheese

Corn

Cilantro

Black Beans

Salad greens
Flour or Corn Tortillas-8 medium
Instructions
Heat the olive oil in a large pan and dice the onion.

Cook the onion over low heat for 5-7 minutes, add minced garlic and cook for 2 minutes longer.

Add ground beef and brown until no longer pink.

Add cumin, chilli powder, chipotle peppers, salt and tomato paste, stir to combine.

Process half of the black beans into a paste in a food processor with a splash of water.

Add the black bean paste and 1/2 cup of water, turn the heat up and bring to a boil.

Lower the heat, cover with a lid and let it simmer for 30 minutes stirring occasionally.

While the beef is cooking make your Pico de Gallo.

Add a quartered onion, garlic, cilantro and a fresh, deseeded chilli to the bowl of a food processor and pulse until roughly chopped.

Add tomatoes, salt and lime juice. Pulse until desired consistency. Alternatively you can finely dice all ingredients for a more authentic look but who has the time!

Your meat and bean filling is ready when it's no longer soupy.

Taste for the right combination of spices and salt, adjust your seasoning if needed and take off the heat.

Mix light mayo with peri peri sauce.

Assemble your burritos by scooping 1/4 cup of beef and black bean filling and topping it with a variety add-ons listed in the ingredients. Drizzle with peri-peri sauce and roll your burrito.

Serve with Pico de Gallo and guacamole.
Nutrition Facts
Chipotle Beef and Black Bean Burrito with Peri Peri Sauce
Amount Per Serving
Calories 377
Calories from Fat 225
% Daily Value*
Fat 25g38%
Cholesterol 57mg19%
Sodium 735mg32%
Potassium 717mg20%
Carbohydrates 20g7%
Protein 18g36%
Vitamin A 1117IU22%
Vitamin C 25mg30%
Calcium 212mg21%
Iron 4mg22%
* Percent Daily Values are based on a 2000 calorie diet.