Crunchy crust and an airy open crumb this walnut and raisin sourdough bread will exceed your expectations for what a proper loaf could be! Let me introduce you to a grown up version of cinnamon raisin toast!
Enjoy a slice of this sourdough bread with our homemade Maple Peanut Butter or Honey Cinnamon Cashew Butter. A match made in heaven!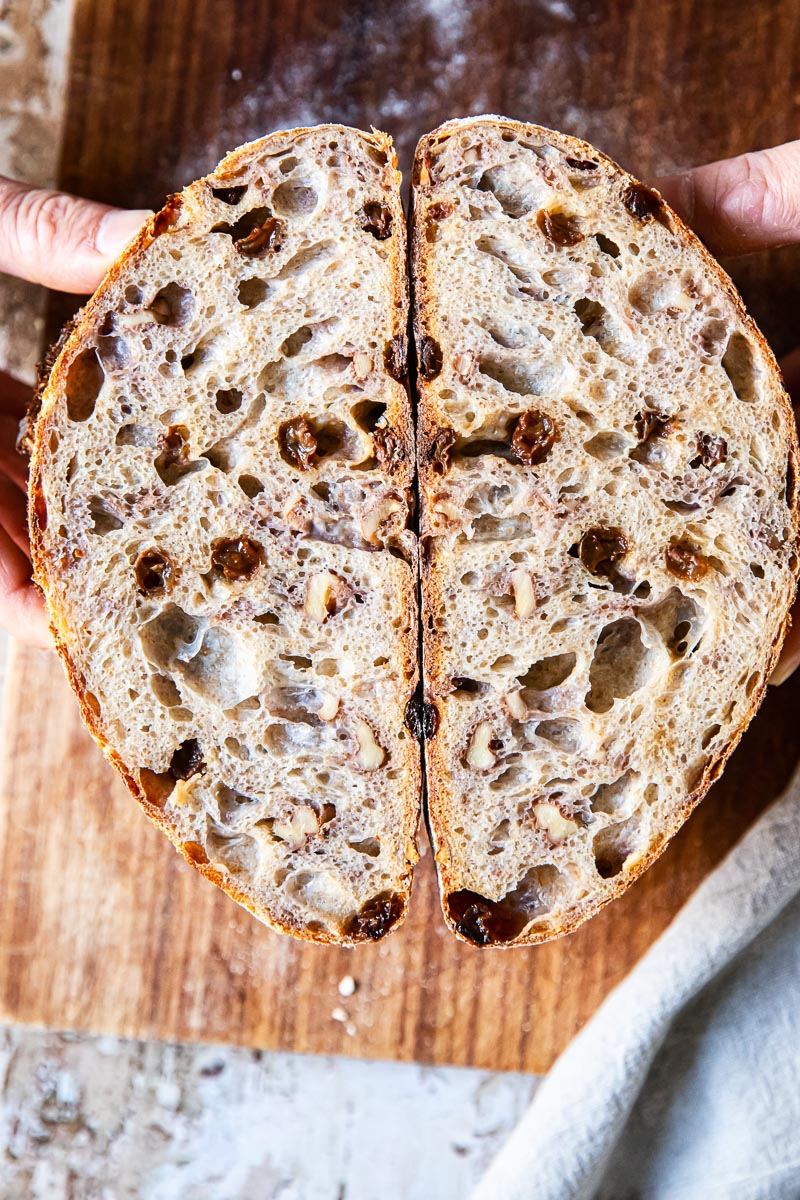 If you've been on a similar sourdough journey for the last year, you are no doubt ready to move past the basic plain bread into the area of experimentation. The first experiment for me was to explore sourdough pizza, which my kids loved!
Sourdough bread with its tangy taste and and incredibly delicious crust is also just a blank canvas begging to be played with. Let's take a basic sourdough and turn it into an artisanal bread we usually only admire on the shelves of professional bakeries.
My way of doing so is studding the airy interior of the loaf with walnuts and raisins. A very easy yet a delicious variation on the classic, which is delicious with sweet or savoury toppings!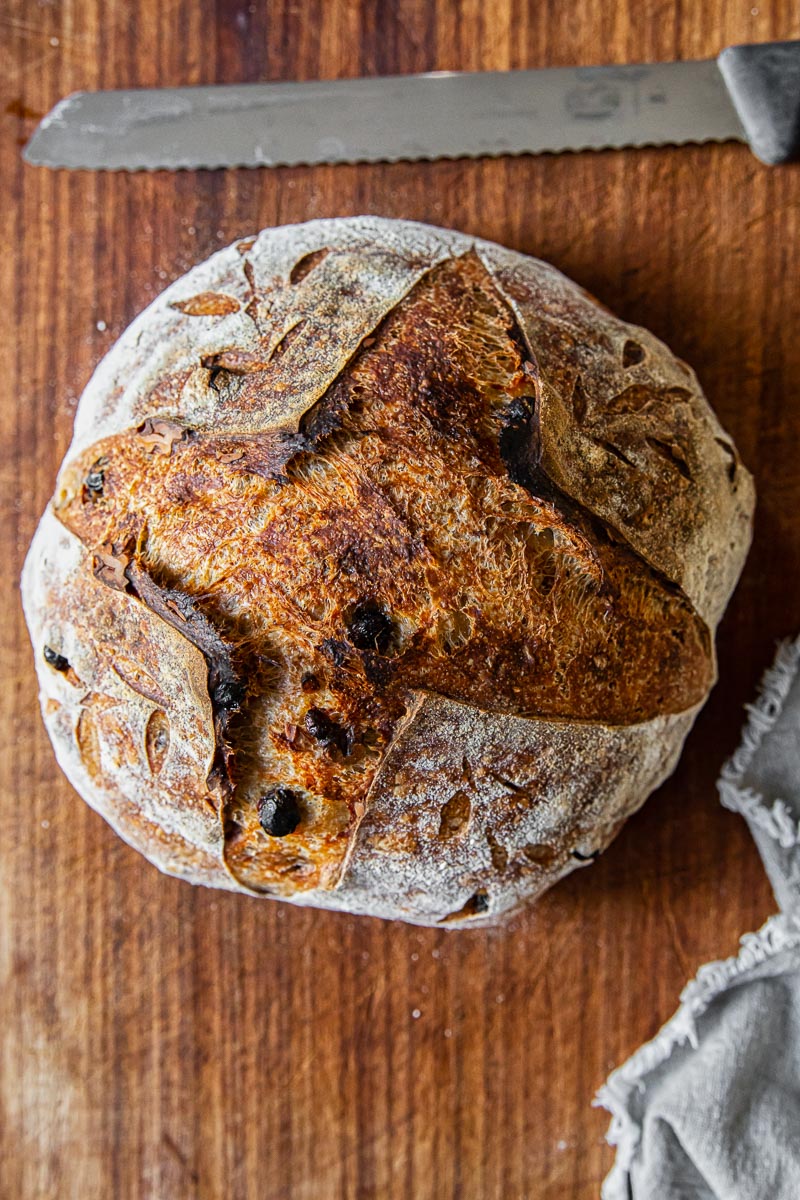 The Recipe and Method
If you've mastered the basics of the sourdough, you will be very happy to know that this bread is really no different. For those of you coming here with no prior knowledge, I suggest reading my in depth article Sourdough Bread for Beginners.
There you can learn everything you need to know from how to build a sourdough starter to the purpose of stretch and folds. You can also watch a short video on how to shape a simple boule ( a round loaf).
Essentially all you will need for the walnut and raisin bread is a good quality bread flour, water, salt, walnuts and raisins. I am assuming you've got your starter at the ready!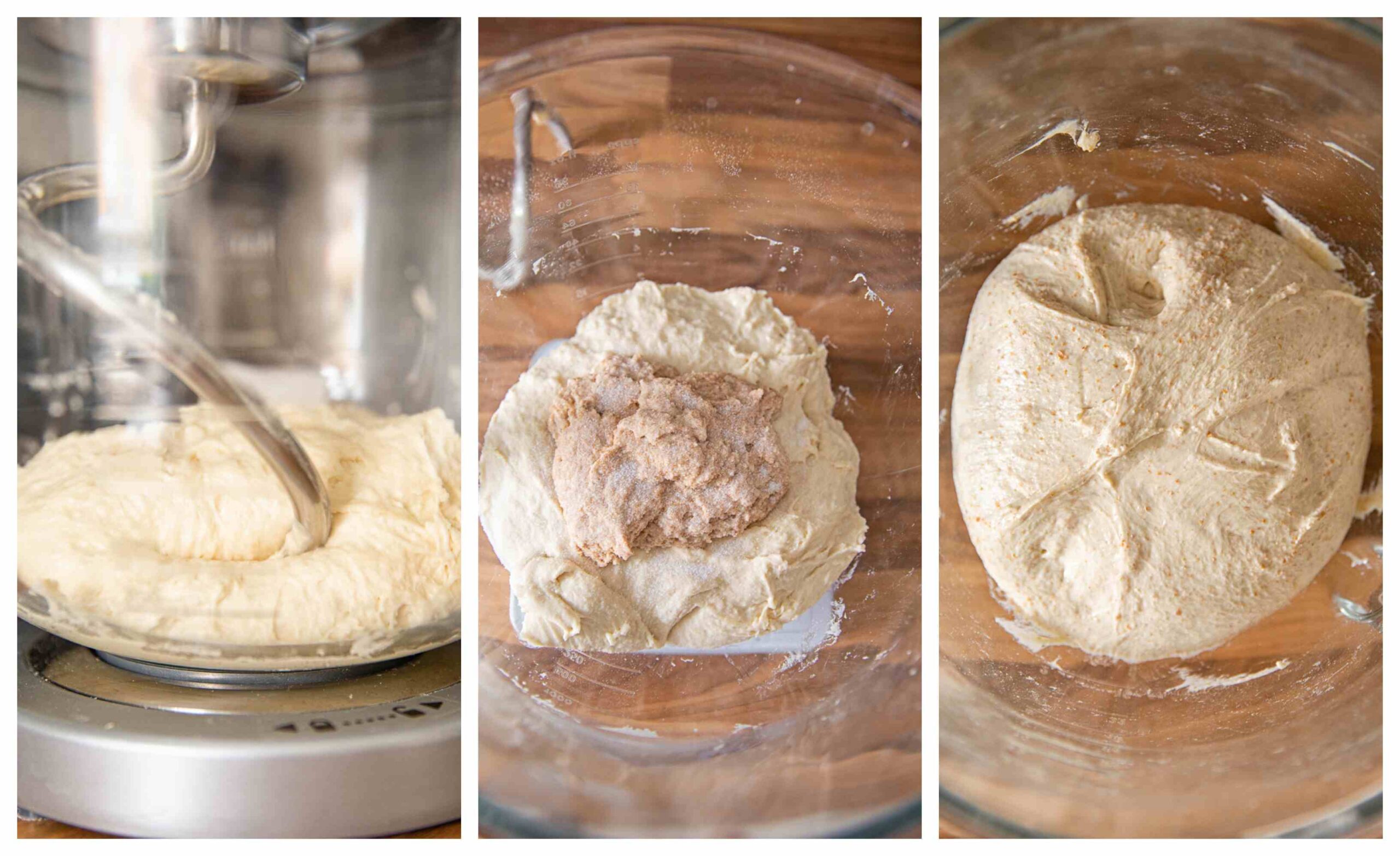 Although not necessary, I like to feed my starter with whole wheat flour and use all white flour for the rest of the loaf. I like a little bit of texture and fibre the whole wheat starter brings to my bread.
Whole wheat flour also activates your sourdough starter quicker than white flour.
Top Recipe Tip
It's very important to remember to soak your raisins in hot water for at least 1 hour before adding them to the sourdough. They need to rehydrate, otherwise they will absorb the moisture from the dough and make it very, very stiff.
Even with soaking, the raisins continue to draw the moisture out and your dough will be slightly firmer than usual. However it doesn't seem to affect the texture and makes it easier to score a pretty design!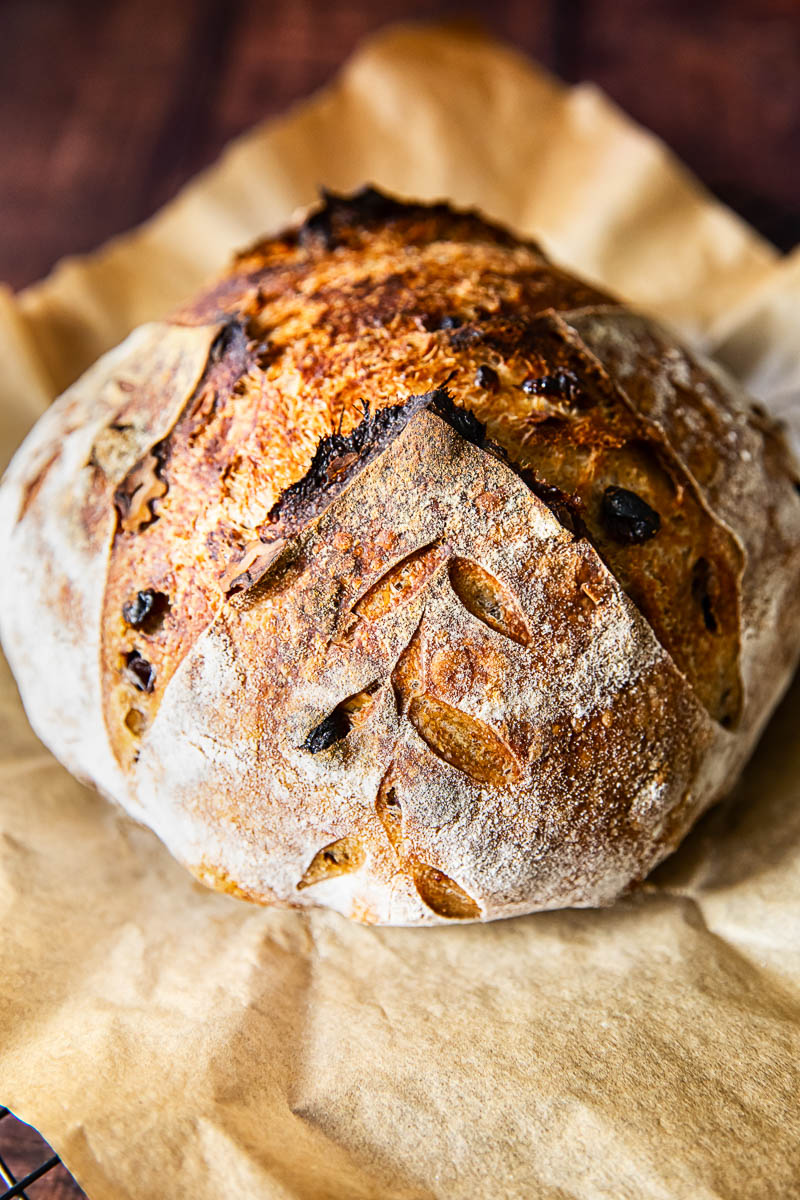 Favourite Bread Recipes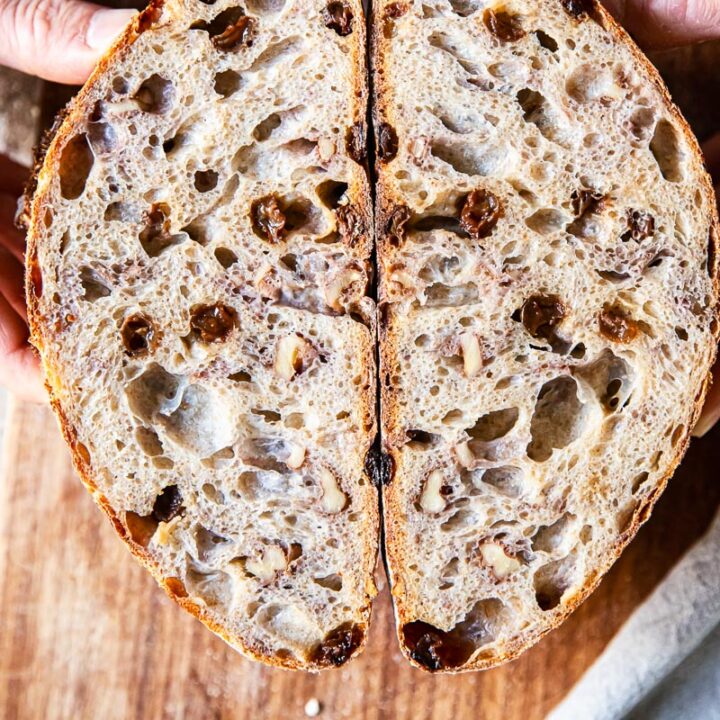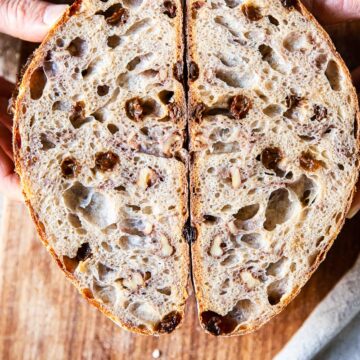 Walnut and Raisin Sourdough Bread
Crunchy crust and an airy open crumb this walnut and raisin sourdough bread will exceed your expectations for what a proper loaf could be!
Print
Pin
Rate
Ingredients
100g/1/2 cup

activated sourdough starter

500g/4 cups

white bread flour

350ml/1 ⅓ cup + 1 tbsp

water

9g/ ½ tbsp

salt

50g/1/4 cup

raisins

50g/1/3 cup

walnuts

chopped
Instructions
Soak the raisins in 2 cups of hot water for 1-2 hours. Meanwhile, in a large mixing bowl combine the flour and water, cover with plastic wrap and let it sit for 30 minutes. Then add the starter and salt, mix to combine, cover with a plastic wrap and let it sit for 30 minutes longer.

Then uncover the dough and perform the first set of stretch and folds by picking up the dough with your hand, stretching it as far as it will go without tearing and folding onto itself, then rotate the bowl 45 degrees, pick up another bit of the dough, stretch and fold again, then rotate 45 degrees again and repeat, rotate and repeat for the last time. You should stretch and fold your dough 4 times in total per set.

Perform 3 sets of stretch in fold 30 minutes apart. Before you start the last set of stretch and fold add in your soaked and drained raisins and chopped walnuts and work them into the dough during the stretch and fold. Be gentle. Cover the dough with plastic wrap and let it ferment for 5-7 hours. (The fermentation process might happen quicker or slower depending on how warm or cold your house is.) By the end of of it, the dough should be slightly rounded on top and form a few bubbles on the surface. It will NOT double in size.

Carefully transfer the dough onto a floured surface and shape into a ball by tucking the sides inward. You want to create tension on the surface of the dough. Then carefully transfer the shaped boule into the proofing basket seam side up. Make sure your proofing basket is generously dusted with rice flour, this will ensure the dough doesn't stick to it. Cover with a tea towel and refrigerate for 14-16 hours. I usually do it overnight. (Watch the shaping technique here)

The following day preheat the oven with the Dutch oven inside to 450F/220C for one hour. Turn the dough out of the banneton to a parchment paper lined sheet, then score with a sharp blade. Transfer the bread to the preheated Dutch Oven by carefully picking it by the corners of parchment paper, cover with a lid and bake for 30 minutes. Then take the lid off and bake for 15 minutes longer.

Cool the sourdough bread on a wire rack for at least 4 hours before slicing.
Nutrition
Calories:
159
kcal
|
Carbohydrates:
30
g
|
Protein:
4
g
|
Fat:
3
g
|
Saturated Fat:
1
g
|
Polyunsaturated Fat:
2
g
|
Monounsaturated Fat:
1
g
|
Sodium:
80
mg
|
Potassium:
78
mg
|
Fiber:
1
g
|
Sugar:
1
g
|
Vitamin A:
1
IU
|
Vitamin C:
1
mg
|
Calcium:
10
mg
|
Iron:
2
mg