This roasted butternut squash and sweet potato soup is the recipe that is a must try on chilly days!

I ate a lot of soups growing up in a Russian household. In fact lunch time meant soup and I didn't like it, not one bit. I especially couldn't stand vegetable soups, they were my mortal nemesis.
I remember picking out meat and slurping up the broth and then hearing my mom say, "What's that garden you left in your bowl?" Sigh, growing up is hard. Luckily I didn't stick to my 10-year old tastebuds.
I also learned to make more interesting soups. I am super excited that roasted butternut squash and sweet potato soup is waiting for me in the fridge right now because nothing makes me feel cozier when the rain is at it again. And I am not feeling so hot.
Today calls for some cozy squash soup and Netflix!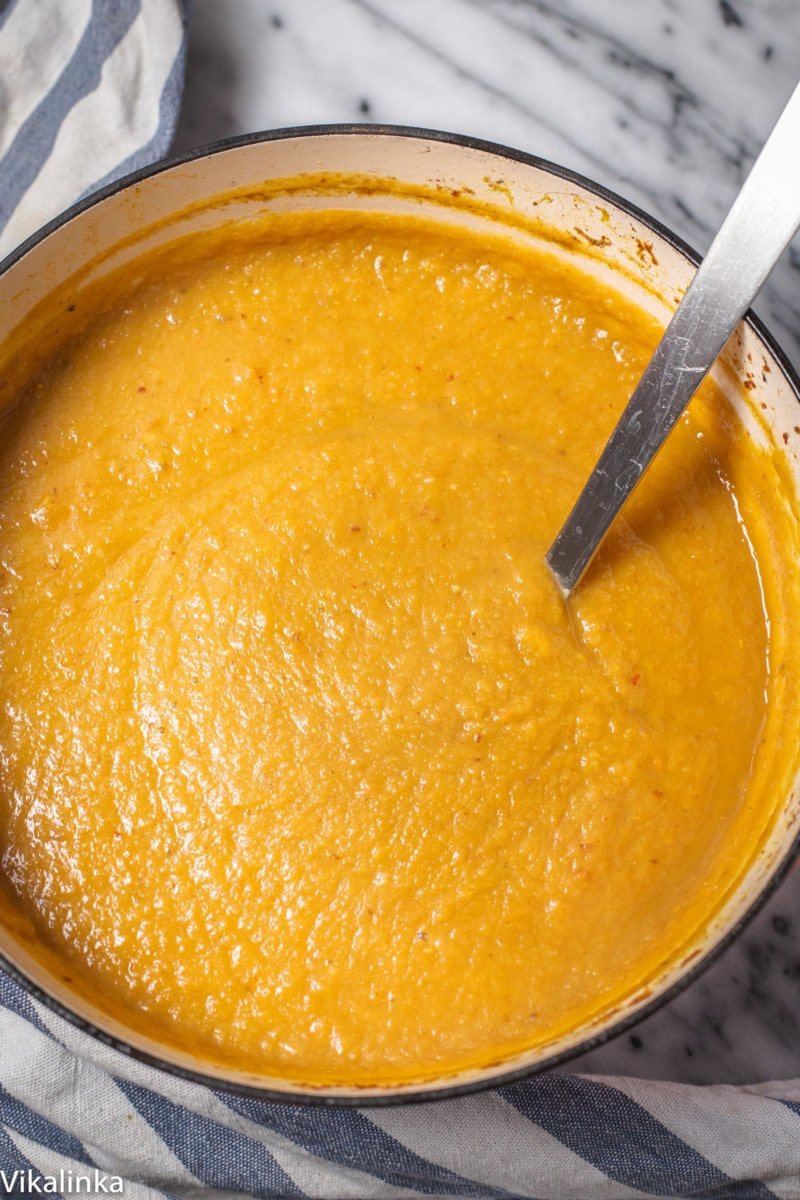 I realised I was getting a nasty cold by the time the week was just picking up speed. Unfortunately teachers don't always have the luxury to take a few days off. There is a class that needs to be taught sick or not.
So I finished the week in a true stoic fashion and crashed as soon as I got home on Friday. I was in dire need of some healing food and hot and creamy soup was definitely at the top of the list.
My mom immediately suggested chicken noodle soup. After all, it's a classic we all grew up on but I already had a pot of spicy Thai flavoured squash and sweet potato soup stashed away.
I simply couldn't wait to have a bowl of spicy butternut squash and sweet potato soup, that warms the inside and clears sinuses. Swirl in some sriracha into it if you fancy more than 'a bit' spice.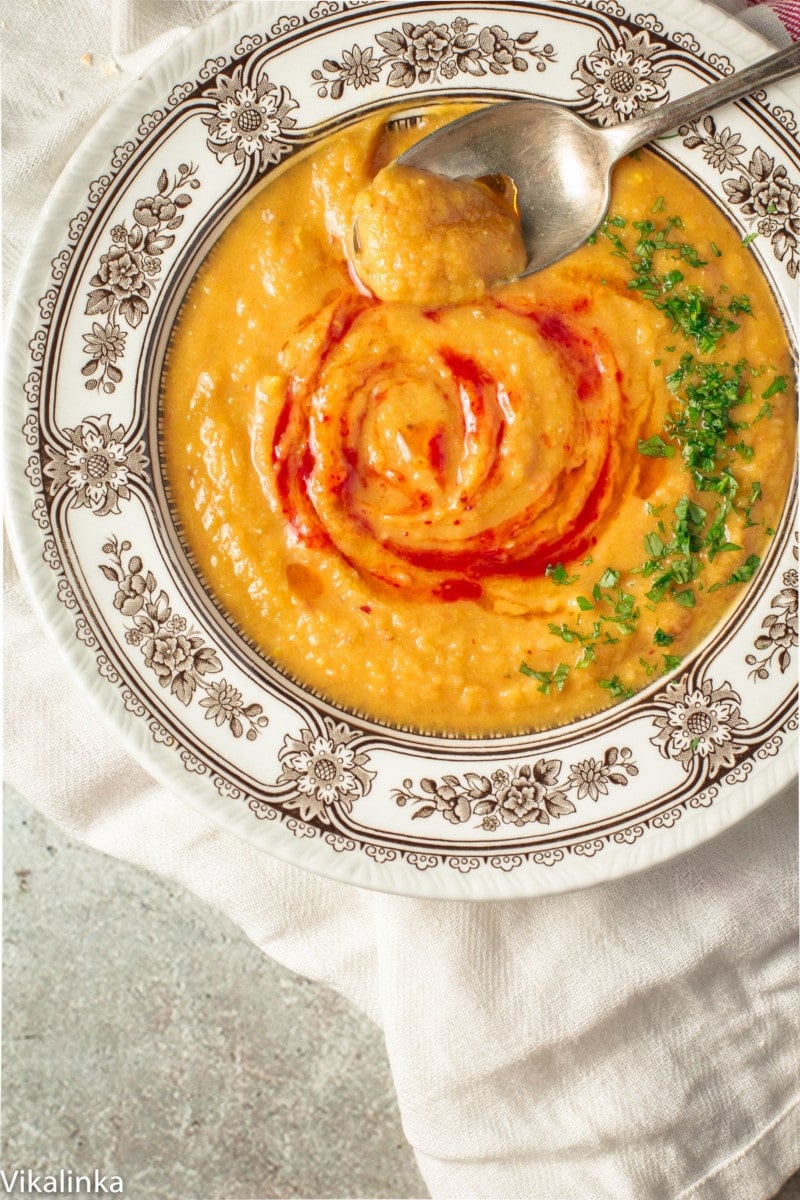 How do you make Butternut Squash and Sweet Potato Soup
I can't even begin to describe how rich and luscious this soup is while it uses only healthy vegetables and 250 ml of coconut milk.
I simply adore butternut squash and to make the flavour of this nutritious vegetable even more delicious and pronounced I roasted it prior to putting it in the soup.
The creaminess is easily achieved by putting a hand blender to work, that whizzed through my pile of vegetables in just 1 minute and turned them into yummy and velvety soup.
Both butternut squash and sweet potato are wonderful at being used in blended soups and sauces due to their mild flavour and sweet taste.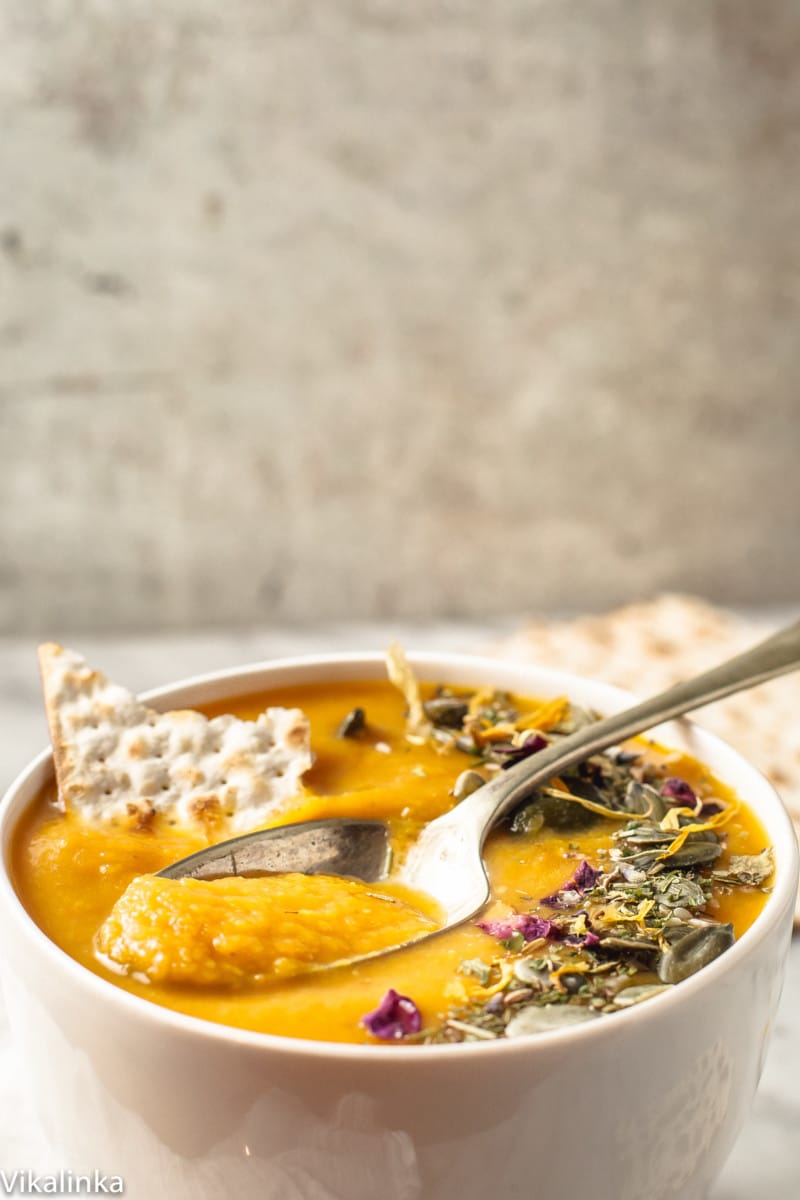 For more soup recipes, check out my favourites:
What is your favourite soup?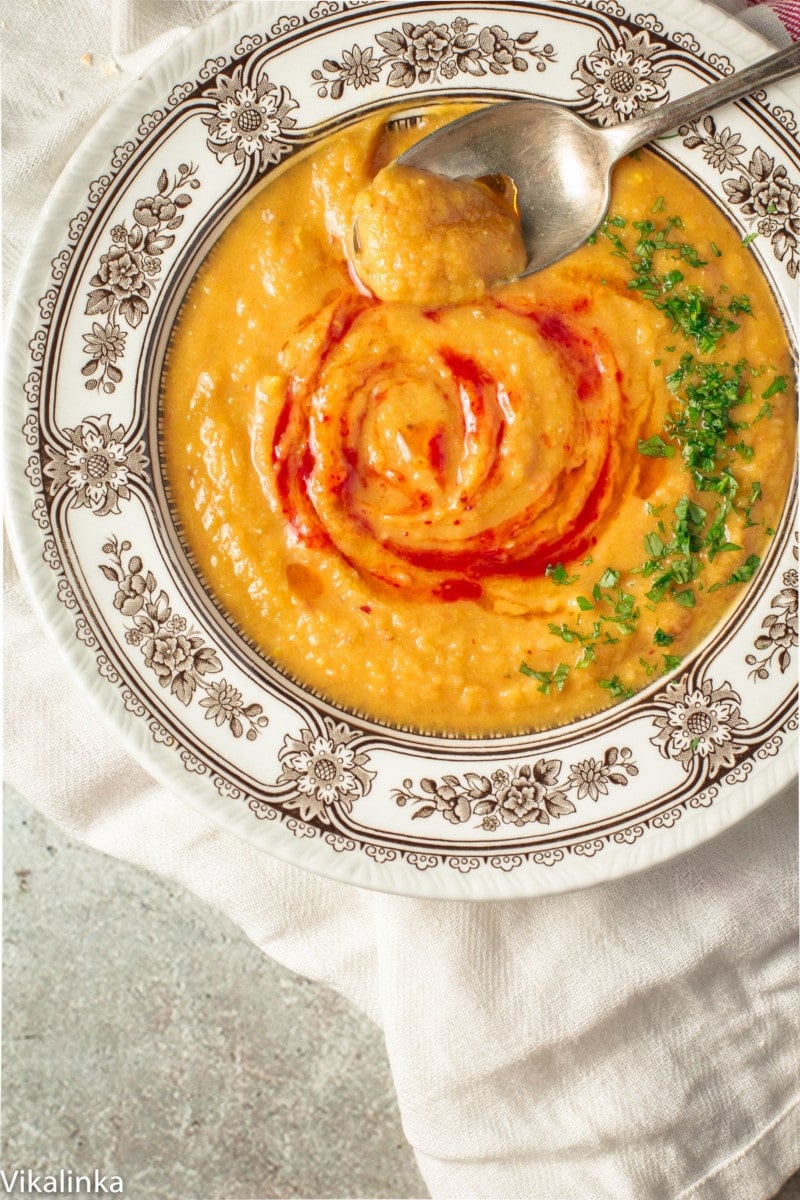 Ingredients
2

lbs

squash

any kind

2

tbsp

olive oil

2

lbs

sweet potatoes

1

onion

chopped

2

cloves

of garlic

minced

2

tbsp

spicy Thai red curry paste

250

ml/1 cup coconut cream

1.5

litre/ 6 cups chicken or vegetable stock

salt to taste
For the garnish (optional)
pumpkin seeds

herb and flower seasoning
Garnish option 2
sriracha sauce

cilantro

minced
Instructions
Preheat the oven to 450F/220C.

Cut the squash in half and scoop out the seeds, place on a roasting tray cut side down and roast until fork tender for 45 minutes.

While the squash is roasting, heat olive oil in a soup pot, add chopped onion and cook over low heat until softened but not coloured for 10 minutes.

Peel and quarter sweet potatoes and set aside.

Add minced garlic to the soup pot and cook while stirring for 1 minute.

Then add sweet potatoes, Thai red curry paste and coconut cream, stir to coat the sweet potatoes.

Add the stock and salt, turn the heat up and bring it to a boil, then turn it down and let simmer for 30 minutes.

When the squash is tender, take it out of the oven and let it cool for about 5 minutes or until it's safe to handle. Use a kitchen towel to prevent your hands from burning.

Scoop out the tender squash flesh out of the skin and add directly to the soup pot.

Cook the soup for 15 minutes longer.

Taste the broth and add more salt if needed. Make sure the soup is sufficiently seasoned. Sweet flavour of squash and sweet potatoes need salt to balance out the flavours.

Blend the soup with a hand blender for silky smooth texture.