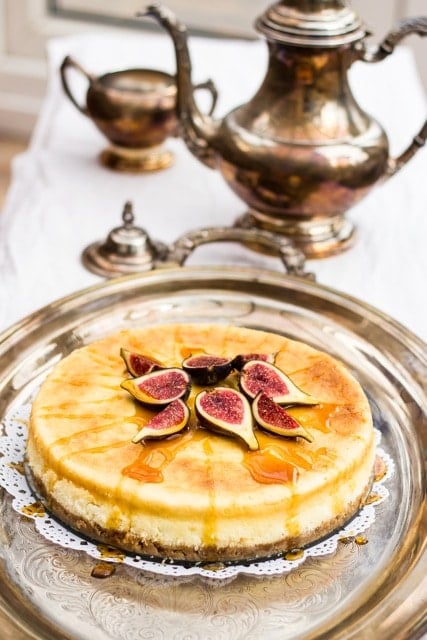 My dear friends, I've been holding out on you and for that I am sorry. I made the most delicious cheesecake this past Easter but just posting the recipe today. The good news is that cheesecake is not seasonal, it's welcome for any occasion. The recipe for this culinary delight was a bit of a gamble-part tradition/part speculation and experiment but the result was nothing short of divine.
As I wrote in one of my previous posts Easter is one of the biggest holidays in Russia and I wanted to keep the traditions alive in my own family. The least I could do was to cook all the Easter treats. Paskha, Kulich and Coloured Easter Eggs are the three musts for every Russian household. Check out the links to Paskha and Kulich from my talented fellow bloggers, the treats are as delicious as they are beautiful!
I coloured eggs with my children this year but ended up buying Kulich or something similar from a Polish shop nearby instead of making my own. I really wanted to make a sweet cheese Paskha but I didn't have a proper mould so I opted out for a modern day Paskha. Paskha with a twist.
Traditionally Paskha is made from a farmer's cheese called "Tvorog" in Russian, eggs, sugar, vanilla and dried fruit and candied orange and lemon peel. I thought it would be fun to try to use the same ingredients but make it into a cheesecake instead. Russian Cheesecake is called "Zapekanka" which translates as "Baked", it doesn't have a bottom crust and the cheese is often held together by eggs and semolina. I have vague and not the fondest memories of 'Zapekanka', something that was served for school lunches- heavier on semolina rather than cheese yellowish squares with burned top. It tasted far from stellar, so I successfully avoided eating it whenever possible. Needless to say, I set out to create different memories for my children.
My efforts were worthwhile because what they got as a result of my experiment tasted lighter than a cloud and looked… Actually, a picture is worth a thousand words so judge it for yourself!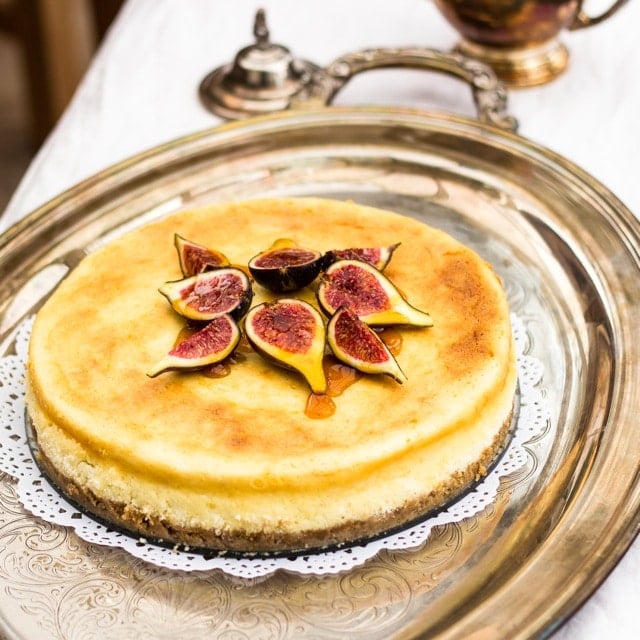 The recipe for this beauty is not too different from a standard cheesecake recipe but includes a couple of Russian twists.
Ingredients:
Farmers's Cheese- 750 gr/24 oz
Eggs- 3 large
Sugar- 1 cup
Semolina-3 tbsp.
Lemon zest- from 1 lemon
Vanilla Bean seeds- from 1 bean
Digestive biscuits crushed( you can use graham crackers, unfortunately they are not available in England)-125 gr
Butter- ¼ cup
Method:
Preheat your oven to 325 F/160 C
Zest the lemon and set aside…or take a picture like I did.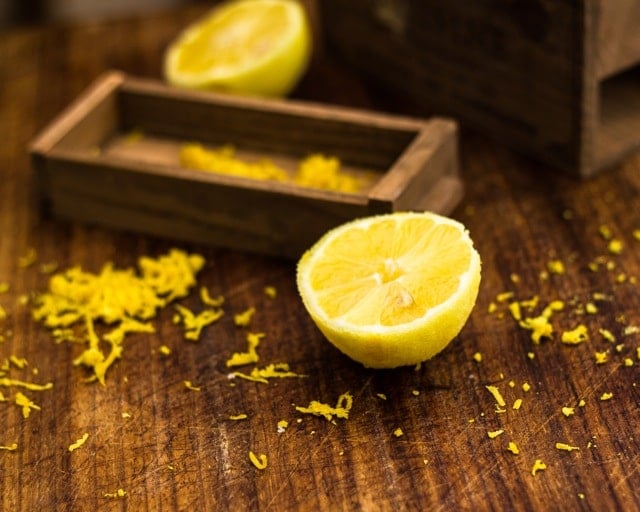 Crush the biscuits (I equipped my children with a rolling pin and a large bowl and told them to "go nuts" on those biscuits, they happily obliged.) then mix the crumbs with melted butter. Line the bottom of a 21″ springform pan with the crumbs and bake in the preheated oven for 10 minutes, set aside and cool.
Separate your egg yolks from the egg whites. Mix together farmer's cheese, egg yolks, sugar, semolina, lemon zest and vanilla bean seeds with an electric mixer until well blended. In a separate bowl whip egg whites until soft peaks form and gently fold them into the cheese mixture.
Pour the mixture into your springform pan and set it inside a larger roasting pan filled with 1″ water. This technique called "bain marie" helps to evenly distribute heat when cooking delicate foods like cheesecakes and custards. I find it produces much lighter texture in cheesecakes as it infuses them with additional moisture which also helps with preventing cracks.
Bake at 320 F/160C for 60-65 minutes until the edges are lightly browned and the centre is nearly set. Turn the heat off and leave in the oven for additional 20-30 minutes. If your cheesecake still cracks, don't worry and cover it up with something pretty! Cool completely in the refrigerator.
I used fresh figs instead of dried fruits that are traditionally used in Easter Paskha and drizzled them with a touch of dark and deep flavoured chestnut honey I brought from my last trip to Italy. An experiment that turned out to be a true winner. I couldn't be happier with the end result. 🙂