Sounds French. Sounds fancy. Sounds complicated. Yes. Yes. And no! But no-one else needs to know that. With just two ingredients and 25 minutes of your time you can fool everyone into thinking you're French and fancy. And you will have made the most powerful secret recipe weapon of all: garlic confit.
Keep living your best French life with my sophisticated celeriac remoulade or classy Croque Madame.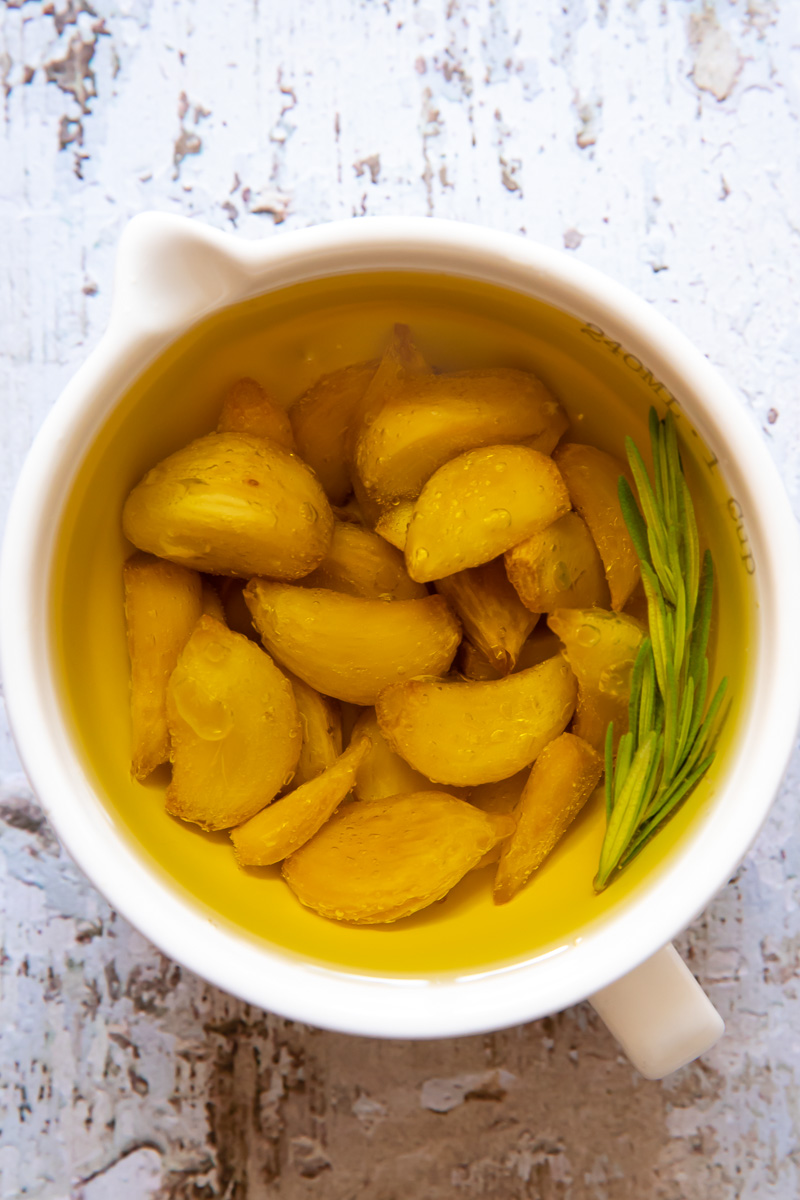 Yes! They've done it! They have a found a way to guiltlessly enjoy garlic with wild abandon and not fear for the dreaded 'garlic breath'. And who can we credit with such a gastronomic breakthrough? The medieval cooks of France, of course.
What is garlic confit?
Confit means 'preserve' in French. Confiture on your toast, anyone? The process was developed for preserving meat, vegetables and fruit in the Middle Ages before we could depend on refrigeration and vacuum-packed products. You might be familiar with duck confit, or even confit tomatoes.
Essentially, the meat, vegetable or fruit is cooked and preserved in fat. In its own fat in the case of meat, oil for vegetables, or syrup (sugar water) for fruit.
Garlic, being a vegetable gets the oily treatment. The whole bulb, or peeled cloves, are fully submerged in oil and cooked at a low temperature. And that is it!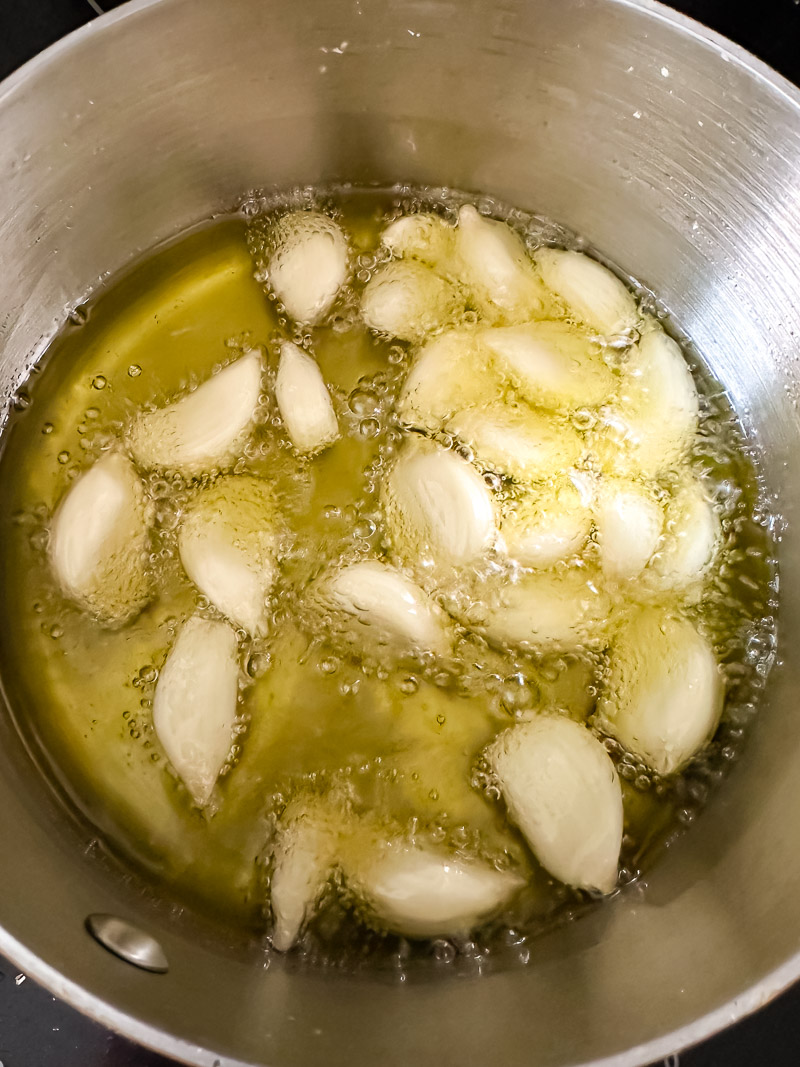 The result is a jar of liquid amber enveloping the sweetest, softest, most syrupy little flavour grenades waiting to be deployed.
And, interestingly, as the garlic is not minced, chopped or grated the enzymes that cause the tell-tale odours are not released. And thanks to the low and slow cook, these enzymes' strength is significantly reduced too.
Meaning you can load your food with these lovely little nuggets knowing that you're not going to be knocking anyone out with your garlic breath.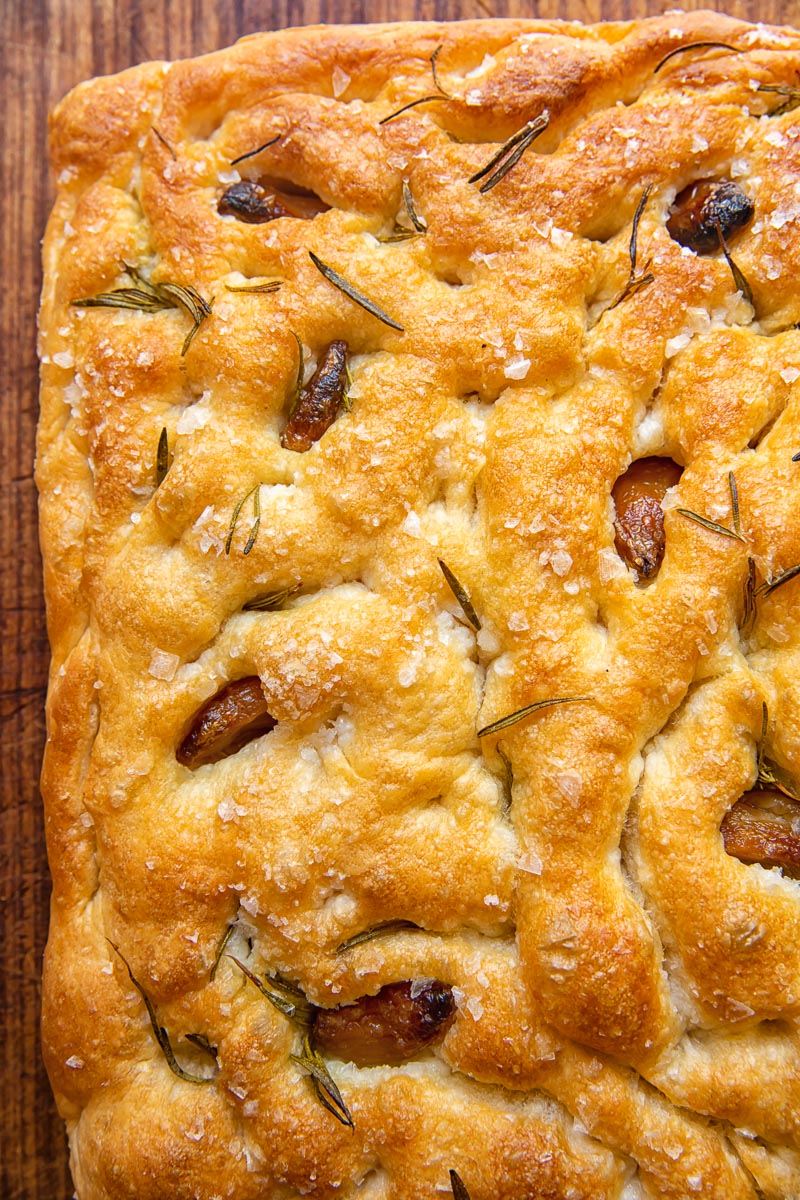 Culinary uses
This richly unctuous treasure has thousands of savoury uses, and is a vegan garlic-lover's pot of gold. Here are a few of my vegan suggestions:
Squash the cloves and garlic flavoured oil into mashed potato (without butter) for a sweetly spiked side dish.
Spread the butter-soft segments over toast for a wholly vegan garlic bread.
Top off your homemade focaccia with confit garlic instead of confit tomatoes.
Crown hummus with extra garlicky gems and the liquid gold oil.
And the definitely-not-vegan suggestions:
Pan fry your steak in it. It creates a heady aroma of sizzling meat and caramel that deserves nothing less than truffle fries and a red wine.
Use the oil and cloves in place of olive oil and minced garlic for a deeply flavoured spaghetti Bolognese.
Mix it into your hamburger patties for a supremely juicy and high-end bite.
And not to mention all the dressings, dips, sauces and gravies that benefit from the sweet and deep kiss of confit garlic. Like I said, thousands.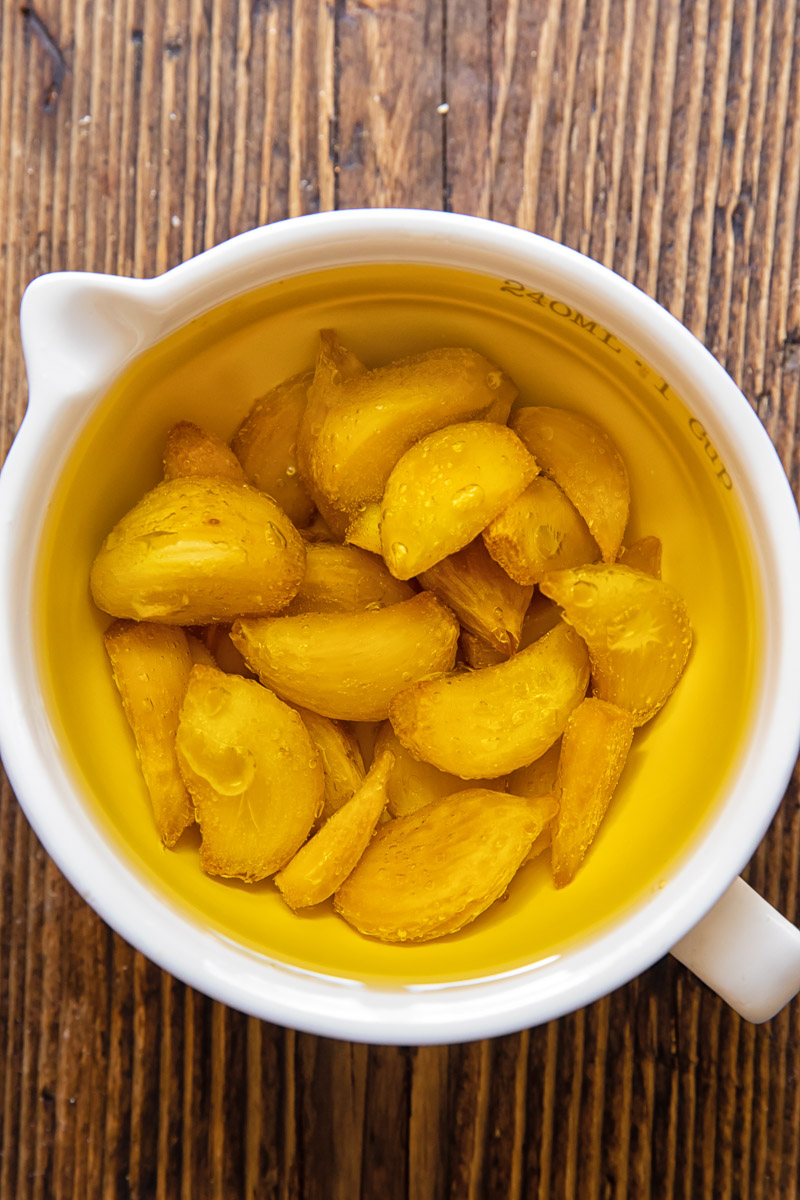 Recipe tips and notes
You'll need the smallest, but highest-sided saucepan in the kitchen. The garlic cloves need to be fully submerged in the oil. If necessary, add more oil for complete immersion.

90C/ 195F is your temp. limit. Use an instant read thermometer to keep an eye on it. Any higher and the cloves will start to fry, which isn't the aim. If you notice the temperature creeping up, just turn the heat off to bring it back down to 90/195.

Stove top, it can take between 25 – 30 minutes to achieve tender and lightly tanned cloves. If you can't pot watch, you can cook the garlic in the oven at a consistent 90C/ 195F for 1-2 hours.

Store and refrigerate in a very clean glass jar.
Storage
This is an important bit. Transfer the cooked garlic to a very clean, or even sterilised, glass jar and seal the lid so it is airtight. Once it has cooled, you must refrigerate it.
Do not store your garlic confit at room temperature. Garlic is one of the few vegetables that can develop a toxic bacteria if stored incorrectly, so follow the instructions exactly.
To err on the side of caution, use your garlic confit within two weeks. You will notice the oil solidify when refrigerated and this is completely normal and safe. It's still good to go!
You can freeze the garlic confit too. The best way to do this is in ice cube trays. The confit will keep in the freezer longer up to two months. And due to the low temperatures, the risk of toxic bacteria developing is eliminated.
Be aware that oil does not freeze completely, so be careful when removing the confit from the freezer!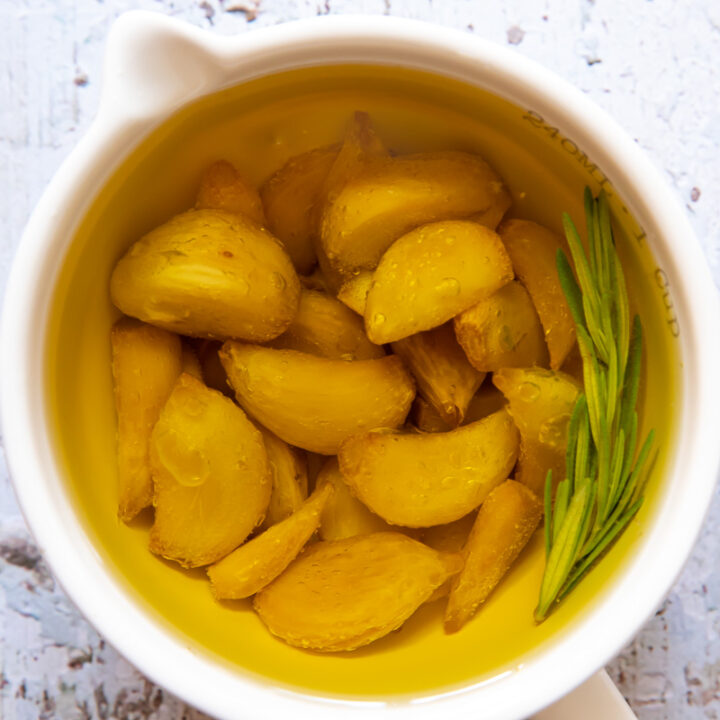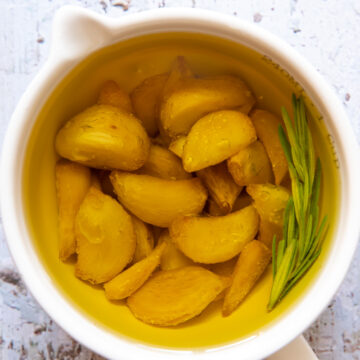 Garlic Confit
Garlic, which is slowly cooked in olive oil until soft and fragrant is the definition of garlic confit. Simple yet elegant.
Ingredients
2

heads

garlic

separated into cloves and peeled

250ml/1 cup

olive oil

add more if needed

1

sprig

rosemary

optional
Instructions
Use the smallest saucepan you have. Add the peeled garlic cloves to the pan and cover with olive oil. The smaller the diameter of the pan the better, so the garlic cloves are fully submerged. If they are not, add more oil.

Set your stove on the lowest temperature setting and start heating up the garlic in oil. Ideally the temperature of the oil should not go above 90C/195F. Use instant read thermometer to check on the oil. If it goes higher, turn the heat off temporarily to bring it back to the needed temperature. The goal is to cook the garlic cloves until very tender without colouring them too much. It can take anywhere between 25-30 minutes depending on the size of the cloves and the temperature of the oil. Alternatively you can cook the garlic in the oven at 90C/195F for 1-2 hours.

Test the garlic by piercing with a knife, it should meet no resistance. The cloves will be light brown in colour and spreadable consistency. Take off the heat and cool lightly, then add the rosemary sprig to add some lovely flavour. Cool completely and transfer to a clean glass jar, refrigerate. It should keep up to 2 weeks in the fridge.
Nutrition
Calories:
115
kcal
Carbohydrates:
1
g
Protein:
0.2
g
Fat:
13
g
Saturated Fat:
2
g
Polyunsaturated Fat:
1
g
Monounsaturated Fat:
9
g
Sodium:
1
mg
Potassium:
11
mg
Fiber:
0.1
g
Sugar:
0.03
g
Vitamin A:
0.4
IU
Vitamin C:
1
mg
Calcium:
5
mg
Iron:
0.1
mg