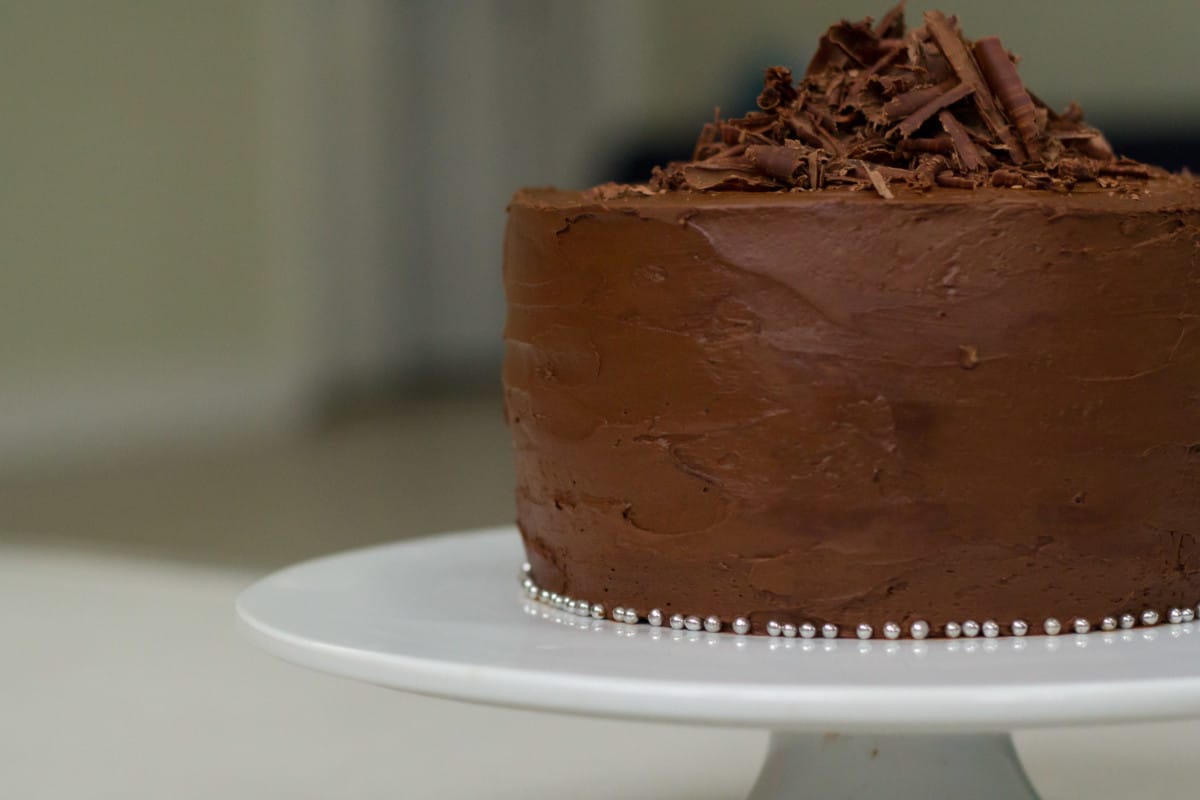 My husband Brad turned…ahem…let's just say he had his birthday this past week and there are only a few things I love more than celebrating birthdays. Quite possibly this is because my own birthday is on Christmas Day and I always feel deprived of the love poured directly on me on the day that is everyone's holiday, I try to get as much celebratin' from my loved ones' b-days as I can! For weeks I agonised over his present and his birthday cake until I found the perfect cake from, where else but Pinterest! Chocolate Stout Cake looked down on me from the pages of My Baking Addiction blog and I was instantly in love. Brad is a well-known chocoholic, in fact he once confessed that he doesn't even feel like he's had dessert unless it contained chocolate. What could make this decadently chocolatey cake even more palatable to Brad? Why, I am glad you asked! Stout! Beer +Chocolate=One Happy Man. That was my thought process. The flavour combo intrigued me and I was set out to bring the cake to life.
I was pleasantly surprised to find out the cake was quite easy to make. The recipe doesn't require any special skills or pastry chef credentials, and as you can see I didn't even use any fancy piping to decorate it, just a pile of chocolate curls on top makes it a show stopper. I enjoyed the process thoroughly but nothing prepared me for an absolutely outstanding result-the best cake I ever made which spurred on, what seems to be, an untimely New Year's Resolution. Here it goes. From now forward I will ALWAYS bake with butter. No margarine, no oil. Pure, unadulterated butter. I've baked many, many cakes in my life and no matter the recipe I always seemed not quite satisfied with the sponge itself. The oil based ones especially, seem to have a tinge of an after taste. Not this beauty. Its clean, rich and spontaneously addictive taste comes from butter. Well, enough of this. Let's bake the darn thing!
Ingredients:
1 ½ cups Guinness
½ cup strong black coffee
2 cups/ 454 gr unsalted butter
1 1/2 cups unsweetened cocoa powder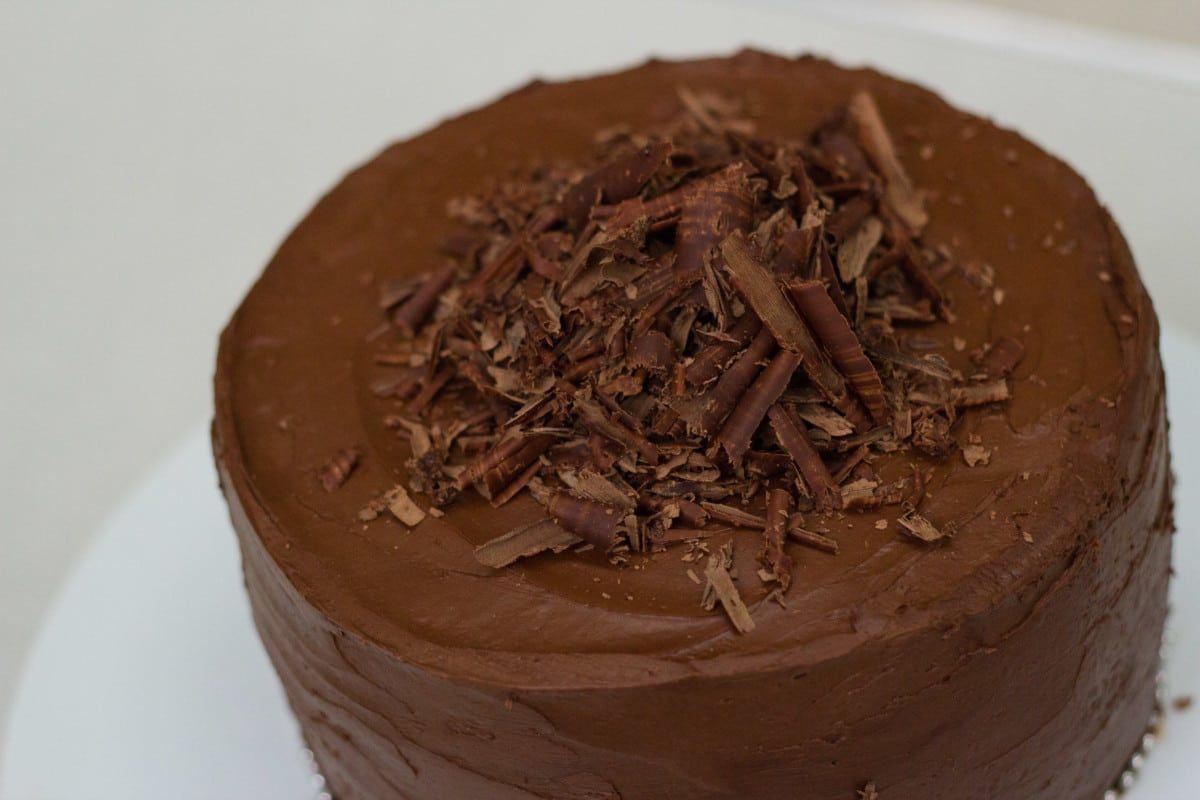 4 cups all purpose flour
4 cups sugar
1 tablespoon baking soda
1 1/2 teaspoons salt
4 large eggs
1 tablespoon pure vanilla extract
1 1/3 cups creme fraiche/sour cream (I always replace sour cream with creme fraiche as it tastes more Russian to me)
Chocolate Ganache
2 cups whipping cream/double cream
1 pound good quality dark chocolate, chopped
Method:
Preheat the oven to 350F/180C and butter 3 8″ cake pans and dust them with some flour to prevent the cakes from sticking.
In a large saucepan heat stout, coffee and butter together until the mixture comes to a gentle simmer, add cocoa powder while whisking continuously to avoid lumps until smooth. Set aside to cool. (I quite often take things like that and put them in front of an open window for 15 min. to cool it down quickly because my English fridge aka "beer fridge" is tiny!)
Blend flour, sugar, baking soda, and salt in a different bowl. Mix eggs, vanilla and creme fraiche with an electric mixer in bowl no 3.
Now check on your chocolate mixture and make sure it's cool enough to continue the process.
Add the chocolate mixture to the egg and creme fraiche mixture and blend them together. Add flour mixture a little bit a time and beat on low speed until combined. Divide batter equally among the pans. I used to always have uneven cakes until I purchased a digital scale and started weighing them. Problem solved! Bake cakes together or separately depending on the size of your oven. Once again, just like my fridge, my European oven is tiny and I baked mine one at a time for 25-30 min. Always test your cakes for doneness with a toothpick or a cake taster if you have one. Transfer your cakes on the cooling racks and get on with the ganache making!
I absolutely adore ganache and I don't even care how pretentious it sounds! It's crazy how little effort you put into that frosting for it to taste THAT insanely delicious! All we have to do is to bring heavy cream to a boil and take it off the heat immediately, then add your chopped chocolate into it and stir until melted! Cool it and whip it with an electric mixer until paler in colour and fluffy! Voila! The most decadent French delicacy is ready!
Assemble the cake filling with 1/3 of the ganache between the layers like so…
Finish off by covering the entire cake with the remaining ganache and top with chocolate curls. You can make chocolate curls by scraping the blade of your knife along the flat surface of the chocolate bar. I have to admit my curls were a bit weak and I have to practice more to achieve perfection.
However, there was nothing weak about the taste and the cake was pure delight. It's flavourful but somehow light in texture and very hard to stop eating!
PS. I am not sure why but the recipe I followed left me with extra batter which allowed me to bake a dozen of cupcakes as well! In my world it's NOT a problem.