A Mojito Spritz will bring a touch of fizzy finesse to your backyard bar cocktail list. As limey and refreshing as its big brother, the minty Mojito, but with a little sparkle, this delectable cocktail is a real easy drinker. A bit too easy. You'll need just five classically Cuban ingredients and a one-way ticket to your sun lounger.
Originating in a less tropical location, but as easily drinkable, add this Rhubarb Moscow Mule to your mixology repertoire.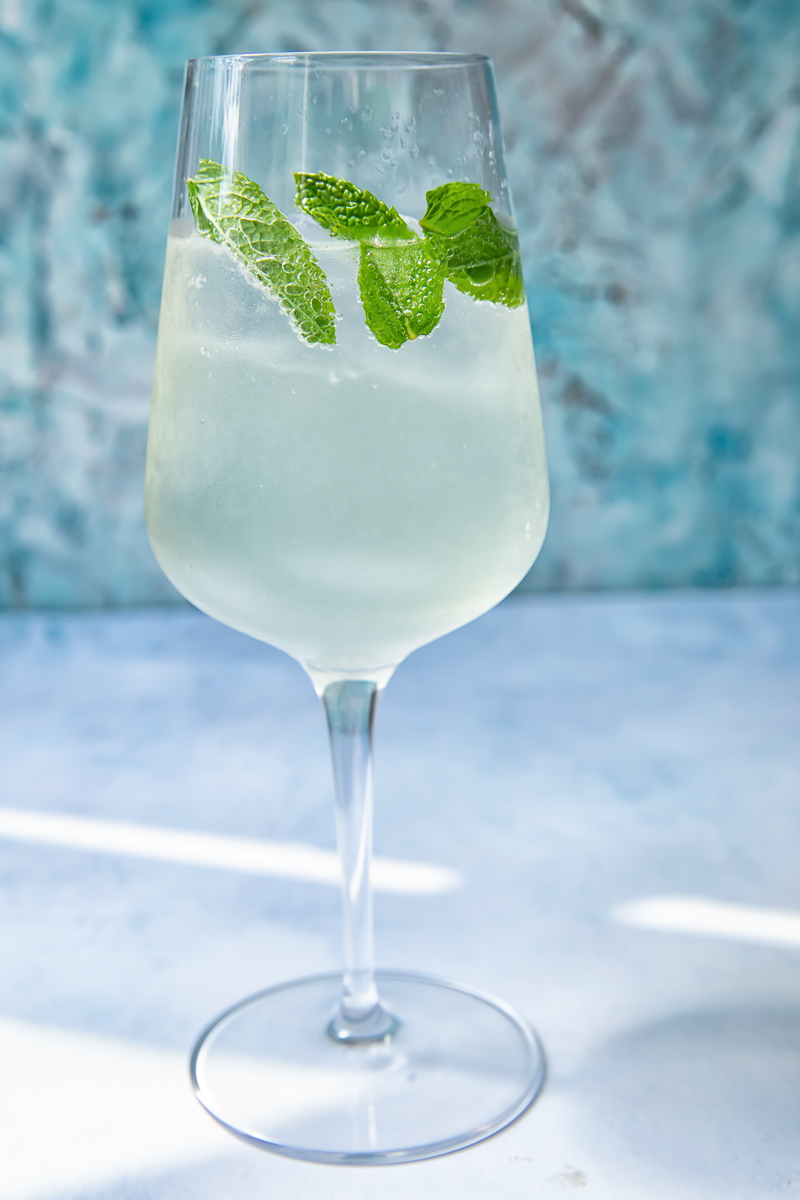 There are two cocktail drinkers in this world, I believe; the sweet-toothed and the sour-savant. I'm a sucker for a drink that's tart on the tongue and tingly on the nose. Like this one! Which definitely makes me the latter.
Which are you?
Mojito Spritz
A little-known cocktail fact for you: a classic Mojito doesn't actually have any fizz to it whatsoever. That's right, no soda water. It's a pure muddle of coconutty white rum, zesty lime juice, fresh mint and sugar.
It's a cocktail heavyweight that was drunk by the infamous boozer, Ernest Hemingway.
But for this Mojito Spritz, you can expect the same flavour profile but a slightly longer drink thanks to one added ingredient: sparkling wine. I was inspired by the famous Italian Aperol Spritz while creating this fizzy beauty.
This makes it a more delicate, slow-drinking, and dare I say refined cocktail than her big bro.
So, what's with the soda water? That's a Cuban Mojito. The classic Mojito made longer with a top up of soda water. Don't worry, no-one's been deviously diluting your drinks!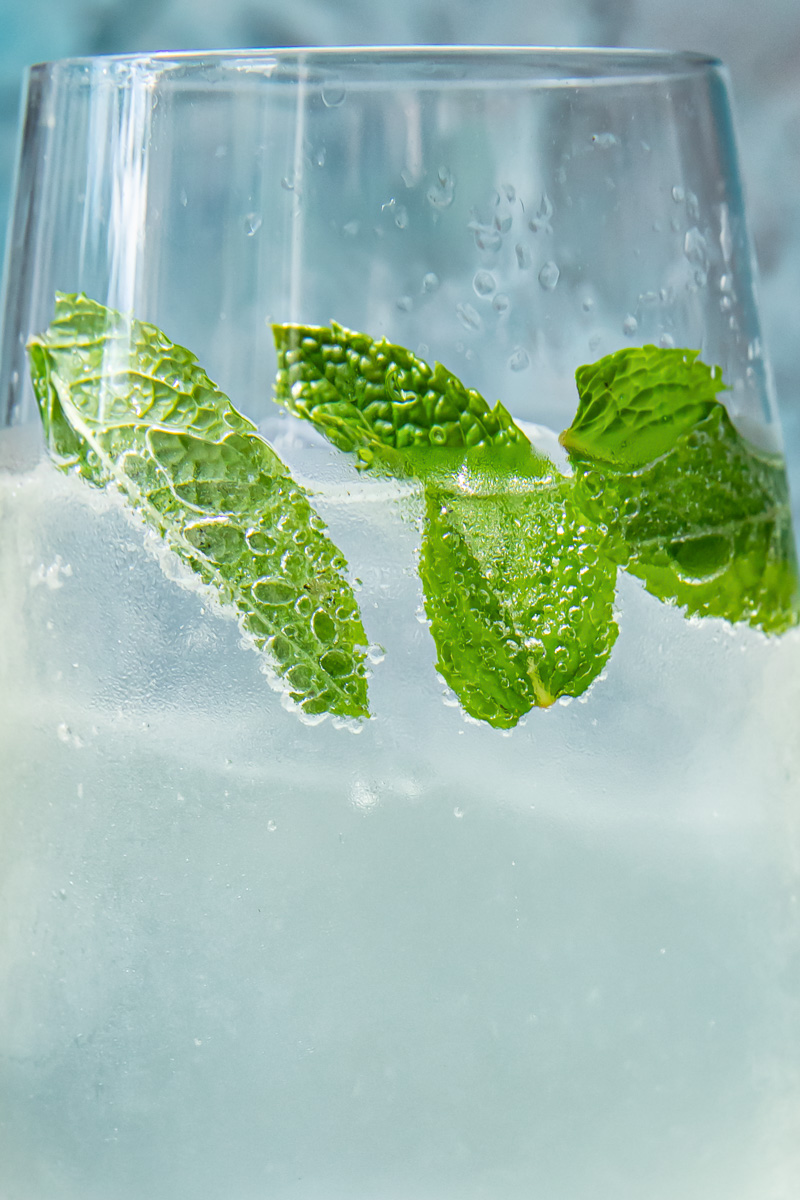 Mojito rum
Although rules are made to be broken, I would adhere to this one. For a classic Mojito, Cuban Mojito or Mojito Spritz, use light rum.
I want a bright flavour with hints of tropical fruit like coconut, pineapple and mango. Maybe even a suggestion of vanilla. A clear spirit will give that ethereal, moonlight-pale colour to the cocktail too.
The deep caramel of dark rum does not fit this aesthetic! But should not be ruled out if you're up for a bit of flavour experimentation!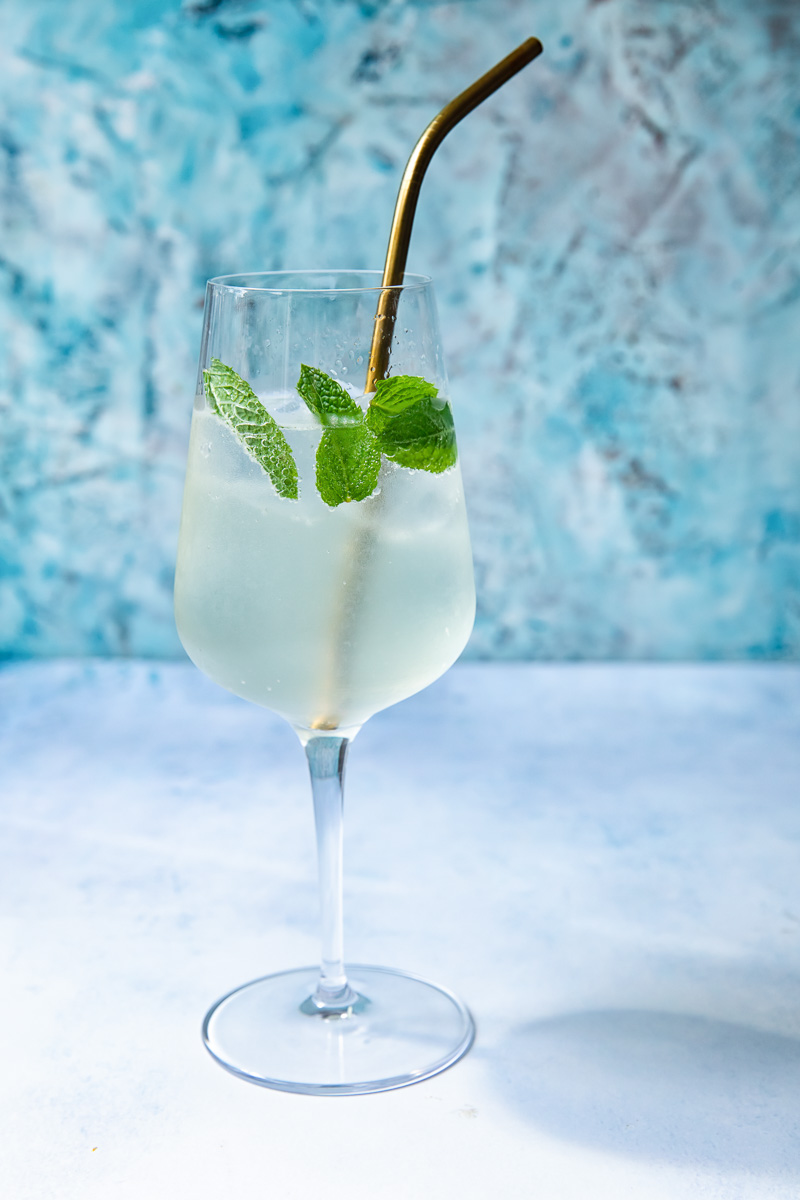 Ingredients
Most likely, you'll have all the ingredients you need already for this summery punch.
First, the rum. As I mentioned, light and subtly tropical rum works best. It's not cloying and won't fight with the sparkling wine. The sparkling wine can be from any region you prefer; prosecco and cava will work, but champagne is too powerful.
Fresh lime and fresh mint leaves are essential. The juice needs to be bright and tart, while the mint should be green and supple. Muddle with care! The aim is to gently bruise, not crush.
I make my own sugar syrup, you can read how in this Cognac Sour recipe (just use a white sugar instead of brown). Or you can buy them ready made from a supermarket. It's a handy item to have in your cocktail cabinet!
Recipe tips and notes
Ice! Ice, baby! Cocktails need to be drunk cold. To keep the cocktail colder for longer, you can chill the glass by filling it with ice while you prep the drink. I also chill the sparkling wine in advance too.

Muddle. This means gently bruising the mint leaves so they release their flavour into the alcohol. Don't over muddle or you'll end up with a mushy, mangled swamp drink.

Taste. Test the cocktail before pouring it from the glass or shaker you mixed it in. It should be in perfect balance without one element dominating. If needed, add more of whatever is lacking.

For a (little) less boozy beverage, swap the sparkling wine for soda water.
Variations
Your jolly trolley cocktail menu now reads: Mojito, Mojito Spritz, Cuban Mojito. Well, have I got a few more for you!
Virgin Mojito – yes, for when you've had a few too many of the turbo-charged kind but are still in the party spirit. Or, you just don't drink. The classic trinity of lime juice, mint and sugar remains, just top up with soda water. Or lemonade if that's more to your taste.
Passion Fruit Mojito-fruity, refreshing and utterly delicious cocktail that is easy to make at home.
Mango Mojito– refreshing and tropical tasting this mango mojito should be the drink you are sipping on this summer.
Pineapple Mojito – a carnival of classic Caribbean flavour: pineapple and coconut (in the rum). You might as well be in the Bahamas.
Raspberry Mojito – muddle a few ruby red raspberries in with the mint for a super sour spin.
Sherry Mojito Spritz – now it's a party. Substitute white rum for dark, match the measure with fino sherry, lime juice, mint leaves, (brown) sugar and top up with soda water. This one is an intense, after-dark temptress with subtle nutty tones.
Vodka Mojito – for an ultra-clean, crisp blast of refreshment, try some top-shelf vodka in place of rum. Toto, I don't think we're in Cuba anymore.
Other cocktails to try: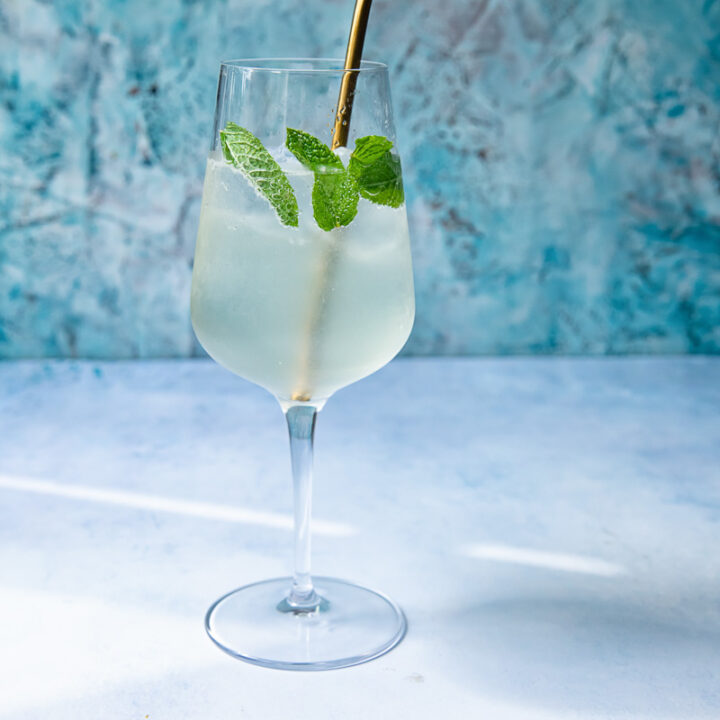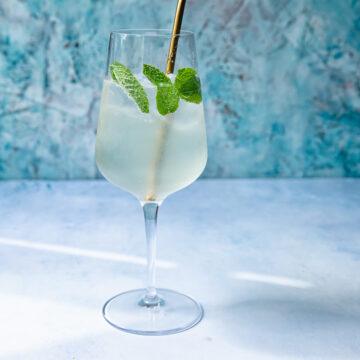 Mojito Spritz
A Mojito Spritz will bring a touch of fizzy finesse to your backyard bar whilst being limey and minty with a little sparkle.
Ingredients
Ingredients (Makes 1 cocktail)
50

ml

This is an affiliate link.

light rum

15

ml

lime juice

10-12

mint leaves

10

ml

sugar syrup

100

ml

sparkling wine

Crushed ice
Instructions
Add the mint leaves to a tall glass along with the rum, lime juice and sugar syrup and gently muddle to release minty flavour.

Fill the glass with crushed ice and gently stir to mix the syrup as evenly as you can. Top with sparking wine and gently stir again. Serve with a straw.
Nutrition
Calories:
215
kcal
Carbohydrates:
14
g
Protein:
1
g
Fat:
0.1
g
Saturated Fat:
0.02
g
Polyunsaturated Fat:
0.1
g
Sodium:
19
mg
Potassium:
173
mg
Fiber:
1
g
Sugar:
12
g
Vitamin A:
432
IU
Vitamin C:
8
mg
Calcium:
37
mg
Iron:
1
mg