Lemon Drop Martini is a classic gin based cocktail that needs to be in your repertoire! With a classic combination of sweet and sour and a crisp yellow colour, it's as elegant as it is tasty!
For more classic drinks check out Negroni Fizz and Long Island Iced Tea.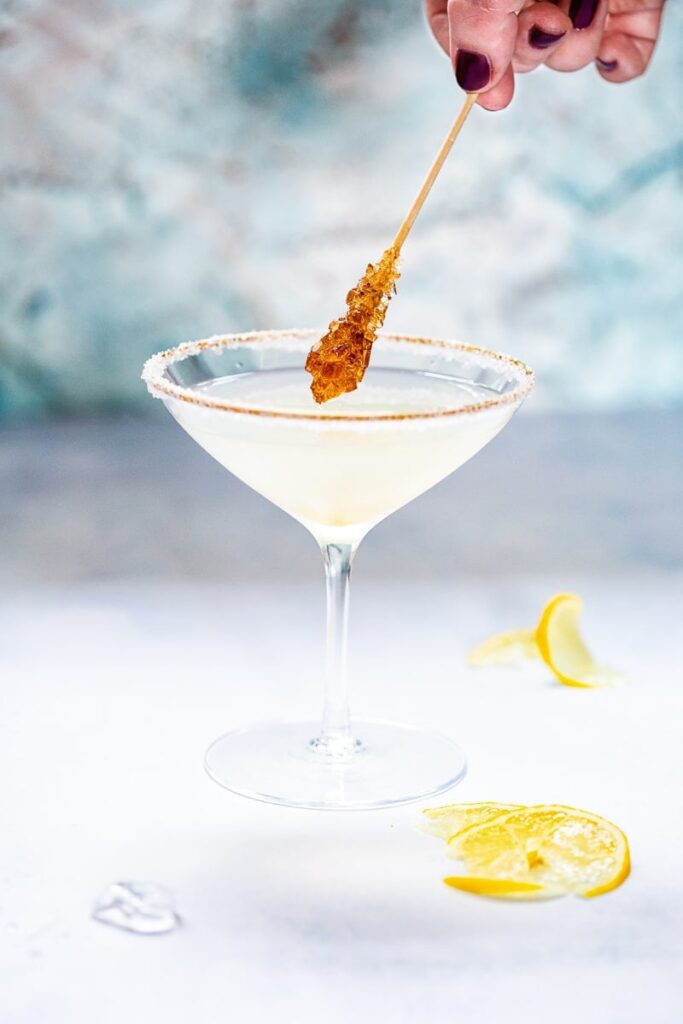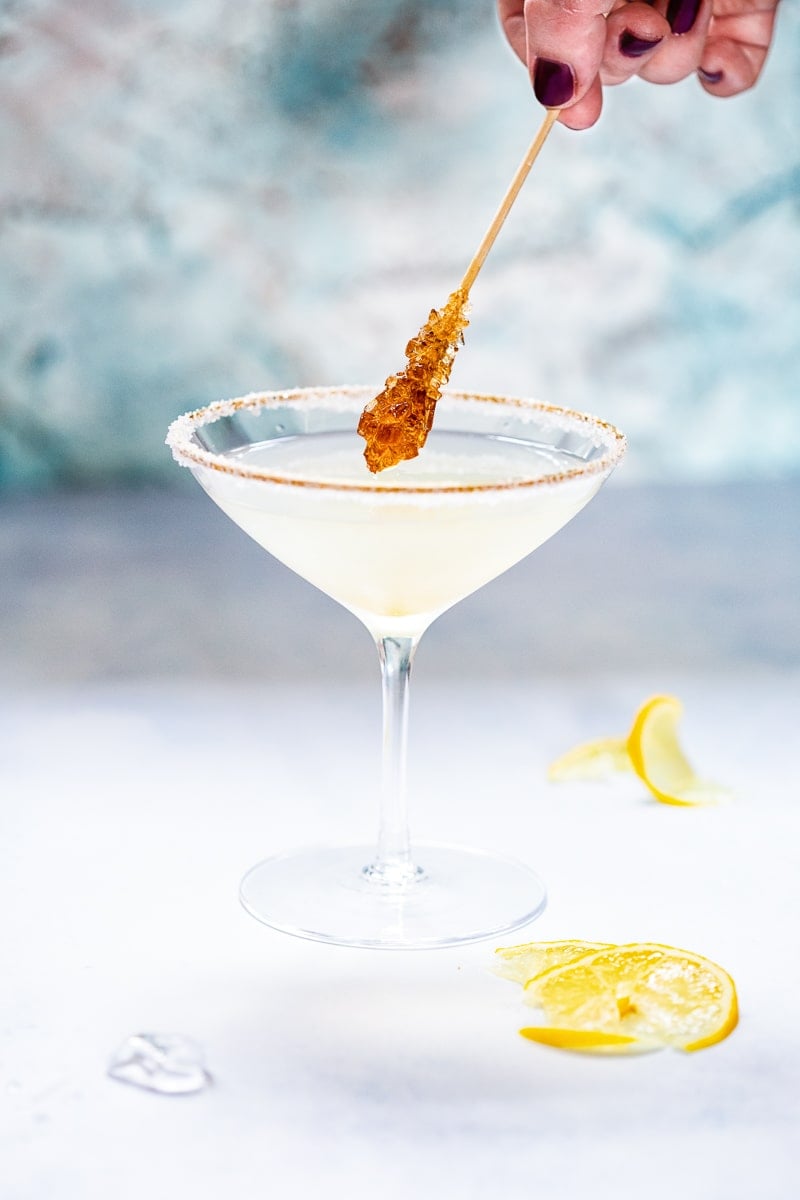 This post contains affiliate links. When you purchase through our links, we may earn a commission.
When my husband suggested making a lemon drop martini it was met with an immediate "No way!" from me.
All I could think about was a cloyingly sweet drink that people who don't actually like cocktails order. An alcoholic Shirley Temple. Too girly for my taste. How wrong I was.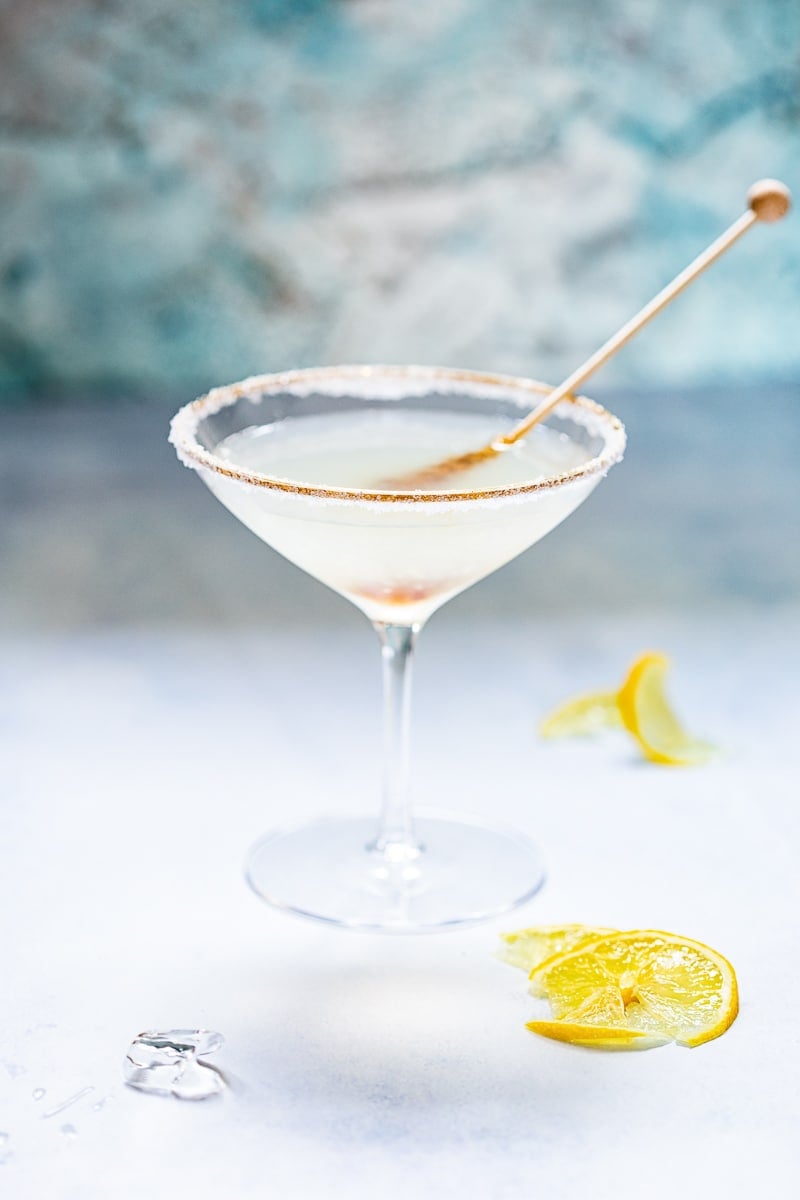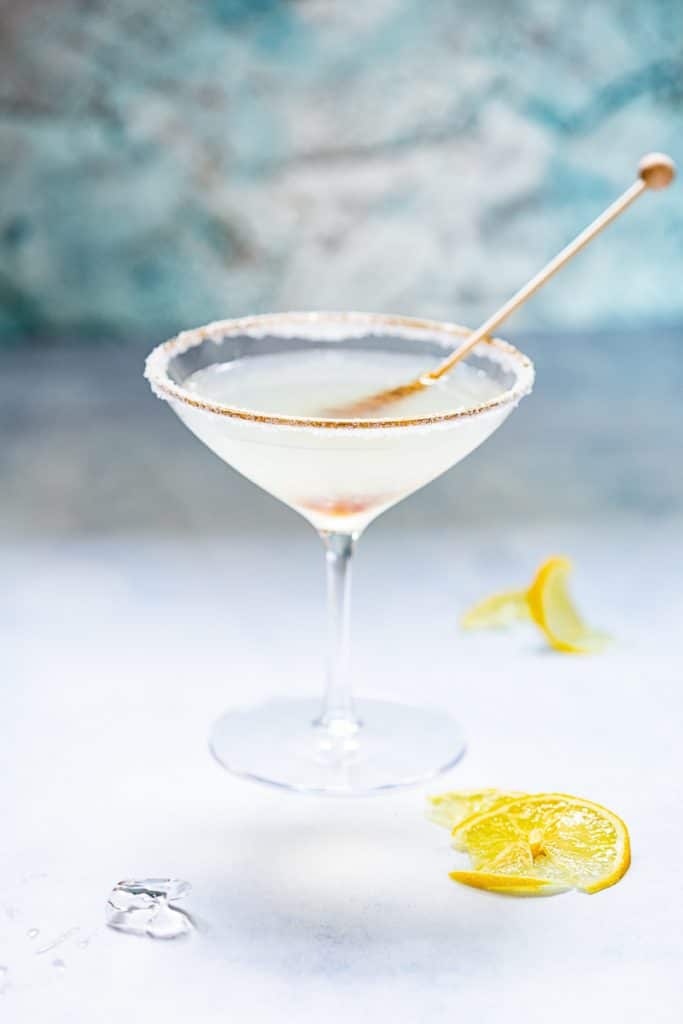 Lemon Drop Martini
The classic version of the lemon drop martini is actually perfectly balanced and quite sophisticated. A drink that I wouldn't be embarrassed to serve at a dinner party.
Unfortunately, that version of the drink can be hard to find. Often it is made with too much sweetness or artificial flavours, which does the drink no favours.
The drink is a creation of a bartender names Normal Jay Hobday at some point in the 1970's. Served in a martini glass with a sugared rim, it quickly spread from San Francisco to bars all over.
The traditional version of lemon drop martini uses vodka citron, but I find gin a far more interesting spirit so made the switch. I've also reduced the sweetness to bring out the crisp lemon and added a hint of vanilla to make it my own.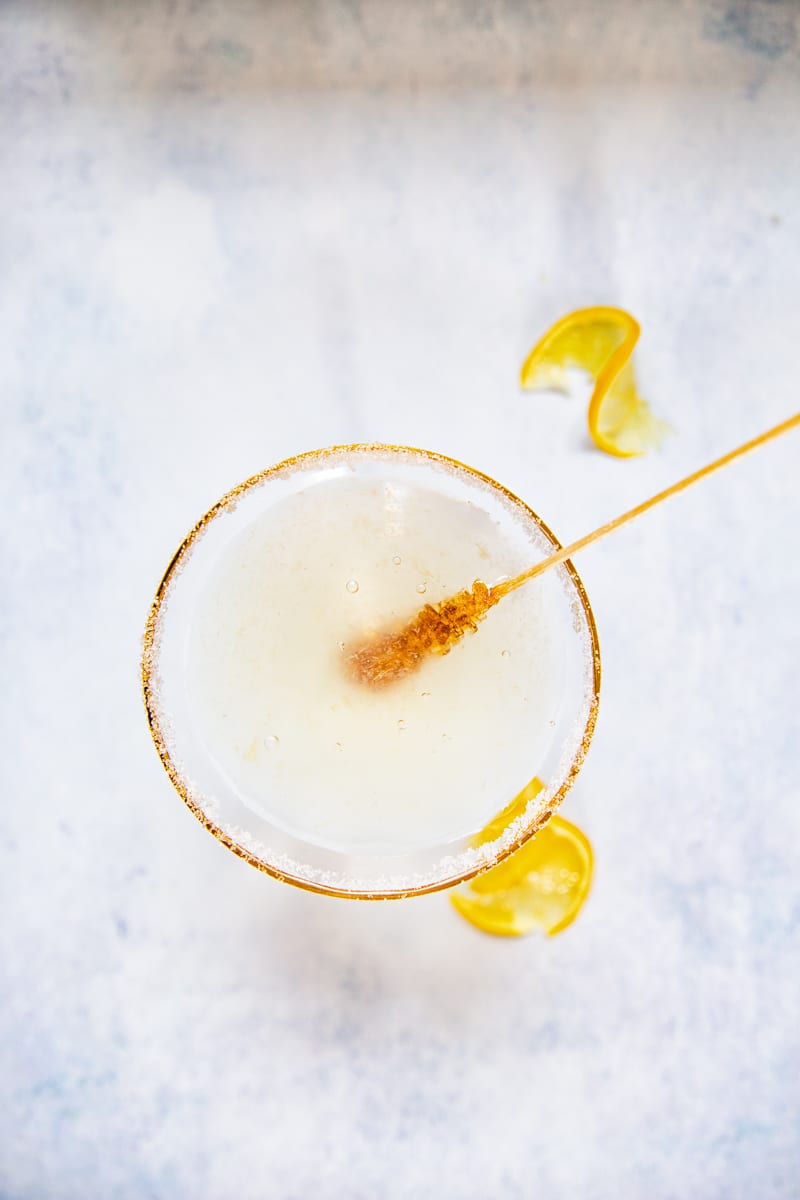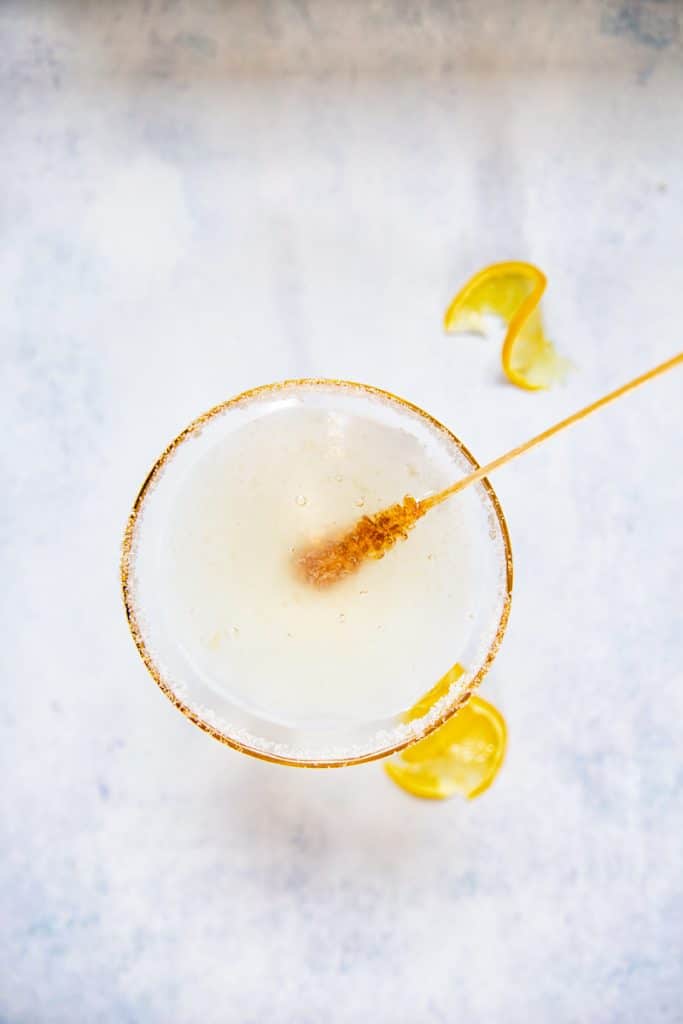 How it tastes
So how would I describe this Lemon Drop Martini? In one word. Fabulous.
In many words. It tastes like what I imagined grown up sweets would taste like when I was wee and enjoying my lemon drop candy.
Which, of course, is how this cocktail gets its name. It's hard to miss that the drink and hard candy have a very similar sweet and sour flavour.
This cocktail is light, refreshing, with strong hint of vanilla and a gentle sourness of the lemon drop. Pop in a golden sugar stir stick for more intense sweetness if you wish. I did.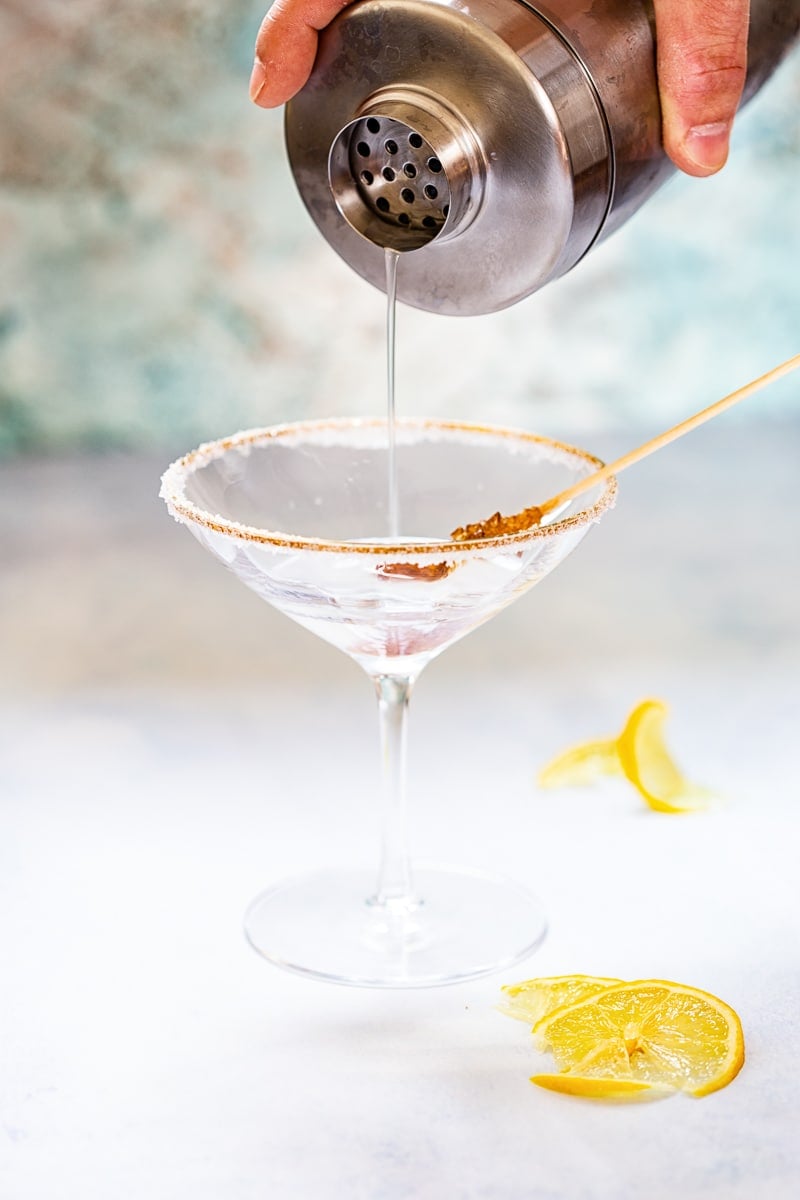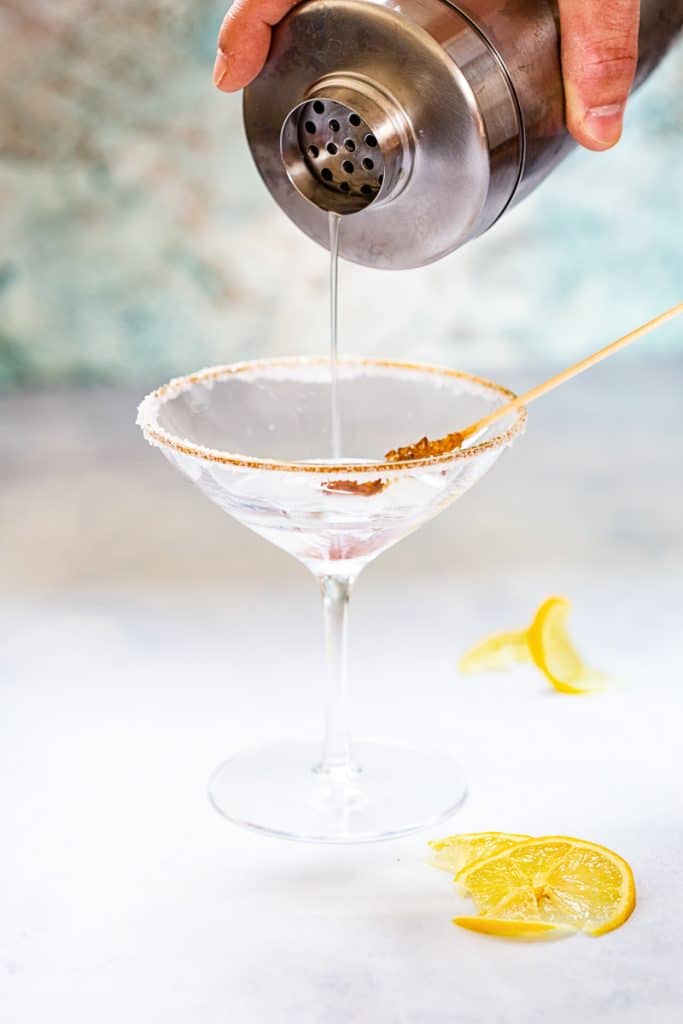 Recipe tips and notes
The recipe calls for Triple Sec but there's no need to be fussy here. Other orange liqueurs such as Gran Marnier will be great.
As with almost every cocktail, lemon drop martini is at it's best when as cold as possible. Shake it with lots of ice until the shaker is too cold to hold on to.
To keep the drink from warming up too fast, pop your cocktail glasses in the freezer beforehand. As an added bonus, this will frost the glass and make the drink look even more stunning!
The sugared rim is there to add additional sweetness to balance out the sour lemon. I also like the cocktail without this added sugar, so omit if you prefer. Or only sugar half the rim to keep both options on the table!
Variations
Unsurprisingly for such a popular cocktail there are a lot of different varieties in existence. I've added to the list with my own variation here!
The list of variations includes drinks made with different berries such as raspberries or blueberries. These can be made using puréed or muddled berries, although for my money lemon is far better.
For a less radical change, use vodka or vodka citron, as in the original recipe. To add a hint of additional sweetness, the quantity of triple sec can be increased, although I would do this cautiously to avoid a sickly sweet drink.
The hint of vanilla is another addition that's all my own. I love the added dimension it brings to the drink, but it's an optional extra and can be skipped.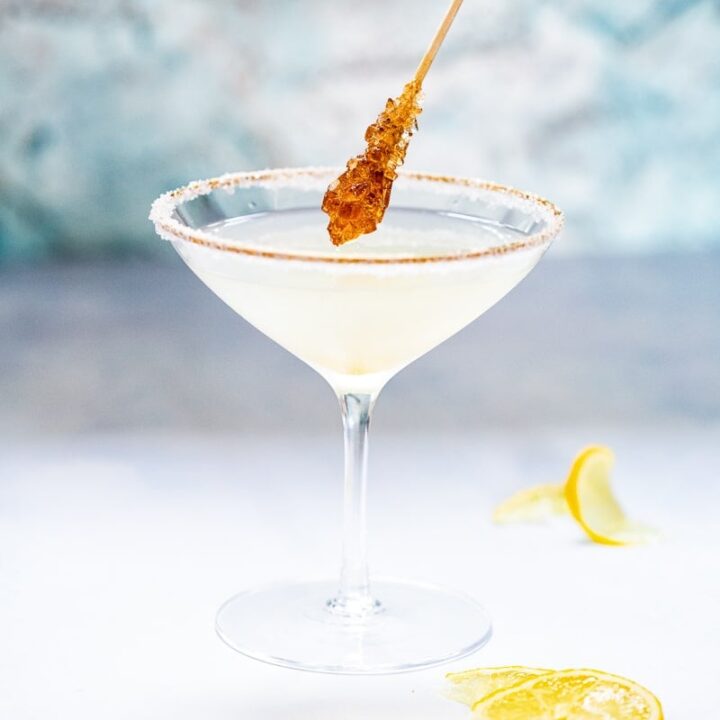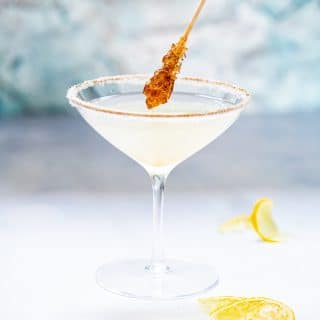 Lemon Drop Martini
Lemon Drop Martini is a classic gin based cocktail.
Ingredients
45

ml

/1 ½ oz gin

15

ml

/ ½ oz triple sec

15

ml

/ ½ oz lemon juice

freshly squeezed

¼

tsp

vanilla

2

tbsp

sugar

1

sugar stir stick

optional
Instructions
Pour the sugar in a saucer. Cut the lemon in half and squeeze out the juice. Rub the rim of a cocktail glass with a lemon half and dip in sugar to coat the rim.

In a cocktail shaker combine gin, triple sec, lemon juice, vanilla and fill it up with ice. Shake until the cocktail shaker is too cold to hold.

Pour in the cocktail glass and decorate with a lemon slice. Use golden sugar stir stick if desired.
Nutrition
Calories:
147
kcal
Carbohydrates:
5
g
Sodium:
1
mg
Sugar:
4
g
Vitamin C:
5.5
mg