If you don't think you like Long Island Iced Tea, you need to try my Cherry Long Island Iced Tea recipe. Incredibly refreshing and satisfying in the heat of the summer!
Follow up the cherry theme and bake our Cherry and Apricot Cake with Amaretto Cream to celebrate summer flavours!

Lately I've been re-discovering delicious classic cocktails, that have been sort of ruined by certain well known restaurants, and as a result got an unfair reputation of sickly sweet, syrupy drinks.
Last week I shared my Lemon Drop Martini and today I am happy to present to you my Cherry Long Island Iced Tea.
Never in a million years have I thought this drink would be something I would recommend. Only because all I knew about Long Island Iced Tea came from my college years in States and going out to places like TGIFridays!
We were poor students after all and going to world class bars with decent bartenders was far out of our reach!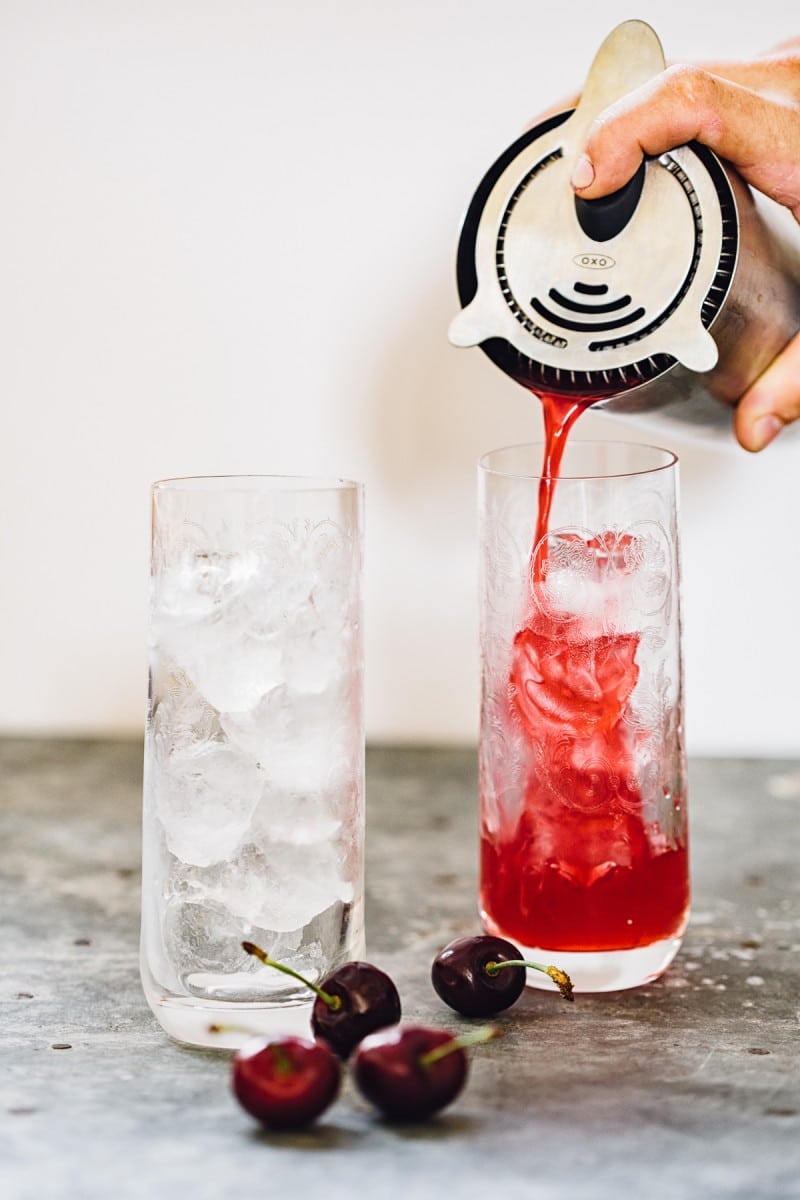 Another thing that didn't seem as appealing about this cocktail is the colour. It's dull brown!
Well Brad and I decided to test out the classic recipe and compare it to our adaptation of it. The cherry version won unanimously on the basis of the superior taste and colour.
While I can't prove to you that Cherry Long Island Iced Tea is simply tastier than the original, I can show you this gloriously red drink and let the image do the talking.
Whether you choose to use lavender shoots as your stir sticks or not, it's up to you. I don't see how I had any choice since my front garden has recently turned itself into a lavender field.
I needed to find a practical use to my beautiful lavender in fear of Brad dealing with it rather harshly. You should hear his threats every night he comes home and has to drag his bicycle through it!
Is Long Island highly alcoholic?
The short answer is NO. At least no more than a daiquiri although at a first glance it appears so due to a list of several spirits in the recipe. We've got vodka, gin, rum, tequila and Triple Sec. Quite a concoction.
However you only need ½ an ounce of each or 15ml. Bear in mind that Long Island Iced Tea is a long drink meaning it's served in a tall glass filled with ice.
It lasts longer and alcohol becomes quite diluted by the time you reach the bottom. This makes this Cherry Long Island Iced Tea an ideal summer sipper.
If you are looking for lighter summer cocktails, check out: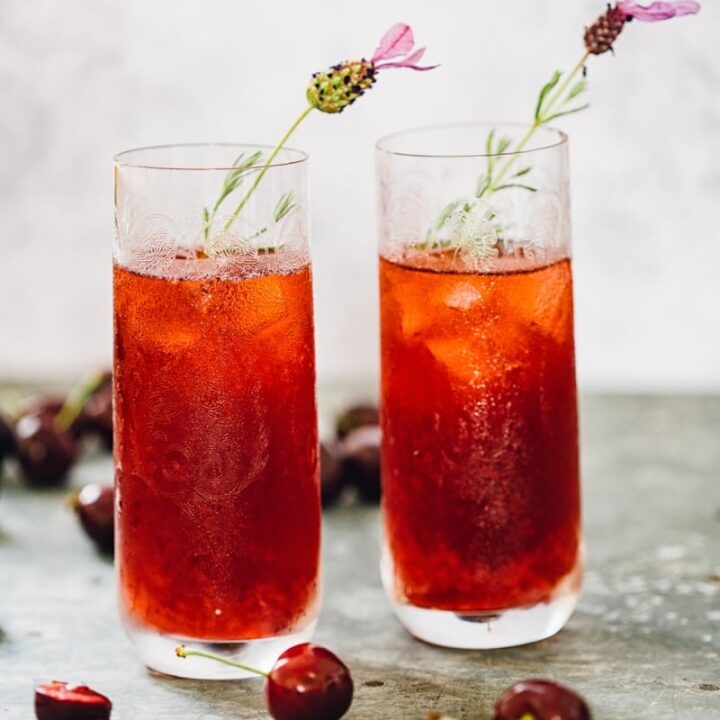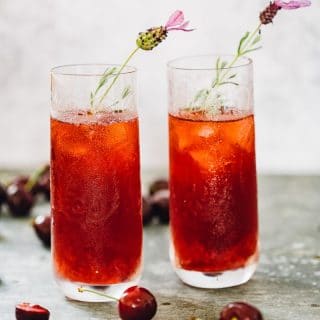 Cherry Long Island Iced Tea
Cherry Long Island Iced Tea is a classic cocktail recipe with inclusion of muddled cherries.

Ingredients
4

cherries

muddled

½oz/15ml

vodka

½oz/15ml

gin

½oz/15ml

light rum

½oz/15ml

tequila

½oz/15ml

orange liqueur

½oz/15ml

lemon juice

½oz/15ml

lime juice

2 oz/90ml

Coca-Cola
Instructions
To a cocktail shaker add cherries and muddle them until they release their juice. Then add all ingredients but Coca-Cola and shake.

Strain into a tall glass filled with ice, then add Coca-Cola and a stir stick.
Nutrition
Calories:
222
kcal
Carbohydrates:
17
g
Sodium:
4
mg
Potassium:
71
mg
Sugar:
14
g
Vitamin C:
12
mg