If you don't think you like Long Island Iced Tea, you need to try my Cherry Long Island Iced Tea recipe. Incredibly refreshing in the heat of the summer!
Follow up the cherry theme and bake our Cherry and Apricot Cake with Amaretto Cream to celebrate summer flavours!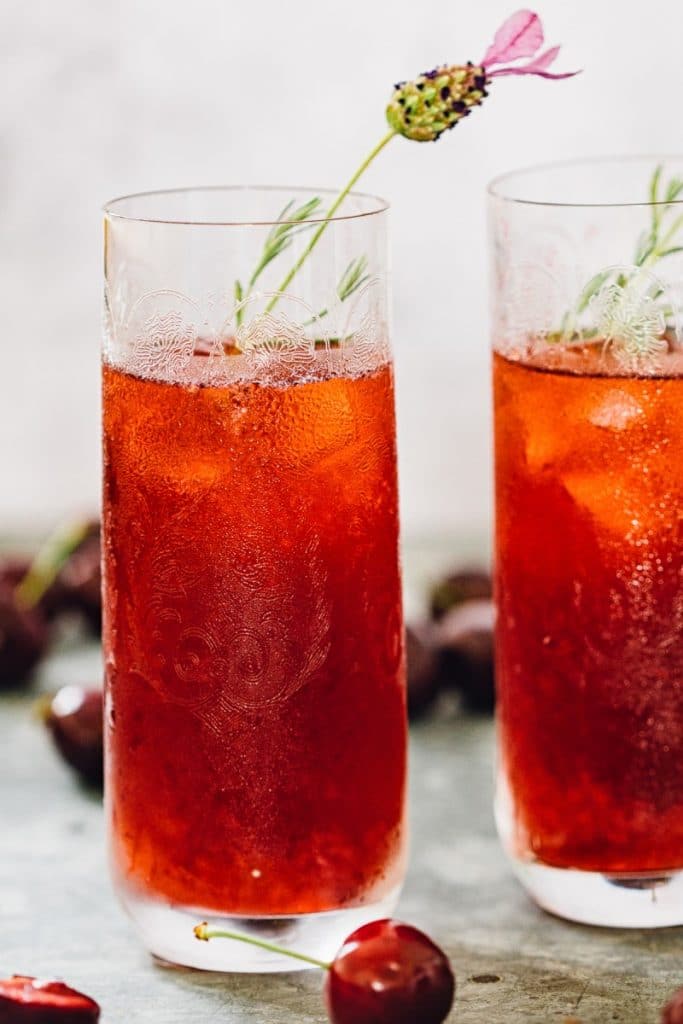 This post contains affiliate links. When you purchase through our links, we may earn a commission.
Lately I've been re-discovering delicious classic cocktails that have been sort of ruined by certain well known restaurants. Tragically, lots of perfectly good drinks have an unfair reputation as sickly sweet, syrupy drinks.
Never in a million years have I thought this drink would be something I would recommend. But the simple addition of cherries makes it a whole different experience. Not only does it taste better, it looks gorgeous as well!
Long Island iced tea
No one is quite sure where this drink came from, or even when, although there are strong feelings on both counts. For my money, I think it was made by Robert 'Rosebud' Butt, working as a bartender on Long Island in the early 1970s.
Although his recipe may have been different in some ways, such as using very little cola, the current version became the standard. It quickly grew in popularity throughout the 1980s and is now an expected part of the menu in many bars and restaurants.
And why is it iced tea? It's a slightly strange choice as tea has no place near it. The name is actually a reference to the slightly brown colour, which resembles iced tea when all the ingredients come together.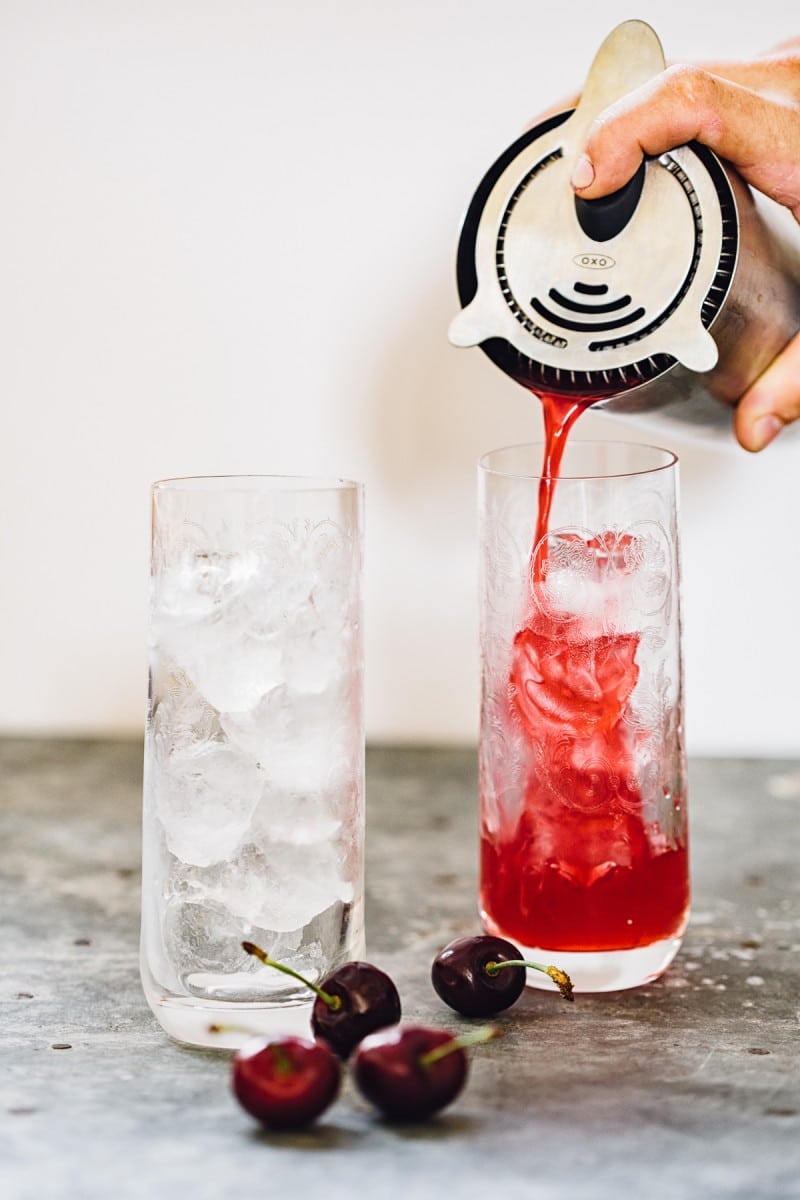 The drink has long been divisive. Many bartenders resent it because the long list of ingredients make it extra time consuming to make, never a benefit at a busy bar.
And unfortunately it has gained a reputation as a drink college students choose to get drunker, faster with a cocktail that's easy to drink. Unfair, I think.
While I can't prove to you that Cherry Long Island Iced Tea is simply tastier than the original, I can show you this gloriously red drink and let the image do the talking.
Ingredients
A long island iced tea uses a longer list of spirits than most drinks. This doesn't mean that it is more alcoholic (see below) but does mean that you need a more complete bar to pull off.
Fortunately, none of the spirits are hard to come by. And because the drink has added cola and cherries there's no need to pay extra for premium spirits. Pretty much any will do, so save a bit of money and enjoy it just as much!
The lemon juice may seem like a bit of an option extra, but it has an important role to play. The acidity of lemon cuts through the sweetness of the drink and keeps it from becoming too sweet. It also adds a bit of zest to the drink, which makes it that much more refreshing!
Is it highly alcoholic?
The short answer is NO. At least no more than a daiquiri or other classic cocktails, although at a first glance it appears so due to a list of several spirits in the recipe. We've got vodka, gin, rum, tequila and orange liqueur. Quite a concoction.
However you only need ½ an ounce or 15ml of each. Bear in mind that Long Island Iced Tea is a long drink meaning it's served in a tall glass filled with ice. To make it less concentrated with alcoholic, simply serve in a larger glass with more cola.
It lasts longer and alcohol becomes quite diluted by the time you reach the bottom. This makes this Cherry Long Island Iced Tea an ideal summer sipper.
Tips and notes
Variations of this drink can be easily created by choosing different versions of the spirits. It will taste different if made with light, dark or spiced rum, or with tequila bianco, reposado, or añejo. The drink is quite forgiving so experiment away to find your preferred combination!
The recipe calls for orange liqueur, which can be found under various names. Cointreau is ideal, but triple sec is great as well and usually costs less.
One of the main rule with almost every cocktail is that they get better when colder. Used chilled cola and serve the drink with plenty of ice.
I garnished my drinks with a sprig of lavender, making the most of a bush in my backyard. For something more traditional, add a slice of lime to the rim of the glass. A squeeze of lime will add an extra hit of citrus to the drink as well.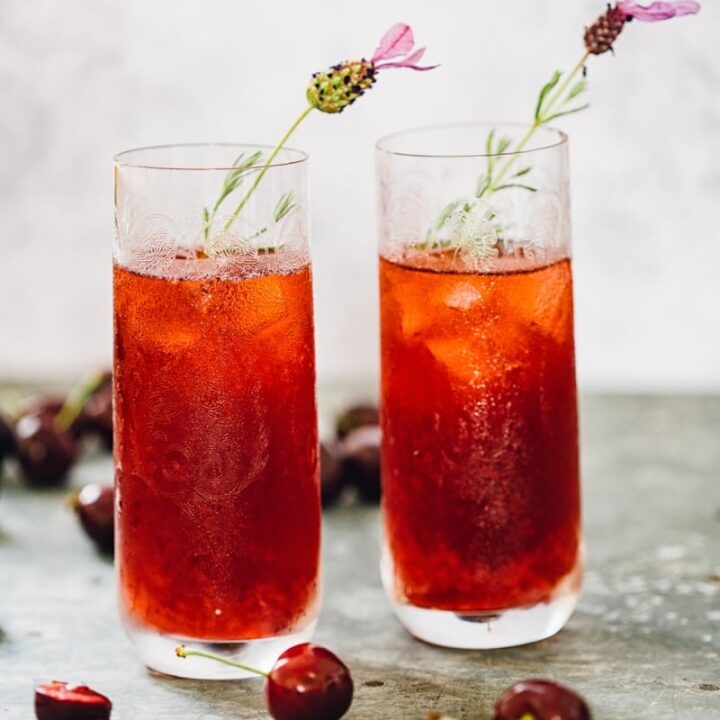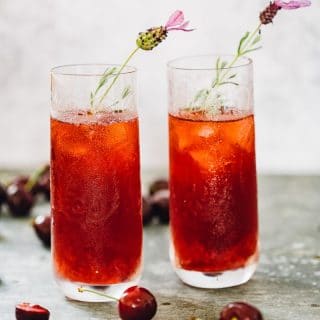 Cherry Long Island Iced Tea
Cherry Long Island Iced Tea is a classic cocktail recipe with inclusion of muddled cherries.

Ingredients
4

cherries

muddled

½

oz

/ml vodka

½

oz

/15ml gin

½

oz

/15ml light rum

½

oz

/15ml tequila

½

oz

/15ml orange liqueur

½

oz

/15ml lemon juice

½

oz

/15ml lime juice

2

oz

/90ml cola
Instructions
To a cocktail shaker add cherries and muddle them until they release their juice. Then add all ingredients but Coca-Cola and shake.

Strain into a tall glass filled with ice, then add Coca-Cola and a stir stick.
Nutrition
Calories:
222
kcal
Carbohydrates:
17
g
Sodium:
4
mg
Potassium:
71
mg
Sugar:
14
g
Vitamin C:
12
mg