Deliciously refreshing and light, this Elderflower Peach Bellini is a perfect summer treat! With sweet peach and floral elderflower cordial topped with sparkly Prosecco, it's perfect for brunch, happy hour or any occasion where you want a refreshing and fruity drink!
Stick with the peach theme and enjoy this refreshing cocktail with a lovely Summer Peach Cake!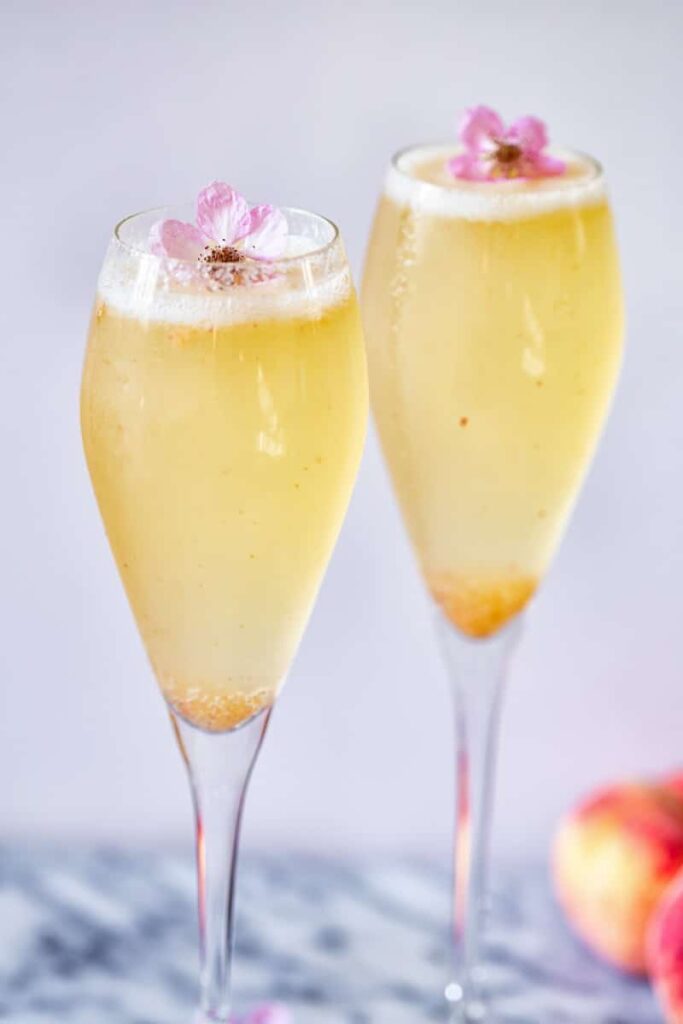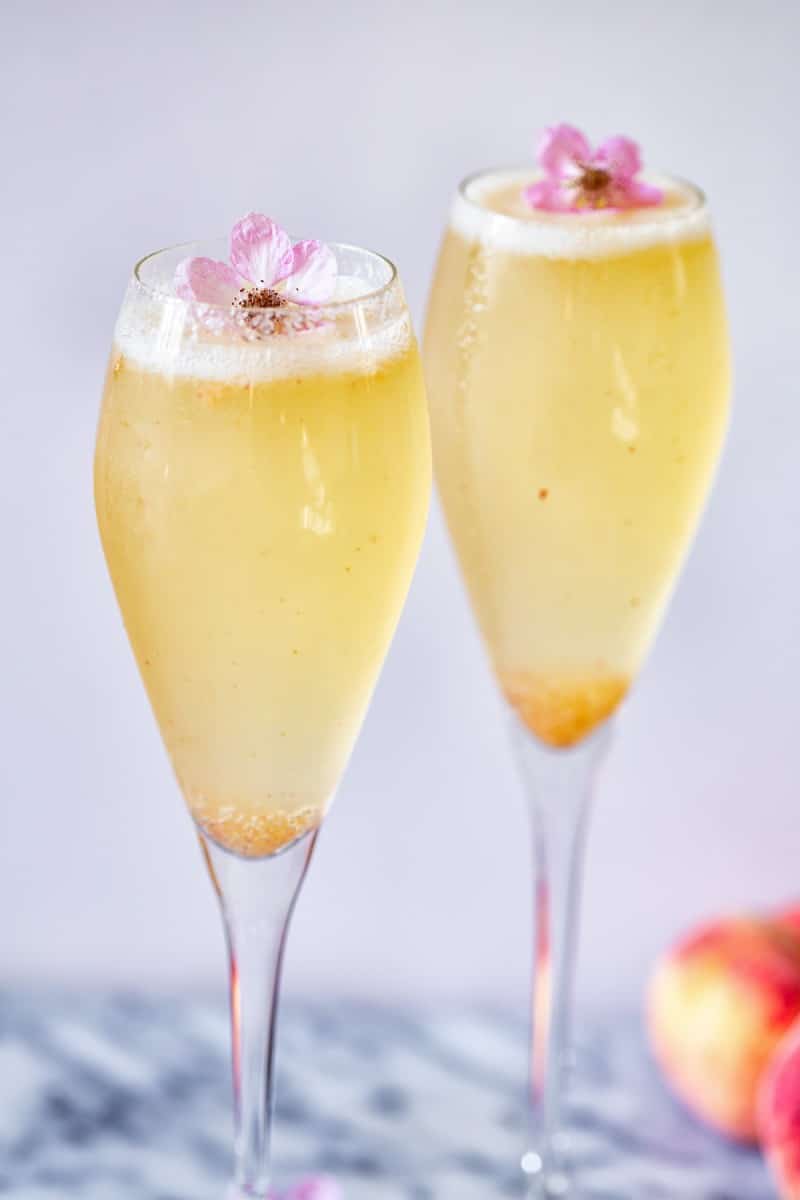 This post contains affiliate links. When you purchase through our links, we may earn a commission.
The best part of moving towards summer is the abundant quantities of fresh fruit and vegetables. Biting into a fruit that's both fresh and in season brings a level of joy that is hard to find anywhere else!
If you peek inside my summer fruit basket, you will always find a healthy pile of peaches. Peaches are absolutely stunning in the middle of the summer and I am always happy to use them in my cooking.
But sweet, ripe fruit also make for AMAZING drinks! And it's the beautiful flavour of peach that has made the Bellini such a legendary cocktail.
If you are familiar with drinking Bellinis made with anything other than perfectly ripe and fresh peaches, then trying this drink as it was intended to be enjoyed is going to be a very pleasant surprise!
I've made this drink my own by adding elderflower cordial, one of my favourite flavours. Sparkly, fresh and delicate, this is a drink you have to try!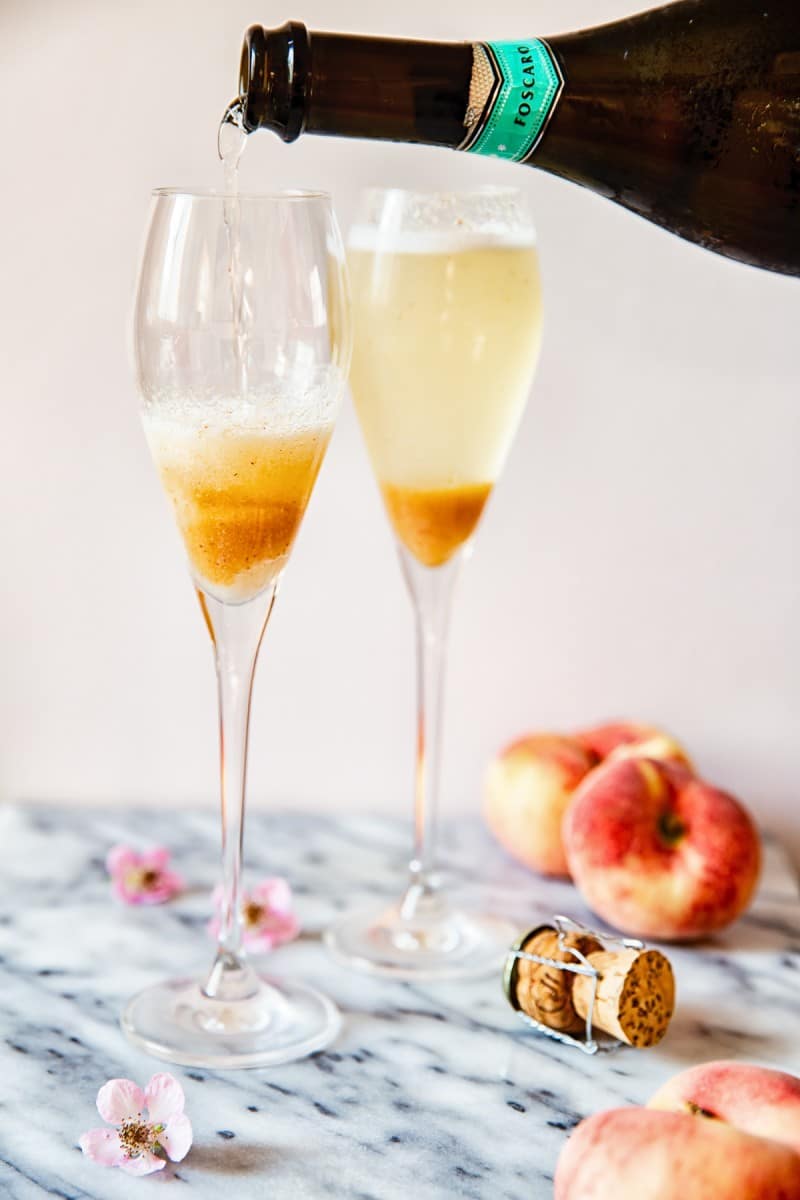 Bellini cocktail
The famous Bellini has been around since the 1930s or 1940s. It was created by a bartender named Giuseppe Cipriani at a well-known bar in Venice, Italy.
The name was inspired by the lovely peach colour of the drink. It reminded Giuseppe of a painting by Giovanni Bellini, and the name stuck.
We are almost a century removed from the invention of this delicious cocktail and it shows no signs of slowing down. Light, refreshing and easily adaptable, it's a go-to drink for many, especially when the temperature goes up!
Ingredients
The Bellini comes from a time when cocktails were mostly simple and straightforward. Traditionally, the ingredient list has only two items: peach nectar or juice and sparkling wine. Although pretty much any sparkling wine will work in this drink, it is Italian in origin, so using Prosecco is the best choice.
As a simple cocktail, there is no limit to the variations that are possible and have been attempted. For my version, I wanted to make it even more delicious and fragrant by adding a splash of non-alcoholic elderflower cordial, which gives this peach Bellini a beautiful floral scent.
Don't worry if you can't find it. You can also use an elderflower liqueur (like St Germain) or stick to the classic recipe without the addition of elderflower cordial.
I've decorated my peach Bellini with blackberry blossoms from my garden as a hint to the floral scent they carry.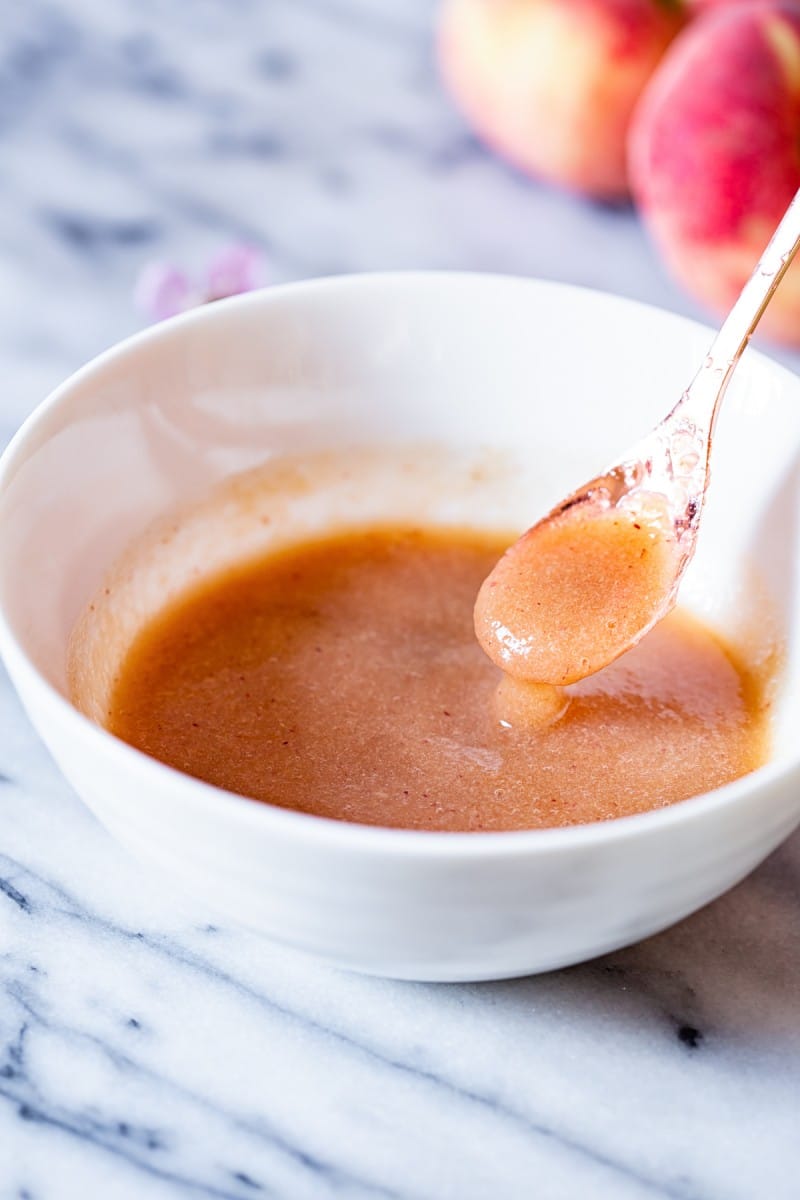 Peach purée
It may be tempting to purchase ready-made peach purée, but it'll never be as good as one made at home. Plus it's dead simple when using a food processor or hand blender.
All you need to do is remove the stone from the peach and process until smooth. Run it through a strainer to take out any chunks as you won't want them in a cocktail. The purée will always be best when using ripe, soft peaches.
Peach purée can last for about 3-5 days in the fridge, but because it has no preservatives it will start to go brown pretty quickly. For this reason, I would only make as much as you need on the day.
How much alcohol is in a Bellini?
Not very much! The main ingredient in the drink by volume is a sparkling wine, which is moderately alcoholic. This Bellini is also a part peach puree, which makes it a light summer drink.
For an alcoholic-free version, simply swap the Prosecco for a non-alcoholic sparking wine.
Recipe tips and notes
Prosecco is traditionally used for Bellini, a nod to its Italian heritage. But other dry sparkling wines will be just as wonderful in this cocktail.
Choose soft and ripe peaches for the best purée. The natural sweetness of the peaches is just right for the drink, which unripe peaches just can't provide. The purée won't store long before starting to turn an unappetising brown colour. For this reason, I've suggested only blending a single peach at a time, which is enough for two cocktails. As not all food processors or blenders will work will with such a small quantity, I recommend using a hand blender if available.
Elderflower cordial can be found at many grocery stores, especially the larger ones. If you can't find it, leave it out to make a classic peach Bellini. Or use an elderflower liqueur such as St Germain.
The Bellini will need to be stirred after adding the Prosecco, but stirring too much will release the bubbles and result in a flatter drink. Stir gently only until the purée is combined.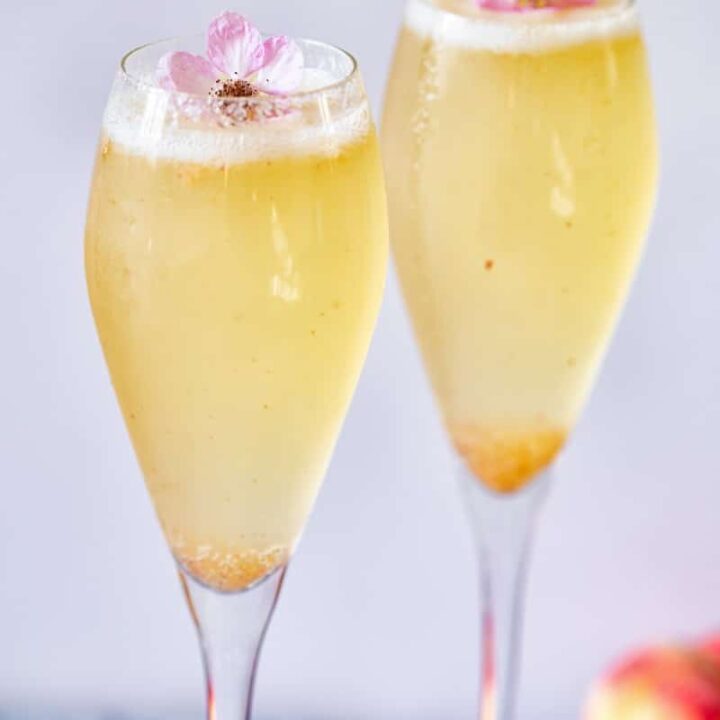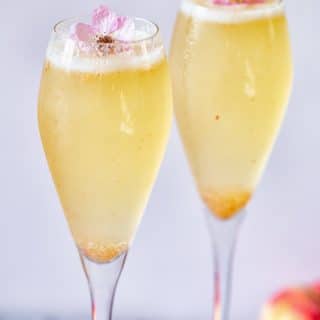 Elderflower Peach Bellini
This elderflower peach bellini cocktail made of fresh peach purée scented with elderflower cordial and topped with Prosecco.
Ingredients
2

oz

/50ml peach purée

½

oz

/12.5ml elderflower cordial

Prosecco

or any sparking wine
Instructions
Process 1 peach in a a blender or a food processor, strain through a fine sieve and measure out 2 oz of the strained peach puree.

Add the elderflower cordial to the strained peach purée. Divide evenly between two chilled champagne flutes and top with chilled Prosecco. Gently stir with a bar spoon to distribute the peach purée.
Notes
Be careful not to stir the cocktail too vigorously as this will release the bubbles and result in a less fizzy drink.
Nutrition
Calories:
55
kcal
Carbohydrates:
9
g
Protein:
0.3
g
Fat:
0.1
g
Saturated Fat:
0.01
g
Polyunsaturated Fat:
0.03
g
Monounsaturated Fat:
0.02
g
Sodium:
11
mg
Potassium:
83
mg
Fiber:
0.4
g
Sugar:
8
g
Vitamin A:
92
IU
Vitamin C:
1
mg
Calcium:
7
mg
Iron:
1
mg