Deliciously refreshing and light this Elderflower Peach Bellini is a perfect summer treat!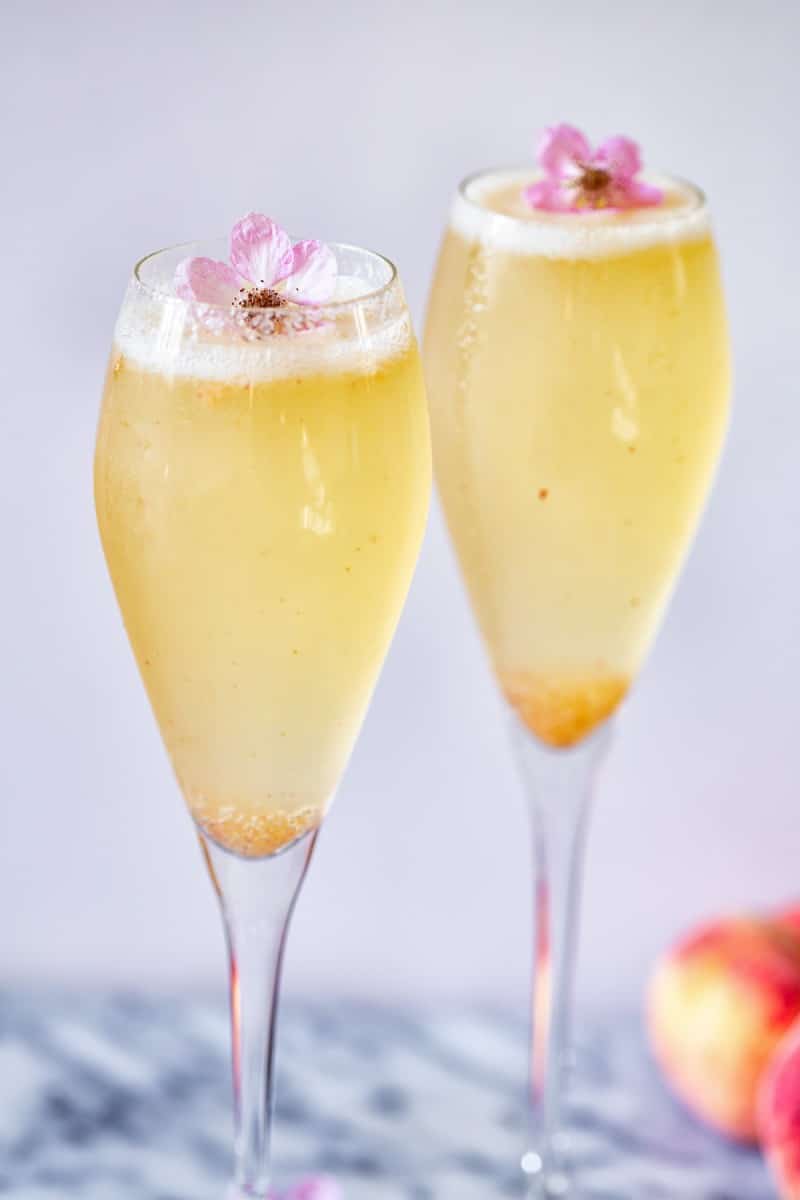 I am so in love with this time of the year because of so many things but mainly because of the fresh fruit and vegetables that are in abundance.
Ever since kids were little the only snacks they were allowed before bed were fruit, so we've always kept a giant fruit basket in the middle of the kitchen table.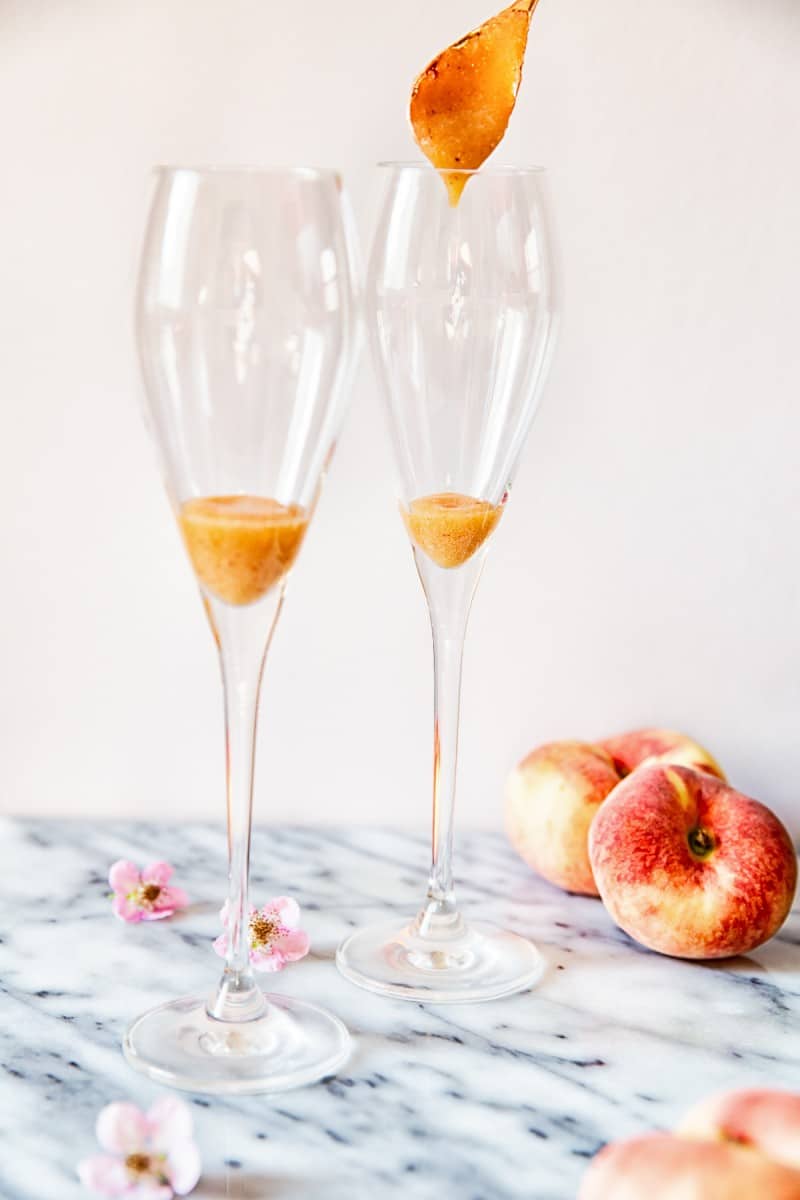 The fruit inside that basket varies with seasons but we always make sure it's full!
Anyway, what does any of it have to do with the peach Bellini you might wonder.
Peaches!! Peaches are absolutely stunning in the middle of the summer and I am always happy to use them in my cooking as well as eating them fresh.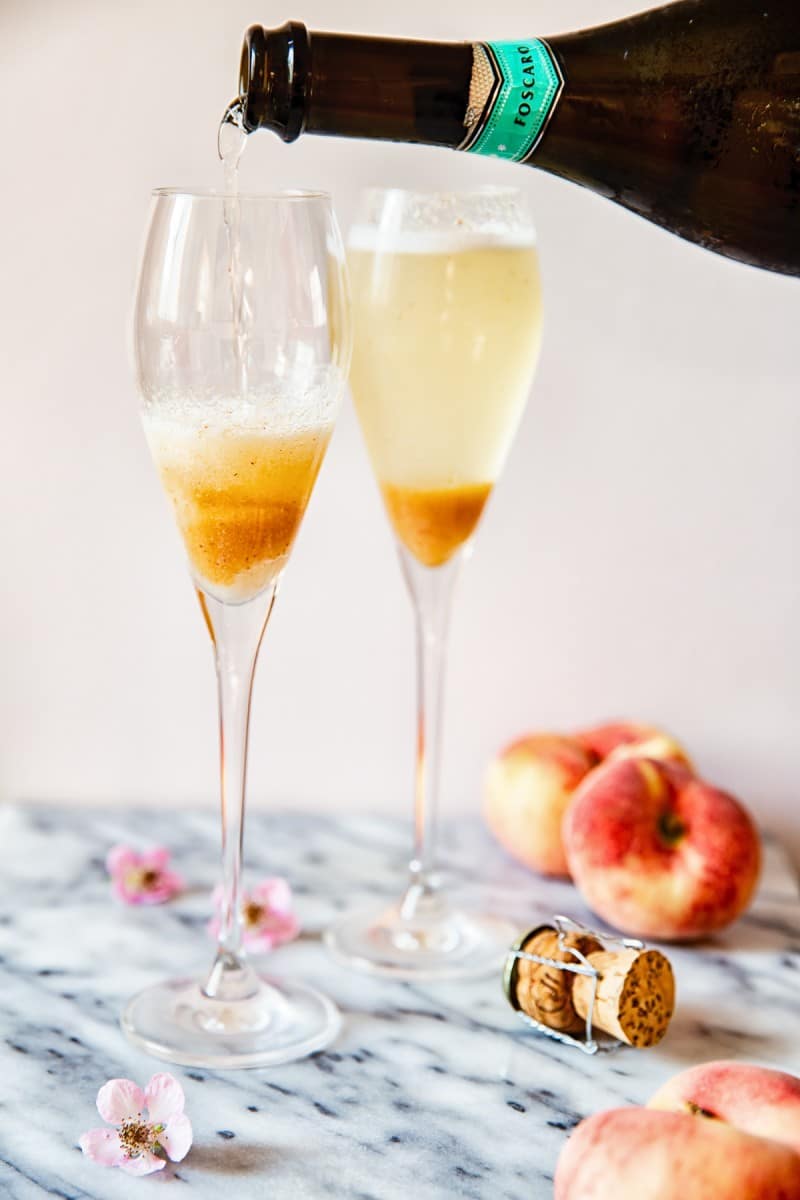 I was first introduced to flat, or as they are called, "donut peaches" in Italy. They were absolutely irresistible and impossible to eat gracefully. Inevitably the peach juice would run down our chins and then down to our elbows making us sticky.
Once we bought a large basket of them and ate them quickly leaning over the balcony of our hotel room to avoid getting the room messy! Such fun memories!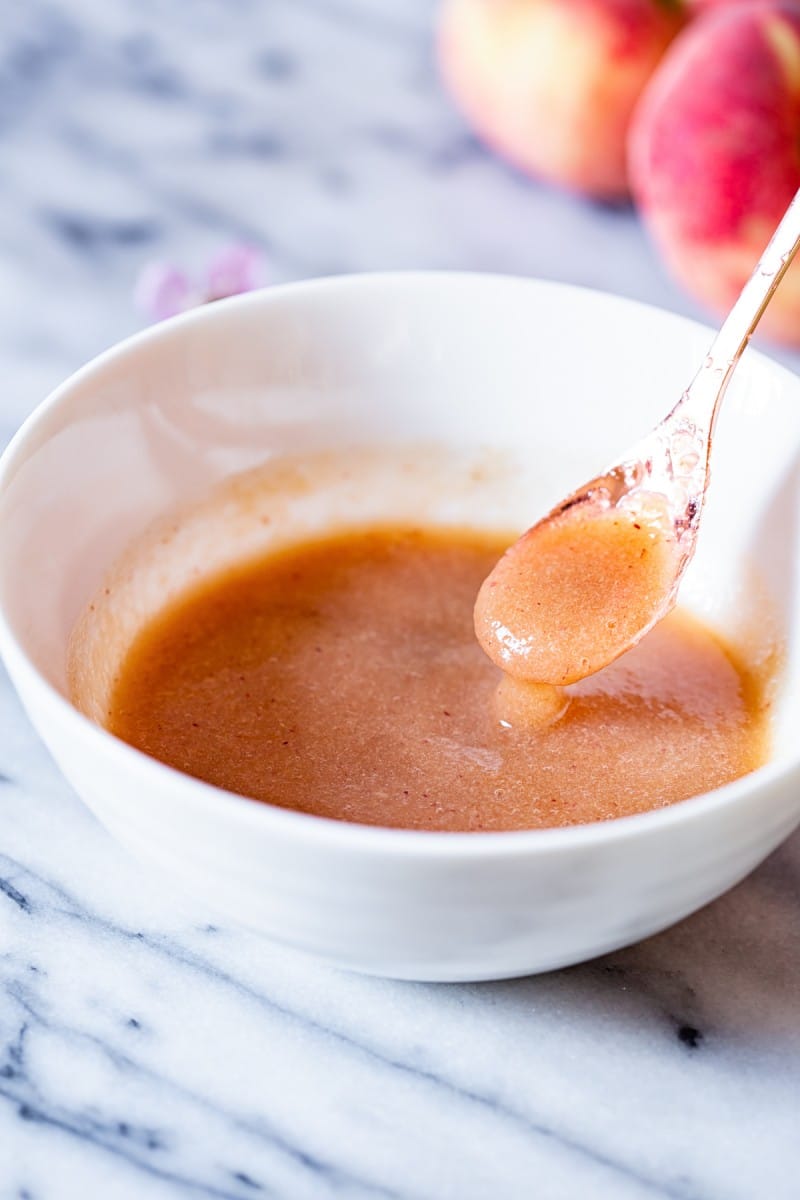 Donut peaches are especially good in these Bellinis are they are extremely sweet and fragrant.
What is a peach bellini made of?
Bellini is a beautiful mix of peach nectar or juice and sparkling wine. It is Italian in origin, so using Prosecco is the right choice here.
I wanted to make it even more delicious and fragrant by adding a splash of non-alcoholic elderflower cordial, which gives this peach Bellini a beautiful floral scent.
Don't worry if you can't find it. Peach Bellini is a gorgeous drink made the classic way without the addition of elderflower cordial.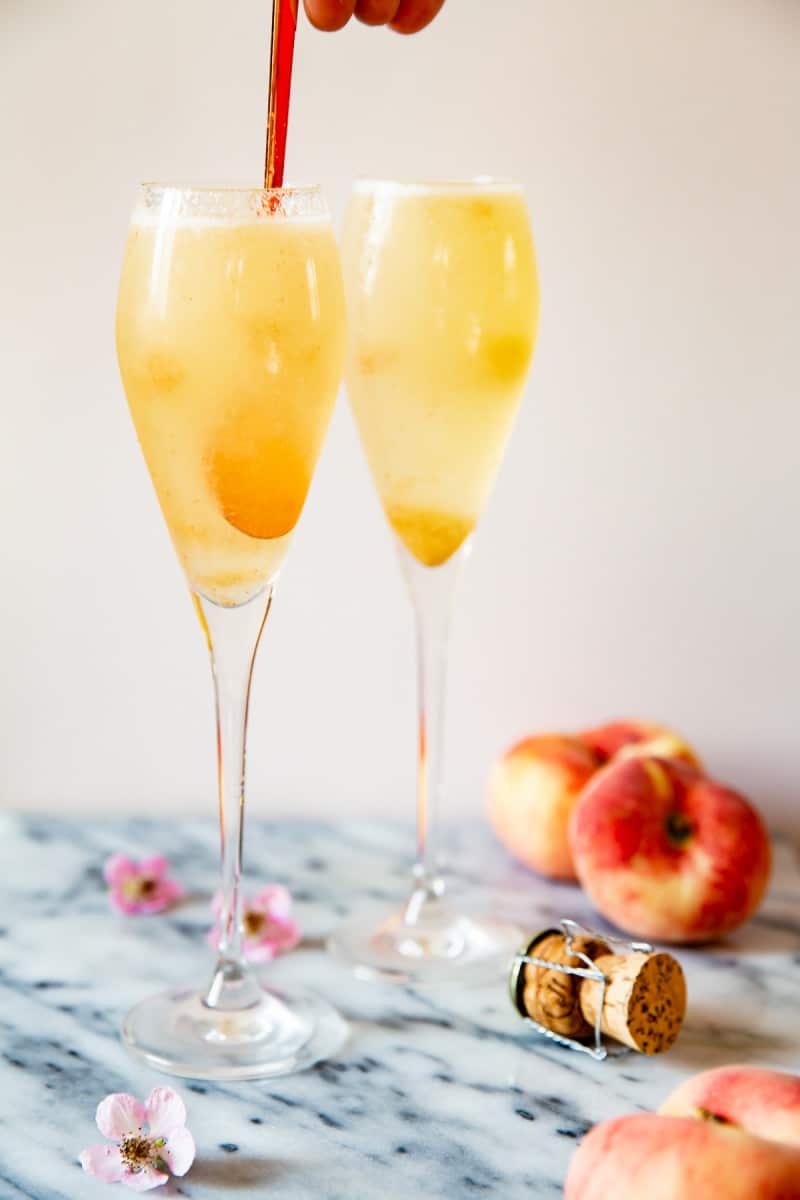 How much alcohol is in a Bellini?
Not very much! Since the main ingredient is a sparkling wine, which is moderately alcoholic, Bellini is also a part peach puree, which makes it a light summer drink.
I've decorated my peach Bellini with blackberry blossoms from my garden as a hint of the floral scent they carry.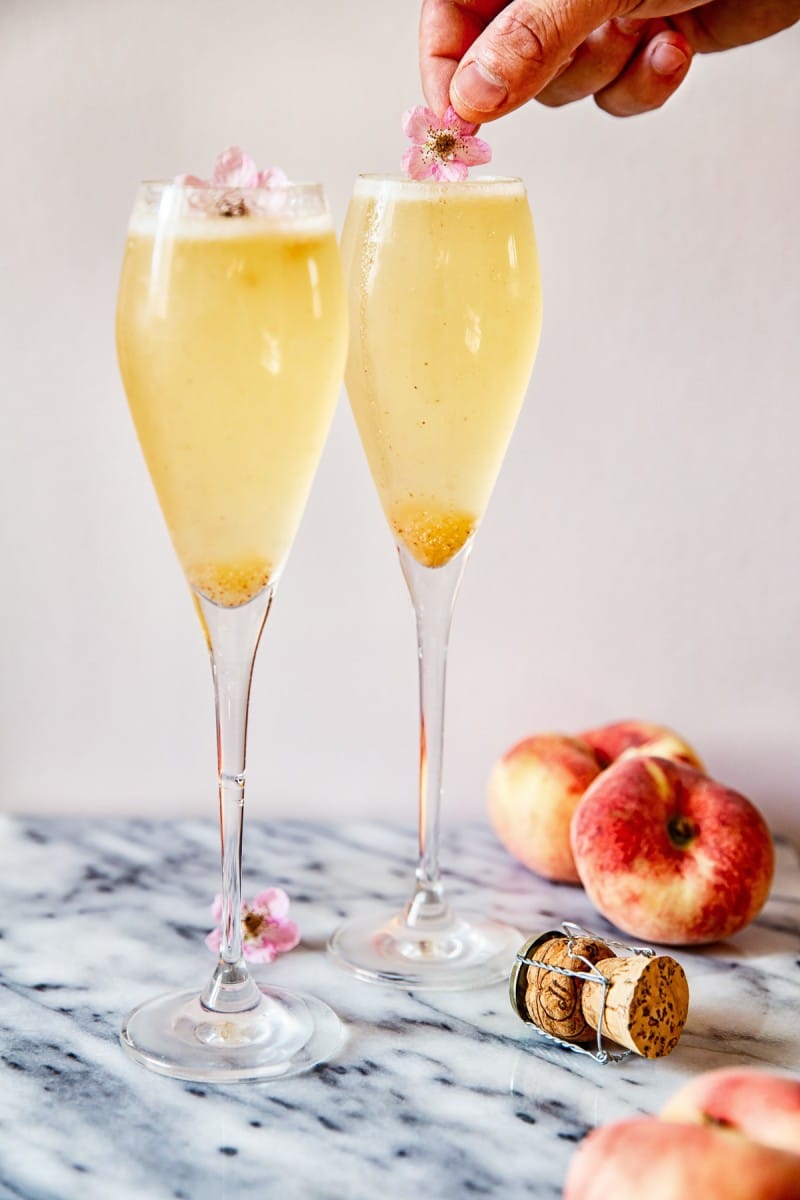 For more peach recipes enjoy:
Summer Peach Cake with Red Currants
Grilled and Honeyed Peaches and Apricots
Tag your creations with @vikalinka, so I could see and share them on my Instagram account. Are you following Vikalinka on Instagram?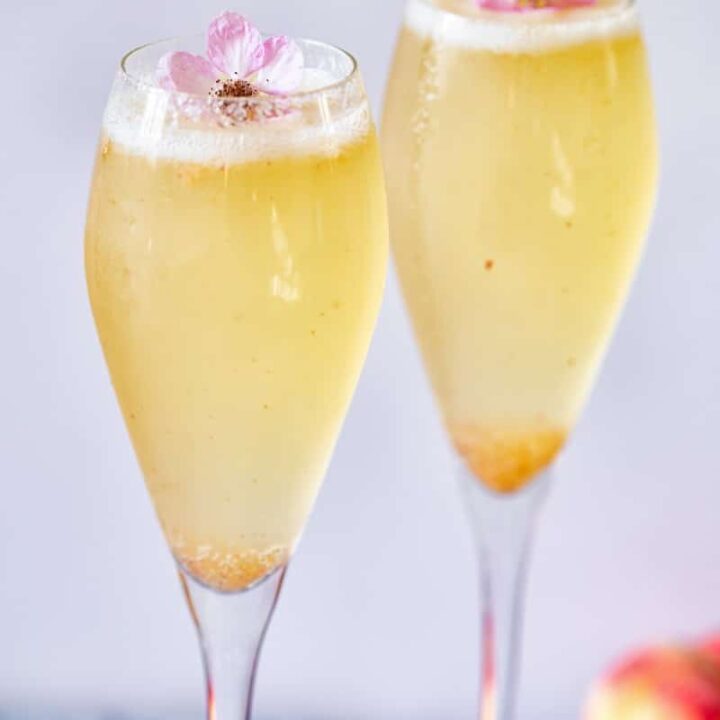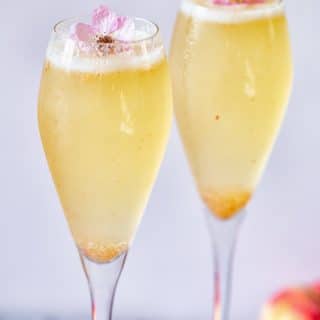 Elderflower Peach Bellini
This elderflower peach bellini cocktail is a beautiful mix of fresh peach puree scented with elderflower cordial and topped with Prosecco.
Ingredients
2

oz

peach puree

½

oz

elderflower cordial

Prosecco
Instructions
Process 1 peach in a a blender or a food processor, strain through a fine sieve and measure out 2 oz of the strained peach puree.

Add the elderflower cordial to the strained peach puree. Divide evenly between two chilled champagne flutes and top with chilled prosecco. Gently stir with a bar spoon to distribute the peach puree.