Passion Fruit Mojito to celebrate hot summer days! Fruity, refreshing and utterly delicious cocktail that is easy to make at home!
For another version of the classic Mojito, take a look at my Mango Mojito! Or if you wish to create a theme, why not make my Summer Party Mojito Grilled Chicken Thighs and serve them with this delicious Orzo Salad with Grilled Zucchini.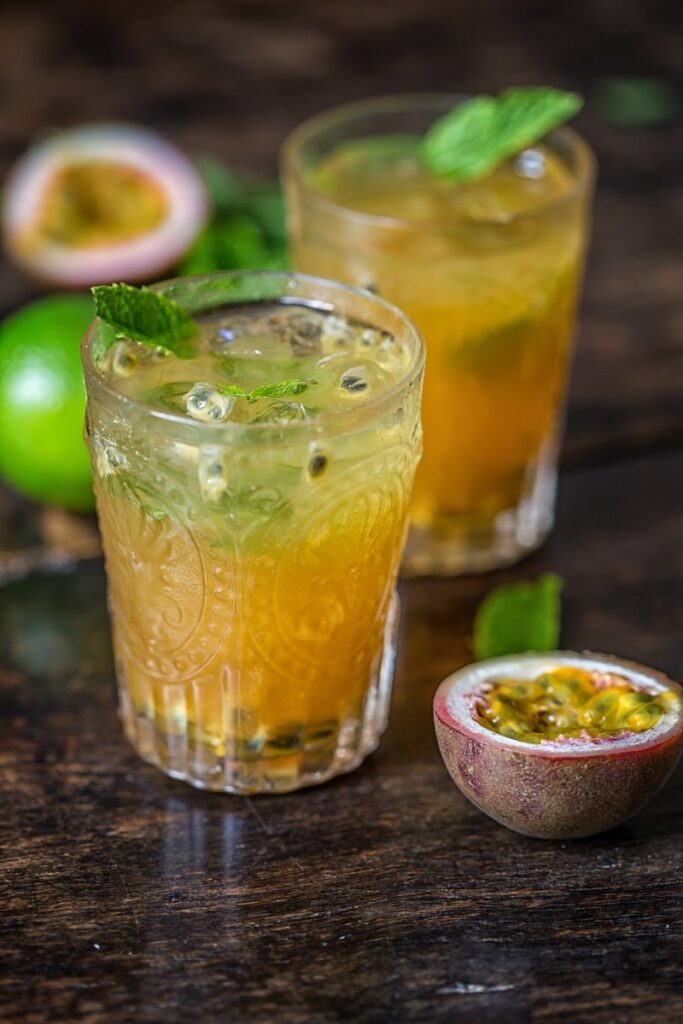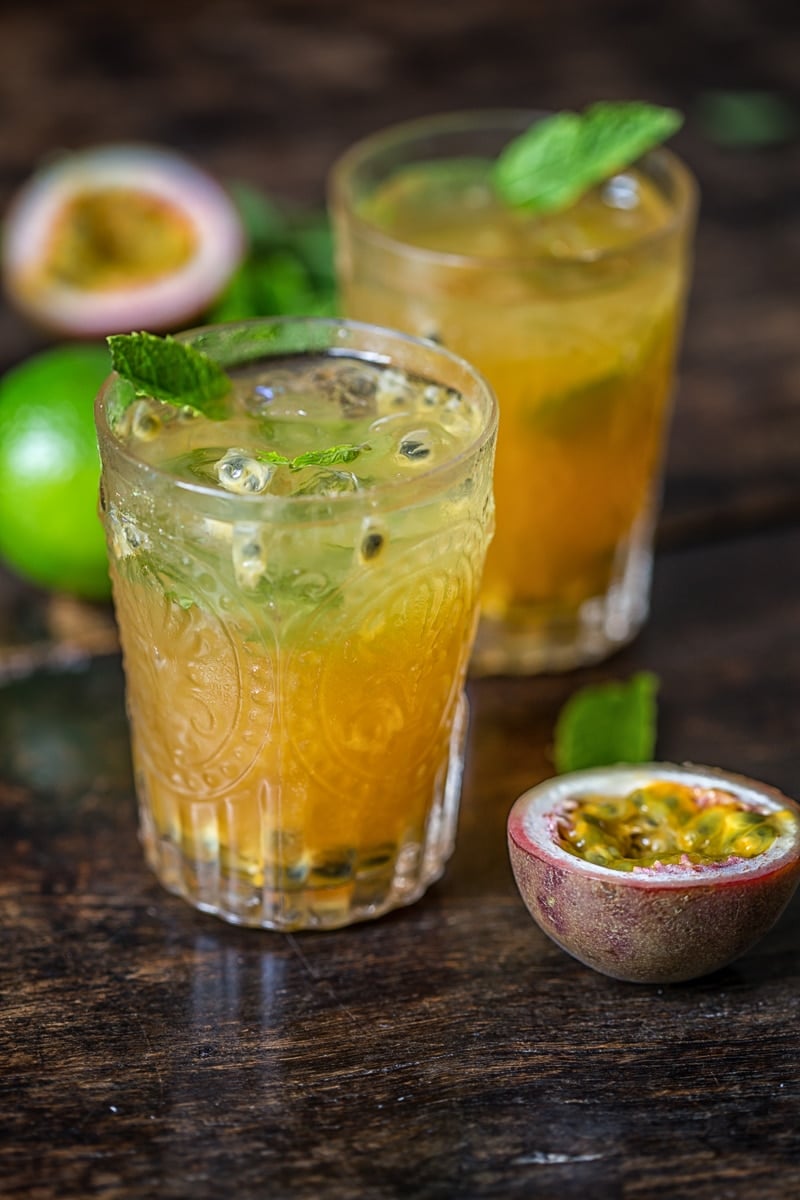 Few cocktails work better on a hot summer day than a mojito. Everything in it is designed to refresh and take away the most desperate thirst.
This legendary Cuban drink brings together mint and lime alongside rum with just right sweetness and a bit of fizz. The classic mojito is just about as perfect as a drink could be.
So why am I tinkering with such a good thing? The basic ingredients for a mojito make a great platform for experimenting, adding new flavours to add a bit of extra flair, which is exactly what you get by including passion fruit.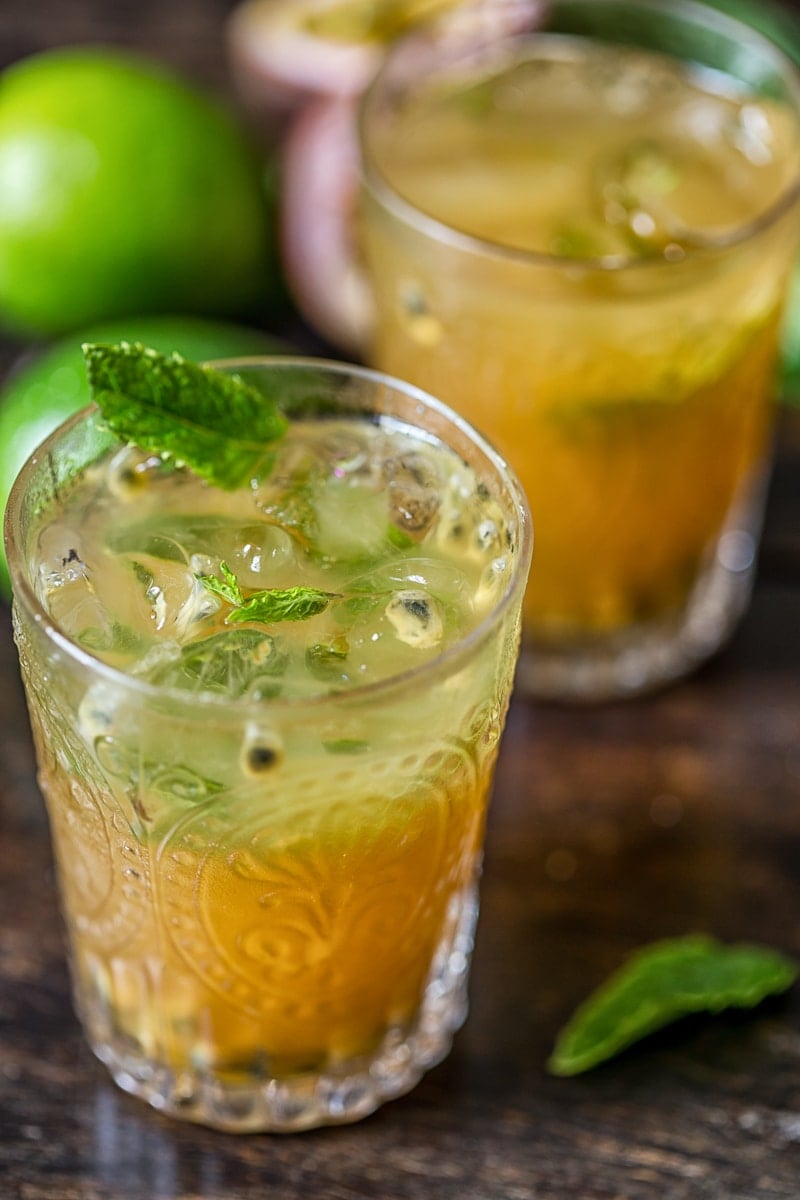 Making a passion fruit mojito
This fantastic recipe came to me from a Columbian friend I met at a barbecue. He spent his time making pitchers of passion fruit mojito, none of which lasted long before they were emptied.
Mojitos take a bit more technique than some cocktails, and a little bit of effort. But none of it is all that difficult to master and it well worth the effort.
Just like with a classic mojito, the key to a good result is well balanced flavours. This is a little harder with a drink like this because not every lime or mint leaf is the same.
Because of this, it is important to taste the mojito as you are making it. That way you can judge the balance of the drink and add more of any ingredient that is missing.
Another trick is to use patience with this recipe. Allowing the mint, sugar and rum to sit together for five minutes gives the flavours time to combine and ensures you are not left with sugar granules at the bottom of your glass.
Once this is ready, add the lime juice and passion fruit and combine well. Add a handful of ice, top with soda water and you are ready to go!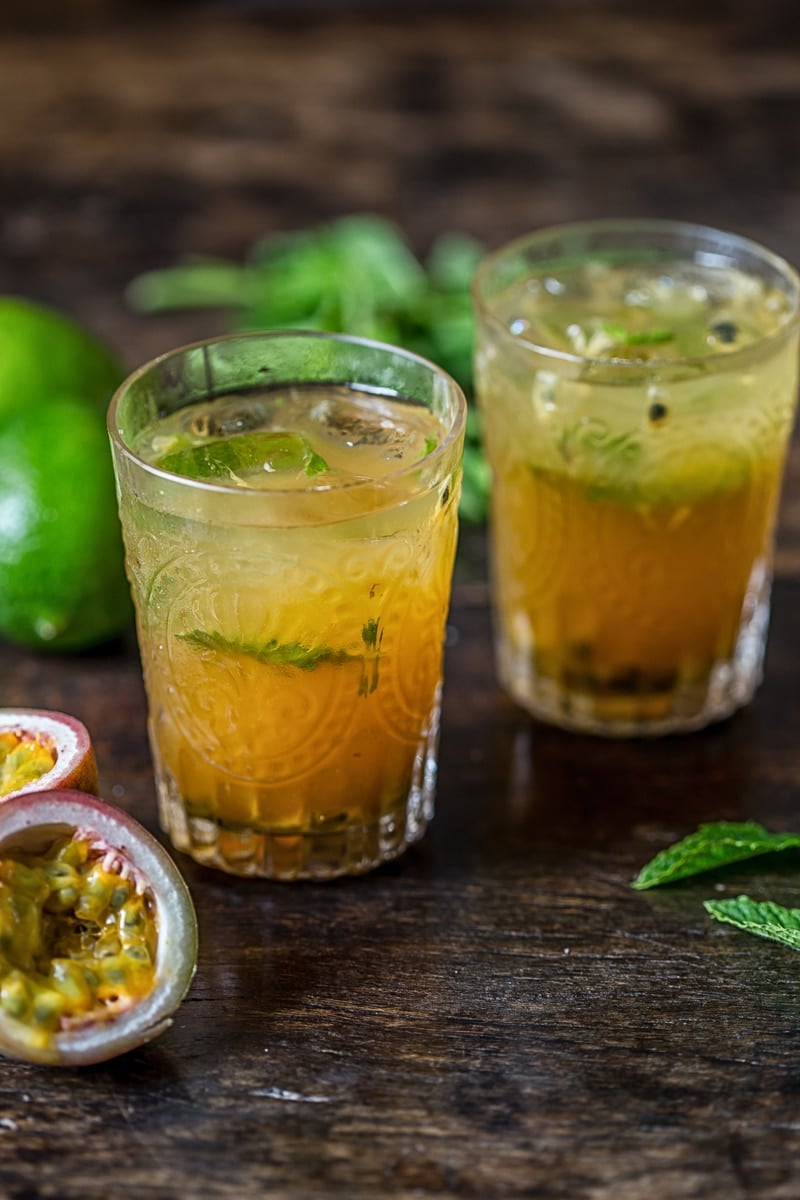 Recipe tips
Don't muddle the mint too intensely. The mint should be bruised to release flavour, but not shredded into small pieces. Lightly mashing the mint 3-4 times is usually enough.
I've added the insides of the passion fruit to the glass and mixed it in with the other ingredients. If you do not like the seeds in the glass, the passion fruit insides can be passed through a strainer to isolate the juice.
Cold cocktails are the best cocktails. Be generous with ice to bring the temperature as low as you can.
It is easiest to drink a passion fruit mojito with a straw to avoid bringing bits of mint or passion fruit into your mouth. Using a paper straw as they are friendlier to the environment.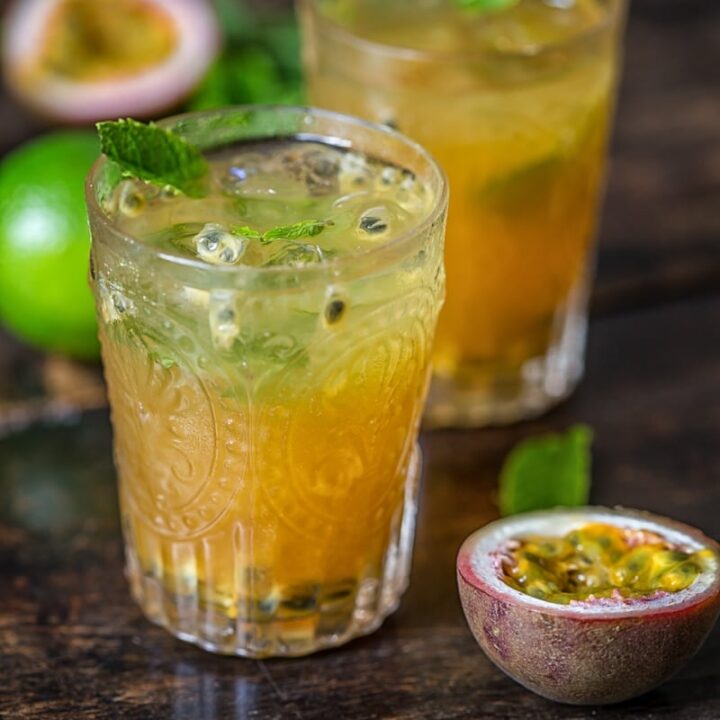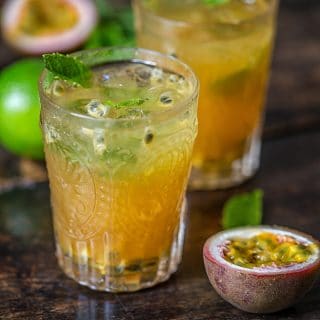 Passion Fruit Mojito
Makes 1 Passion Fruit Mojito
Ingredients
2

shots white rum

2-3

mint leaves

1

tsp

brown sugar

½

passion fruit

½

lime

juice of

ice

soda water
Instructions
In medium sized glass muddle mint leaves with brown sugar, add rum and let it sit for 5 minutes for the rum to infuse with the mint flavour and for the sugar to fully dissolve.

Stir, then add lime juice and scoop the inside of a passion fruit in the glass. Fill the glass with ice, top with soda water and serve immediately.
Nutrition
Calories:
206
kcal
Carbohydrates:
18
g
Protein:
1
g
Fat:
1
g
Saturated Fat:
1
g
Sodium:
15
mg
Potassium:
200
mg
Fiber:
6
g
Sugar:
9
g
Vitamin A:
642
IU
Vitamin C:
23
mg
Calcium:
24
mg
Iron:
1
mg