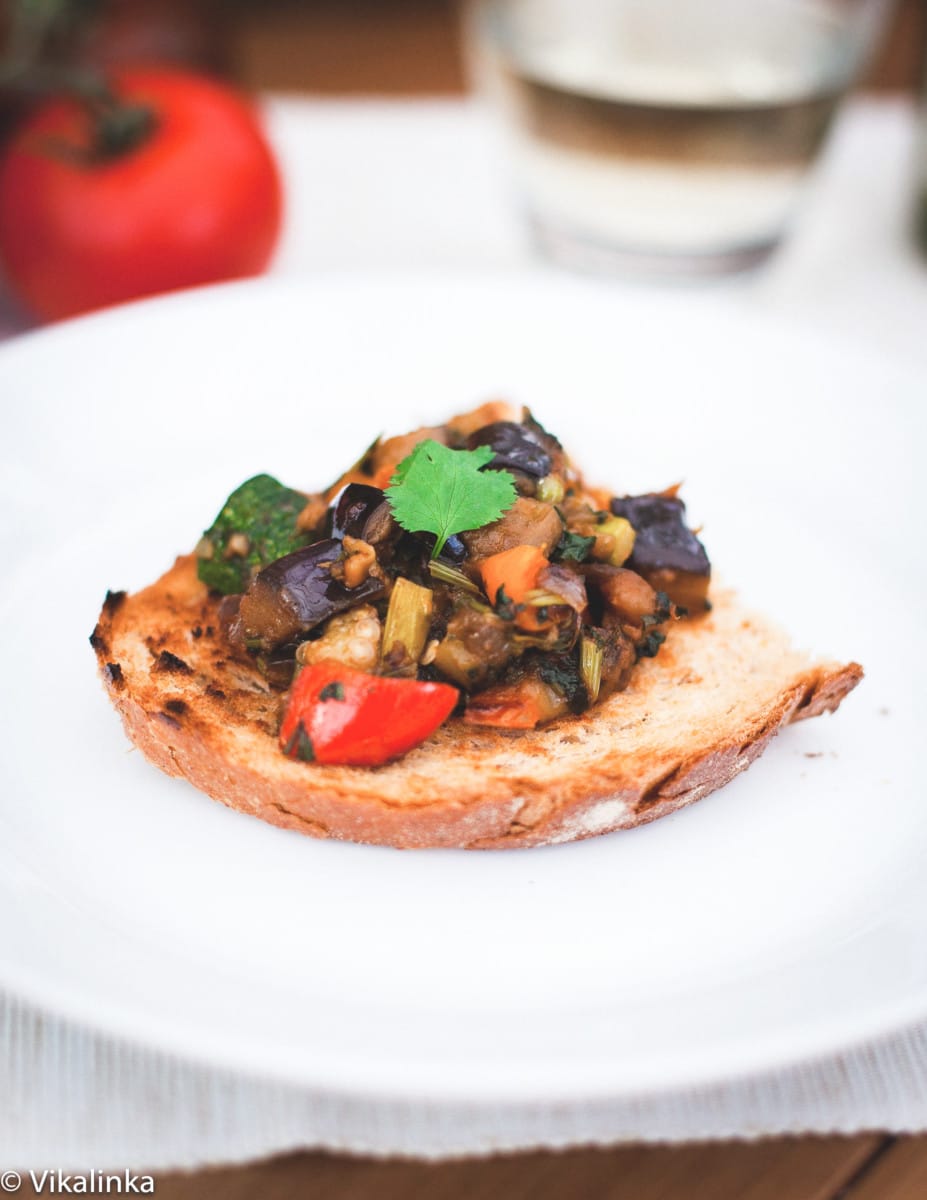 Are you ready for another family classic?
This recipe is something my grandma cooked and my mom cooked and I cook ALL summer long…and sometimes in the winter and in-between. In Russia it's called "Baklajannaya Ikra" or "Eggplant Caviar". Surprisingly enough the recipe is almost identical to French Ratatouille. There is also Sicilian Caponata that is oh so similar with an addition of olives and capers. After travelling the world and discovering all the food similarities you realise we are a lot more connected than we think.
This dish is incredibly flavourful and so versatile. It's eaten as a warm side dish or as a tasty topping for your crusty bread, a favourite with Russian children. As a little girl I remember eating it cold with bread for an afternoon snack. I still love doing it but Brad really prefers it warm so you are going to discover for yourself which way is your favourite.
Ingredients:
Eggplant-2 medium
Zucchini-2-3 medium
Onions-2
Red, yellow, green peppers( I use whatever I have on hand)-2
Garlic-2-3 cloves
Parsley- 1/2 bunch
Cilantro-1/2 bunch
Salt and Pepper to taste
Ketchup or tomato paste-1 tbsp.
Olive oil-2 tbsp.
Method:
There is a long version and a speedy version. The long one involves slicing eggplant, putting it in a colander and sprinkling it with salt and letting it sit for an hour under a heavy weight. That draws bitterness and extra moisture out. It really does. However, I often skip that step and never regret it. If you decided to skip the first step as well the dish will take a bit longer to cook. Lately I've been using a cast iron casserole which cuts the cooking time in half. After years of not wanting to spend the money I finally broke down and bought an Ikea version (still can't bring myself to pay the Le Creuset price tag) and I've never been happier. A cast iron pot is truly a must have tool for every kitchen. Now I have a small size and a big size and 3 skillets!
Back to our Eggplant caviar. Dice your onions, eggplant, zucchini, red or green peppers, set aside. Preheat the olive oil in a heavy casserole type dish and add onions and peppers first, let them saute over medium heat for about 5 minutes and then add your eggplant. Eggplants takes longer to cook than zucchini so if you put them together zucchini will turn into a mush and eggplants will still be spongy. Cook eggplant together with onions and peppers until it's nearly done, about 7 minutes, then add zucchini, parsley, cilantro, minced garlic and a tablespoon of ketchup. Here is my confession, I never cook with ketchup, I don't even like it but I found it gives this dish just a right amount of sweetness! You can add some tomato paste, it's up to you. Cook it for 5-10 minutes longer.
You will see quite a bit of liquid after you've added zucchini, at this point you can turn the heat up and cook it down or keep it a vegetable stew consistency. Mine varies depending on how I feel or how hungry my family is!
The batch right here was pretty dry and perfect to use as a bruschetta topping.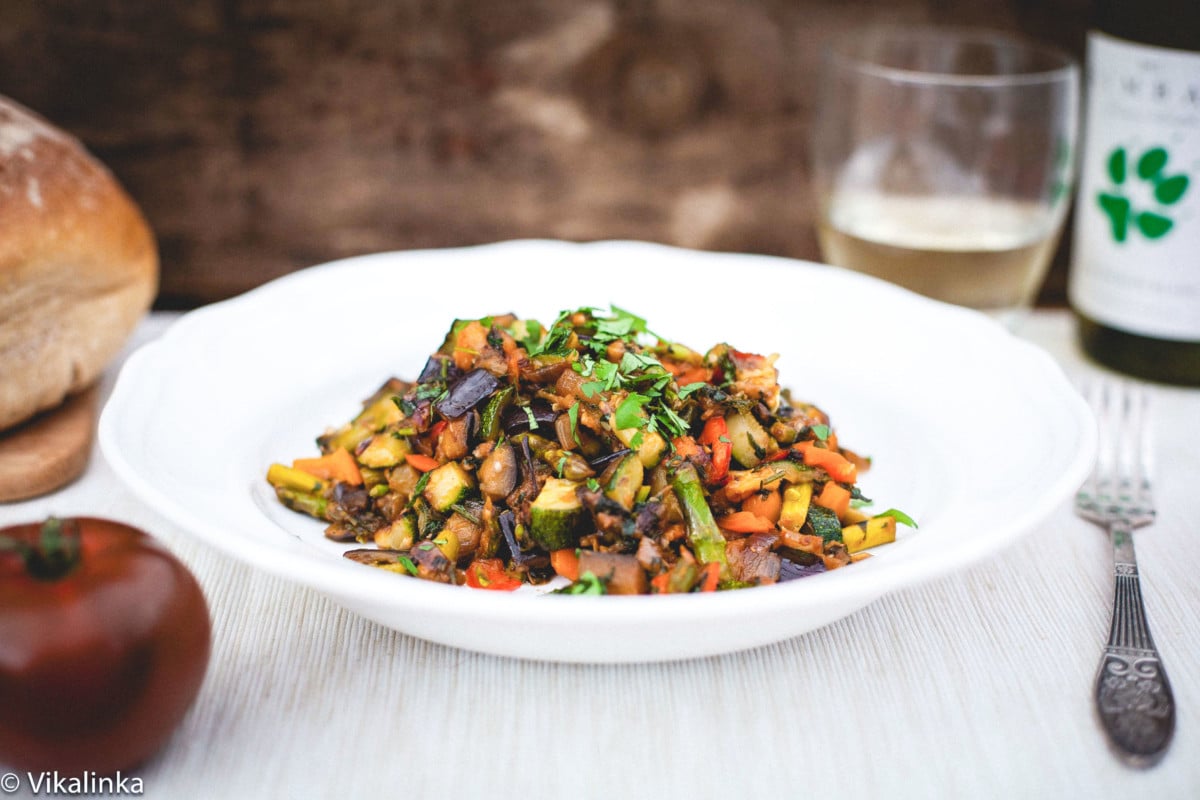 The recipe given here is a basic recipe that you could be altered by adding any other vegetables that you like.
Just a few examples of what I've done in the past: At various times I've added green peas (frozen), asparagus, green beans, carrots, potatoes, chick peas and red kidney beans. They all work well. Play with it and find your favourite combo!