These Chipotle Mayo Roasted Potato Wedges are a lovely and fiery addition to your summer meals!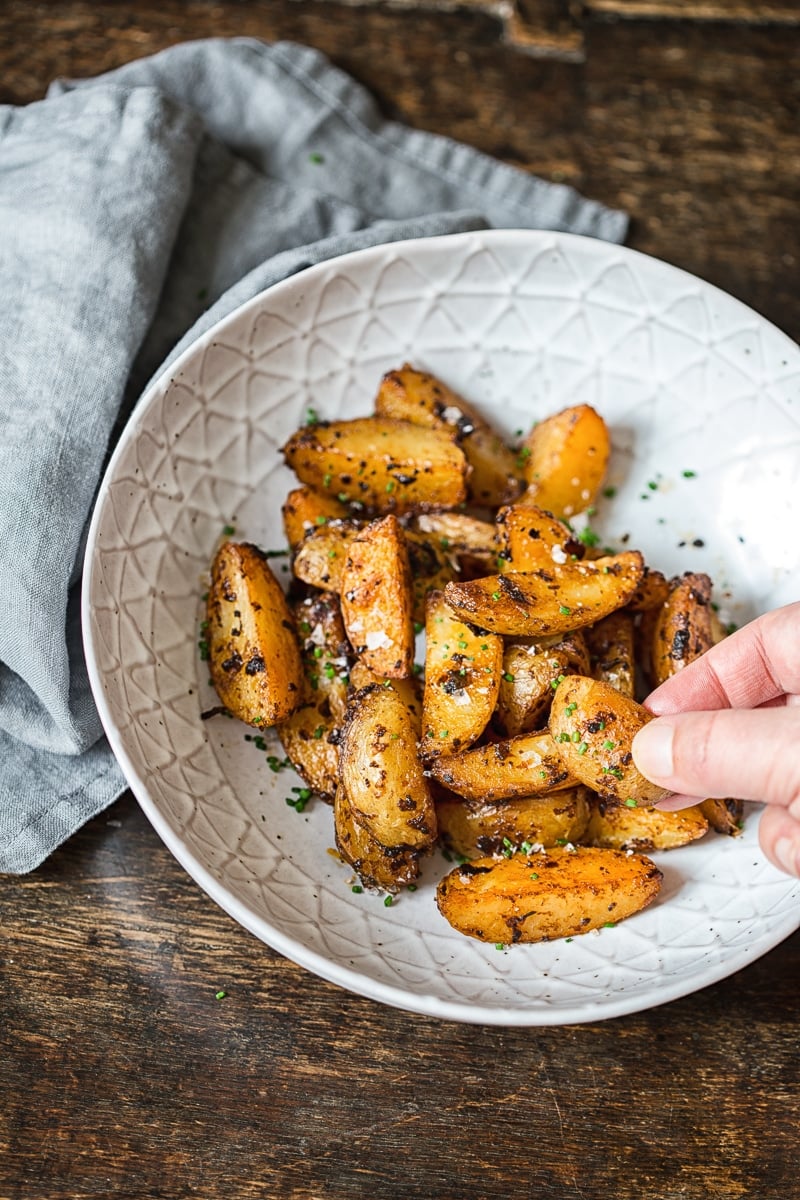 I don't know about you but I am still recovering from the weekend, which wasn't really a weekend, more of a "let's get everything done" type of a thing.
First of all, our firstborn turned 13, so we had a party! A bunch of adolescent boys in the house might be a but worse than toddlers. They are loud and hungry all the time! Actually, to think of it, not much different from toddlers. They are just much larger.
Then, we got a new fridge delivered, which turned out a bit too big for the space, so we had to move the entire kitchen around! Lots of re-organising, sweat and wounded toes!
And to top it off, I spent most of my Sunday creating and photographing milkshakes for The Huffington Post. That was alright though, I surrounded myself with sprinkles, ice cream and cranked up a 50s playlist on Spotify. Then I got to work! Mmm…tasty.
The thing is, by the time dinner rolled around, I had not much time to cook, so we threw some meat on a grill and baby potatoes in a pot.
Some time in the middle of meat cooking and potatoes boiling I knew there was no chance of my kids eating just plain boiled potatoes but they would eat their body weight in roast potatoes!
Fact. So I grabbed some mayonnaise, mixed it up with chipotle paste, then thinned it out with a splash of water and slapped that rub on my potatoes. Oven. Done.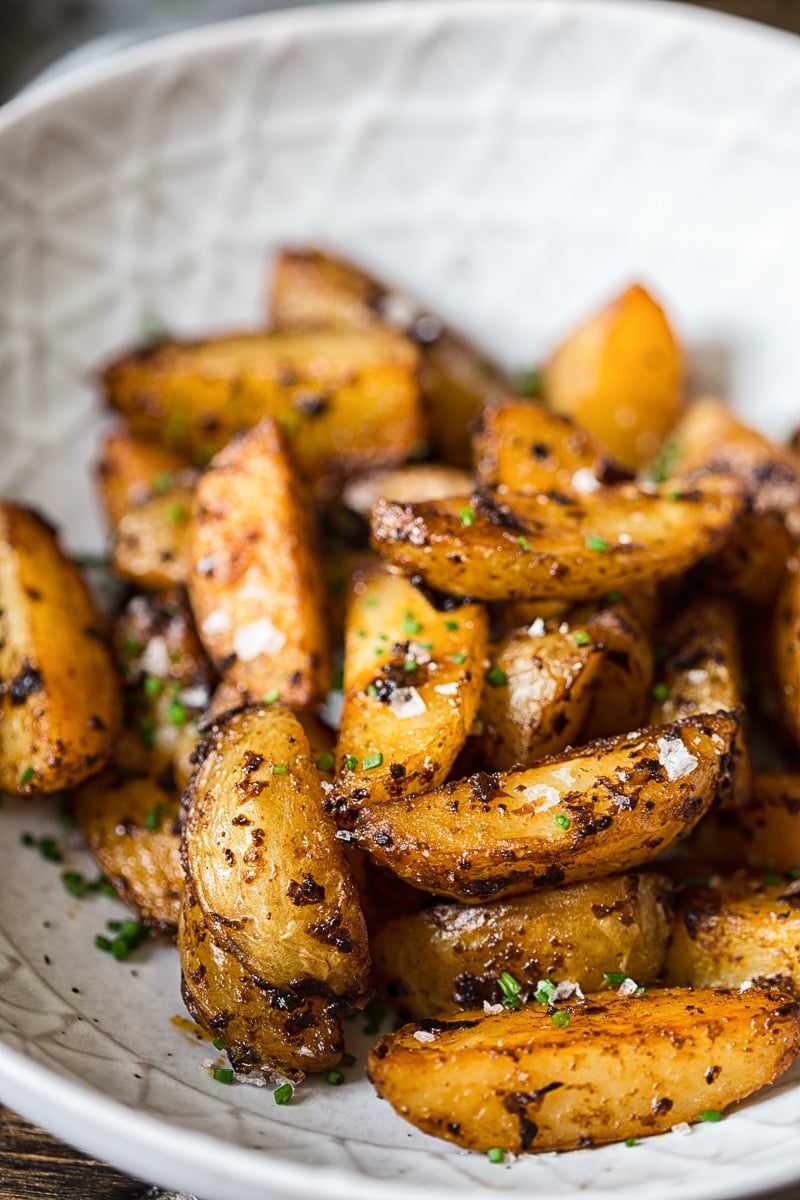 Magic happened.
That is how chipotle mayo roasted potato wedges were born! THREE ingredients, people!! Okay, 4 if you count salt.
How to make very flavourful roasted potato wedges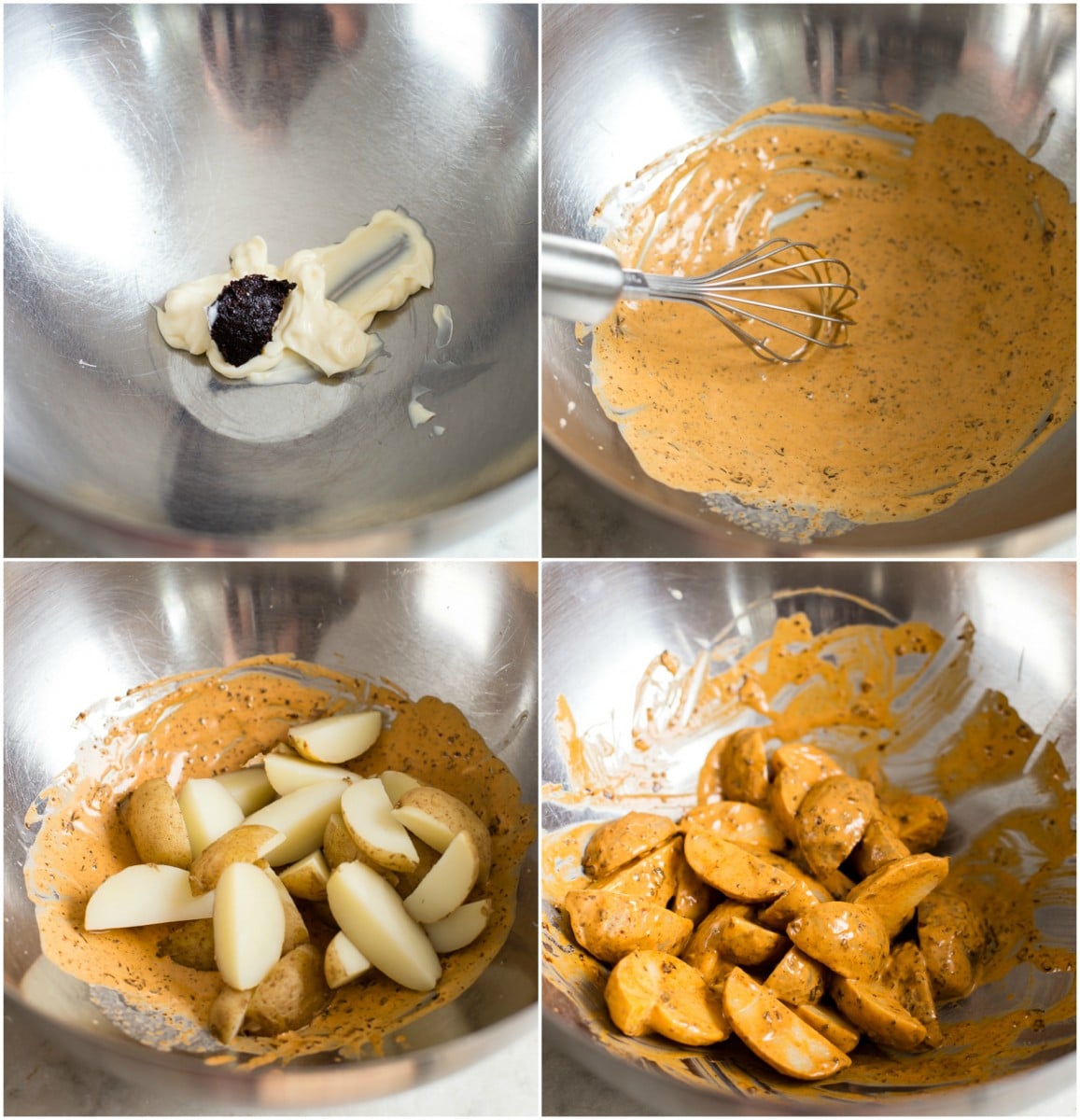 If you, like my husband, think "it's weird to roast potatoes in mayo", stop right now because mayonnaise is simply oil whipped with vinegar and egg yolk. It's basically a vinaigrette (minus the egg, of course), so all I did was adding the flavour.
And what kind of a summer barbecue it is without smoky and fiery chipotle!?! It pairs so well with grilled meat!
At first I didn't even think of blogging this recipe since it is hardly a recipe at all BUT then I realised why would I want to deprive my readers of this deliciousness? Why?!! So here you go. I present you with Chipotle Mayo Roasted Potato Wedges.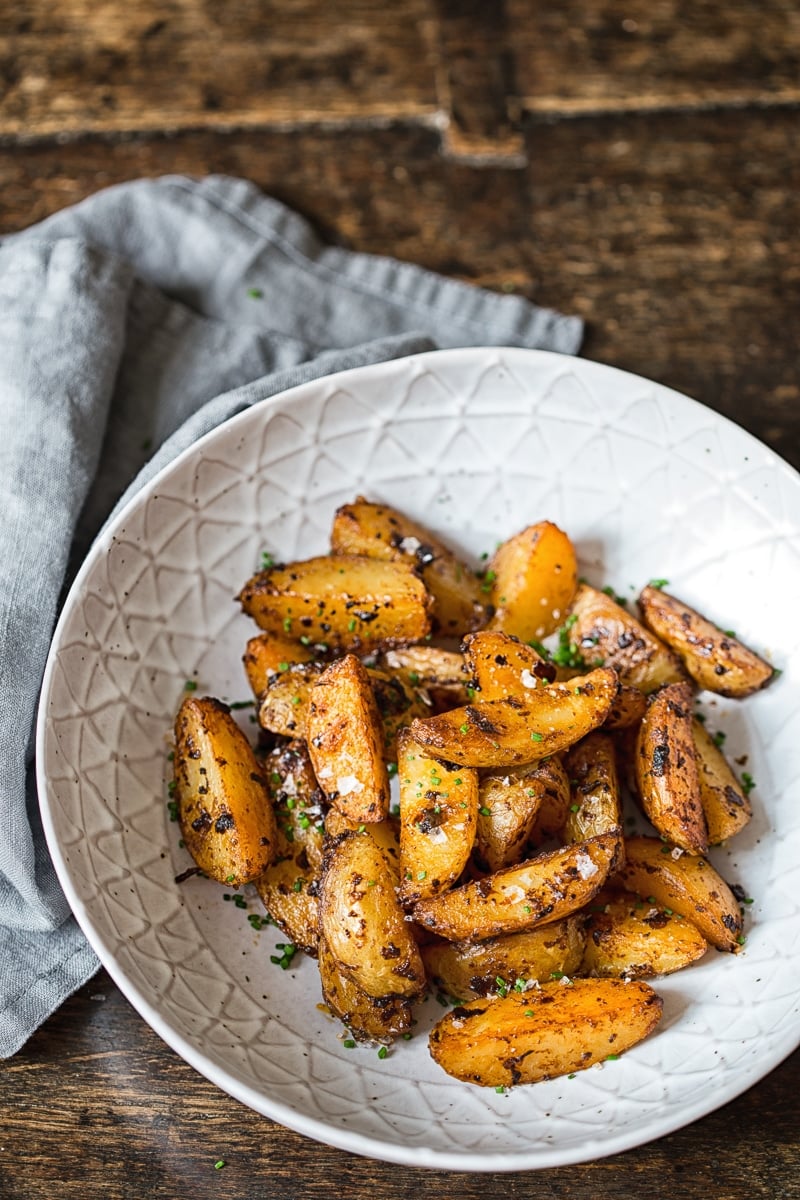 I kept the recipe pretty simple but you can add more herbs and spices if you like. I am thinking garlic salt would be a nice addition here, just don't use fresh garlic or it will burn and turn bitter.
Enjoy my friends!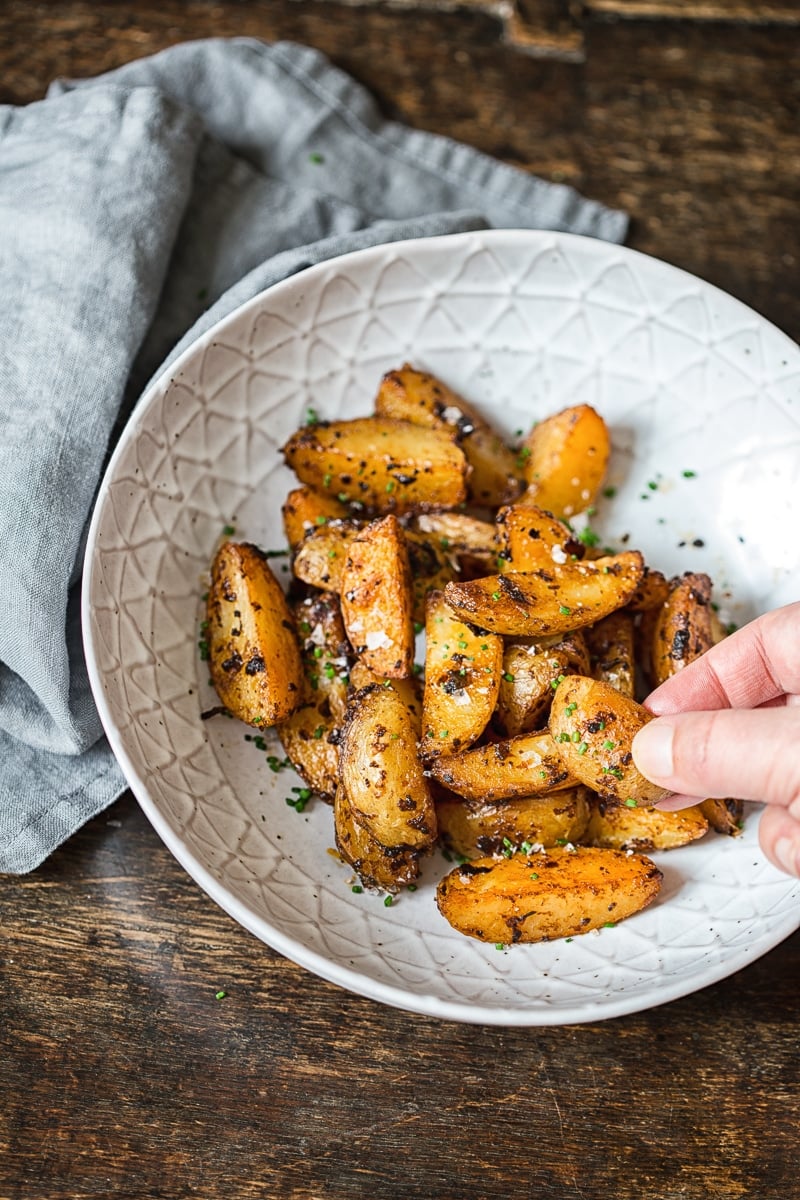 Ingredients
½

kg

/ 1lb baby potatoes

2

tbsp

mayonnaise

1-2

tsp

chipotle paste

1

tbsp

water

Salt

Chives

chopped (optional)
Instructions
Boil un-peeled baby potatoes until tender but firm approximately for 10 minutes.

Preheat the oven to 200C/400F.

Drain the potatoes and let them cool. Meanwhile in a large bowl mix mayonnaise, chipotle paste and water.

When the potatoes are cool enough to handle, cut them in quarters and add them to the bowl with the chipotle mayo, gently toss until evenly coated and put them in a roasting pan.

Roast in the preheated oven for 15 minutes, then turn the oven to a broil/grill setting and finish the potatoes until crisp for 1-2 minutes longer. Watch carefully to avoid burning the potatoes.

Sprinkle with flaky salt and chives if desired.
Nutrition Facts
Chipotle Mayo Roasted Potato Wedges
Amount Per Serving
Calories 113
Calories from Fat 18
% Daily Value*
Fat 2g3%
Cholesterol 1mg0%
Sodium 82mg4%
Potassium 528mg15%
Carbohydrates 22g7%
Protein 3g6%
Vitamin A 7IU0%
Vitamin C 25mg30%
Calcium 16mg2%
Iron 1mg6%
* Percent Daily Values are based on a 2000 calorie diet.