This lemon pepper chicken recipe is exactly what it says it is. Juicy chicken breasts in intensely lemony sauce flecked with cracked black pepper. Briny black olives bring balance to the acidity of the lemon sauce and spiciness of the black pepper. It's a recipe for the books!
Serve this chicken dish with a side of my Sweet Potato Mash or Chipotle Mayo Roasted Potato Wedges.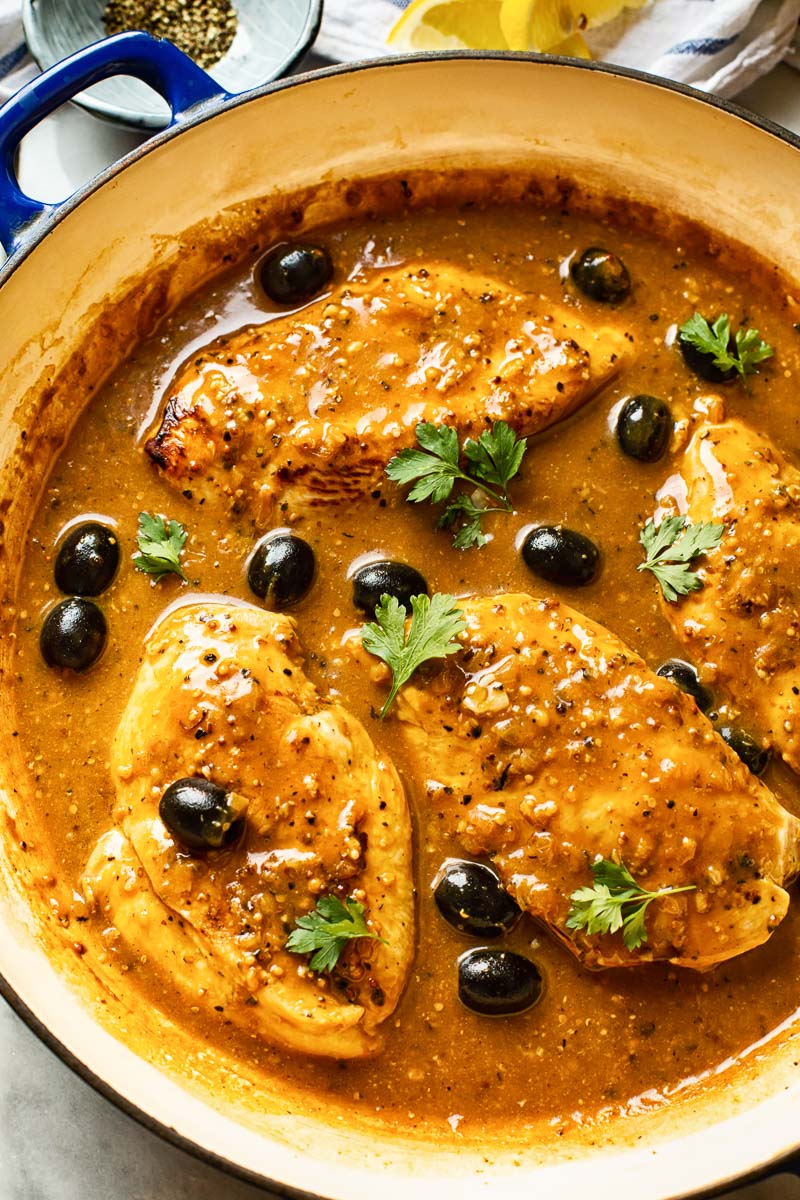 Why is lemon pepper seasoning so popular?
Lemon pepper is a popular classic seasoning that I couldn't resist but using on chicken. To be fair it goes well with almost anything as it enhances flavours in such a simple and effective way.
It's zesty with lemon flavour and spicy from cracked black pepper. Using all fresh ingredients instead of a pre-made mix takes it to the next level! It's also delicious on pork chops or fish, even used as a salad dressing!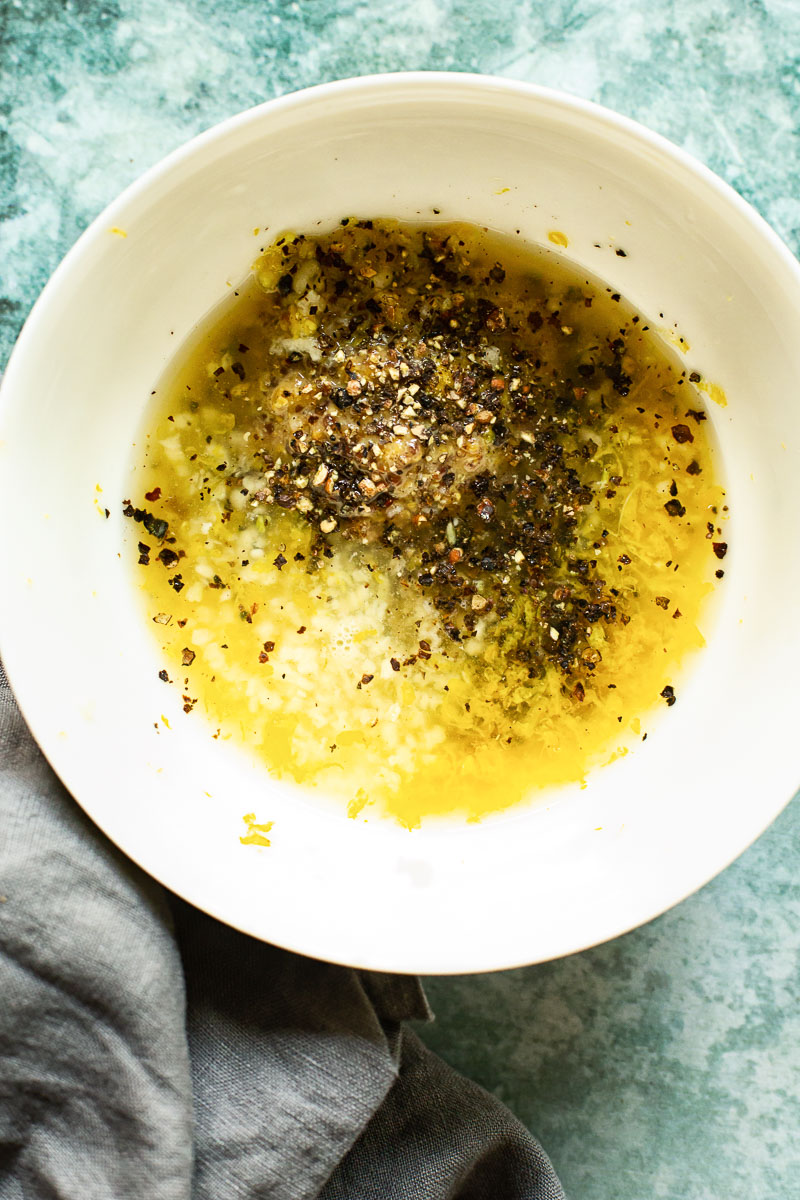 How is lemon pepper chicken made?
There are many recipes that use this classic seasoning on chicken breasts, thighs and drumsticks, that are later roasted in the oven. There are even famous recipes for lemon pepper chicken wings. Yum!
I wanted to create something slightly different with the same winning flavours. A chicken recipe that would have an instant visual appeal. A dish that would beg to be made and eaten ASAP.
And to produce this reaction a luscious sauce was needed! So here is what you need to do.
Make lemon pepper marinade
Make lemon pepper sauce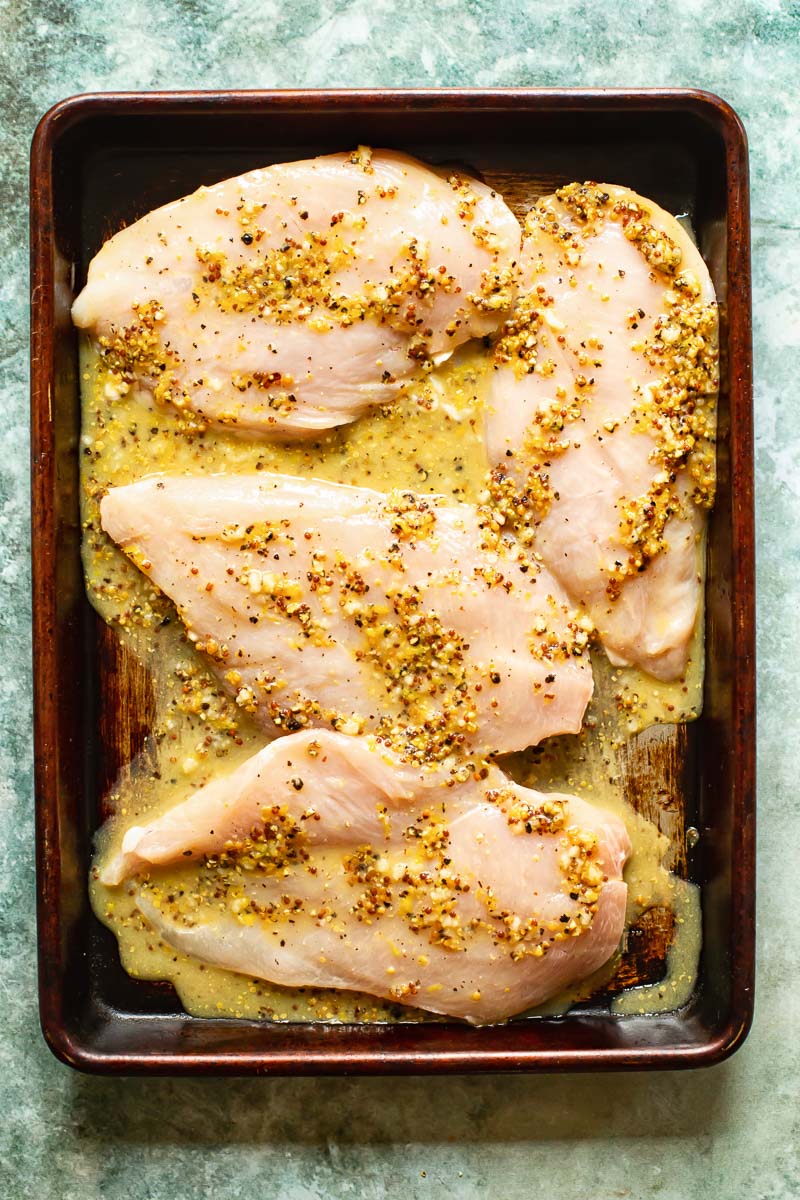 Whip up a quick marinade of lemon juice and zest, honey and wholegrain mustard, plenty of garlic and cracked black pepper and let it do its work for about 30 minutes. The chicken breasts are cut in half lengthwise, which will allow the marinade to penetrate them quicker.
The chicken breasts are seared and set aside. Then and only then our gorgeous sauce comes into picture.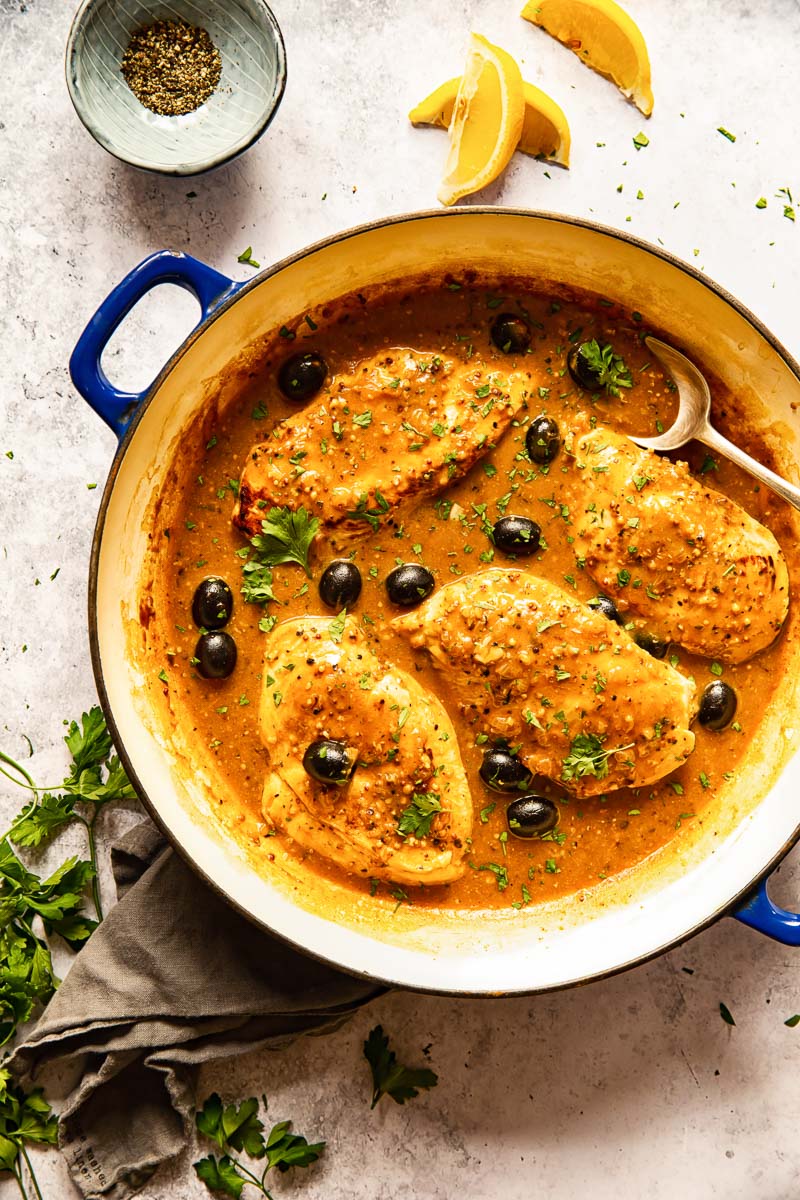 How do I make the sauce?
The basis of our sauce is going to be the same lemon pepper marinade we used earlier on chicken breasts. Yes, it's perfectly safe to use it in a sauce if it's brought to a boil and simmered for at least 10 minutes according to health and safety guidelines.
We start the sauce by gently sauteing the shallots and garlic, then adding the flavour by pouring the marinade back in with a splash of white wine. The sauce is thickened with flour but you can use cornstarch if you are gluten free.
Then add some chicken stock, black olives and you've got yourself a stellar sauce that combines the intense flavours of lemon, pepper and mustard but is balanced out by honey and white wine. It is perfect for your tender and juicy chicken breasts!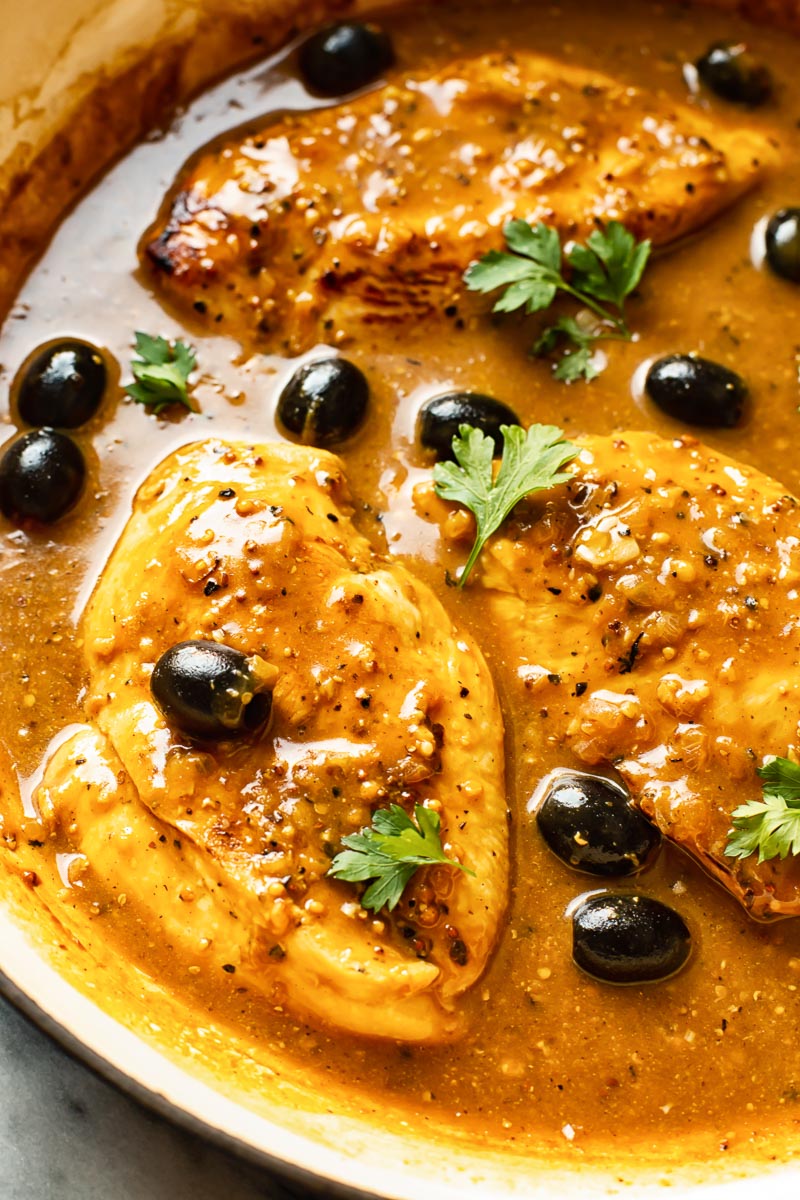 More chicken in sauce recipes: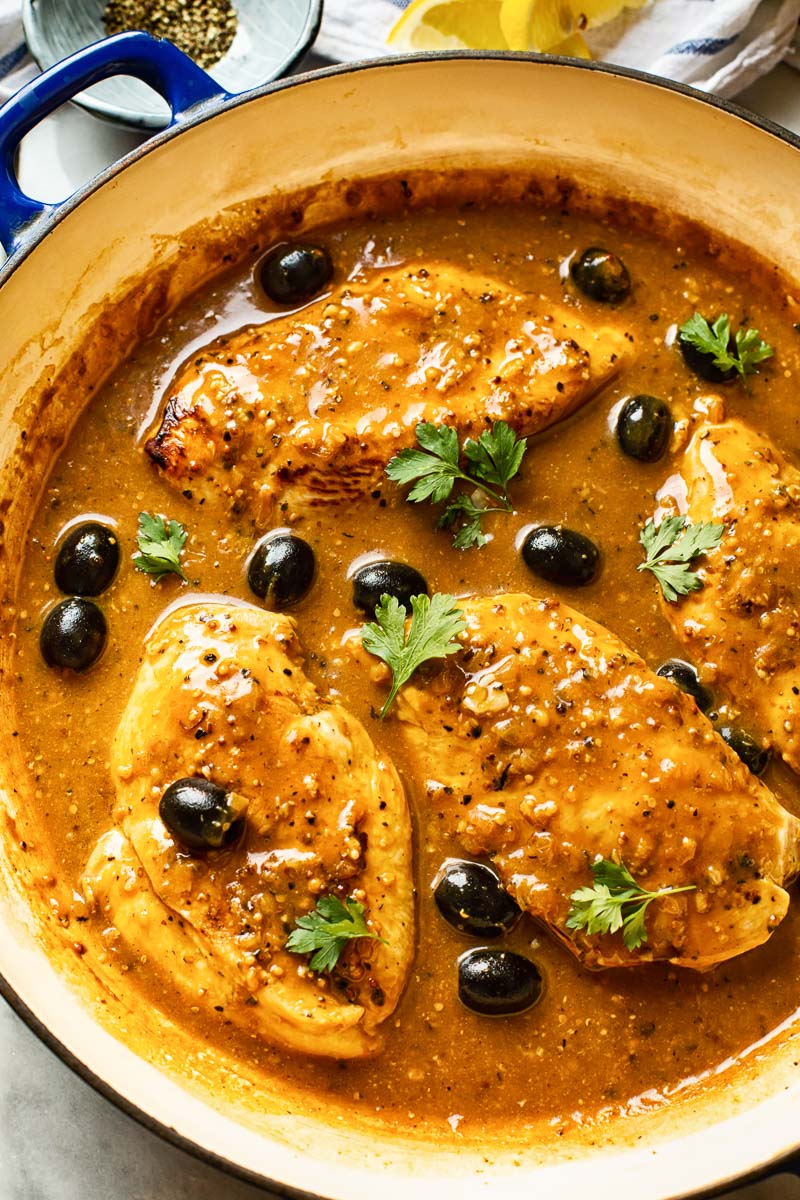 Ingredients
For the Lemon Pepper Marinade
2

tbsp

honey

2

tbsp

wholegrain mustard of Dijon mustard

3

cloves

garlic, pressed

3

tsp

cracked black pepper

1

lemon, zest and juice
For the Lemon Pepper Chicken
2

tbsp

olive oil

2

chicken breasts, large

cut in half lengthwise

salt

2

shallots or 1 small onion

2

cloves

garlic

1

tbsp

flour, heaped

125ml/1/2cup

white wine

175ml/3/4cup

chicken stock

1/2cup

black olives (optional)

1

tbsp

chopped parsley
Instructions
For the Lemon Pepper Marinade
Mix the honey, mustard, pressed garlic, cracked black pepper and lemon juice and zest in a small bowl. Cut the chicken breasts in half lengthwise or if using small chicken breasts keep them whole. Pour the marinade over the chicken breasts and let them marinate in the refrigerator for 30 minutes.
For the Lemon Pepper Chicken
Take the chicken breasts out of the marinade and scrape the marinade off as much as possible, save the marinade. In a large and deep pan brown chicken breasts seasoned with salt in 2 tbsp of olive oil over medium heat until golden but not cooked through, approximately 2-3 minutes on each side. Remove to a plate.

Add chopped shallots, garlic and sauté for 5 minutes over low heat. Add the flour to the pan and combine it with the oil that was left in the pan from browning chicken. Add
the marinade and white wine and scrape the bottom of the pan with a spatula to
release the brown bits, cook it on high until the sauce thickens, which should
take about 2 minutes, reduce the heat to medium.

Add the chicken stock, chicken breasts and olives and simmer for 20 minutes. Sprinkle with chopped parsley before serving.
Notes
Using cracked pepper over ground pepper will help to reduce the spice level.
Nutrition Facts
Lemon Pepper Chicken
Amount Per Serving
Calories 260.78
Calories from Fat 108
% Daily Value*
Fat 12.05g19%
Cholesterol 37.47mg12%
Sodium 481.39mg21%
Potassium 382.16mg11%
Carbohydrates 19.52g7%
Protein 14.8g30%
Vitamin A 185.56IU4%
Vitamin C 7.08mg9%
Calcium 44.79mg4%
Iron 1.2mg7%
* Percent Daily Values are based on a 2000 calorie diet.