Grilled peaches and apricots with a touch of honey and scattering of walnuts makes a savoury dessert simply bursting with flavours. It is a quick and no-bake finish to your summer dinner.
Try Spinach Apple Salad for another savoury recipe using fruit!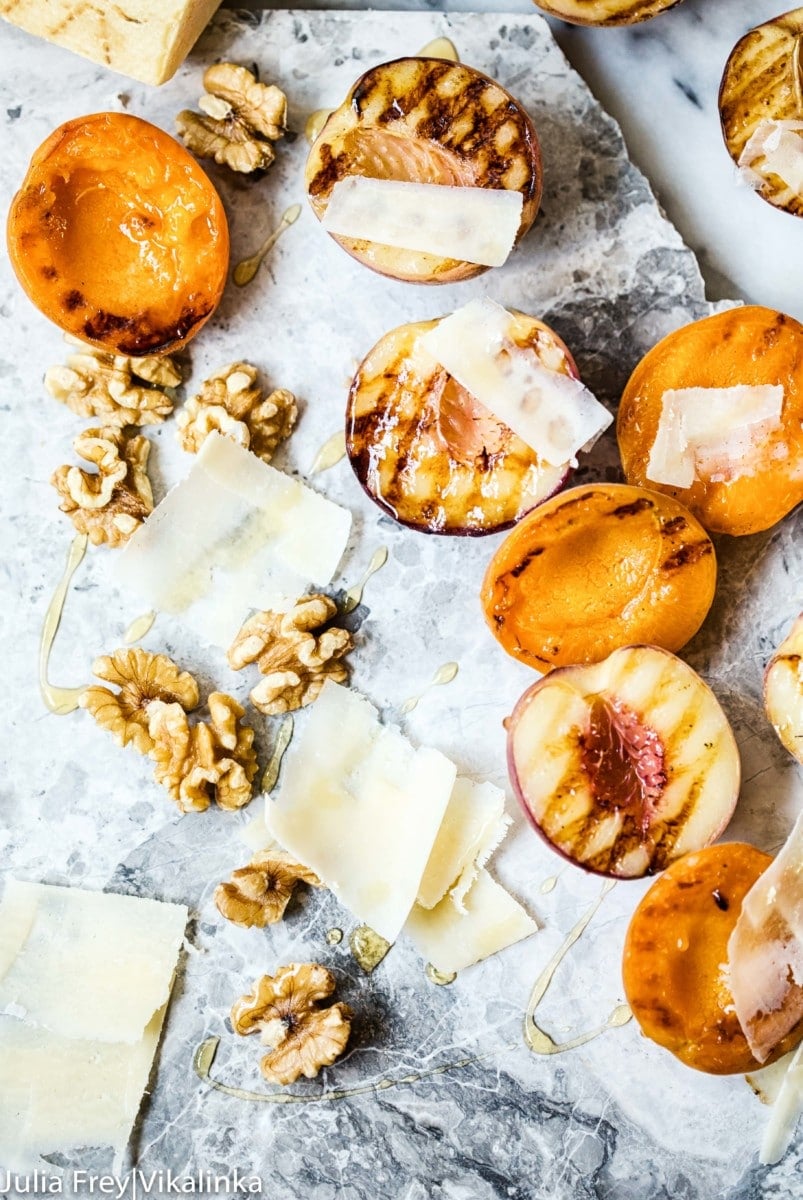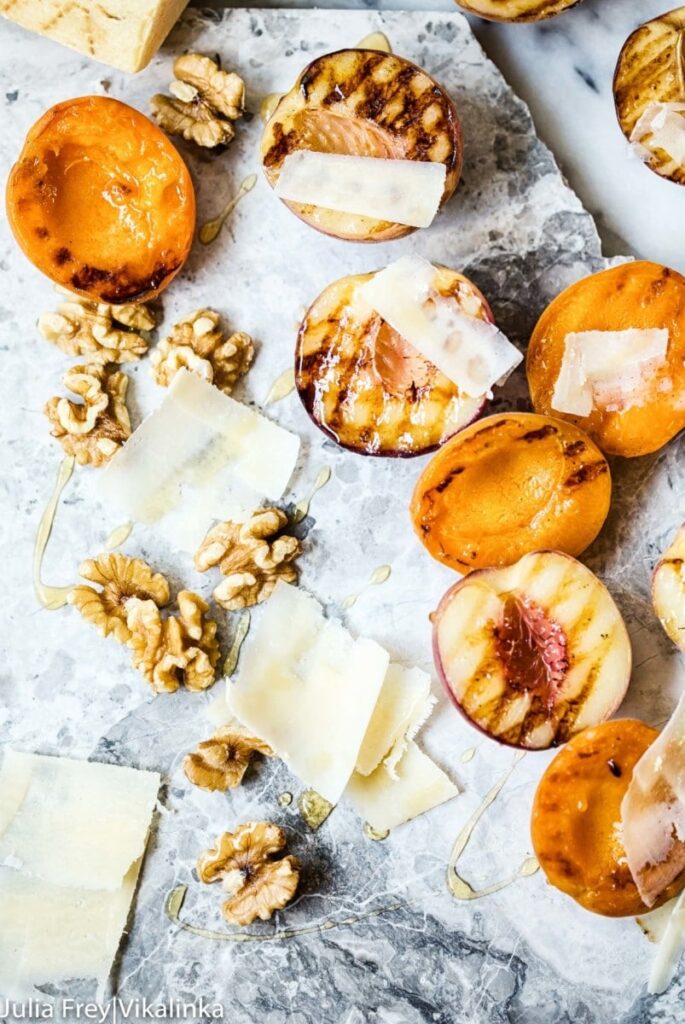 We've come to that happy time of year when fruit is as ripe and flavourful. We've turned the centrepiece decoration of our kitchen into an over-piled bowl of fruit of all sorts!
These opportunities are always worth playing around with. Although I'll always be very happy with fruit straight from the bowl, it's also fun to find new ways to take advantage of this bounty.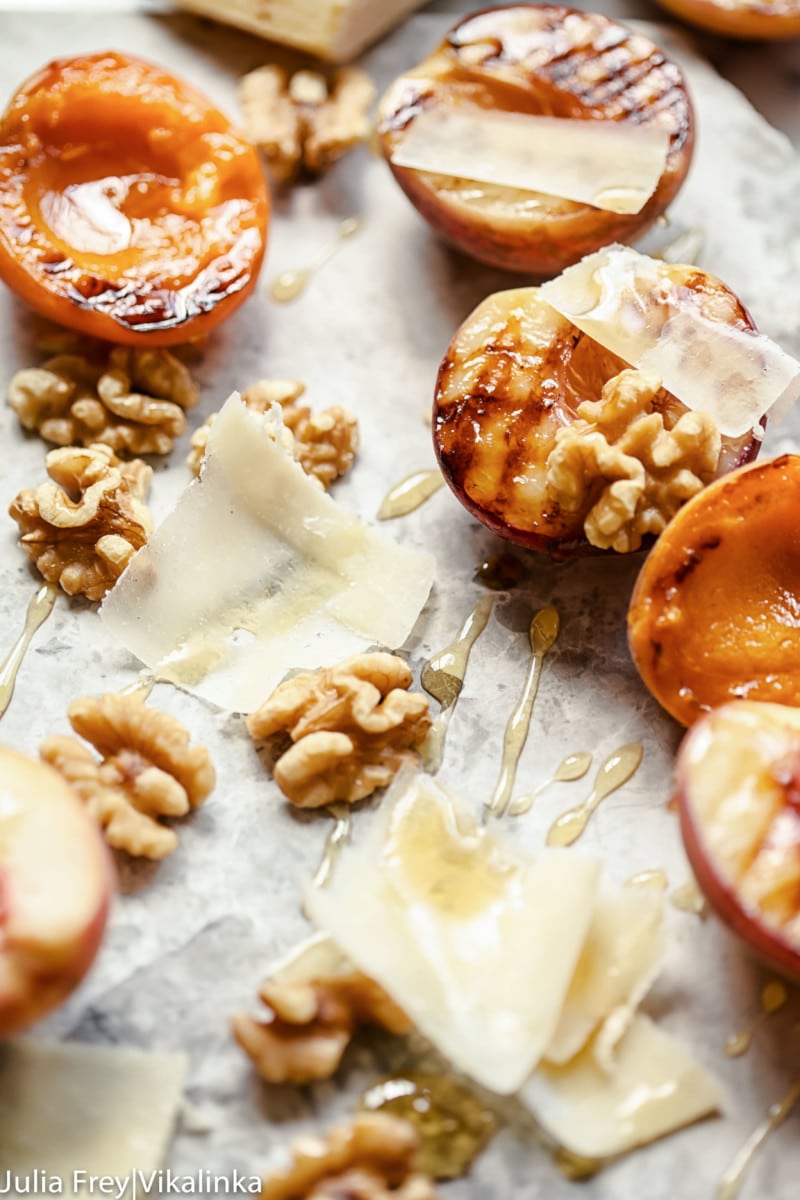 It's always a thrill to find new ways to play around with ingredients. With this recipe, I've decided to take sweet peaches and apricots and turned them into a savoury appetizer by giving them a light grilling before adding honey, walnuts and shaved cheese!
It may not be familiar, but fruit has long been used in savoury recipes and it can become something really special. Give this recipe a try to turn the bounty of summer into something new and fun!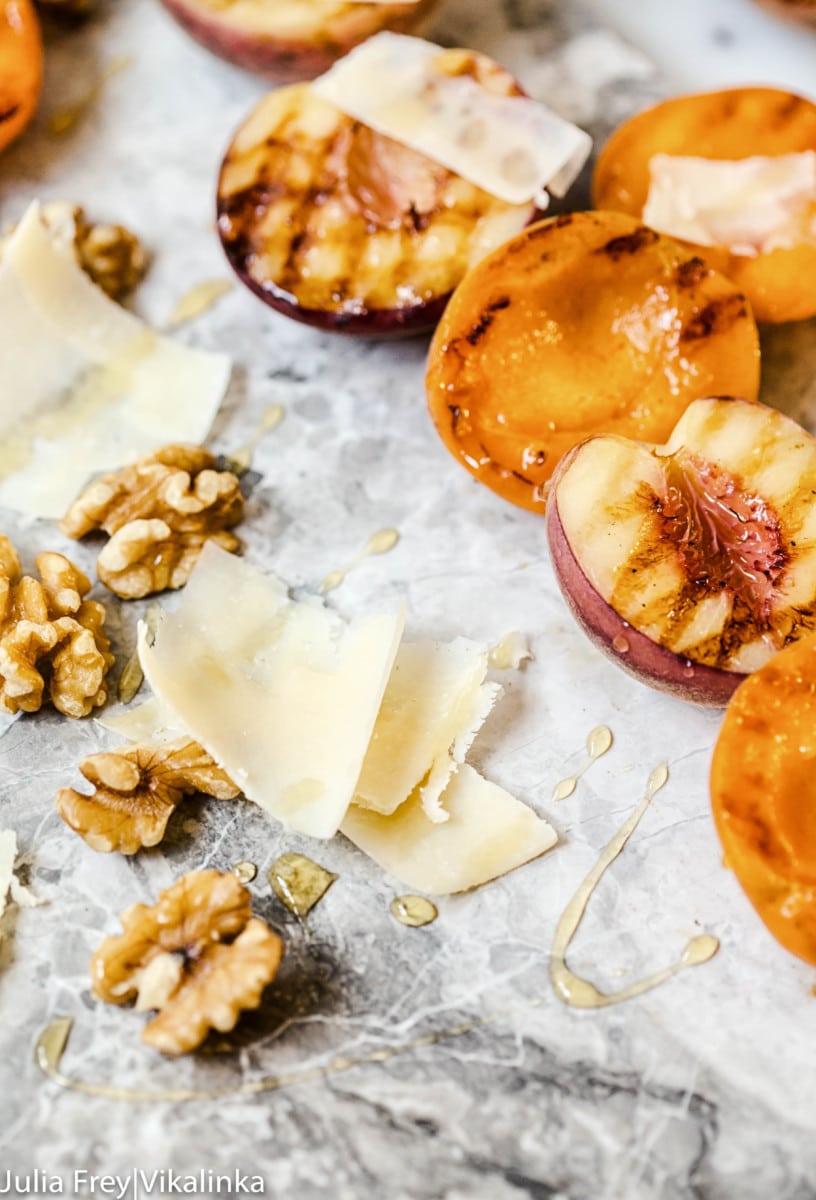 Grana padano
Grana padano may not be familiar, but it's quite common in Italy. It's very similar to parmesan reggiano, but parmesan comes in with a bit more punch as a result of a different production process and raw ingredients.
Grana padano is a bit softer, more buttery and delicate, especially the younger vintages like the one I used here. I've enjoyed playing around with the distinct flavours and textures as each brings something different to a recipe.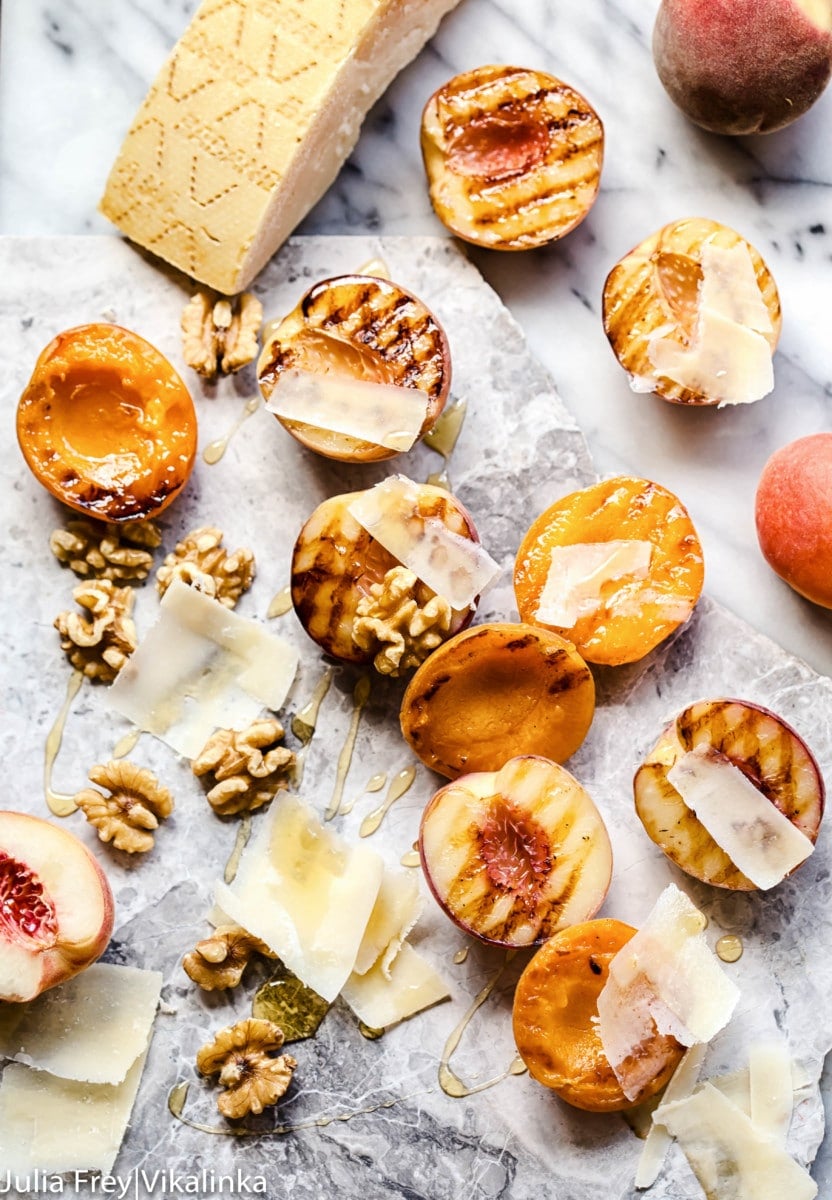 The characteristics of Grana padano allow it to combine well with the fresh fruit, offering a gorgeous balance without overpowering it. With the added walnuts and honey, we have a dish that combines sweet and savoury to become something very delicious.
Grilled peaches and apricots
Grilling fruit like peaches and apricots is really simple and a great way to turn simple fruit into an exciting appetizer or dessert. Grilling brings out the sweetness of the fruit and intensifies all of the flavours.
To make a good thing even better, the grill adds a gentle smokiness that is a perfect compliment to sweet fruit. Grilled fruit of all sorts can be transformed into a side dish, dessert or a starter like this recipe.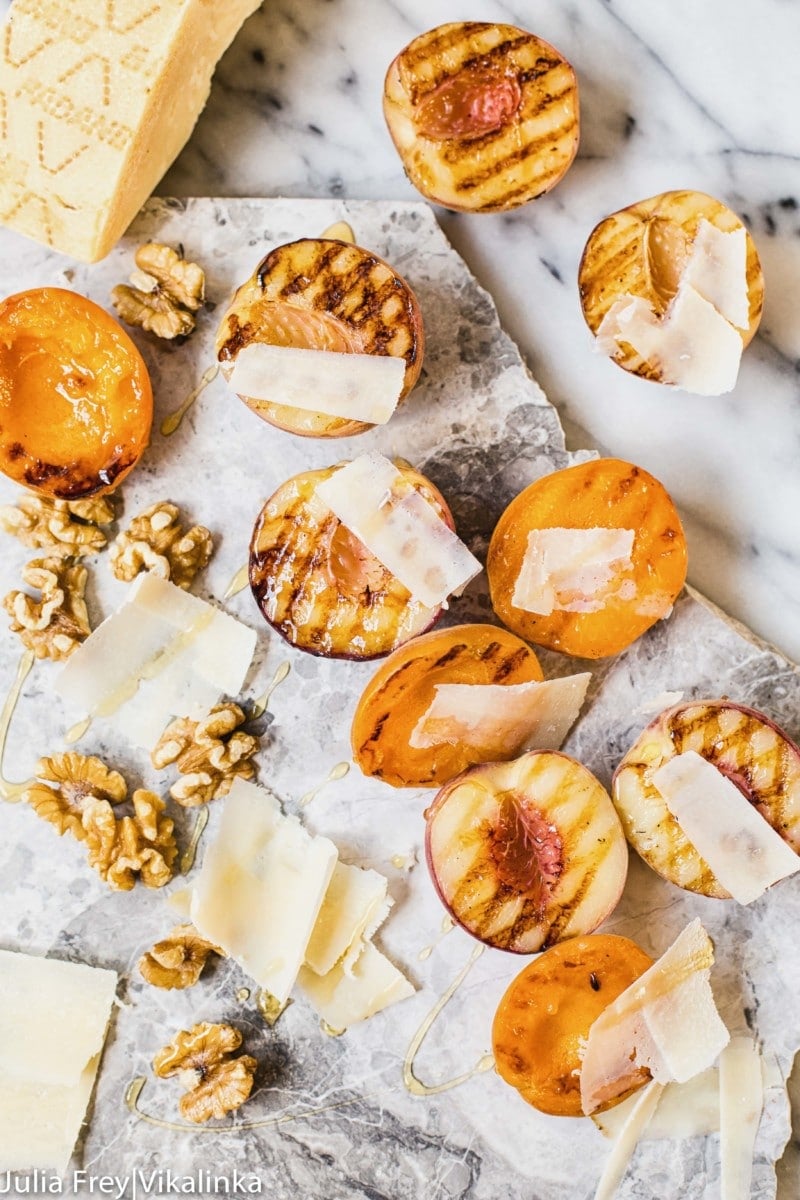 Although it's possible to grill slices of peaches and apricots, they are much easier to handle when in halves and will lose less juice along the way. Less than fully ripe fruit are preferable, but there's no need to get too fussy about it.
Brush them with olive oil and place the peach and apricot halves on the grill over medium heat. Avoid the temptation to move them around on the grill so you get the nice grill marks!
Once grilled, scatter warm, toasted walnuts, shaved cheese and a sprinkling of honey. What a lovely pairing for a warm summer day!
More peach and apricot recipes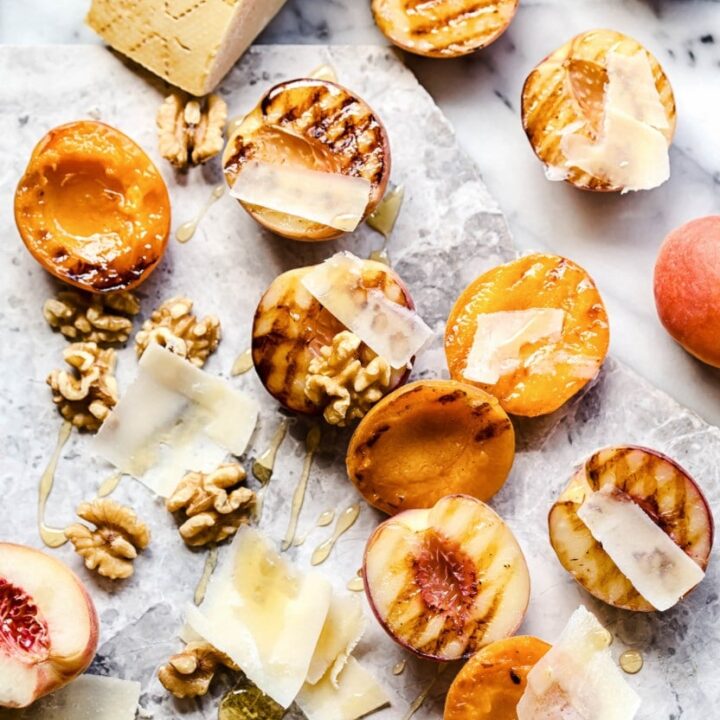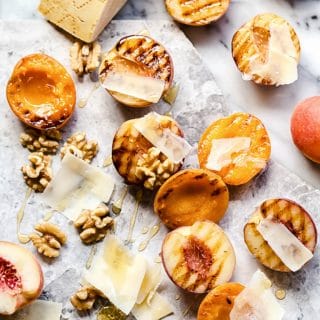 Grilled, Honeyed Peaches and Apricots with Shaved Grana Padano and Walnuts
Print
Pin
Rate
Ingredients
4

ripe peaches

4

ripe apricots

1

tsp

oil

20-30

g

/1oz shaved Grana Padano

plus extra crumbled Grana Padano for serving

8

walnut halves

1

tbsp

honey
Instructions
Preheat the grill. Half peaches and apricots and remove stones. Lightly brush the fruit halves with oil and grill them for about 3 minutes until they are slightly caramelised and have distinct grill marks.

Toast walnuts on a dry pan for approximately 2-3 minutes until they are fragrant.

Shave Grana Padano into large flakes using either a vegetable peeler or a cheese slicer.

Arrange peaches and apricots on a platter, top with Grana Padano flakes and toasted walnuts and sprinkle with honey.

Serve immediately.
Nutrition
Calories:
133
kcal
|
Carbohydrates:
23
g
|
Protein:
4
g
|
Fat:
4
g
|
Saturated Fat:
1
g
|
Polyunsaturated Fat:
1
g
|
Monounsaturated Fat:
1
g
|
Trans Fat:
1
g
|
Cholesterol:
3
mg
|
Sodium:
81
mg
|
Potassium:
392
mg
|
Fiber:
3
g
|
Sugar:
20
g
|
Vitamin A:
1203
IU
|
Vitamin C:
13
mg
|
Calcium:
75
mg
|
Iron:
1
mg