This spiced pumpkin and chocolate cake might just what your holiday tables needs!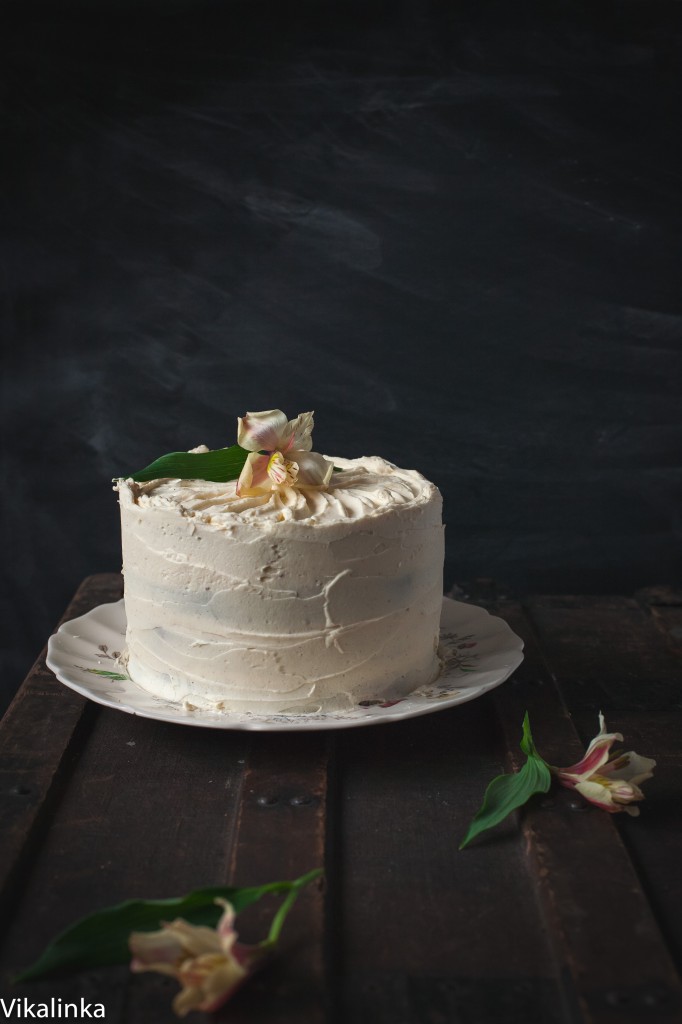 This past weekend my little blog turned TWO! It's truly hard to believe it's been two years since I first pressed 'publish" and began this intense love affair.
I am not exaggerating in the least when I call blogging my love. The last two years have been an exciting journey of self-discovery.
I learned incredibly empowering things about myself-I can acquire any skill I like, my creativity never runs out, I work hard for what I love.
Realising all of this even helped me in tackling my day job. Every time I was put in front of a task that seemed unsurmountable I looked back to my days of learning photography, terminology of which was a completely foreign language 3 years ago but almost a native tongue now, and that gave me hope that slowly I would conquer it as well!
My blogging experience has taught me that knowledge I do not possess now is not out of reach for ever. I can learn anything… I can learn quickly and that gave me a lot of confidence to move forward in my non-blogging life
. One of the most freeing realisations was that creativity knows no bounds. The more I use and give away the more comes to me. It's the law…really…and I am just happy I could see it in action.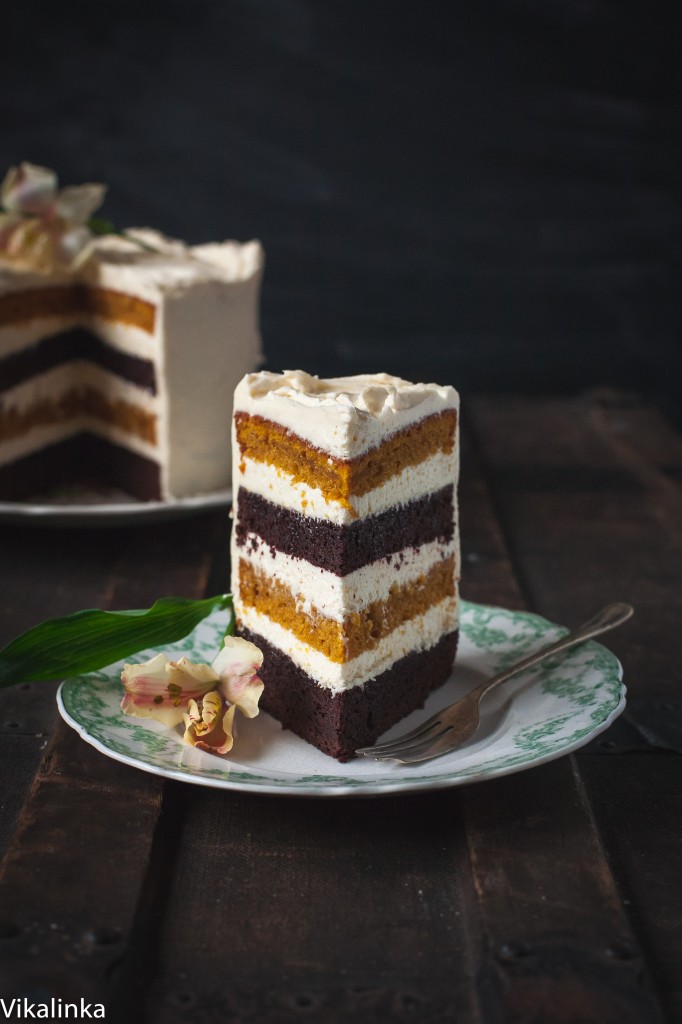 More than anything I am happy that I learned about challenging my fear of appearing too vulnerable, too fragile and realising that in opening up my heart true friendships are born.
Internet could be an angry place where people throw around hurtful words under the cloak of anonymity but it could also be a place where people connect with each other and bond, even over something as trivial as chocolate cake!
I am so privileged to have you, ALL OF YOU, as my readers. Thank you so much for coming here week after week and sharing bits of your life with me.
I am celebrating this milestone with a cake because it's the best way possible and I hope you get inspired, go to your kitchen and make one for your family or friends because sharing a meal together with the ones you love does the soul good.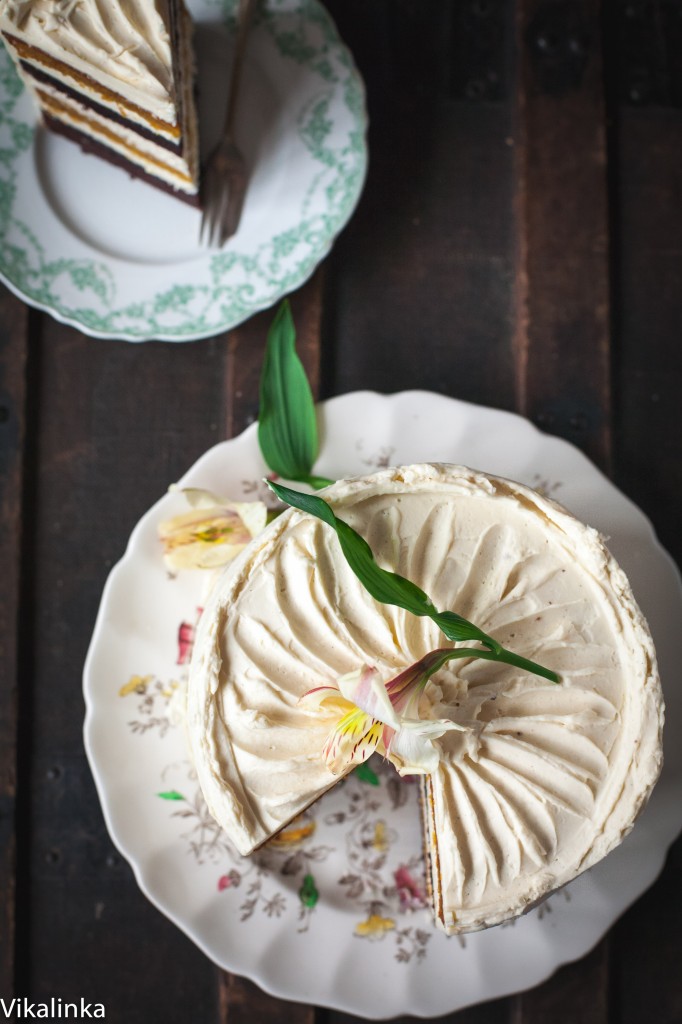 To make this celebratory cake I combined my two ultimate cake recipes and invented a new favourite frosting-2 layers of Chocolate Stout Cake+2 layers of Spiced Pumpkin Cake drizzled with Demerara sugar and Sloe Gin syrup and covered with light and fluffy maple cinnamon mascarpone frosting.
If you are like me and are wondering whether spiced pumpkin and chocolate go together you have to make this cake. Make it, make it, make it! This cake boasts all the gorgeous flavours of autumn and will be the most beautiful finish to your Thanksgiving dinner.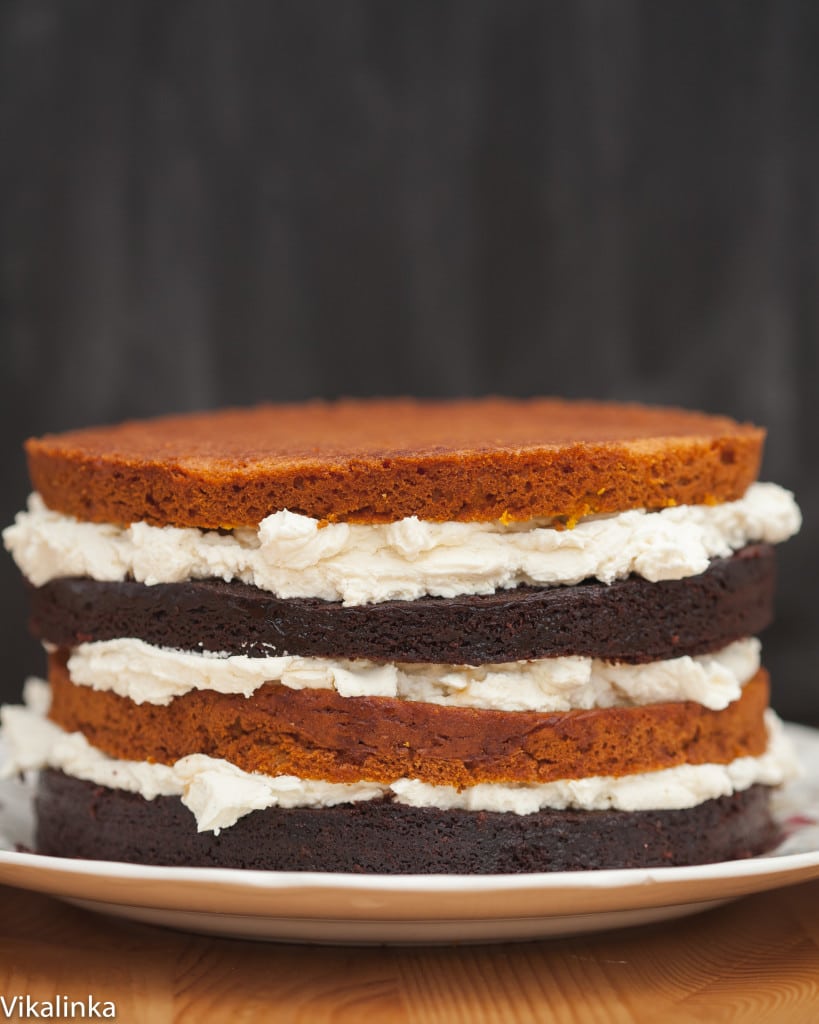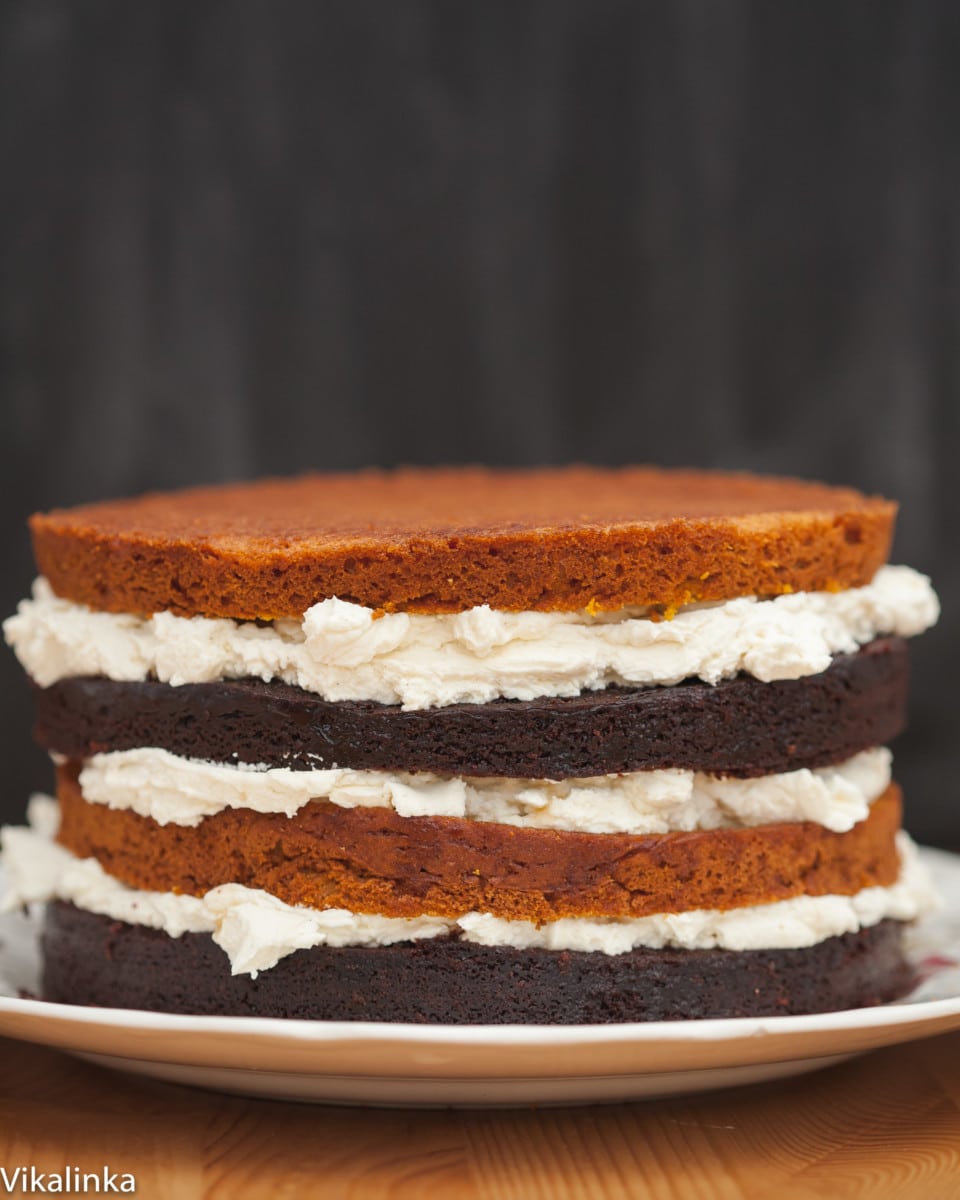 A pro tip: To make sure your cake is beautifully frosted always start with a crumb coat. Cover your cake with a thin layer of frosting to seal all crumbs and put it in the fridge for 20-30 minutes to chill. Then finish it off with more frosting and whatever design you choose.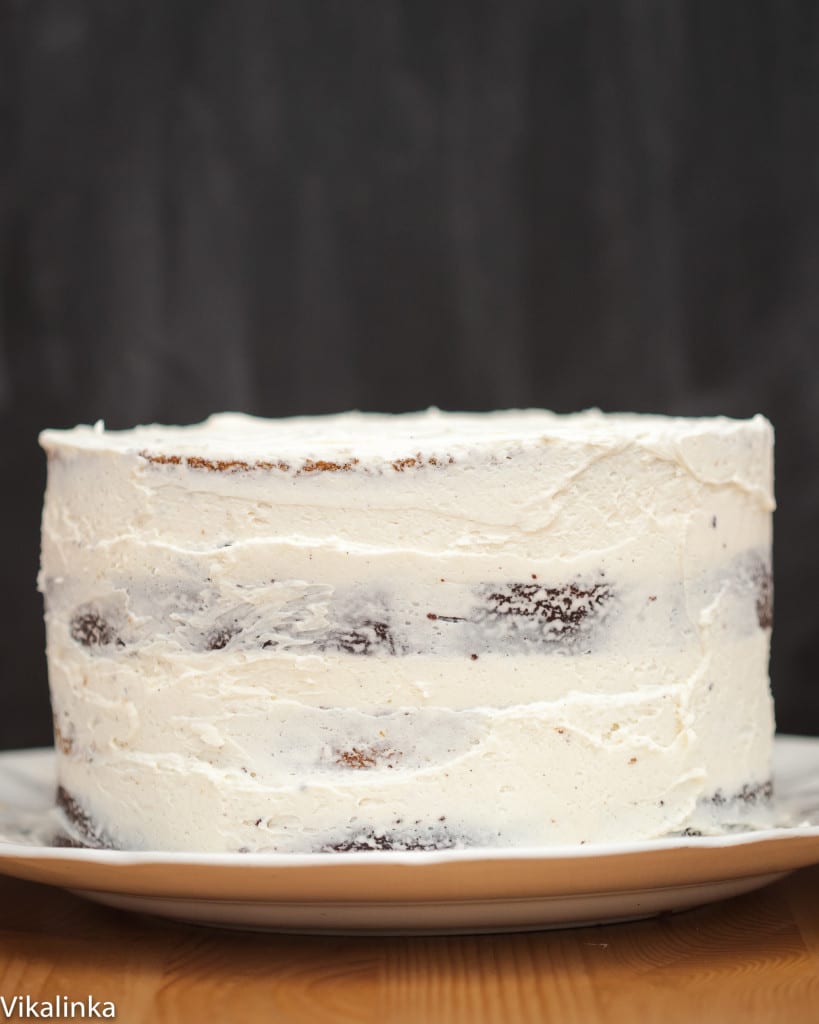 *Disclaimer: Since I published this recipe I've received several comments from my American readers that the mascarpone frosting separated when they attempted to make it.
I have done research on why that might've happened and the only solution to prevent separation was to combine both mascarpone and cream when well chilled and not to over-beat.
This is my most loved and used frosting recipe and I've made it more than I can count as well as other readers both in the US and in the UK.
I cannot offer any solution or reason as to why this frosting fails when made in the US and my only guess is the process through which American dairy is made is different.
Please understand that I simply cannot test the product that is not available to me geographically and cannot always provide explanations why recipes fail since I am not in the kitchen with you and see what exactly went wrong.
I created this cake in the moment of celebration that was very significant to me and to this days it remains a very special recipe that I am very proud of.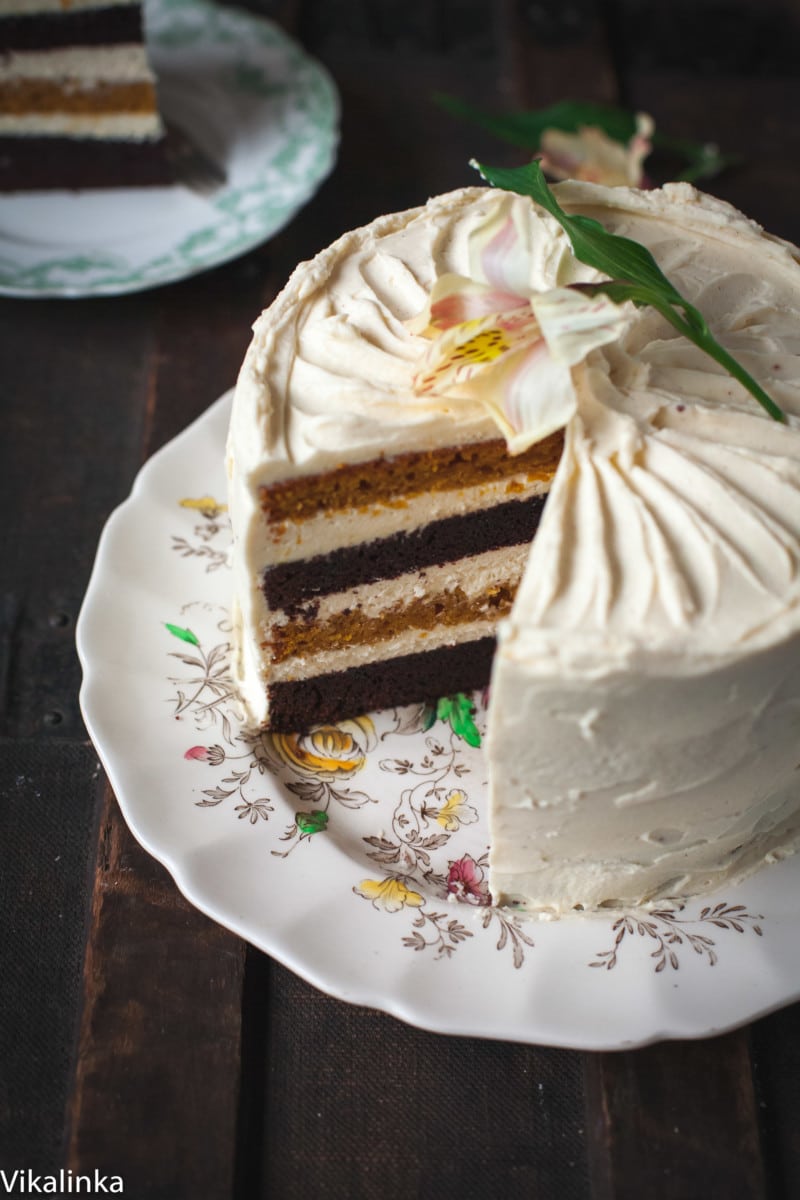 Ingredients
For the Chocolate Stout Cake layers
⅓

cups

/ 80 ml Guinness or other stout

2

tbsp

strong black coffee

½

cup

/ 115 g unsalted butter

⅓

cups

/ 45 g unsweetened cocoa powder

1

cup

/ 130 g all purpose flour

1

cup

/ 130 g sugar

¾

tsp

baking soda

½

tsp

salt

1

large egg

1 ½

tsp

pure vanilla extract

½

cup

/ 120 ml creme fraiche/sour cream
For the Spiced Pumpkin Cake layers
1

cup

+ 2 tbsp / 130 g flour

⅔

tsp

baking powder

¼

tsp

baking soda

½

tsp

salt

1

tsp

cinnamon

¼

tsp

mixed pumpkin spice

(nutmeg, cloves, ginger)

⅔

cup

/ 160 ml vegetable oil

⅔

cup

/ 135 g granulated sugar

2

eggs

large

7

oz

/ 200 g pumpkin purée
For the syrup
¼

cup

/ 60 ml simple syrup

sugar and water in equal parts

2

tbsp

sloe gin or damson gin

not regular gin
For the Maple Cinnamon Frosting
2

cups

/ 500 g Italian mascarpone

1

cup

/ 130 g icing sugar

1

tbsp

pure maple syrup

1

tsp

cinnamon

1

tsp

vanilla

½

cup

/ 120 ml whipping cream or double cream
Instructions
Preheat the oven to 325F/160C.

Grease 2-8" round cake pans and line the bottoms with greased parchment paper. Set aside.
Chocolate layers
In a saucepan heat stout, coffee and butter together until the mixture comes to a gentle simmer, add cocoa powder while whisking continuously to avoid lumps until smooth. Set aside to cool.

Blend flour, sugar, baking soda, and salt in a different bowl. Mix eggs, vanilla and creme fraiche with an electric mixer in bowl no 3.

Now check on your chocolate mixture and make sure it's cool enough to continue the process.

Add the chocolate mixture to the egg and creme fraiche mixture and blend them together.

Add flour mixture a little bit a time and beat on low speed until combined. Pour into the pan and level.

Bake in the preheated oven for 25-30 min. Always test your cakes for doneness with a toothpick or a cake taster. Cool on a wire rack.
Spiced Pumpkin layers
Mix flour, baking powder, baking soda, salt and spices. Then add oil, sugar and eggs, beat well to combine.

Add pumpkin and mix for 2-3 minutes until well incorporated.

Pour into the cake pan and level. Bake at 325 F/160C for 25-30 min, cool on a wire rack.
Sugar syrup for drizzling
Mix sugar syrup with sloe gin or any other liqueur of your choice.
Maple Cinnamon Mascarpone Frosting
Whip cold mascarpone until light, which will take no longer than 1 minutes, add pure maple syrup and icing sugar, beat until well incorporated for 1 minute.

Add cinnamon, vanilla and whipping cream. Whip for 2 minutes until stiff.
Assemble the cake
When the cakes are cooled, split each layer in half. Brush each layer with some sugar syrup.

Divide Maple Cinnamon Frosting into 4 parts.

Stack the layers on top of each other so chocolate and pumpkin layers interchange. Fill the layers with ¾ of Maple Cinnamon frosting.

Then cover the entire cake with your crumb coat using the frosting from the part you'd set aside. Chill in the fridge for 20-30 minutes.

Then cover the cake with the remaining frosting and decorate with flowers if desired or leave it plain. Alternatively, you can lightly dust the cake with a touch of cinnamon.
Nutrition Facts
Spiced Pumpkin and Chocolate Cake with Maple Cinnamon Mascarpone Frosting
Amount Per Serving
Calories 813
Calories from Fat 477
% Daily Value*
Fat 53g82%
Cholesterol 141mg47%
Sodium 409mg18%
Potassium 200mg6%
Carbohydrates 78g26%
Protein 9g18%
Vitamin A 4321IU86%
Vitamin C 1mg1%
Calcium 126mg13%
Iron 2mg11%
* Percent Daily Values are based on a 2000 calorie diet.