Sole Meuniere recipe is an absolute classic but did you know you don't have to be a classically trained chef to master it? It's incredibly simple and quick. Let me show you how!
Serve this tender fish with our Herb and Garlic Mashed Potatoes and Lemon Garlic Green Beans.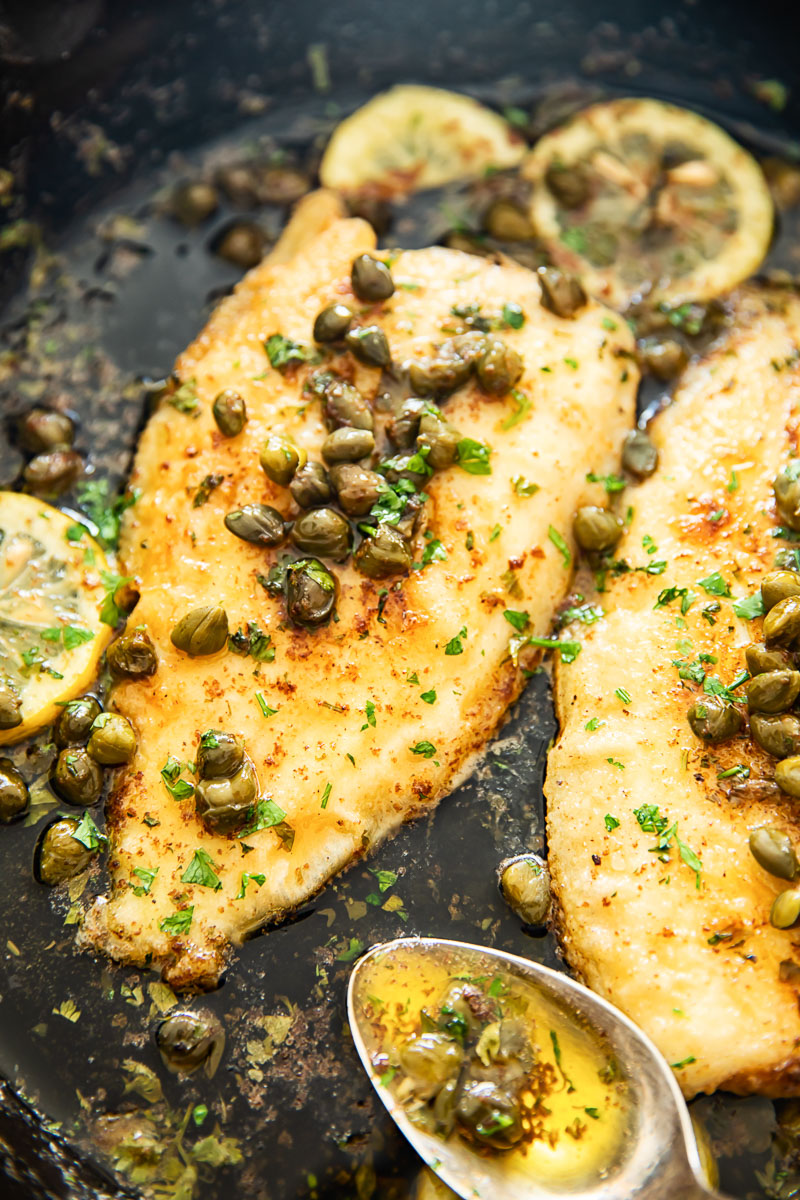 Some recipes have an incredible draw and allure due to their classic status. Sole Meuniere is definitely one of them! It's one of the recipes you will usually spot in a French restaurant with a hefty price tag attached.
Those things make us think the dish is complicated and difficult to me. All of that could not be further from the truth!
One of the reasons the famous dish is expensive is due to the price of the fish itself. The cooking method is easier than easy! Making it at home will allow you to enjoy the delicious French classic without the expense associated with it.
Plus you you can add another easy fish recipe to your recipe box. Speaking of which, have you explored our Fish and Seafood Recipe Collection? So many ideas to choose from!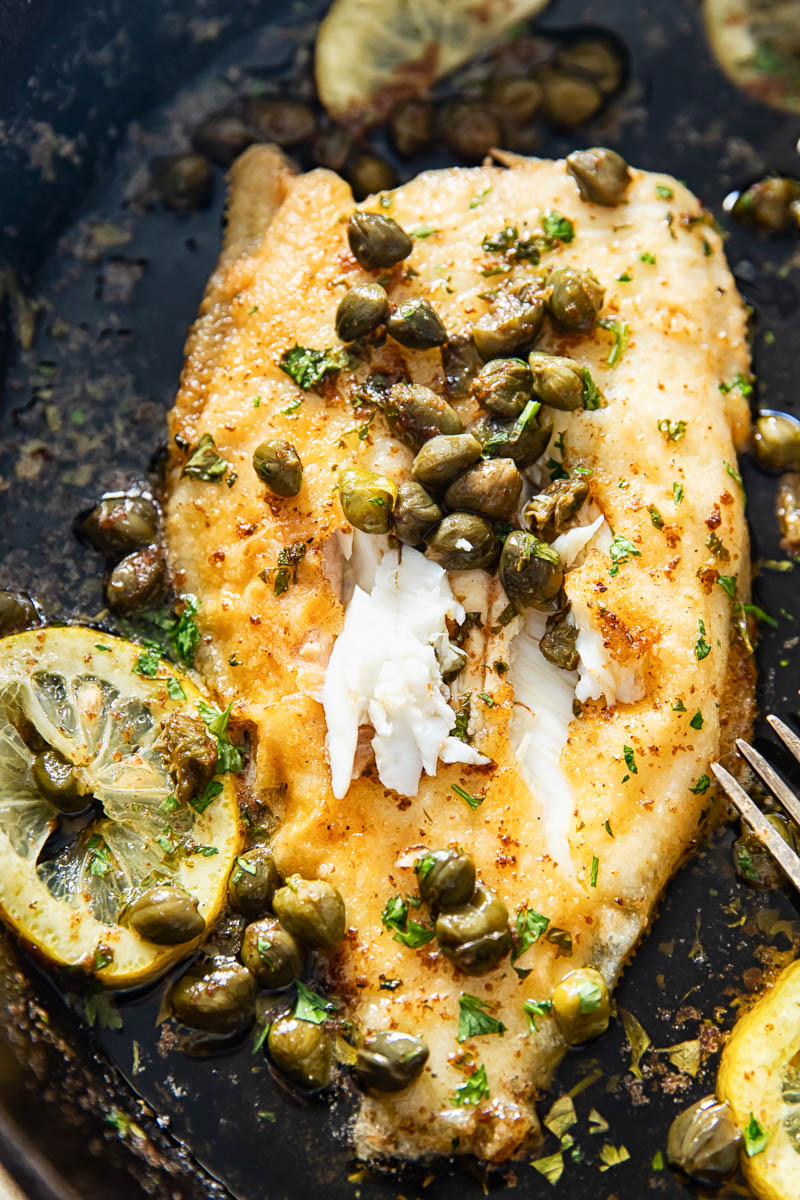 What exactly is Sole Meuniere?
Despite its refined sounding name, or at least it is to an English speaker, the dish itself has the humblest of roots. 'Meuniere' means "miller's wife" in French, which makes this fish recipe staple fare of an unpretentious labourer.
The dish itself consists of a sole fillet, or a whole fish like in this case, being dredged in flour and then fried in butter to achieve a crispy coating.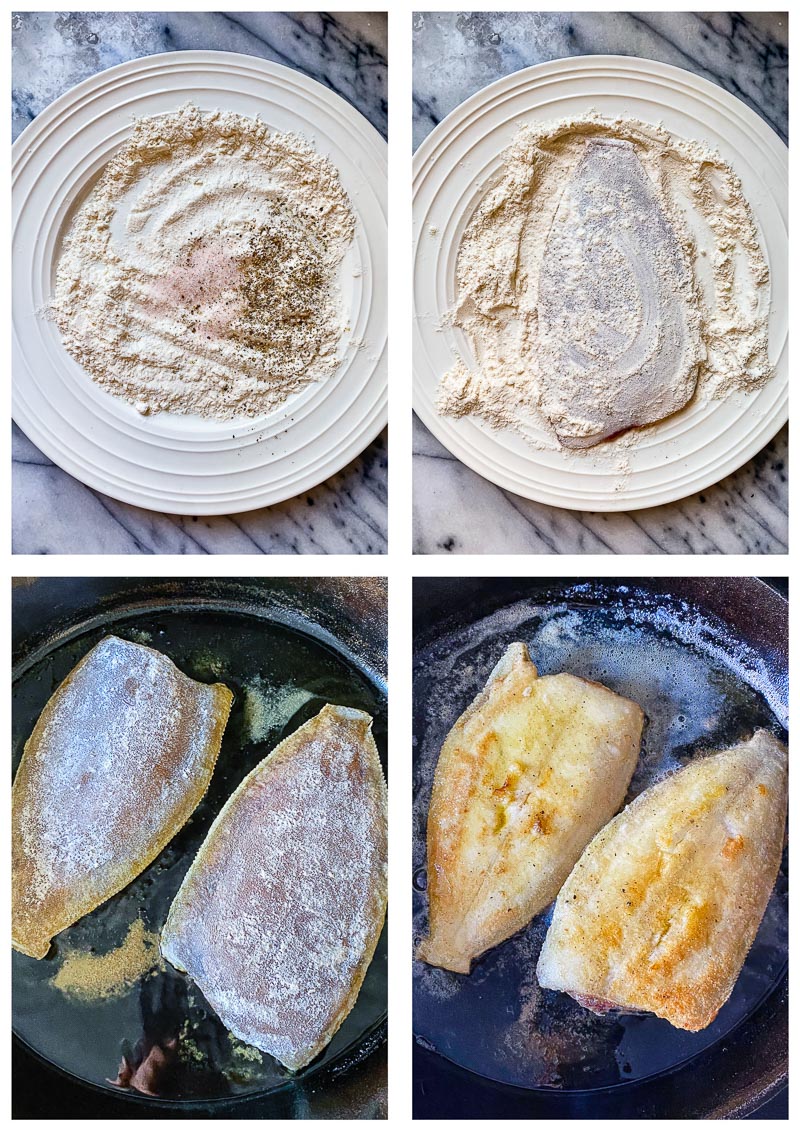 Lemon Butter Sauce
After the fish is fried on both sides, remove it to a separate plate to prevent overcooking. Then add a lot more butter and let it bubble to make brown butter. This adds another layer of flavour! As soon as it happens, we pour in fresh lemon juice directly to the pan to create a delicious lemon butter sauce.
In the end we throw in some capers and serve with freshly chopped parsley. A simple dish that is far from plain! The lemon butter, which is rich, tangy and salty, is the perfect accompaniment to the mild tasting, white fleshed sole.
Lemon butter sauce is so delicious! It shouldn't be reserved for for sole alone. You can use the same method but use chicken cutlets instead like this Chicken Paillard Recipe.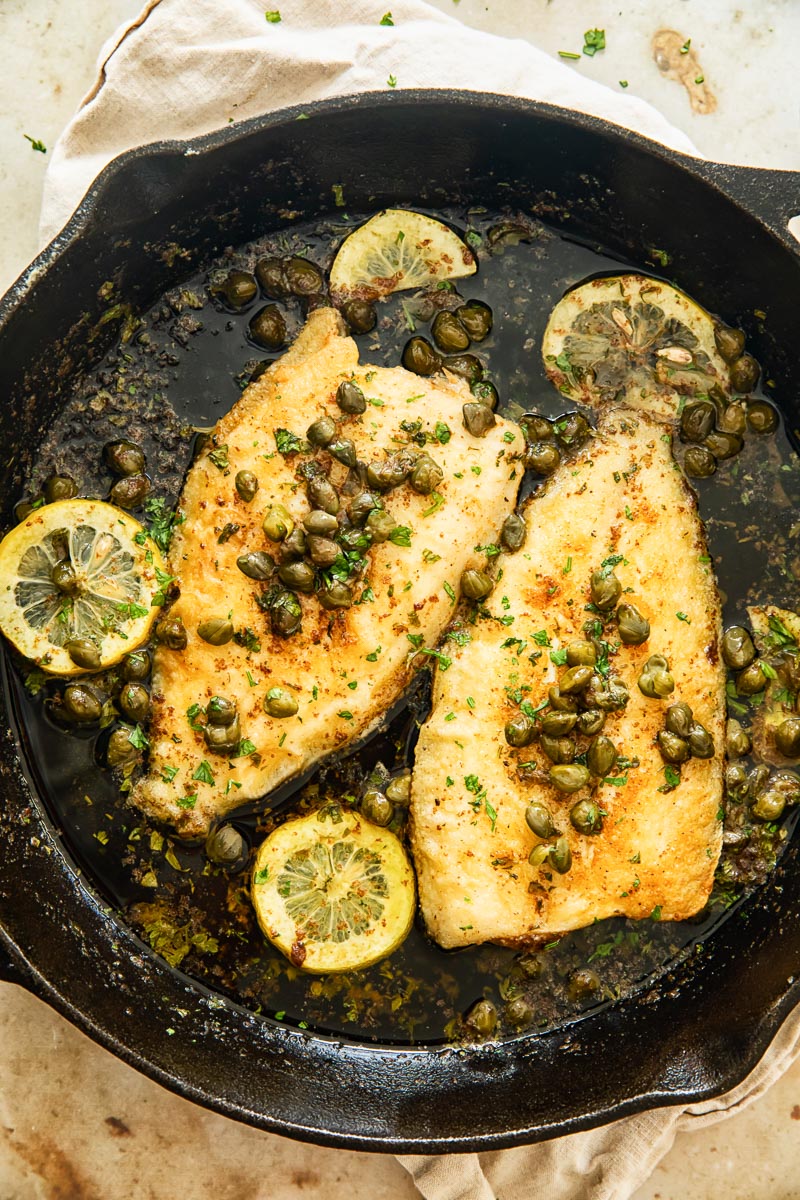 Recipe Tips
Choose sole fillet is possible. However if your fish is very small and difficult to fillet, the whole fish is absolutely fine, which is what I used in this recipe.
You can use either Lemon Sole or Dover Sole, the first one is cheaper and more accessible.
Don't forget to season the flour, the fish is dredged in, with salt and pepper!
Fry in butter for extra flavour until the skin is crisp. Remove from the pan to avoid overcooking, which happens quickly with delicate fish like sole. Keep warm.
Add more butter and let it melt and bubble until it start to brown a bit, then quickly add freshly squeezed lemon juice. Do not use bottled lemon juice as it will result in inferior flavour! I also like to add a few lemon slices together with the juice.
Finally bring in capers to the sauce, warm through and take it off the heat. Bring the fish back to the pan and spoon the lemon butter sauce all over. Serve with fresh parsley.
More Delicious Fish Recipes to Try: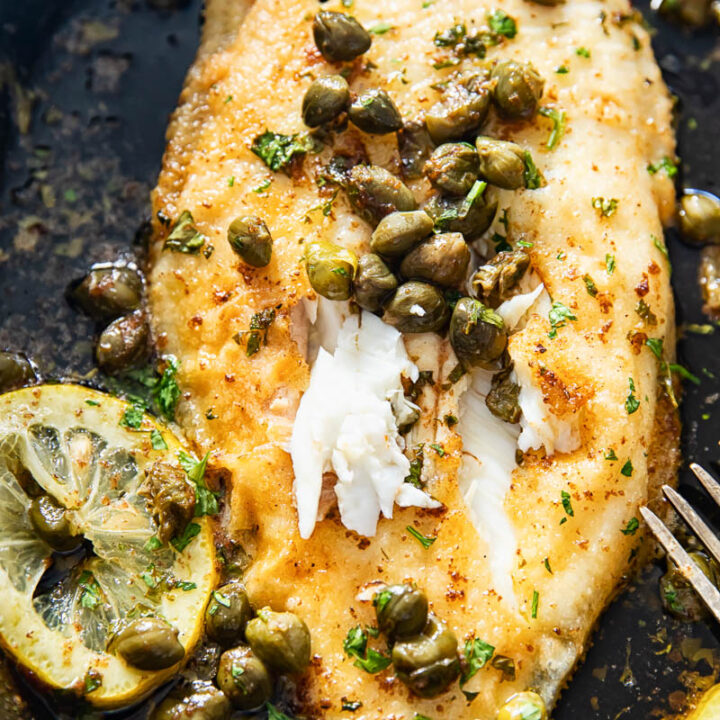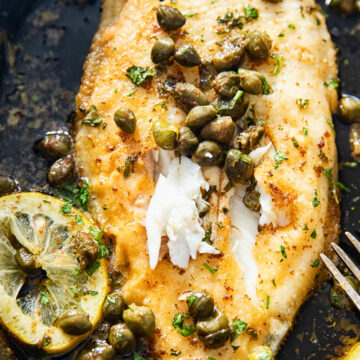 Sole in Lemon Butter Sauce (Sole Meuniere)
Sole, cooked in lemon butter sauce with capers, this classic Sole Meuniere recipe is easy to master at home!
Ingredients
2X130g/4oz-5oz

lemon sole fillet or whole fish

4

tbsp

plain flour

1

tsp

salt and pepper each

4-5

tbsp

butter

I used unsalted

1

lemon

2

tbsp

capers

1

tbsp

chopped fresh parsley
Instructions
In a large plate of a bowl combine the flour, salt and pepper. Dredge the fish in the flour mixture, then shake off the excess flour.

Preheat a frying pan and melt 2 tbsp of butter in it. Fry the sole in butter on medium heat for approximately 2 minutes on each side. Then remove from the pan and keep warm.

To the same pan add the remaining butter and let it melt and watch it turn slightly brown, then add the juice of half a lemon and slices of the other half, cook for a few seconds, then add the capers and return the fish back to the pan. Spoon the sauce all over the fish and take off the heat. Serve sprinkled with fresh parsley.
Nutrition
Calories:
361
kcal
Carbohydrates:
17
g
Protein:
18
g
Fat:
26
g
Saturated Fat:
15
g
Trans Fat:
1
g
Cholesterol:
116
mg
Sodium:
1973
mg
Potassium:
312
mg
Fiber:
2
g
Sugar:
1
g
Vitamin A:
933
IU
Vitamin C:
32
mg
Calcium:
56
mg
Iron:
2
mg