This Chilli Garlic Salmon with Sweet Potatoes and Tenderstem Broccoli is a one pan beauty, which means less time cleaning and more time playing in the sun! Hello, Summer!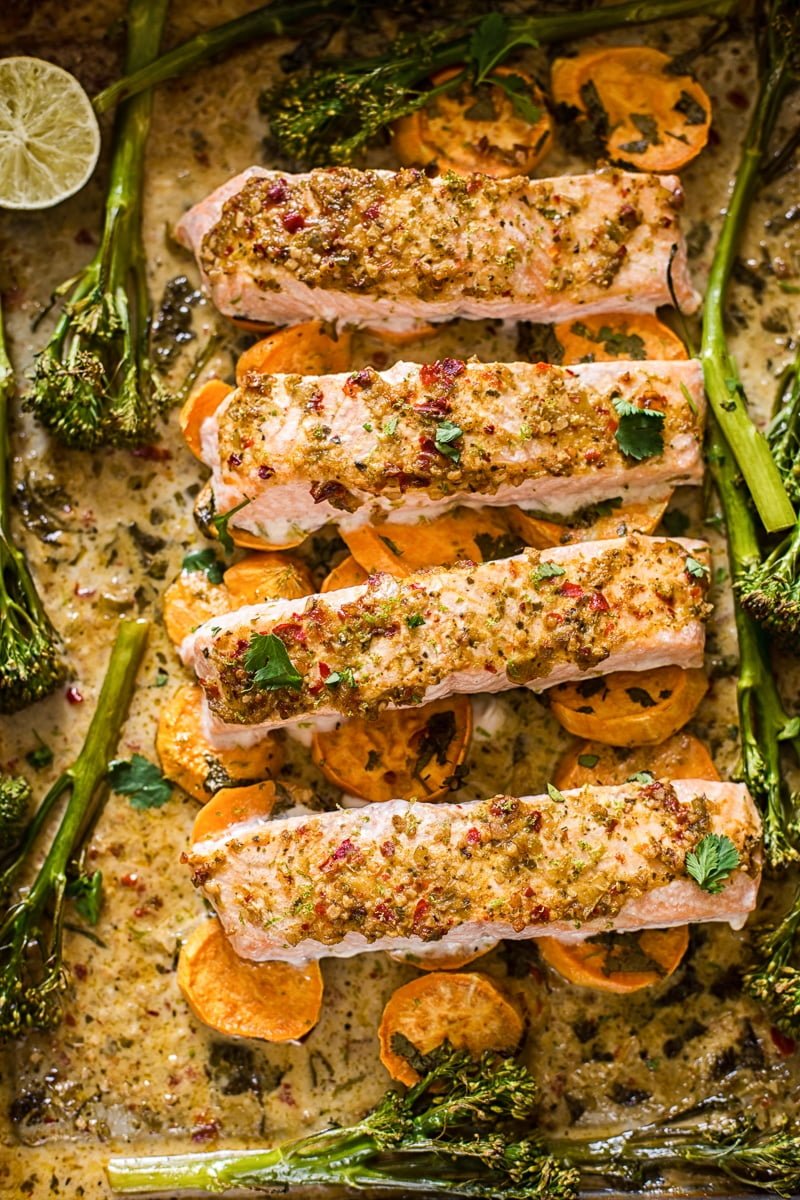 (Thank you Very Lazy for sponsoring this post and keeping the Vikalinka kitchen cooking! I was compensated for my work, all opinions remain my own.)
We've been in our house for almost 2 weeks now but the kids are still saying they feel like we are staying in an airbnb. My little travellers…
I love the way they think! If I am honest, I do feel a bit like I am living in someone else's home as well. And although I organised my kitchen myself, it still takes me a bit of a mental strain to remember where I put things.
Nothing is the same!! Needless to say, dinner times are not as smooth as they once were!
To complicate things even further I now spend much longer in my car driving kids to school, then barely have time to have a cup of coffee (or at least it feels like it!) and have to turn around to pick them up again.
Not much time for anything else! I am really looking forward to the summer holiday. Only 5 more weeks left. Yes, kids go to school until the end of July in the UK. It took me a bit to get used to that one!
Naturally I am trying to make my life a bit simpler and use a few shortcuts in the kitchen. My family loves Asian food but do you know Asian food is famous for? A super long ingredients list!! Here is where pre-chopped essentials from Very Lazy come in handy!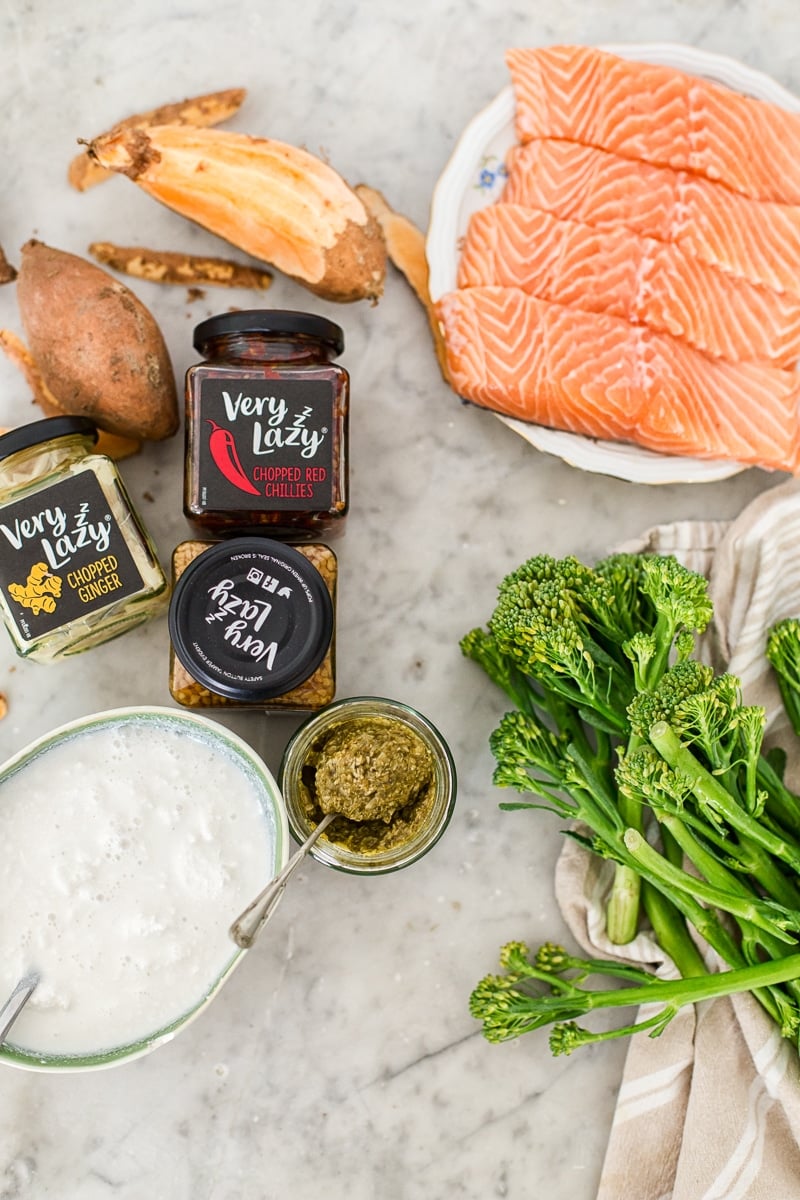 This chilli garlic salmon with sweet potatoes and tenderstem broccoli was made using my favourite Thai flavours but the method of cooking it in one pan in the oven with vegetable is quite European, you even get a delicious sauce at the bottom of your pan!
One pan dinners are my heroes at the moment as we are still waiting for the dishwasher to get installed and hand washing a pile of dishes when the sun is so lovely outside is not my idea of a good time!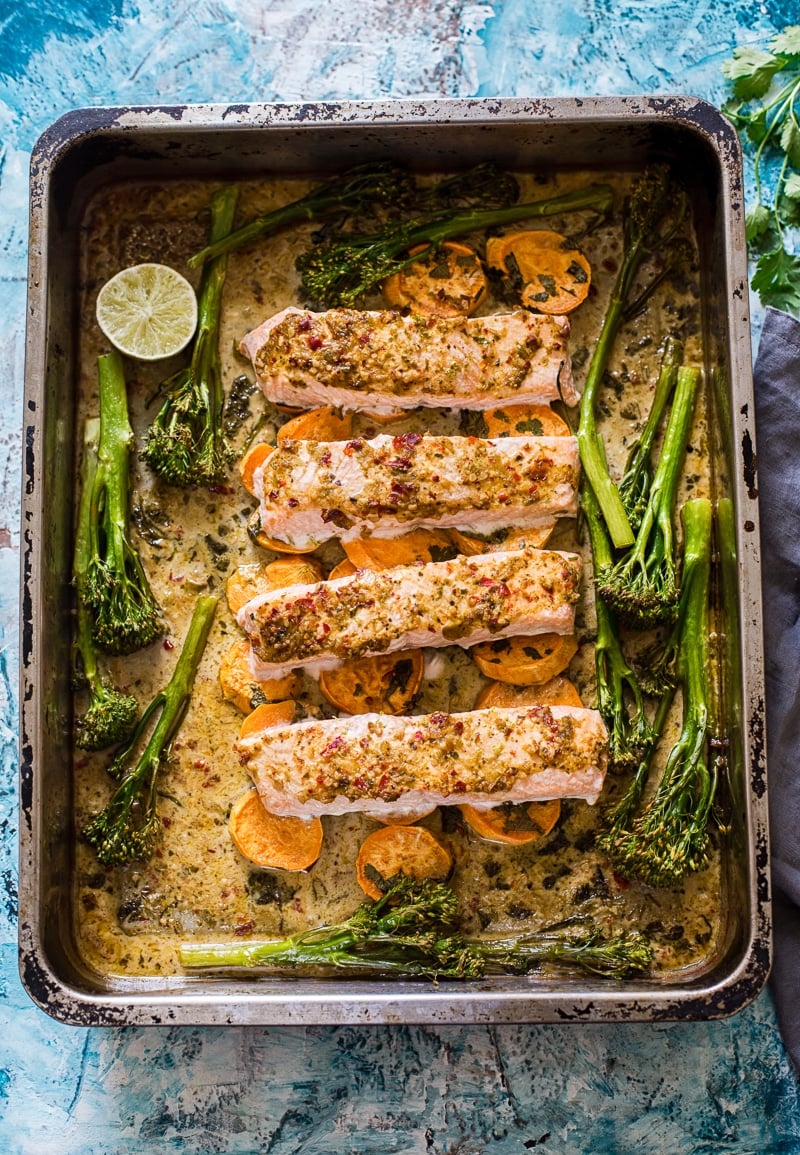 So a few shortcuts here and there and I've got a gorgeous dinner done in under 30 minutes! Because there is no chopping involved, the prep time pretty much consisted of mixing a few ingredients and putting everything in the oven.
You wouldn't believe how little effort went into this salmon with sweet potatoes if you could taste all authentic flavours of Thai cuisine coming together in a different package.
What makes this salmon with sweet potatoes a winning recipe?
Chillies, smoked garlic, ginger, green curry paste and limes create the perfect combination of sweet, salty, sour and spicy. The cornerstones of the Thai cuisine!
And thanks to Very Lazy instead of chopping and deseeding red chillies, peeling and mincing garlic, peeling and chopping ginger, I didn't even get my hands smelly. I actually "cooked" with a glass of Rose in hand!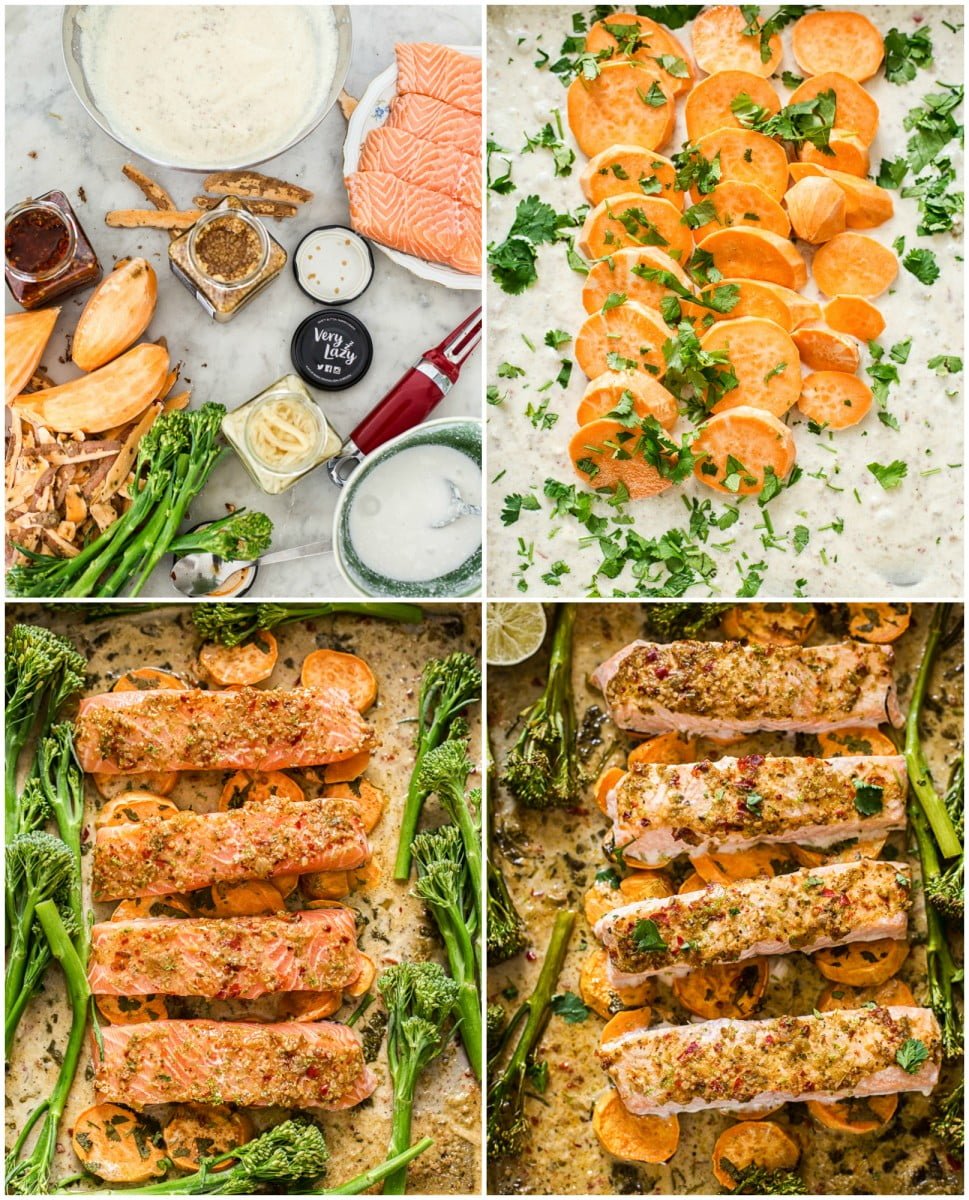 You can use regular potatoes of course but I felt the sweetness from sweet potatoes provided the perfect balance to the spicy and sour notes of the chillies and limes.
I also used tenderstem broccoli, which is a crazy and genius mix of Japanese kale and broccoli!
If you can't find tenderstem broccoli where you live, throw in some regular broccoli or asparagus, they are both delicious this time of the year!
Enjoy and don't forget to spend loads of time outside!!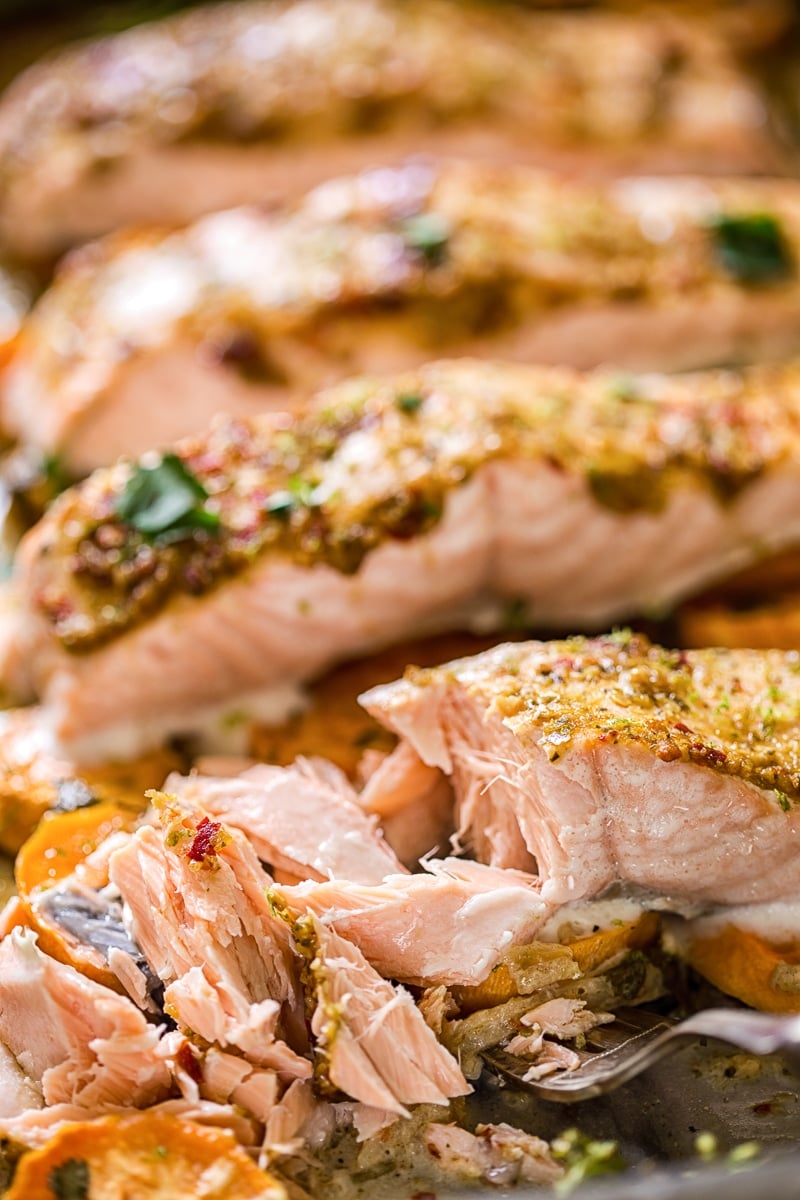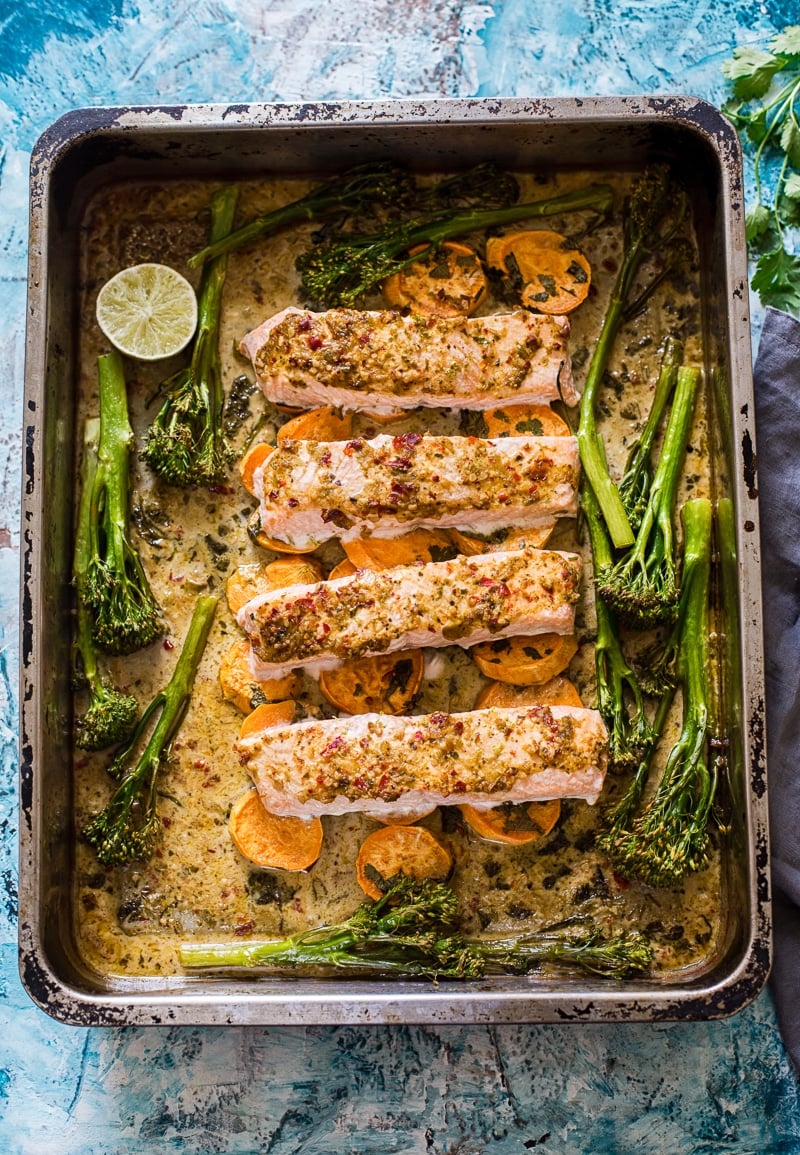 Ingredients
2

tbsp

Thai green curry paste

1

tsp

chopped red chillies

I used Very Lazy brand

1

tsp

chopped garlic

I used Very Lazy brand

1

tsp

sliced ginger

I used Very Lazy brand

1

lime

juice and zest

1

x 400 ml tin coconut milk

2

tbsp

chopped coriander/cilantro

3

small sweet potatoes

peeled and sliced
For the salmon
4

X 175g salmon filets

salt

1

tsp

Thai green curry paste

½

tsp

chopped chillies

½

tsp

chopped garlic

200

g

tenderstem broccoli
Instructions
Preheat the oven to 200C/400F.

In a medium bowl mix Thai green curry paste, chopped red chillies, chopped garlic,chopped ginger, juice and zest of ½ lime and coconut milk, then pour in a large roasting pan. It should barely cover the bottom of the roasting pan, approximately ⅓ of an inch up the sides.

Lay the overlapping sweet potato slices directly in the pan with coconut milk and spice mixture, salt and sprinkle with chopped coriander/cilantro. Bake in the oven for 15-20 minutes until tender.

While the sweet potatoes are baking, mix Thai green curry paste, chopped chillies and garlic in a small dish to make a paste. Salt the salmon and spread the paste on the salmon. You should have no more than ¼ tsp of the paste per fillet.

When the potatoes are tender, take out of the oven and lay the salmon on top of the potatoes and arrange tenderstem broccoli around, salt the broccoli and drizzle with remaining lime juice and zest over the entire pan.

Return to the oven and bake in the oven for 10 minutes.
Nutrition Facts
Chilli Garlic Salmon with Sweet Potatoes and Tenderstem Broccoli
Amount Per Serving
Calories 568
Calories from Fat 297
% Daily Value*
Fat 33g51%
Cholesterol 96mg32%
Sodium 159mg7%
Potassium 1423mg41%
Carbohydrates 29g10%
Protein 40g80%
Vitamin A 16176IU324%
Vitamin C 58mg70%
Calcium 120mg12%
Iron 6mg33%
* Percent Daily Values are based on a 2000 calorie diet.