Feast like French royalty with this Salmon Florentine with Spinach and Asparagus recipe. A sauce rich with creaminess and pleasingly fleshy pink fish makes this super easy salmon recipe a nutritious dish heavily disguised by decadence.
Serve with my Homemade Fresh Pasta if you have the time, or extra greens and my Pan Fried Zucchini with Basil and Pecorino.
Although the story may not be based on historic facts, I love the idea that á la Florentine is attributed to one of the most tenacious women in European history.
A native of Florence, Catherine de Medici lived most of her life at French court married to the weak-willed King Henry II. Her team of French chefs came up with the now world-famous sauce to incorporate some of her favourite ingredients from home.
To me, Salmon Florentine epitomises femininity. The textures are smooth, delicate, luxurious, and the flavours are bold and creamy. And the fish is pink!
What Is Salmon Florentine?
Salmon Florentine is the classic sauce over an alternative protein. I love eggs, but I have difficulty eating them after midday. They are firmly categorised as a morning food!
The other obvious choice is chicken, but as I said, obvious. A fleshy fillet of rosé-coloured salmon is an absolute charm in this spinach and cream sauce.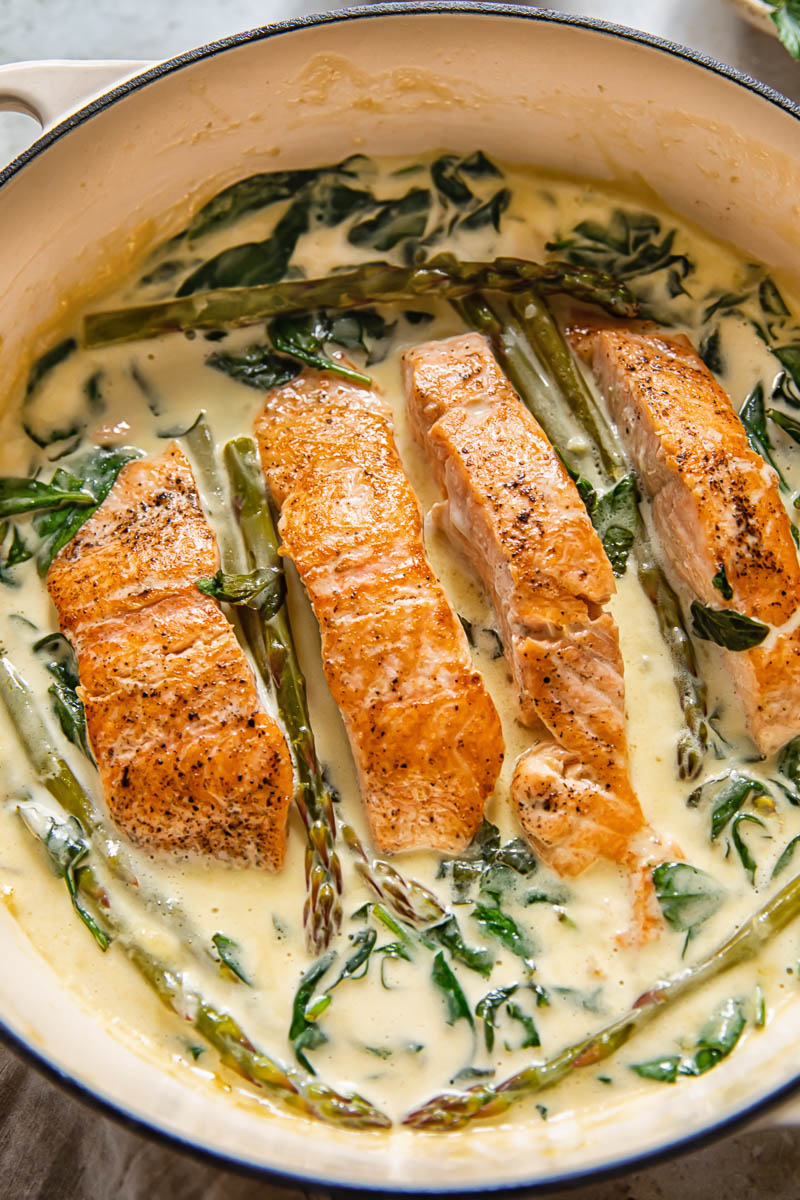 Florentine sauce
Best known for top spots on brunch menus, Florentine sauce is most often served over soft, yolky poached eggs; similar to Eggs Benedict. However, as it's so indulgent but light, it's ideal for any meal time.
Served over chicken, white fish or just plain pasta, this versatile creamy sauce is a recipe for elegance.
To earn á la Florentine status, the dish must contain wilted spinach, white wine, cream, butter and Parmesan.
Fit for a queen, the sauce will be milky-white with a silken texture and run through with threads of vibrant green. I sauté shallots and a little garlic in mine for an edge of sweetness.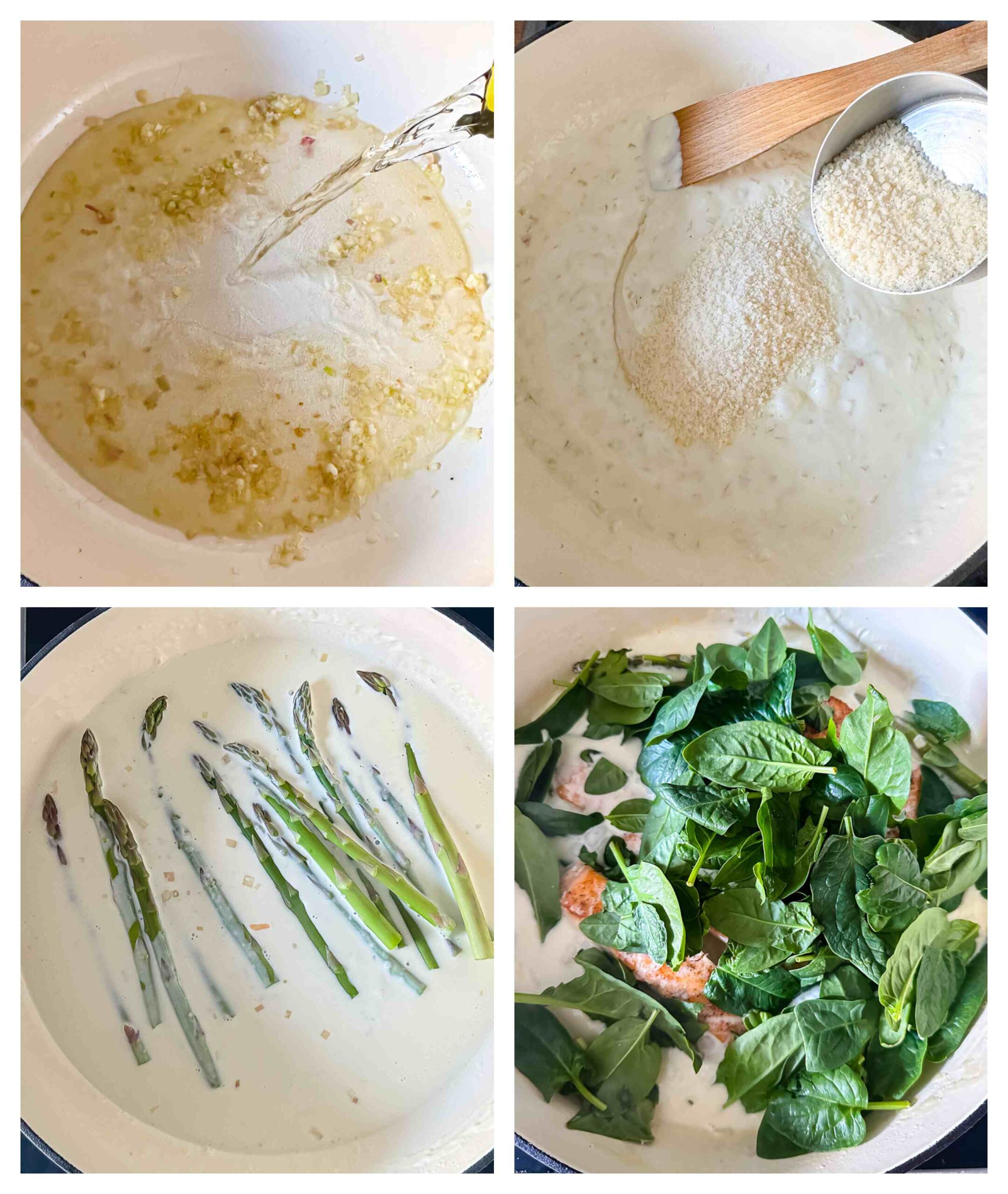 Recipe tips and notes
For a crisp sear, pat the uncooked salmon dry with a paper towel. This removes any excess moisture and prevents steaming. Then you can season it with salt and pepper.

You'll need a high heat for a golden glaze. Don't skip the sear! 1. It brings a deeper flavour to the sauce and 2., the fish will have a delicate crust on the outside while staying fleshy and tender inside.

Fish and white wine are a time-tested combination. You can use any dry white to deglaze the pan, but I go for Vermouth. There's always an open bottle in my kitchen especially for cooking. And the odd martini. If you're alcohol-free, lemon juice or chicken/ vegetable stock will do the trick.

Pre-grated parmesan is not queen-worthy. It's dry, dusty and loses flavour quickly. I use freshly grated Parmesan and a little goes a long way. What's more, a carefully-stored block of Italian hard cheese is a luxurious investment! Add a little sprinkle and you elevate many a dish to royal status.

Traditionally, a Florentine sauce just calls for spinach. Asparagus is a favourite of mine and works beautifully in this creamy sauce. So why not? You can't really argue with extra veg.

If you're not a spinach fan, kale or even rocket are good alternatives. All are nutrient-packed.

The seared salmon only needs another five minutes in the pan. If it starts to break up, turn off the heat! The fillets should be

whole, bronzed and bathing in sauce.
Storage and leftovers
Leftover salmon and sauce can be covered and stored in the fridge for up to two days. Reheat low and slow or you'll get dry fish! Pre-heat the oven to 135C and cover the portion with foil in an oven-proof dish. Reheat for 15 minutes or until the salmon is cooked through.
If you just can't wait, try the cold salmon on an open sandwich. Spread a lick of horseradish on a slice of sourdough bread, flake the fish with a fork and pile it up. Any leftover asparagus can top it off.
Favourite Salmon and Sauce Recipes to Try: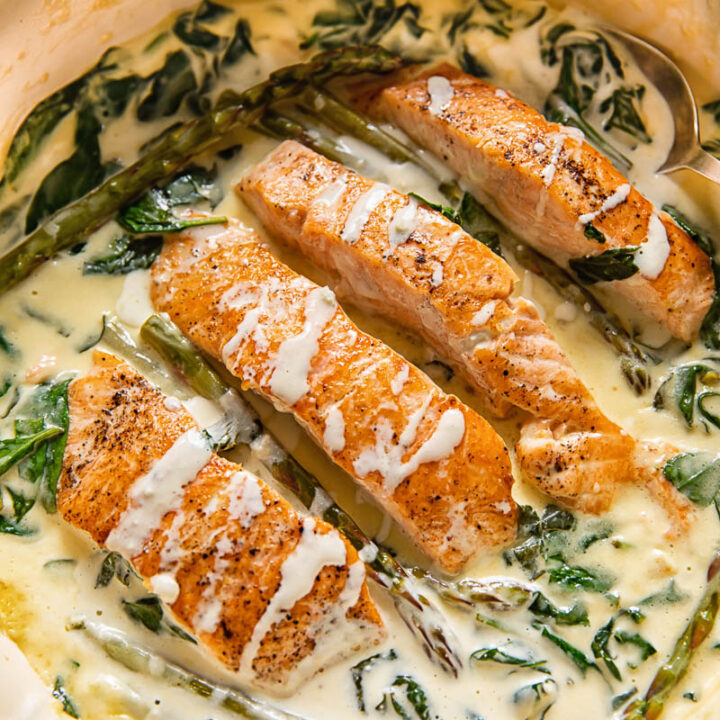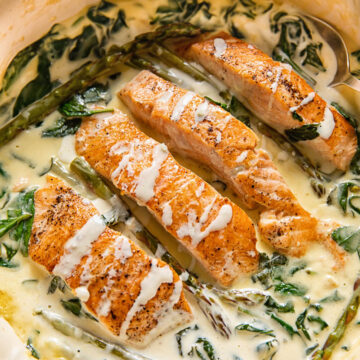 Salmon Florentine with Spinach and Asparagus
Feast like Italian royalty with this delicious salmon in a decadently creamy Florentine sauce with spinach and asparagus.
Ingredients
4 (120g/4 oz) each piece

salmon fillet pieces

salt and black pepper

1

tbsp

olive oil

1

tbsp

butter

1

shallot

or ½ small onion

2

cloves

garlic

80ml/1/3 cup

dry white wine

Cabernet Sauvignon, Pinot Grigio or your favourite

125ml/1/2 cup

chicken or fish stock

250ml/1 cup

double/heavy cream

50g/1/2 cup

Parmesan cheese

125g/4 oz

asparagus

tough ends removed

30g/1 cup

fresh spinach

salt to taste
Instructions
Pat the salmon dry with a paper towel all over to remove excess moisture. Season salmon with salt and pepper, heat the olive oil in a frying pan, then sear the salmon over medium high heat until golden and the skin side is crispy, starting with the skin side up. This should take approximately 6-7 minutes. The salmon doesn't have to be cooked all the way through at this point. Remove the salmon to a plate until later.

To the same pan add the butter and the diced shallot, sauté over low heat for 5 minutes, then bring in the minced garlic and sauté for 30 seconds longer. Deglaze the pan with the white wine and let it simmer for about 3-5 minutes until the liquid is reduced by a half.

Add the chicken stock, heavy cream and grated Parmesan cheese, stir until the cheese is incorporated into the sauce, then add the asparagus and cook for 5 minutes. Bring the salmon back into the pan, add the spinach and cover the pan with a lid. Let the sauce simmer over low heat for 5 minutes or until the salmon is cooked all the way through and the spinach is wilted. Season the sauce with salt to taste.
Nutrition
Calories:
532
kcal
Carbohydrates:
7
g
Protein:
32
g
Fat:
40
g
Saturated Fat:
20
g
Polyunsaturated Fat:
5
g
Monounsaturated Fat:
13
g
Trans Fat:
0.1
g
Cholesterol:
154
mg
Sodium:
928
mg
Potassium:
840
mg
Fiber:
1
g
Sugar:
4
g
Vitamin A:
2098
IU
Vitamin C:
5
mg
Calcium:
228
mg
Iron:
2
mg