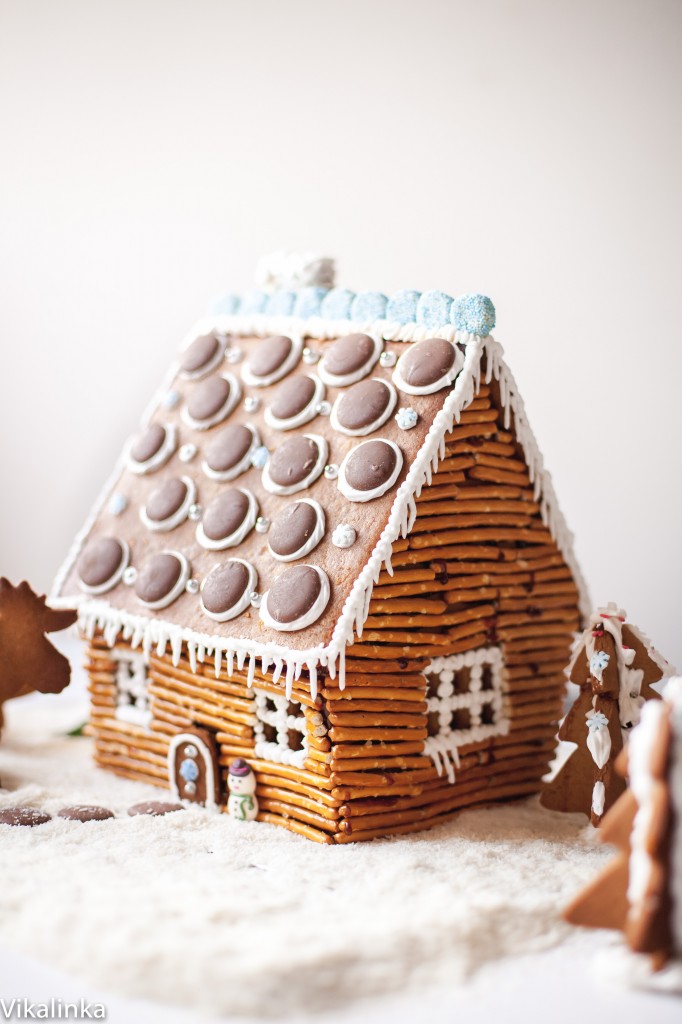 Gingerbread making is an annual tradition in our house that I wouldn't miss for anything. Usually we build one on Christmas Eve.
Looking at photos from previous years inevitably brings a huge smile to my face-sneaky children popping sweets into their mouths instead of on the house while thinking they are being so discreet! All caught on camera, of course.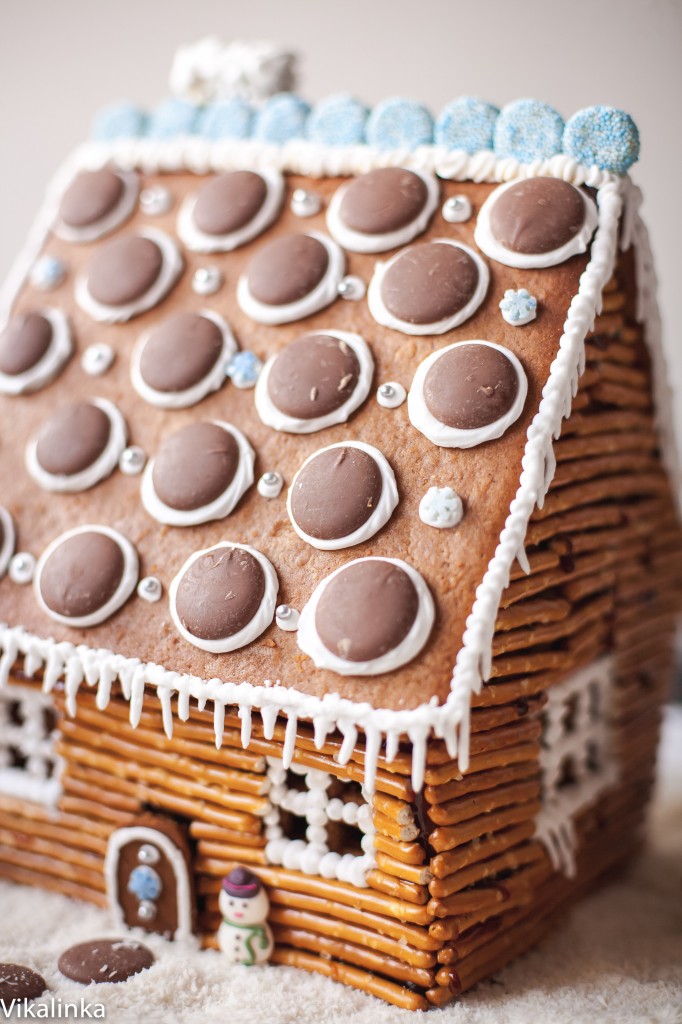 Although we've been making gingerbread houses for years, we've always bought kits and just assembled and decorated them.
This year OXO Good Grips teamed up with Stork and announced the ultimate blogger challenge-bake your own gingerbread house and let your imagination run wild.
They also provided all kinds of tools necessary for baking and decorating. They made me an offer I couldn't refuse.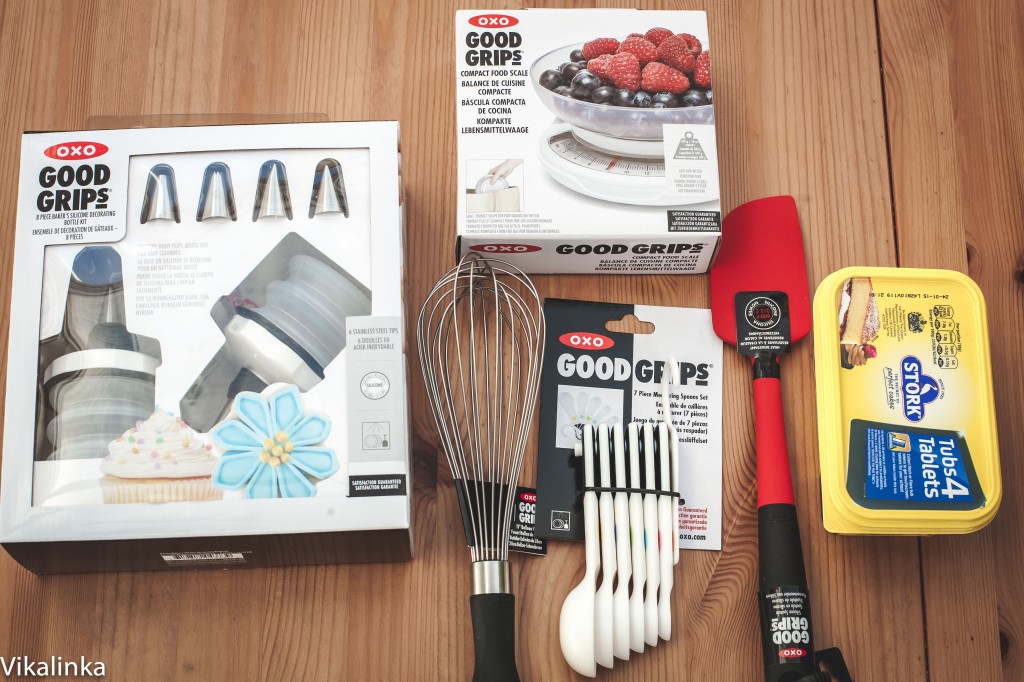 I was so excited just thinking about what kind of gingerbread house I would make. Naturally my choices fell between a rustic Canadian log cabin and an intricate Russian palace.
After careful consideration I decided to pace myself and stick to something simple, seeing that it was my first attempt to bake a gingerbread house from scratch.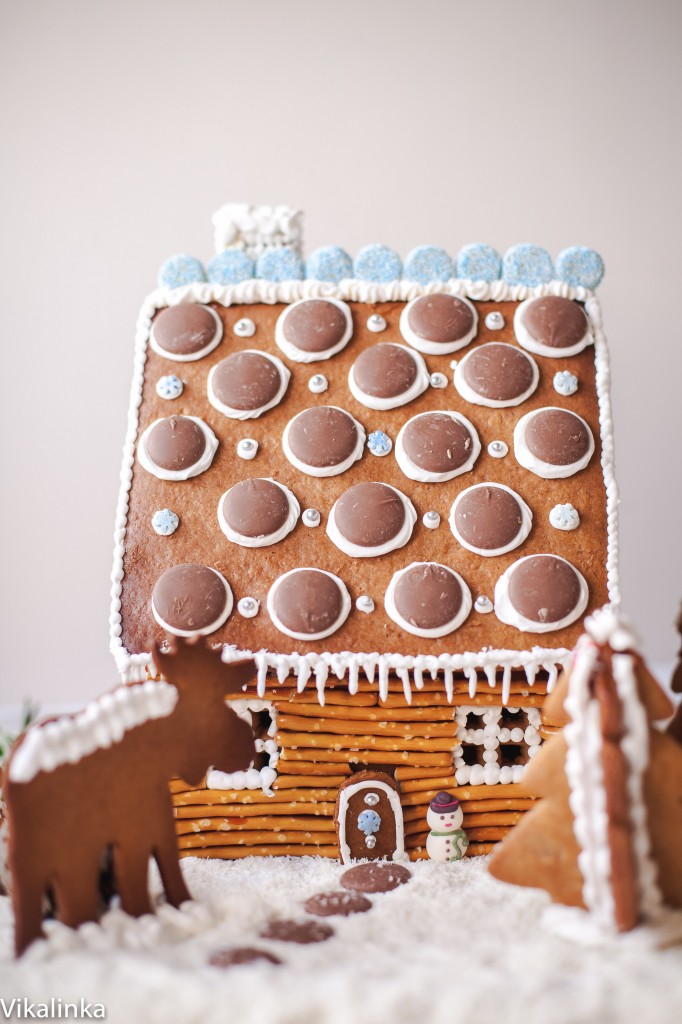 Once I decided on the concept I had to figure out how to achieve it.
I needed logs, forest and a MOOSE. Thankfully, after a few minutes of internet research and a careful inspection of my cookie cutters I had all three.
For the house I used a basic template from Martha Stewart but the recipe itself had to be adapted slightly for my British readers.
It had to be metric and it had to be made with treacle instead of molasses. The result was delicious not to mention STURDY.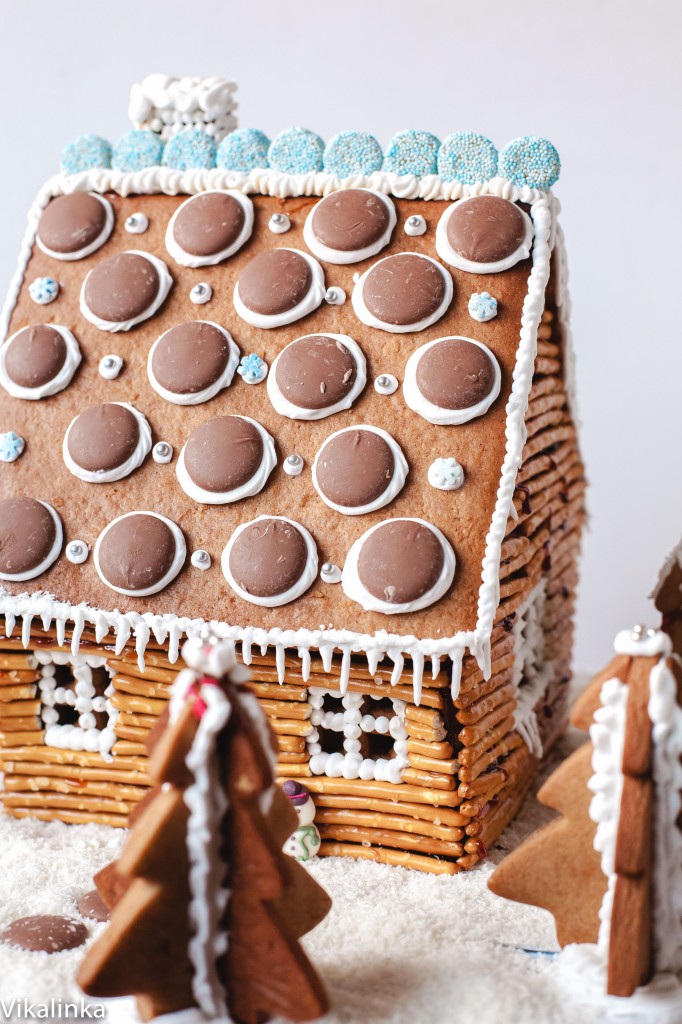 Traditionally gingerbread house is "glued" together with royal icing but it takes forever to dry out and in humid English weather it's even trickier. I wanted something less fragile and more stable. I wanted something fail-proof.
What I found worked brilliantly was hot caramel. Once again, thank you Martha Stewart! Just melt a cup of sugar with juice of half a lemon and voila! But under no circumstances touch hot caramel.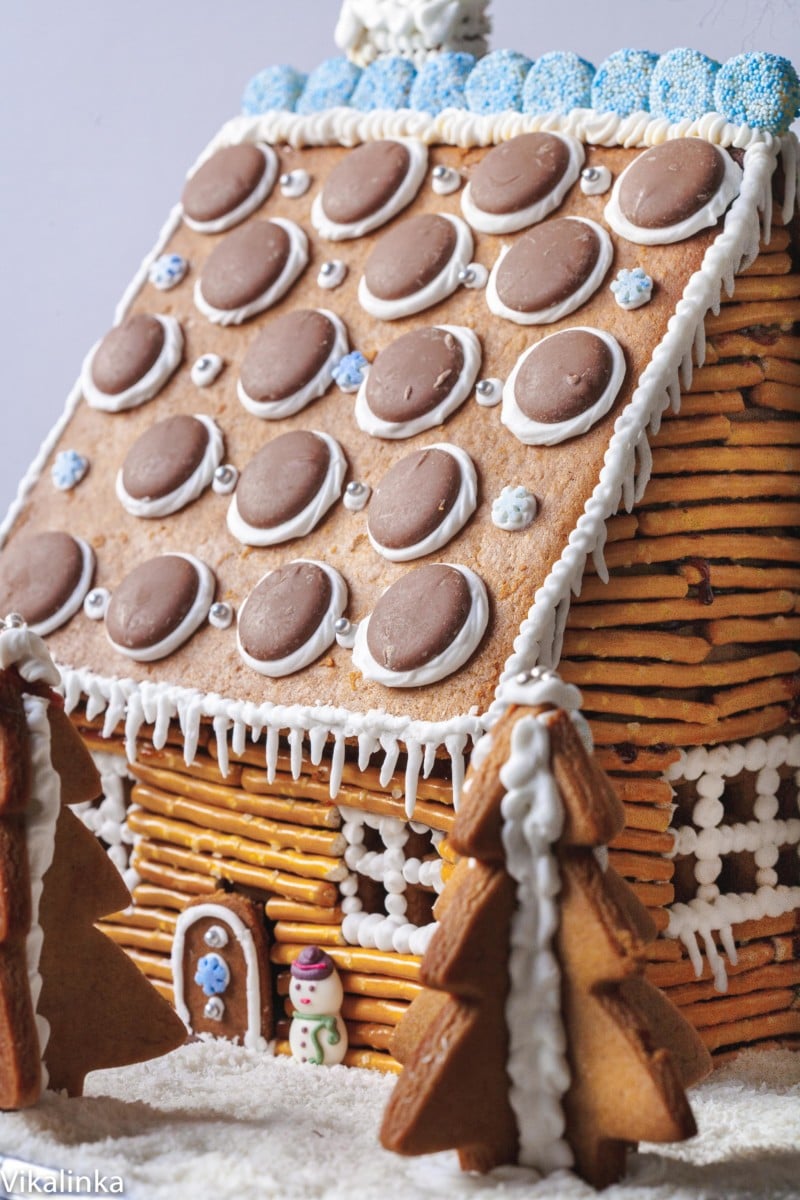 Just DON'T DO IT unless you want a career as a spy with erasing your fingerprints is your first step. Trust me I know…I am half-way there. My burned-to-blisters fingertips are still healing. Don't get me wrong, it's not dangerous but don't be stupid…don't be me!
What is really sad is that I reminded myself (out loud like a crazy person) not to touch the caramel but got so into the process of gingerbread making that forgot and did it anyway!
Truth is this post wouldn't happen if not for my friend Carmen who was coming over to decorate it with me. The girl is so artistic that I asked her to come and do with me.
She was on her way to my house when I texted her in panic that I am badly burned! She rescued me and finished putting this house together as I was hovering over not letting go of my ice pack for 2 hours!
Luckily, the pain got better and I was able to take part in decorating it. The funnest part of all!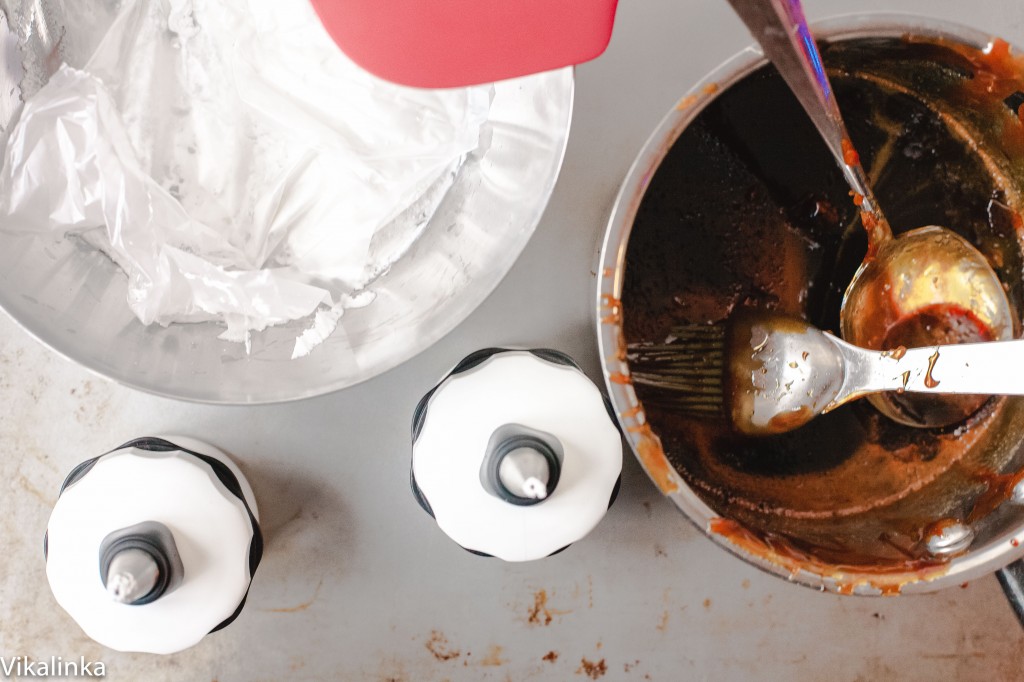 The advantages of using hot caramel by far outweigh "the danger". The house is permanently "glued" and it literally takes minutes!
I used hot caramel to put the house together and to attach pretzel sticks to the walls. Use a brush and wear gloves if you don't trust yourself. This job is definitely for adults only!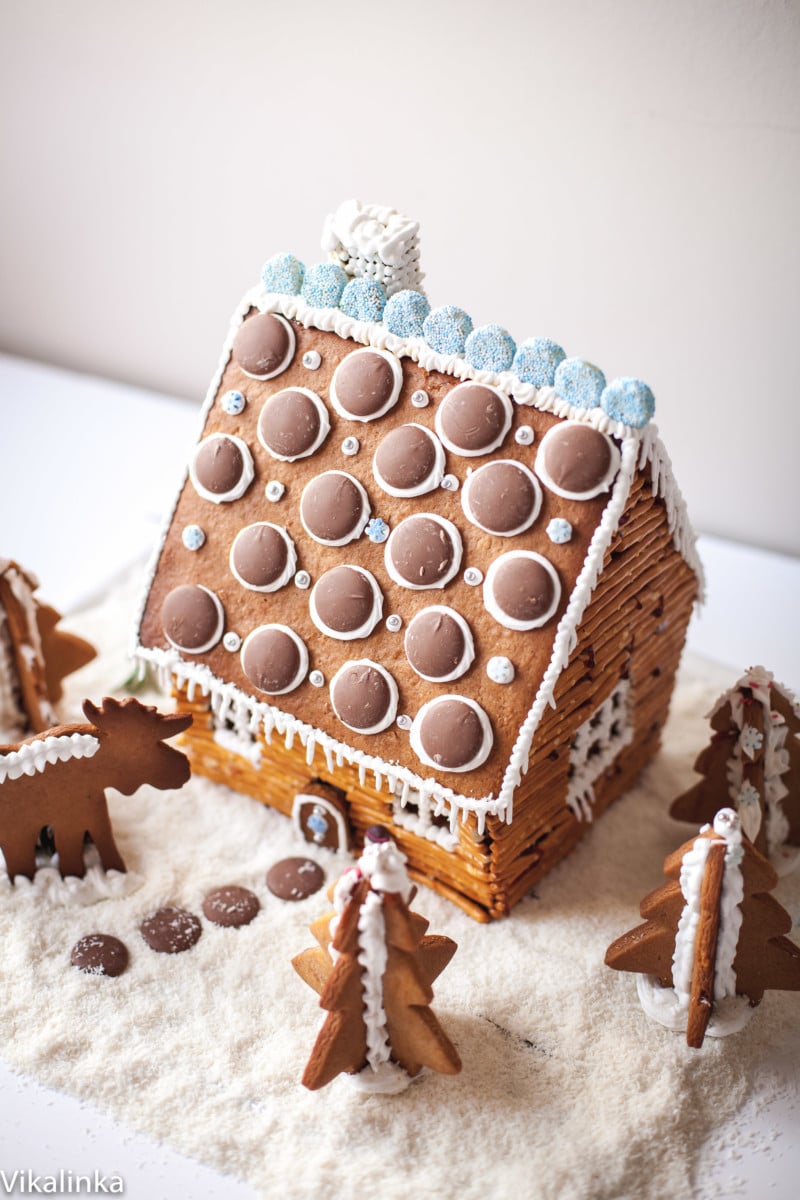 Ingredients
For the gingerbread house
250

g

margarine like Stork

200

g

demerara sugar

7

tbsp

golden syrup

600

g

plain flour

2

tsp

bicarbonate of soda

4

tsp

ground ginger

2

tsp

cinnamon

1

tsp

mixed spice
For the royal icing
3

egg whites

½

tsp

cream of tartar

500

gr

icing sugar

sifted
For the hot caramel
225

gr-sugar

½

lemon

juice of
For the decorations
Pretzel sticks

Giant chocolate buttons

silver balls

liquorice

any sweets of your choice

desiccated coconut
Instructions
For the gingerbread house
Heat oven to 350F/180C/gas 6.

Melt the margarine, sugar and syrup in a pan.

Mix the flour, bicarbonate of soda and ground ginger into a large bowl, then stir in the margarine mixture to make a dough.

Wrap in a cling film and chill in the fridge for 1 hour.

Cut out the template.

Put a sheet of parchment paper on your work surface and roll about one quarter of the dough to a ¼" thickness.

Cut out one of the sections, then slide the gingerbread, still on its baking paper, onto a baking sheet. Repeat with remaining dough, re-rolling the trimmings, until you have two side walls, a front and back wall, two roof panels and the chimney pieces.

Any leftover dough can be cut into Christmas trees.

Bake in the preheated oven for 15 minutes.

When the gingerbread parts are baked, take them out of the oven, place a template over them while still hot and trim the expanded pieces so they are exactly the original size with a sharp knife.

Cool on a wire rack until hard.
For the hot caramel
Pour sugar and juice of ½ lemon into a small saucepan and set over medium heat. Don't stir until you see sugar start bubbling around the edges, then stir until sugar is completely dissolved.

Continue cooking until caramel is amber colour.

Take off the heat.

Assemble the house by brushing the seams with hot caramel and holding the pieces together for 1 minutes or so until caramel cools and hardens.

Start with the walls, then move onto the roof and finish with the chimney.

When the house is finished set it on a cookie sheet covered with aluminium.
For the royal icing
Next make the royal icing.

In a large bowl combine egg whites with cream of tartar, mix with a hand mixer or in a stand mixer until frothy.

With the motor of a stand mixer still running gradually start adding icing sugar ½ cup at a time. Continue whipping until all sugar is incorporated and the icing is very stiff.

Load up your pastry bag and cover the rest with a cling film directly on the icing to prevent drying out.

Keep the tip of pastry bag in a glass with a little bit of water to keep it from hardening.

Use your imagination to decorate your house in any way you fancy!

Sprinkle coconut all around the house. Use royal icing to set trees and any other object around the house to create a scene you like.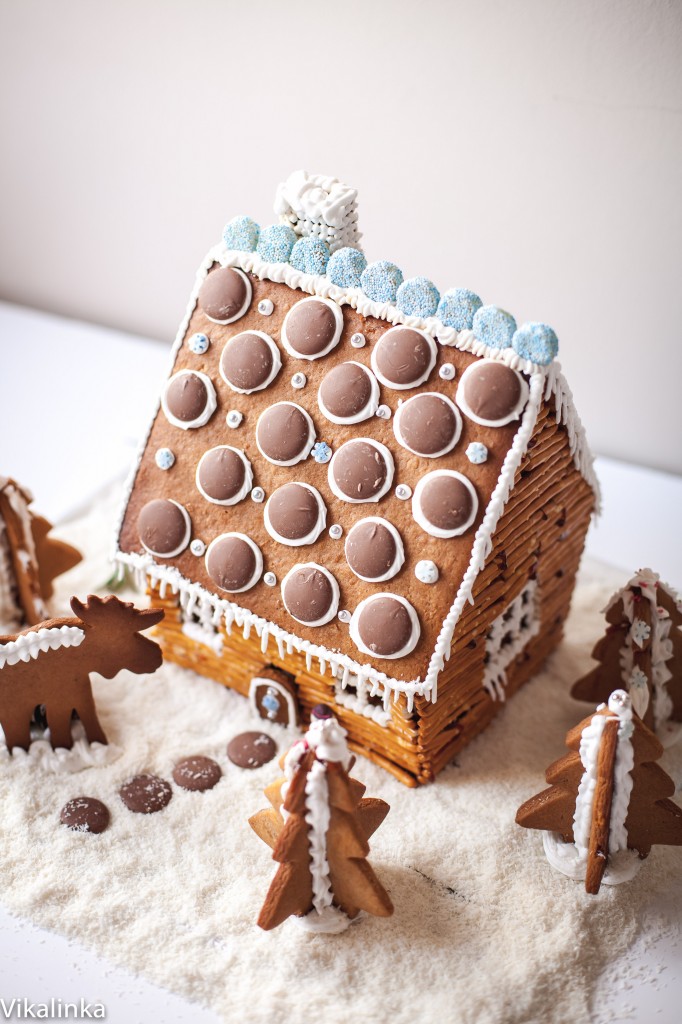 ** Use this chart to convert from metric into imperial system.