Making a restaurant quality prawn stir fry, loaded with healthy vegetables, is much easier and quicker than you think. It's true fast food, that is actually good for you!
If you love re-creating your takeout favourites at home, take a look at our Asian Recipe Collection for tips and inspiration.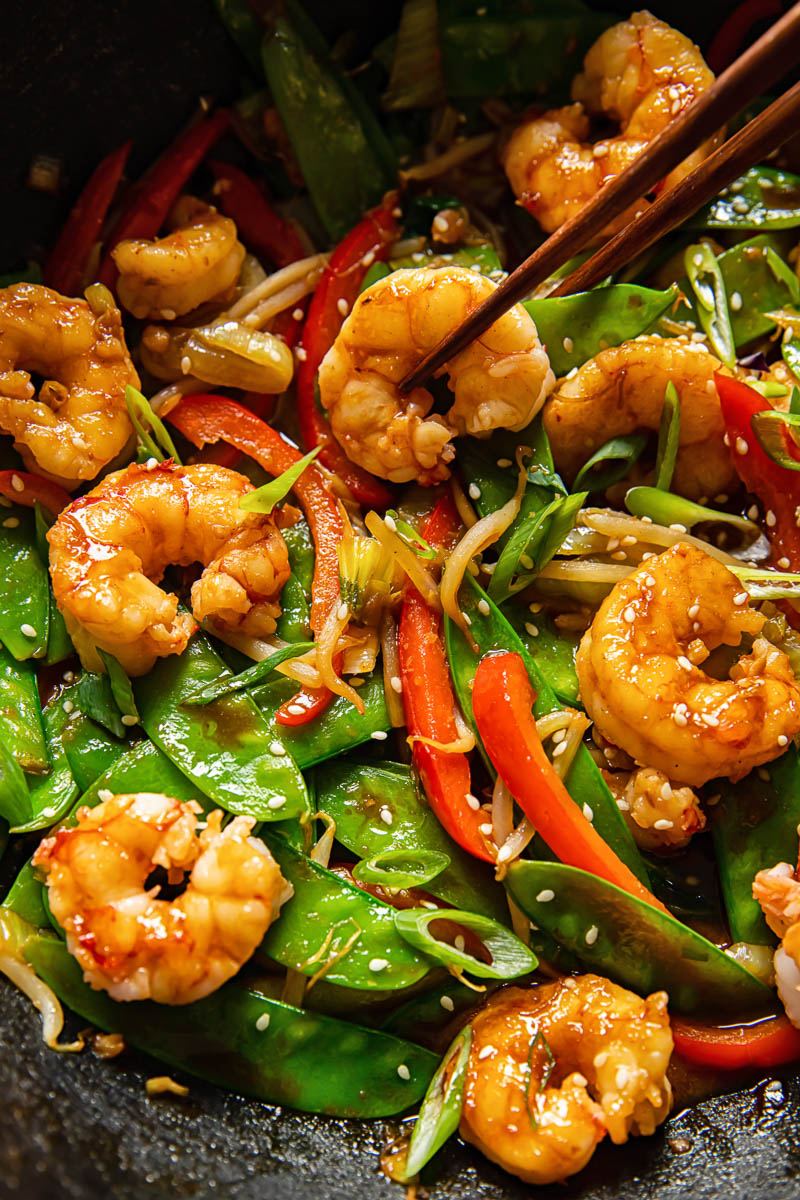 Whenever I feel like I've overindulged in the last while and need to lighten up my meals, I turn to stir fries. Quick, easy on the stomach, chock full of vegetables, they are the mid week saviors!
Better yet, everyone seems to love them. Even vegetable haters go for seconds. What is the trick? There are a few if you ask me.
I believe the popularity of stir fried vegetables are down to several reasons. One of them is the way of cooking vegetables is nothing like what we grew up eating, unless you come from the cultures where stir fries are king. Lucky you!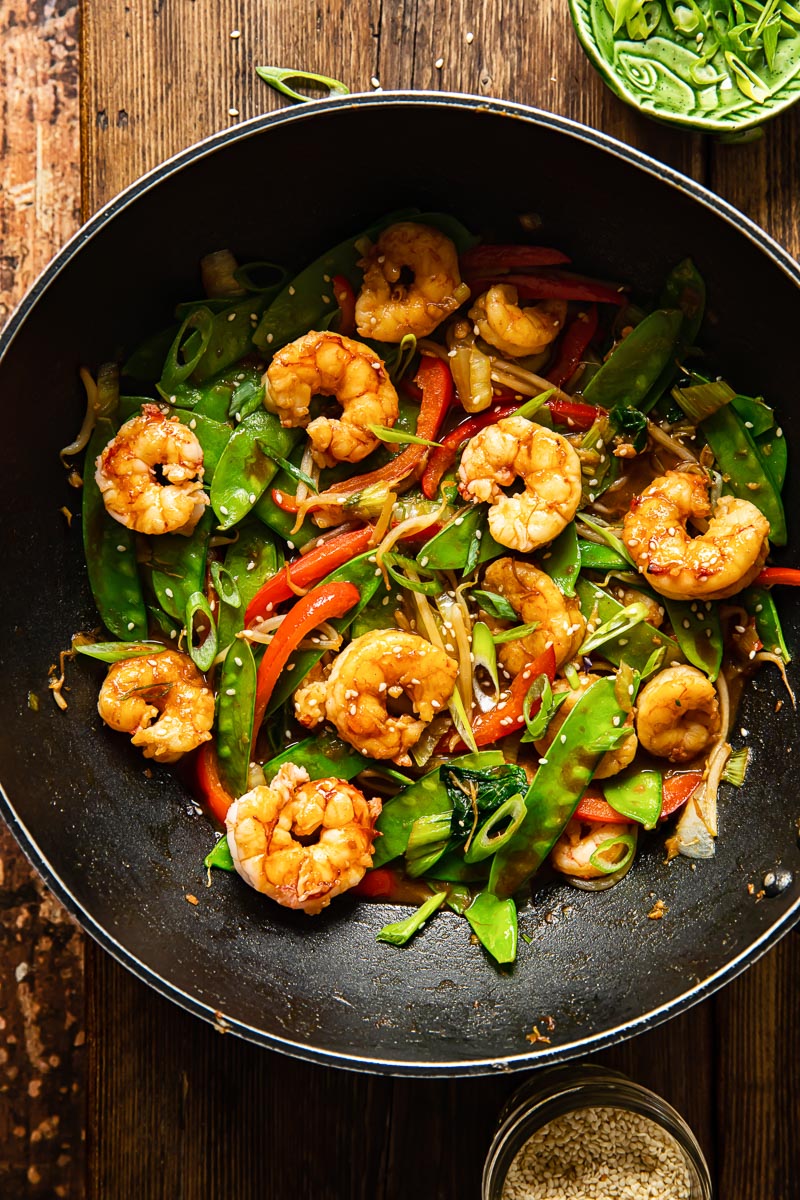 Stir Fry Recipes
As someone, who grew up with the European style of cooking, where the meat is the star of the meal, I was happy to discover another way of eating in my early 20s.
I did a lot of travelling around Asia then, and even spent a whole year in the Philippines. There I learned how to centre my meals around vegetables instead. And I fell in love with that style of cooking.
The reason I believe stir fries are so popular is down to the technique, in which they are prepared. If you look at them closely, you will see that all vegetables are cut in bite-sized pieces or sliced thinly. No need for a knife at the table.
That improves the texture of the dish and maximises the flavours since each small piece of the veg is coated in that delicious sauce. Which brings me to the next reason why people love stir fries.
The sauce. Everything tastes better with a sauce on it and especially vegetables. An aromatic blend of garlic, ginger and onions amp up that experience even more. And don't even get me started on the soy sauce! Using hoisin and oyster sauces, available in most supermarkets, instantly add loads of flavour and a complex taste to your stir fries.
Finally, the frying itself is done over high heat, which sears the outside of the vegetables and releases the their natural sugar. The inside however, stays crispy. No more complaints about the soggy veg!
There you go. Simple yet so effective!
Whenever any type of protein is added, it is not there to dominate the stir fry but merely to add a touch of flavour. This makes them also very economical!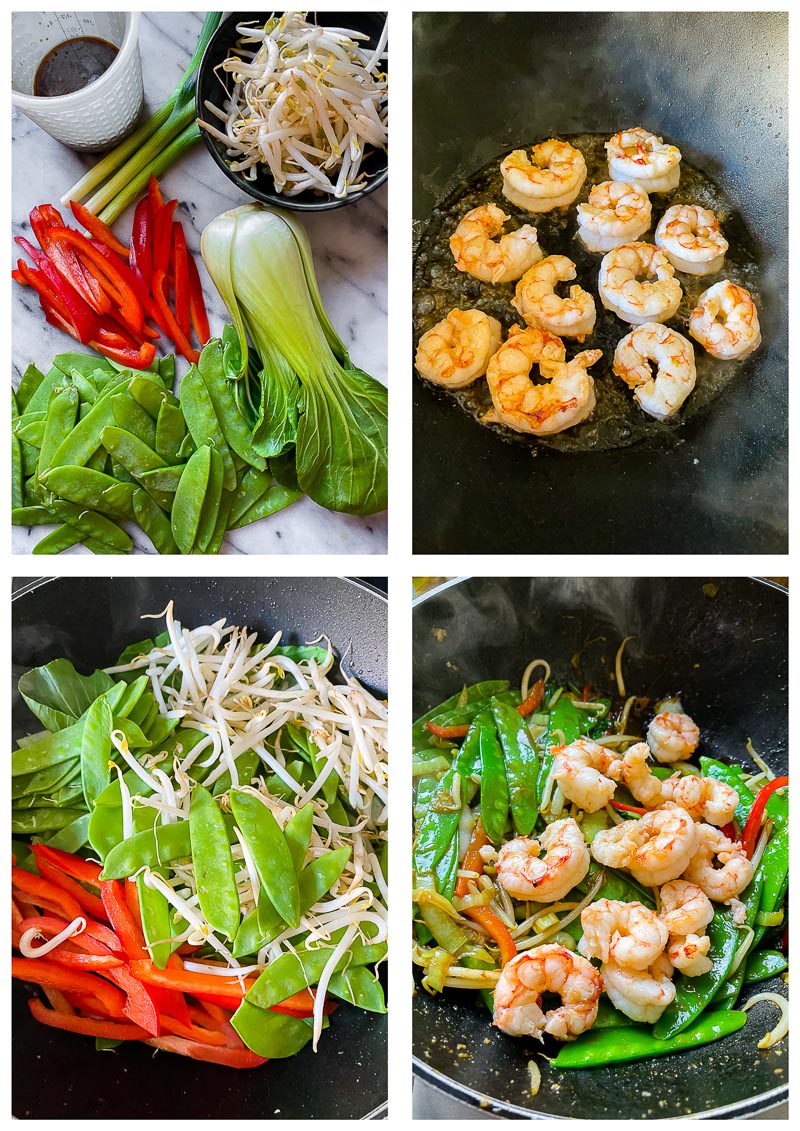 Ingredients
Now let's talk about the ingredients. It's safe to say you can use any vegetables you love and/or have on hand. You might not get the most authentic stir fry but it's only because vegetables available to us in the West differ from the Asian favourites.
That being said, you can always find bok choy, bean sprouts, snow peas (aka mangetout in the UK), red or green peppers. Those are readily available in most supermarkets.
This particular recipe was made using large pink Argentine prawns or shrimp, as they are called in the US. Different names, same animal! But you can use crab, chicken, very thinly sliced beef or tofu as your source of protein.
Recipe Tips and Notes
Stir fries are extremely quick to make. Once you start cooking, there is no time to stop and chop or slice. Make sure you do all prep before you begin.
Use fresh ginger and garlic. Those aromatics add so much flavour and cannot be compared to the garlic powder or dried ginger.
You can use nearly any vegetables you like for your stir fry. Not just the ones I recommend. If you vegetables will take longer than 5 minutes to cook, blanch them first, then add to the pan to stir fry.
Feel free to replace the prawns/shrimp with chicken or tofu.
Favourite Stir Fry Recipes: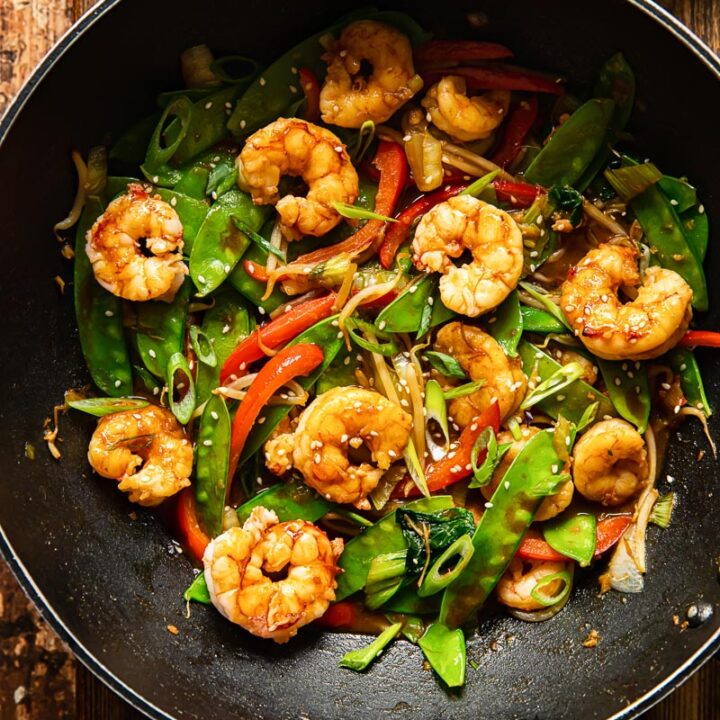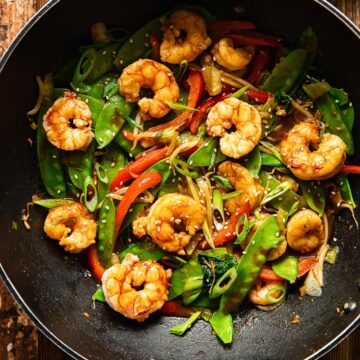 Easy Prawn Stir Fry
Making a restaurant quality prawn stir fry, loaded with healthy vegetables, is much easier and quicker than you think!
Ingredients
1

tbsp

vegetable oil

250g/1/2 lbs

large prawns (shrimp)

peeled and deveined

salt

2

cloves

garlic

minced

1

tbsp

grated ginger

3

spring/green onions

sliced

1

bok choy

sliced

150g/1 ¾ cups

snow peas/mangetout

80g/1 cup

bean sprouts

½

red pepper

1

tsp

sesame seeds

optional
For the sauce
2

tbsp

hoisin sauce

2

tbsp

soy sauce

½

tsp

white pepper

½

tsp

sesame oil
Instructions
Slice and mince all vegetables before starting. Heat the oil in a wok or a large and deep frying pan, then add the seasoned with salt prawns and cook for 2 minutes on each side till cooked all the way through. Remove to a plate.

To the same pan, add the minced garlic, ginger and the sliced white parts of the spring onions, cook briefly while stirring for 30 seconds. Then add the chopped bok choy, snow peas/mangetout, bean sprouts , sliced red pepper and stir fry for a few minutes until the vegetables are cooked by still firm to the bite.

Add the hoisin sauce, soy sauce, white pepper and sesame oil and stir to combine, continue cooking for a couple of minutes longer, then bring the prawns back to the pan and once again stir fry until the prawns are warmed through. Sprinkle with sliced green onions and sesame seeds before serving. Serve over rice.
Nutrition
Calories:
136
kcal
Carbohydrates:
16
g
Protein:
15
g
Fat:
2
g
Saturated Fat:
1
g
Polyunsaturated Fat:
1
g
Monounsaturated Fat:
1
g
Trans Fat:
1
g
Cholesterol:
79
mg
Sodium:
1127
mg
Potassium:
805
mg
Fiber:
4
g
Sugar:
8
g
Vitamin A:
10463
IU
Vitamin C:
141
mg
Calcium:
293
mg
Iron:
3
mg