Summer cocktail parties call for fruity flavours and elegant cocktails. My Blackberry Peach Daiquiri recipe ticks all the boxes for a classy party when summer fruit is at its best!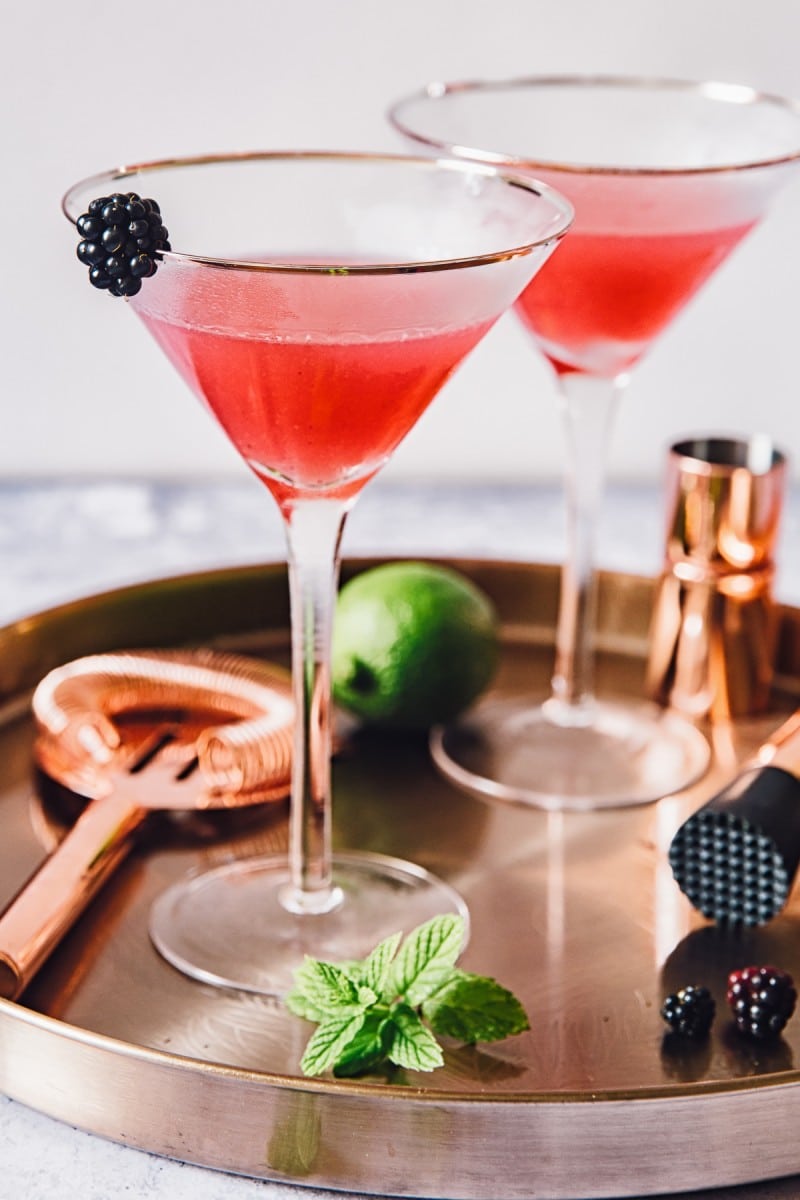 If you are following my classic cocktail series this summer, you will be happy to see yet another candidate for a makeover. Another cocktail that is well known yet completely misrepresented by the restaurant industry.
I hardly need to introduce a daiquiri to you. I am quite confident the image you have in your mind is of a strawberry flavoured slushie served with a bit rum or virgin.
Almost every restaurant we went to in our college days had strawberry and peach daiquiris on offer to our girly delight! Such pretty drinks made even more adorable by that tiny umbrella.
I did mention college days, right? Because nothing would be a bigger turnoff for me now than those types of drinks. Too sugary, full of artificial colour and flavour, they are nothing if not revolting.
The true daiquiri recipe got introduced to me by my friend Lucy. And although I was dubious that I would like Lucy's daiquiri I said, "yes, please" because I pretty much like to eat and drink anything she makes.
She made me a classic lime daiquiri, the kind that Hemingway drank, and that bit of information melted away the last of my doubts. If it's good enough for Hemingway, it's good enough for me.
What is in a classic daiquiri recipe?
Light Rum
Lime juice
Simple Syrup
Ice
Simple, yet refreshing and delicious!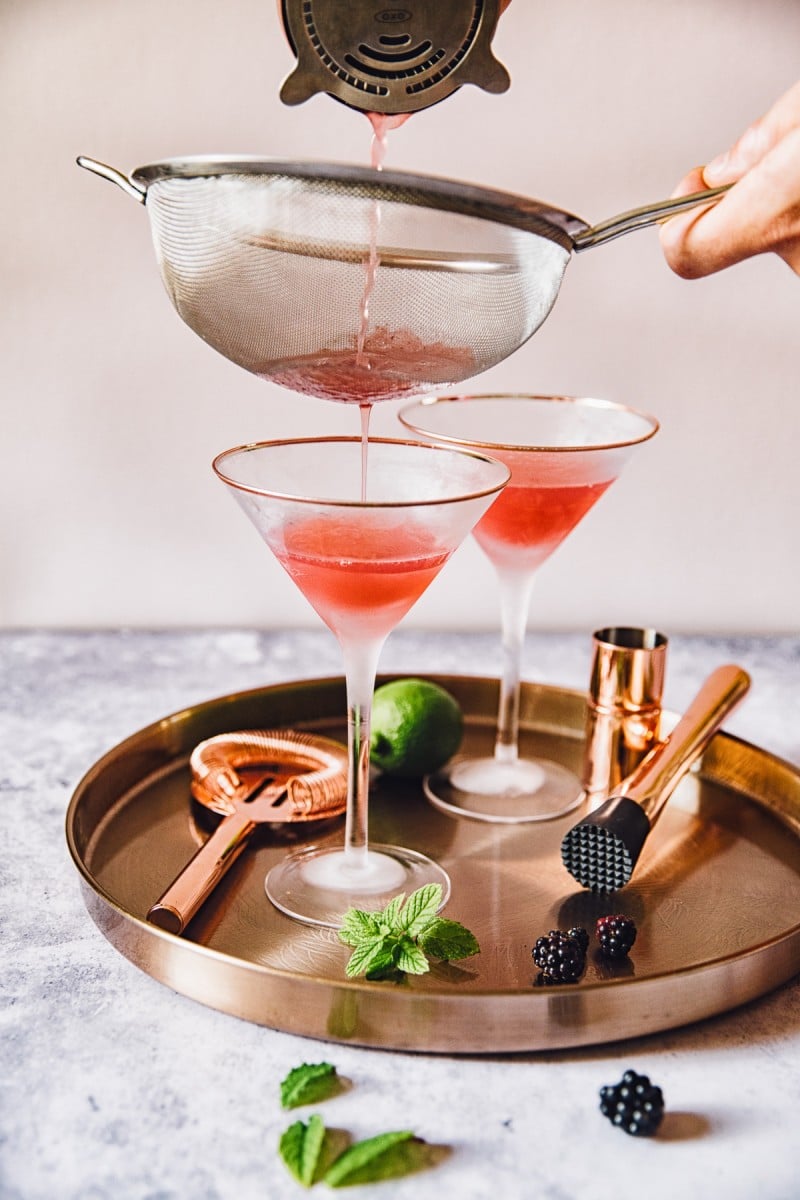 Back at home we experimented with a few flavours to jazz up the original daiquiri recipe, and the one we loved most was this Blackberry and Peach one. I am sure you can add any fruit you love but peaches are in season and I couldn't NOT include them.
Blackberries add a beautiful hue to this otherwise pale cocktail and everyone loves pretty thing.
I was a little worried that blackberry flavour would overpower the peach but it wasn't the case. You can taste two distinct flavours that work together instead of competing with each other. The key to this flavour harmony is very ripe fruit.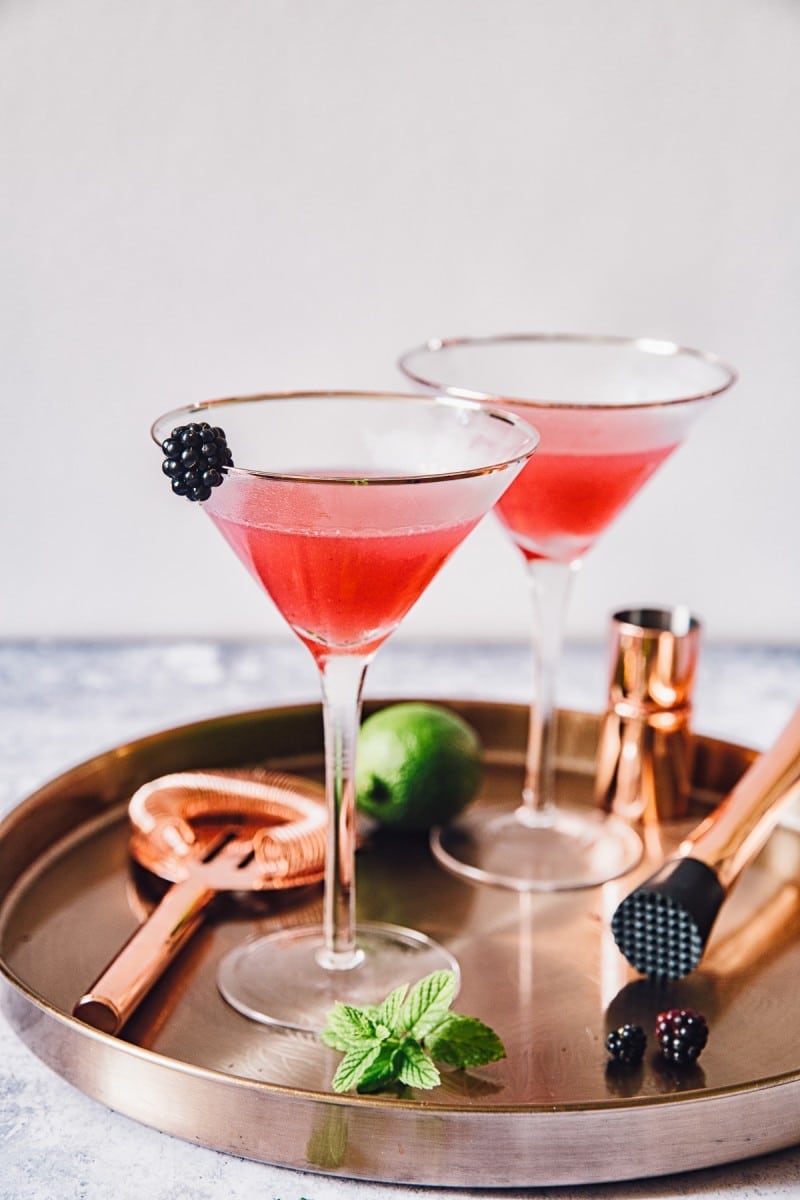 Serving suggestions
The key to almost every cocktail is to make it as cold as possible. That's why I've suggested shaking with ice until the cocktail shaker is too cold to hold. This doesn't work with all shakers, though, so just make sure you shake well with plenty of ice.
Another trick to keeping the drink as cold as possible is to chill the glasses before serving. Either fill them with ice you dispose of before filling with the drink, or place the glasses in a freezer for at least 5 minutes before serving.
No garnish is necessary, but I thought that adding a blackberry to the rim was a nice touch!
More classic cocktails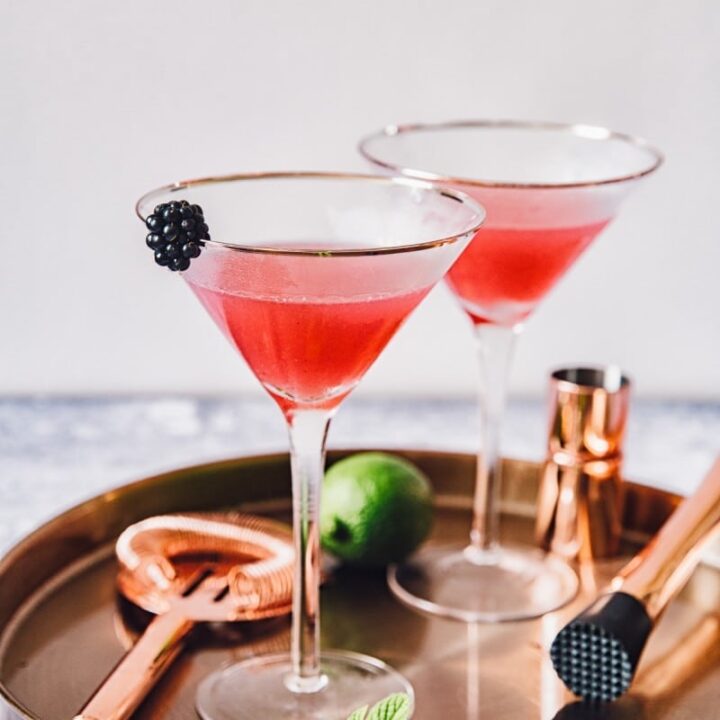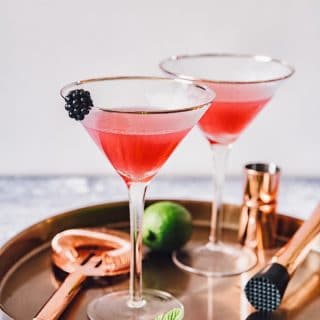 Blackberry and Peach Daiquiri Recipe
Classic Peach Daiquiri with Muddled Blackberries
Ingredients
2

peaches

6-8

blackberries

4-6

mint leaves

4

oz

/100ml light rum

1

oz

/25ml blackberry peach puree

½

oz

12.5ml simple syrup

1

lime

juice only

ice
Instructions
For the blackberry peach puree
In a food processor or a blender process the peaches with blackberries until smooth. Strain through a fine sieve and set aside. This recipe uses 1 oz, reserve the rest for a later use.
For the blackberry peach daiquiri
Add the mint leaves to a cocktail shaker and muddle until bruised and fragrant.

To the same shaker add 1 oz strained blackberry peach puree, rum, simple syrup, lime juice and 6-7 ice cubes. Shake until it's too cold to hold.

Strain into two martini glasses. Garnish with a blackberry.
Nutrition
Calories:
233
kcal
Carbohydrates:
26
g
Protein:
2
g
Fat:
1
g
Saturated Fat:
0.04
g
Polyunsaturated Fat:
0.2
g
Monounsaturated Fat:
0.1
g
Sodium:
27
mg
Potassium:
261
mg
Fiber:
4
g
Sugar:
20
g
Vitamin A:
650
IU
Vitamin C:
18
mg
Calcium:
25
mg
Iron:
1
mg