Elegant and historic, there are few cities quite like Dubrovnik. Whether you like walking through an old city, lying on a beach or feasting in a restaurant, a Dubrovnik holiday has plenty to offer!
Check out our Travel section for more great holiday advice!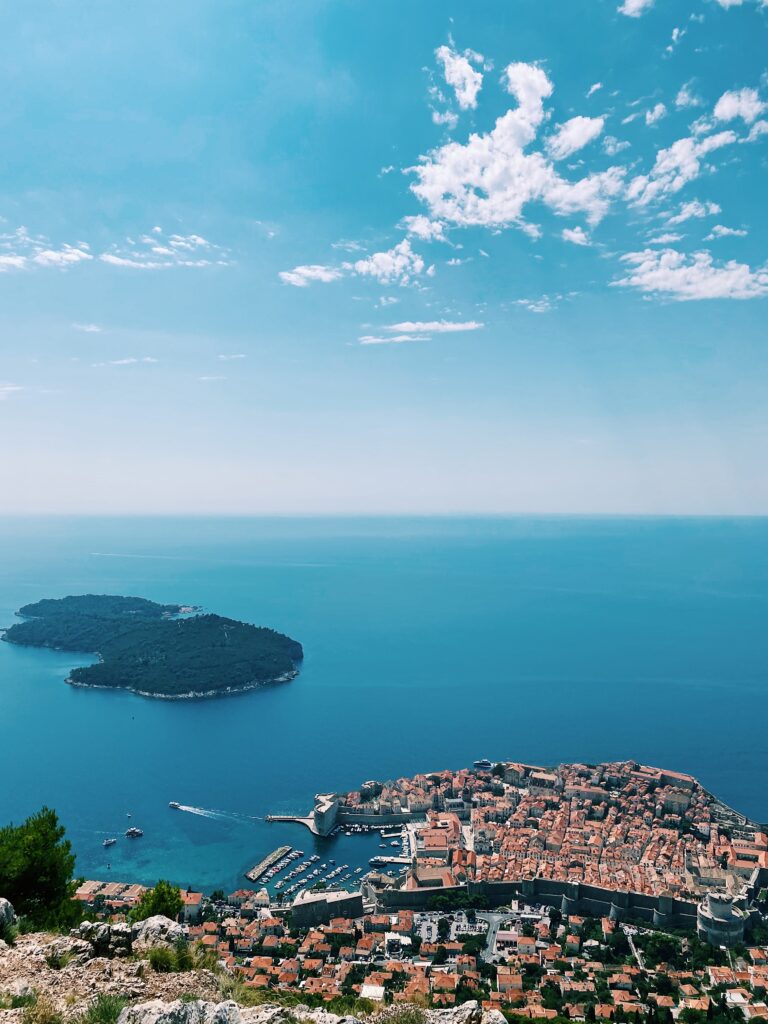 For a city so recently off the beaten track, Dubrovnik sure has come a long way! It wasn't too long ago that Dubrovnik was relatively unknown by many travellers.
The arrival of cruise ships and Game of Thrones fans has dramatically changed this. While this does mean large crowds and raised prices, the city is still uniquely beautiful and well worth a visit.
Getting orientated
Visits to Dubrovnik are usually focused around the beautiful old town. The imposing city walls – built in the 13th century – encompass a well preserved and entirely pedestrianised city.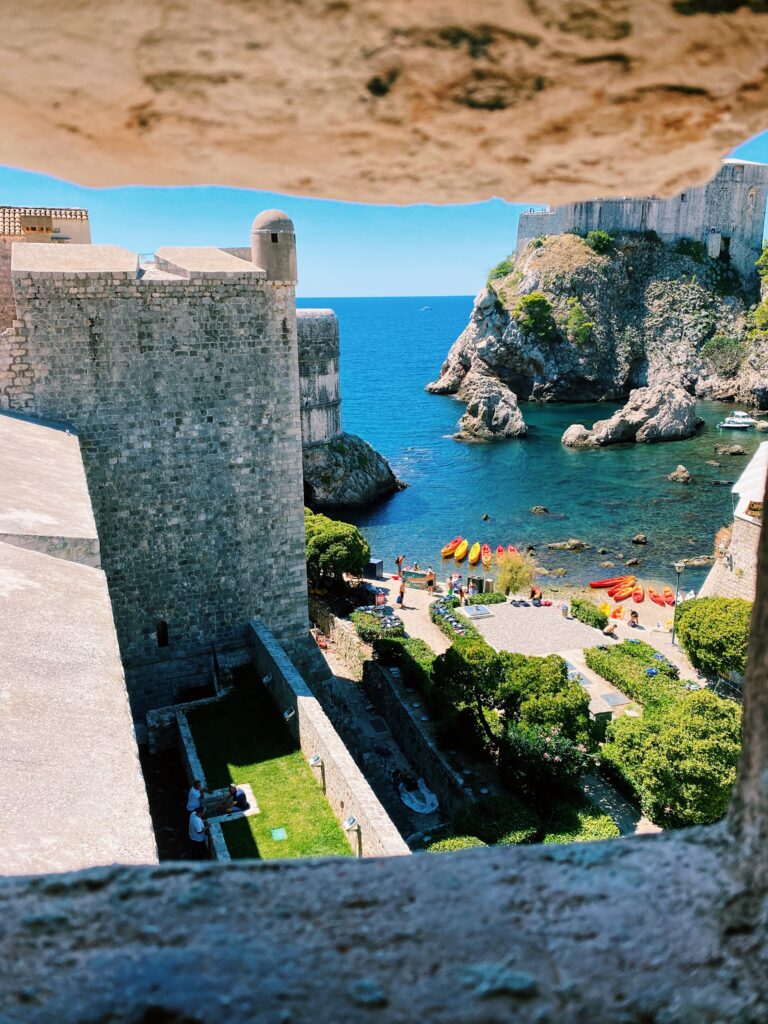 It is difficult to describe just how magnificent the old town is. The limestone streets are sparklingly bright, and graceful and well-preserved architecture is found along every street and alley. Although I've seen many cities across Europe, Dubrovnik still managed to impress.
The main entry for those arriving by bus and taxi will be Pile Gate, which leads onto Stradun (also known as Placa) which is the main street of the old town. Stradun leads towards the port, past which is Porporela, a lighthouse and breakwater worth visiting day or night.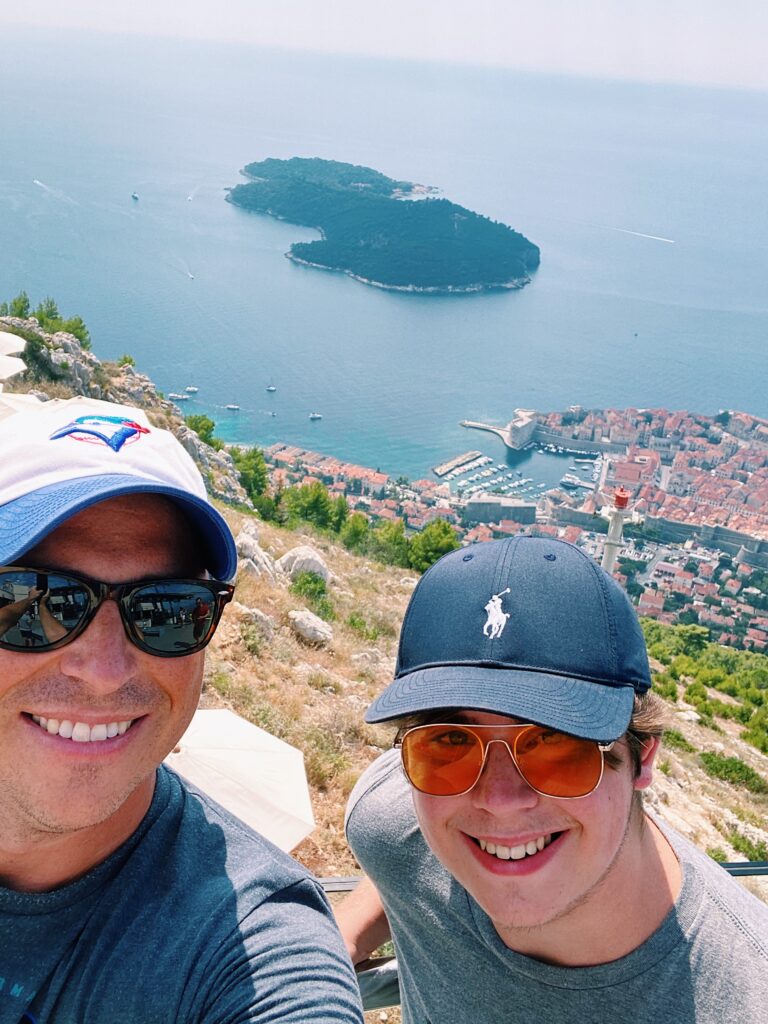 Towering above the old town is Mount Srd, topped by an old fort that was once part of the town's defences. Looking in the other direction is Lokrum Island, a short ferry ride away and a popular destination for those escaping the heat and crowds of the old town.
A short distance to the west is the Lapad peninsula, is a key area for tourists. The peninsula is home to resorts and tourist accommodations, plus some of the more popular beaches. Further around is Gruž, the main port, ferry terminal and bus depot. Ferries to the Elafiti Islands can be found here.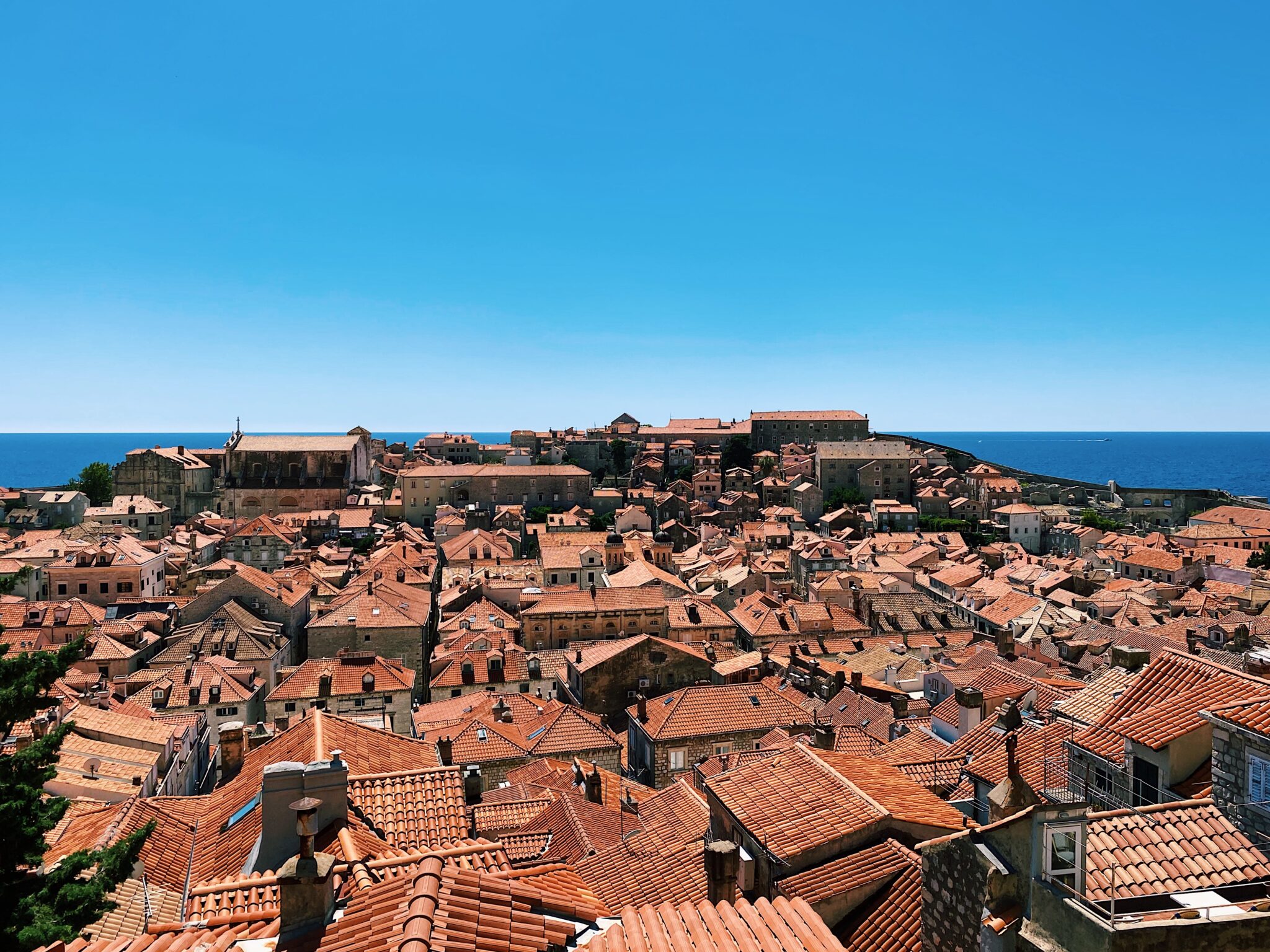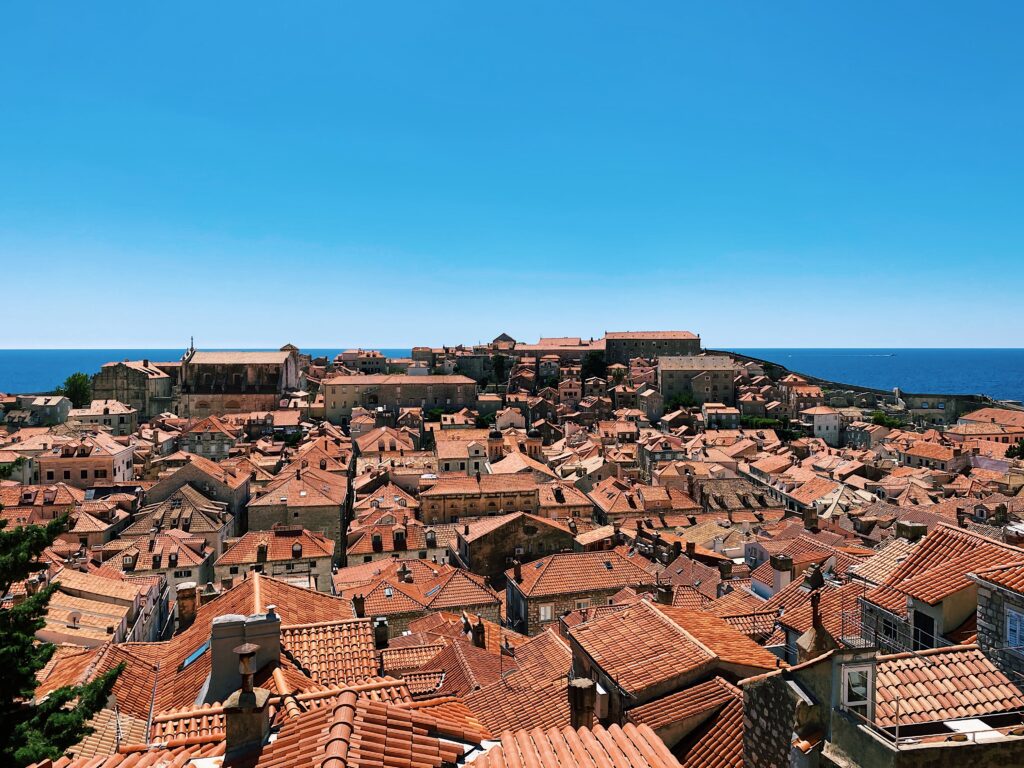 What to see in Dubrovnik
City Walls
It's tough to think of a more perfect example of medieval city walls than those of Dubrovnik. Tall, imposing and jutting into the sea, they are as memorable as they are beautiful.
The castle walls also provide a great way to see the whole city and area immediately around it. It can take up to 2 hours to walk the whole way around, with beautiful views everywhere you look.
Tickets can be purchased as you enter the city and cost 200HRK for adults and 50 for children and students.
The walk is quite exposed so be ready for intense sun on clear days. Refreshments can be purchased along the way, but it's still a good idea to take water with you.
Inside the old town
Inside the city walls is entirely pedestrianised. The city is small enough to explore by foot in a day, with lots of nooks and crannies to poke your nose into.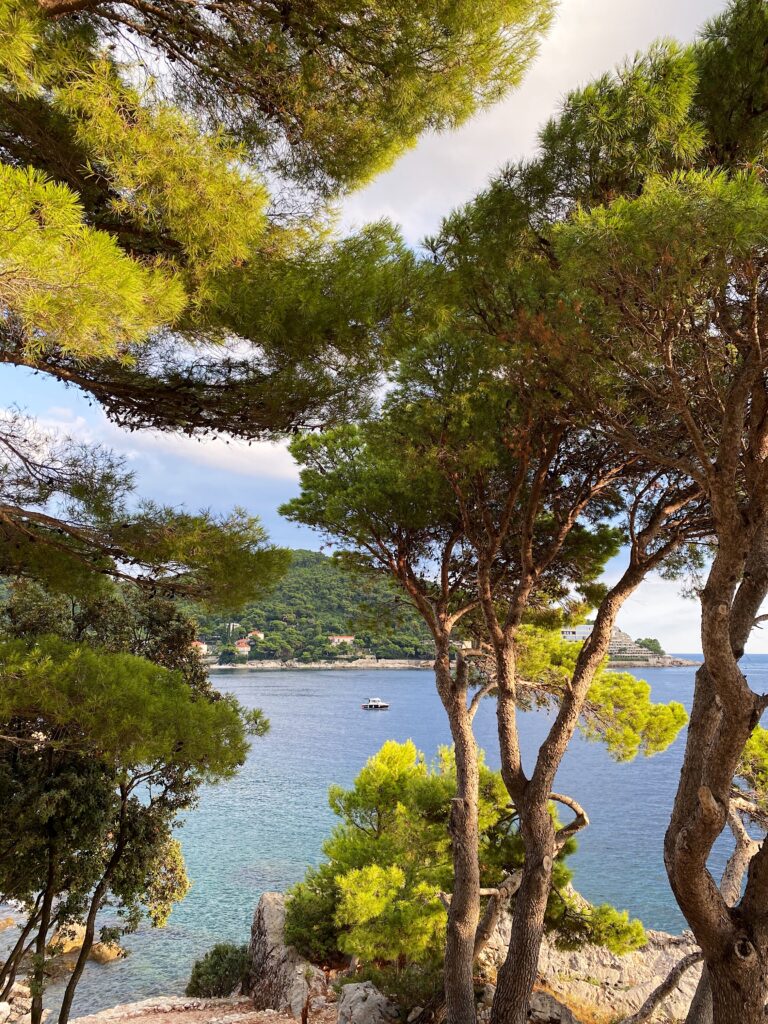 Gates to enter the city are on both the east and west, and either will work. Still we found that the western entrance (Pile Gate) was a better way to get your first glimpse of the city.
There are options for walking tours as you enter the city. Step into the tourist information centre inside the western gate for advice.
There are many things to see when inside, including palaces, churches, squares, and the bustling old port. We found that aimless wandering was the best way to take them in!
Plenty of restaurants exist in the old town, as well as bars and everything else you need. For a restaurant with a view, take a step outside the eastern gates to find cafés with a view of the old port.
Dubrovnik Cable Car
Departing from just outside the old town is a cable car to the top of Mount Srd. Towing over city, this is an ideal location for stunning views across the city and the Adriatic.
The fort at the top is an iconic location from the defense of Dubrovnik during the Yugoslav Wars. Appropriately a museum exists at the top to commemorate this difficult time.
The car travels regularly and the trip takes only 5 minutes. Tickets can be purchased from the terminal.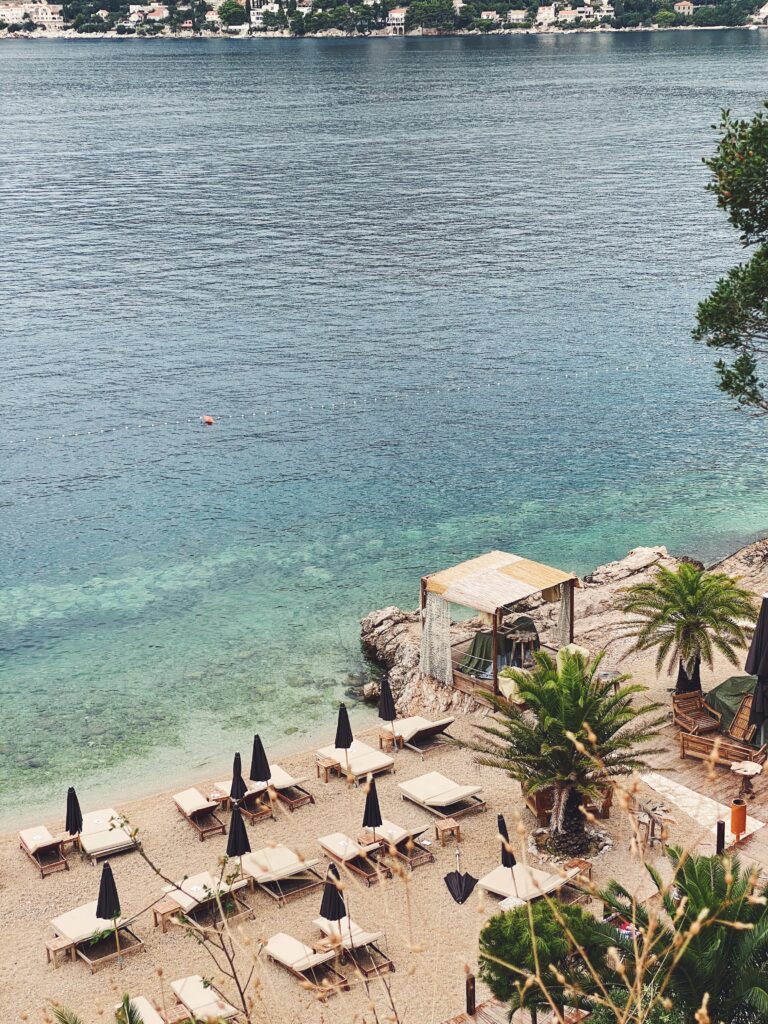 Staying active
The area around Dubrovnik is full of opportunities to get active. From kayaking to cycling, there is plenty to keep you occupied.
Kayak tours can be found at many locations, including Pile Gate and the surrounding islands.
There are many beaches with beautifully warm waters for swimming. Our favourite beach is the beautiful and calm Lapad Beach.
There are plenty of facilities at Lapad and most beaches, including cafés and beach chairs for hire. If you want to hire a chair, just sit in any you find vacant and wait for a worker to ask for money as they do their rounds. Prices vary depending on the beach, but are generally lower after 3pm.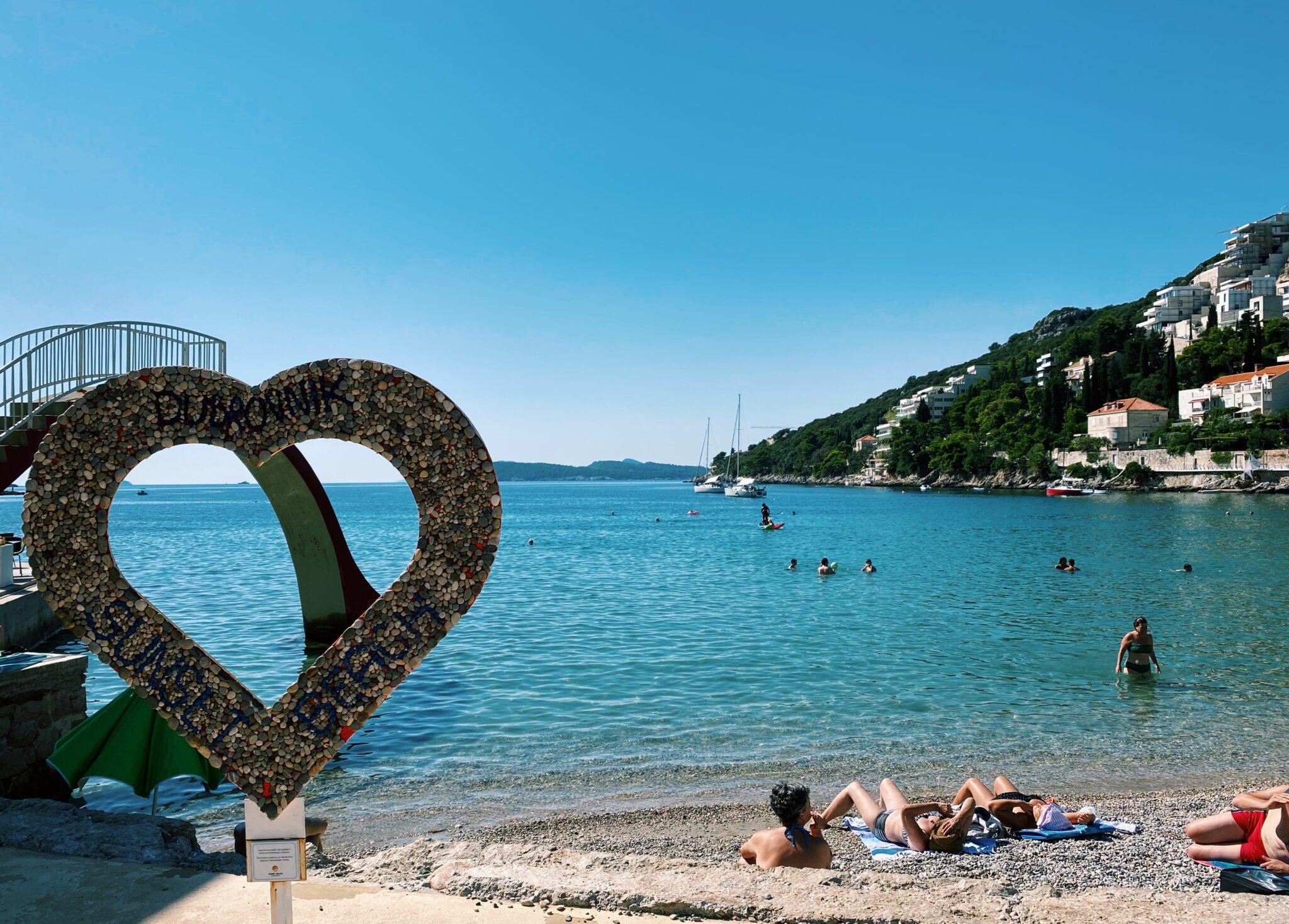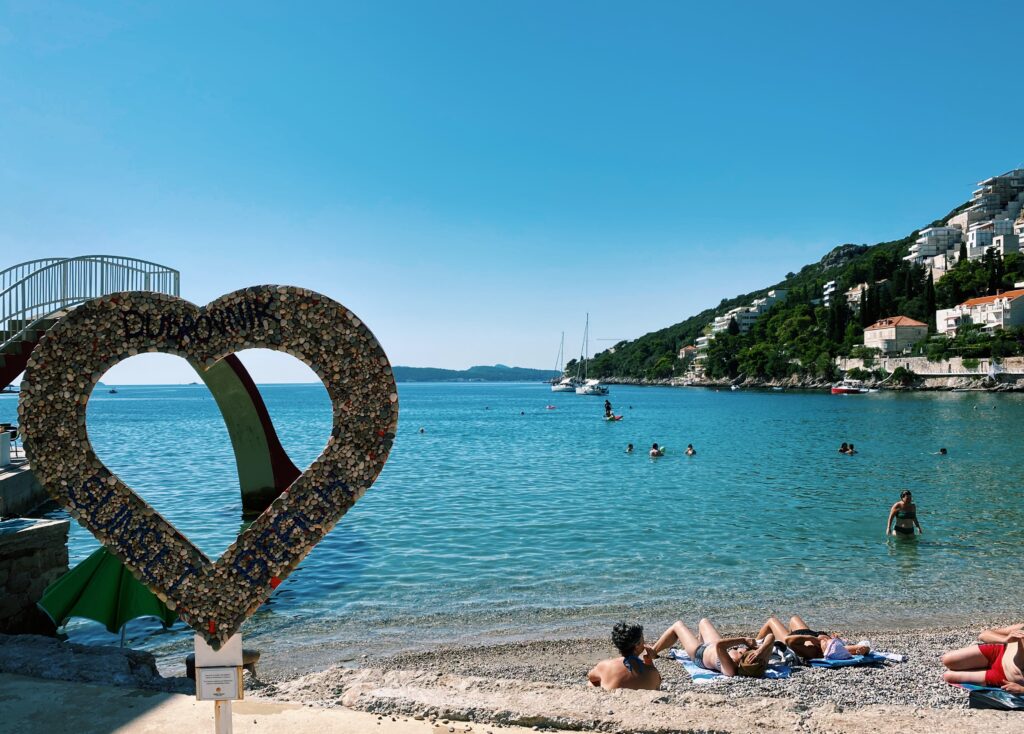 Food and drink
Given the long coastline of Croatia it is no surprise that seafood is the cornerstone of local cuisine. Every restaurant we checked had seafood on the menu, with octopus salad as a particularly popular starter.
Although seafood is plentiful and locally sourced, it is far from cheap. While worth a try, you will have to pay quite a lot for the pleasure.
Unfortunately, as in many tourist areas, restaurant options can be a bit underwhelming. Many have a fairly standard menu, with pizza and burgers readily available.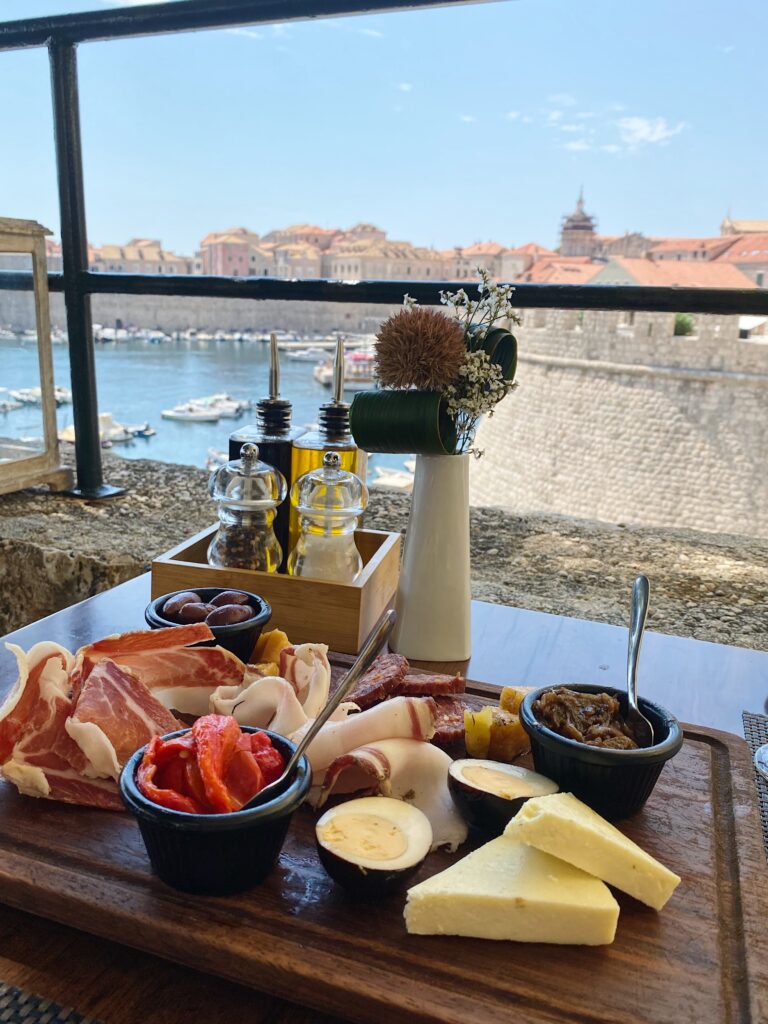 That said, there are some stellar restaurants that feature fantastic Croatian food. Our two favourites are:
Dubrovnik Old City: Gradska Kavana Arsenal is right next to the port, and a wonderful location it is too! The food is top notch, as is the service. While the prices are quite high, it is a lovely spot for a special dinner out
Lapad: the best food we had in Dubrovnik came from Pantarul. The menu has several elevated versions of Croatian classics, all done to perfection and served with a high class wine list. Spicy chicken pâté with crostini and crispy smoked ham and saffron risotto with grilled calamari and chorizo in particular are truly delicious! The restaurant is quite small, so it is vital to book well ahead to ensure you are not disappointed
Croatian wines are easy to find and worth trying. House wines at local restaurants are surprisingly drinkable and a good option if constrained by budget.
While many varieties will be familiar – chardonnay, sauvignon blanc, merlot, cabernet sauvignon – there are a few under-the-radar wines that are worth a try.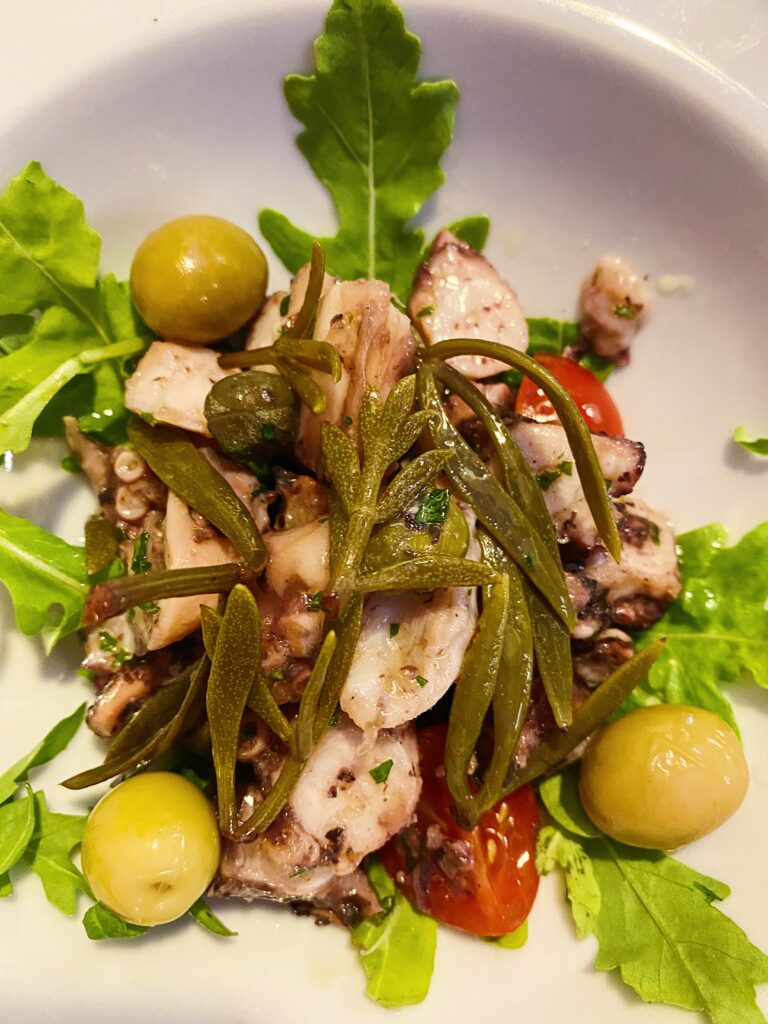 Pošip and frankovka are both quite tasty. White wines are far more common than red or rosé, but that's no problem in the heat.
If beer is more your speed, Ožujsko is very common and on tap almost everywhere you go. While other types of beer can be found, it's best to leave the beaten tourist track to track them down.
Spending money
Unfortunately a Dubrovnik holiday is hard to do on a budget. Our sources tell us that this is a fairly recent development, and prices have gone up each year as more and more tourists make the trip.
We found the prices for most things – including groceries and restaurants – fairly comparable to London, which itself is fairly expensive. Even with high prices, quality is not always there, including from supermarkets, so worth looking around and finding local recommendations.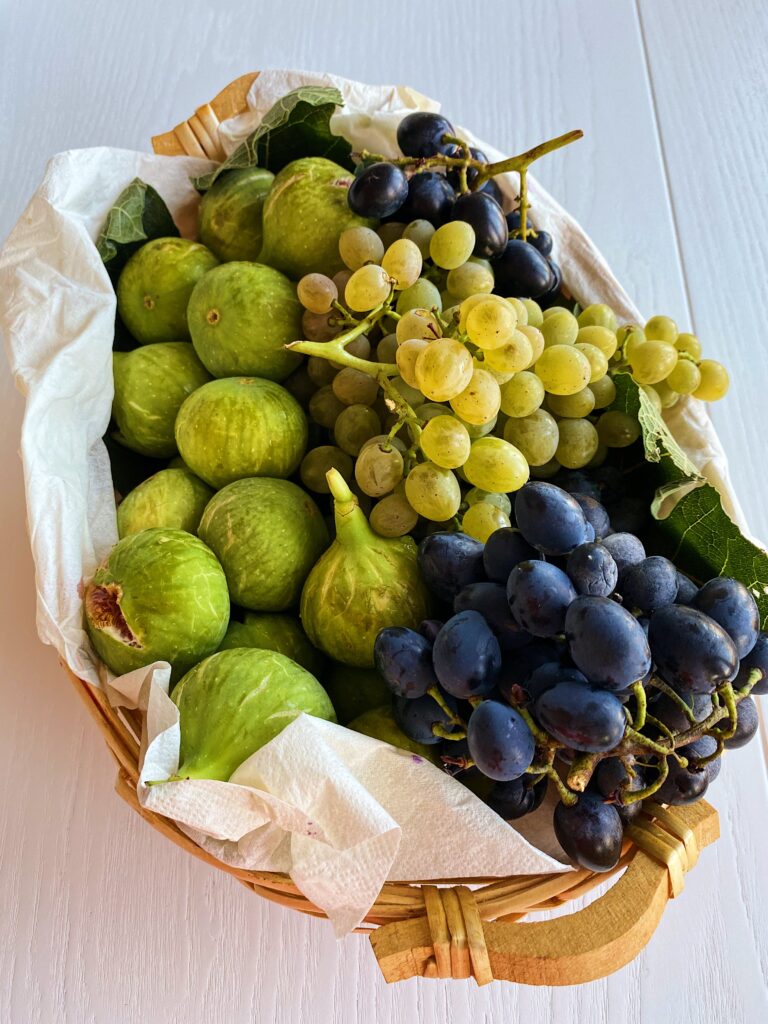 Examples of costs:
Pint of beer – 35 Kuna ($5.50)
Pizza at pizzaria – 80-115 Kuna ($12.50-18.00)
Gelato – 20 Kuna ($3.15)
Uber from Lapad to the Old City – 45 Kuna ($7.00)
Adult ticket to Old City Walls – 200 Kuna ($31.50)
Two sun loungers at Sunset Beach for one day – 110 Kuna ($17.20)
Croatia currently uses the Kuna as currency, but this may change in the near future as they move towards the Euro (find the current exchange rate).
Credit cards (other than American Express) are widely used, but it is best to have some cash on hand. American Express was accepted until recently, but we found it almost impossible to use.