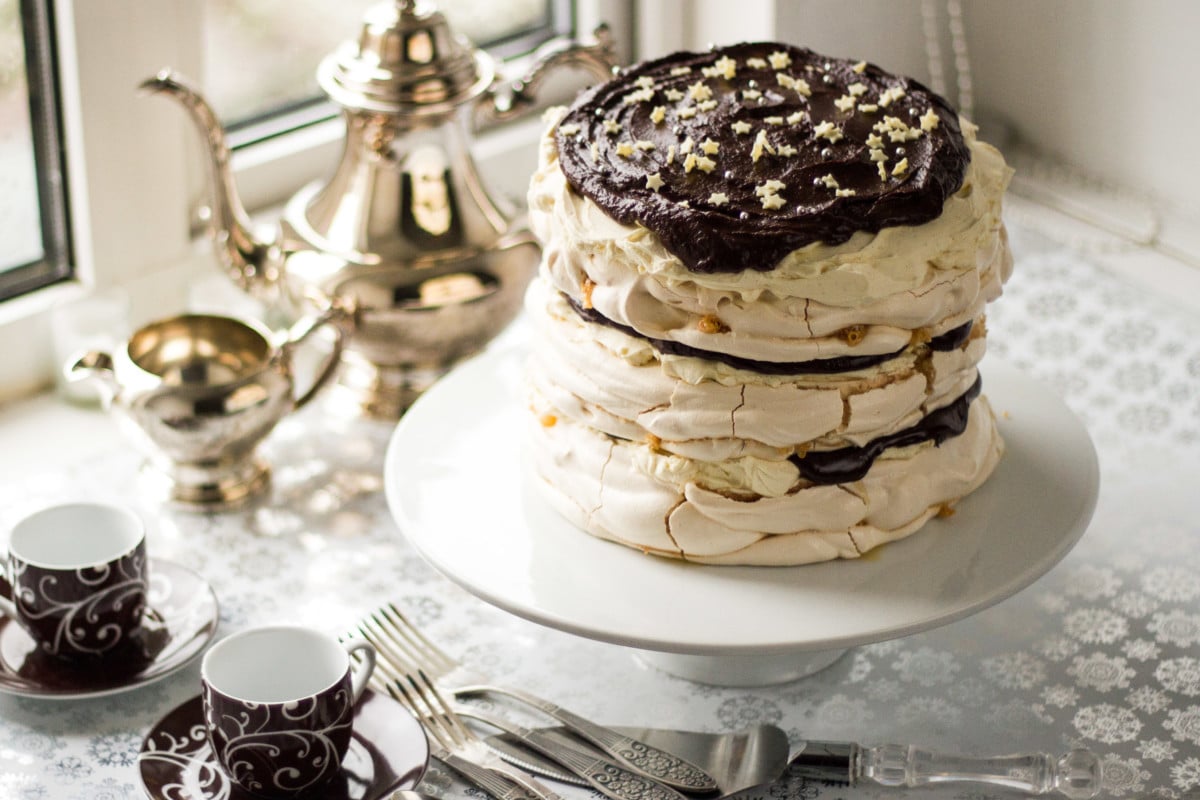 Out of all my loves travel must be the biggest, especially when I get the chance to taste something new. Unfortunately, I do have quite high expectations for my restaurant food and if it's something I can just cook at home I am not really interested. It takes me ages to choose a restaurant and then even longer to settle on a single menu item, treating each decision as if my life depends on it. It drives my husband crazy! That is why the story I am about to tell is so unusual.
It happened a few years ago in London, where we found ourselves on a short stopover on our way home to Canada. We just spent 2 weeks travelling through Italy and Slovenia when we found ourselves in the capital of England completely zapped of any energy and desire to see another castle or historical monument. There we were wandering around central London-not truly knowing what to do next but not ready to call it quits-when we stumbled upon a tiny bakery on a nondescript side street. The place itself didn't look anything special and it had mostly bare shelves given the very late hour. We picked two slices that appealed to us the most-no thinking, no fuss on my part-and went to feast on them in our hotel room remembering that we brought a very special bottle of Prosecco from Italy that would go nicely with the cake. Surprisingly, both of the cakes were pretty spectacular but my story is about the one which true name I don't know but became known between Brad and I as "the crunchy cake". The flavour was quite pleasant but what really stood out to us was the texture. It was…well…crunchy. It was completely different from anything we've ever had before. We absolutely loved it.
A year later we moved to London and it seemed "the crunchy cake" left such an impression that every time we went out to central London we tried to find that little bakery. Unfortunately, when we first found it we didn't know London at all so had no clue where the bakery was and where to look for it. The more time passed and the more we spent days fruitlessly searching the bigger the obsession grew with 'the crunchy cake". We talked about it so longingly that no dessert could ever compare. I started to fantasise about it in hopes of figuring out what it could possibly be made out of and how I could re-produce it. The obsession evolved but didn't disappear.
Meringue Mascarpone Cake that brought this entire post about always intrigued me because- a.) it's quite unique b.) I LOVE mascarpone in anything c.) it's crunchy. I had the recipe for it bookmarked for a long time on Sweetapolita's website but no occasion seemed grand enough for embarking on this 3- layer filled with creamy mascarpone and rich chocolate ganache extravaganza/cake making. The day before Christmas I opened my freezer and found dozens of frozen egg whites-the results of my eggnog making spree. I knew immediately what was coming next-a cake worthy of the one in my memory. This…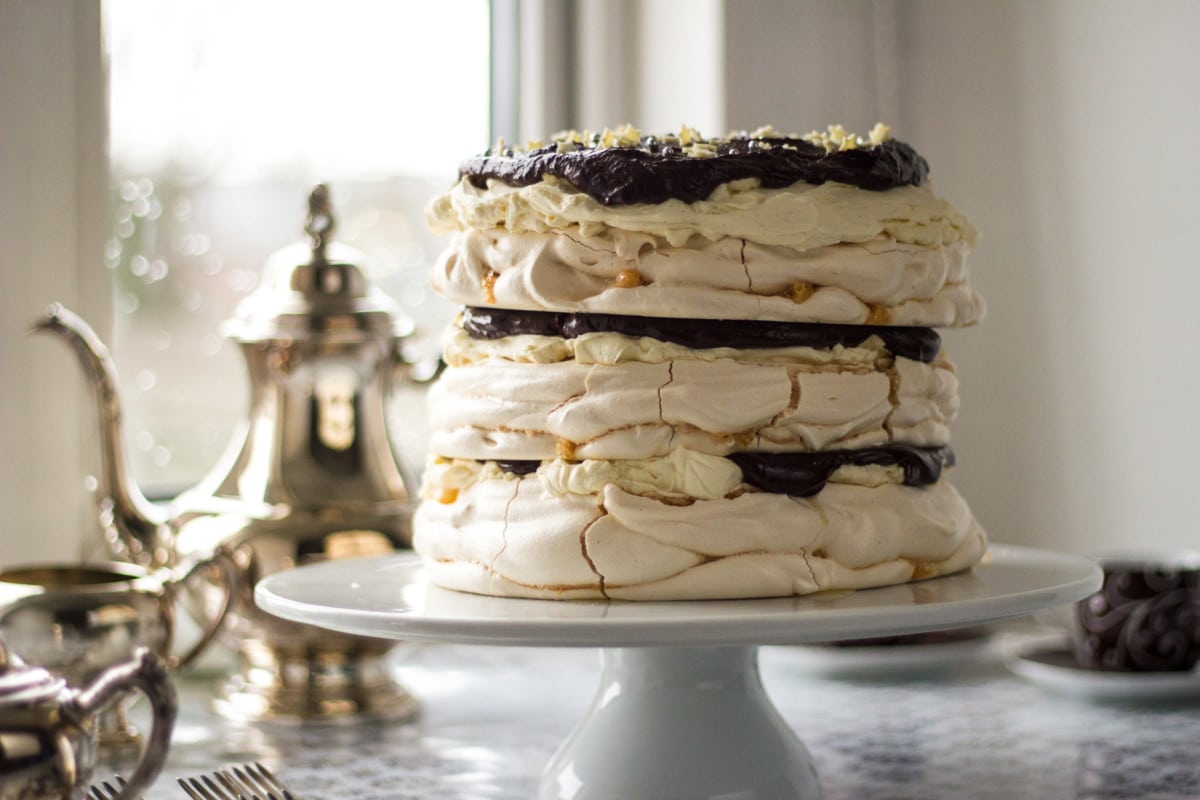 Have I mentioned that Christmas Day is also my birthday? I know that I've mentioned how picky about food I am, so for years I have gone without a birthday cake because I didn't want to bake my own and the store bought didn't seem good enough. Eating anything my husband could make was never going to be an option. Well, I am over it and loving making my own cake because it's always exactly what I want and it's so fun for me!!
Here is what you will need for this beauty:
Ingredients:
For the Meringue
Egg whites- 12/360 gr
Granulated sugar-2 ½ cups
Salt-a pinch
Vanilla Essence-1tbsp.
For the Ganache
Dark Chocolate- 1lbs/450 gr (chopped in small pieces)
Whipping Cream/Double Cream-2 cups/500ml
For the Mascarpone Filling
Mascarpone Cheese-2 cups/500gr
Whipping Cream/Double Cream-1 cup/250 ml
Icing sugar-½ cup/125gr
Vanilla Bean-1(seeds scraped out)
Spiced Rum- ¼ cup (I used Bacardi Oakheart Smooth and Spicy Rum)
Method:
1.Preheat your oven to 250F/120C. Trace 3 8″ circles on your parchment paper and place them on the baking sheets.
Separate the egg whites from the egg yolks and refrigerate the egg yolks.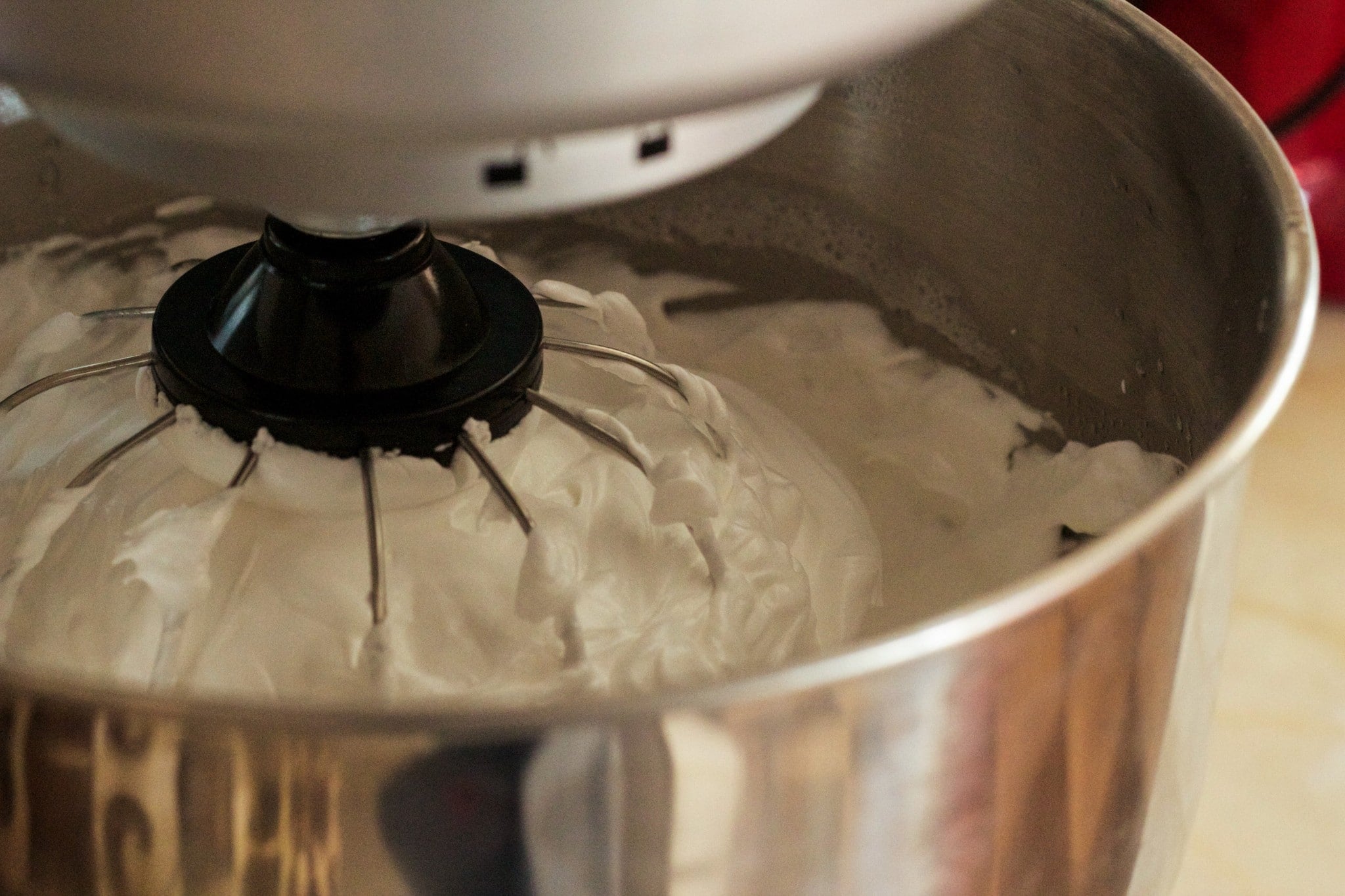 Wipe the mixing bowl with a bit of lemon juice to remove any traces of grease.
Start whipping the egg whites with a pinch of salt until soft peaks form, with the motor still running add your sugar slowly and continue beating, add vanilla and beat longer until the meringue is stiff. The test that I use for the doneness is rubbing a bit of meringue between your fingers, if it's smooth and you can't feel any sugar granules it's ready to be baked. If the sugar is not completely dissolved keep beating. Make sure to stop the motor of your stand mixer (if using one)once in a while to give it a good stir with a spatula as the beater doesn't reach the bottom. Otherwise, you will end up with uneven meringue.
Divide the meringue among the three circles and smooth it out with a spatula to give them the shape of cake layers. I would recommend making the tops as smooth as possible, opposite to baking Pavlova where you'd want swirls.
Bake in the preheated oven for 2.5 hours rotating the pans every 20 min. (yes I really did that) until the meringue is dry all the way through. Turn the oven off and leave them in for another hour or even overnight if baking a day ahead.
2. Prepare your filling once your meringue is ready as it doesn't take long. Place your chopped chocolate into a medium bowl and set aside. Heat the cream in a saucepan, take off the heat as soon as it starts to boil. Pour the cream over the chocolate and stir until combined. Let it cool a bit, use it when it's cooled but still soft and spreadable.
3. Quickly whip softened mascarpone cheese for a minute or two just to loosen it , add whipping cream, sugar, vanilla bean seeds and spiced rum until light and fluffy. Taste the filling and adjust vanilla/spiced rum amounts if necessary.
Cake Assembly:
Place the first meringue on your cake stand and spread ⅓ of the mascarpone mixture on it, then spread ⅓ of the ganache, repeat the process with the other two finishing with the ganache layer. Decorate the top however your imagination leads you. I sprinkled white chocolate stars and silver balls for the festive touch.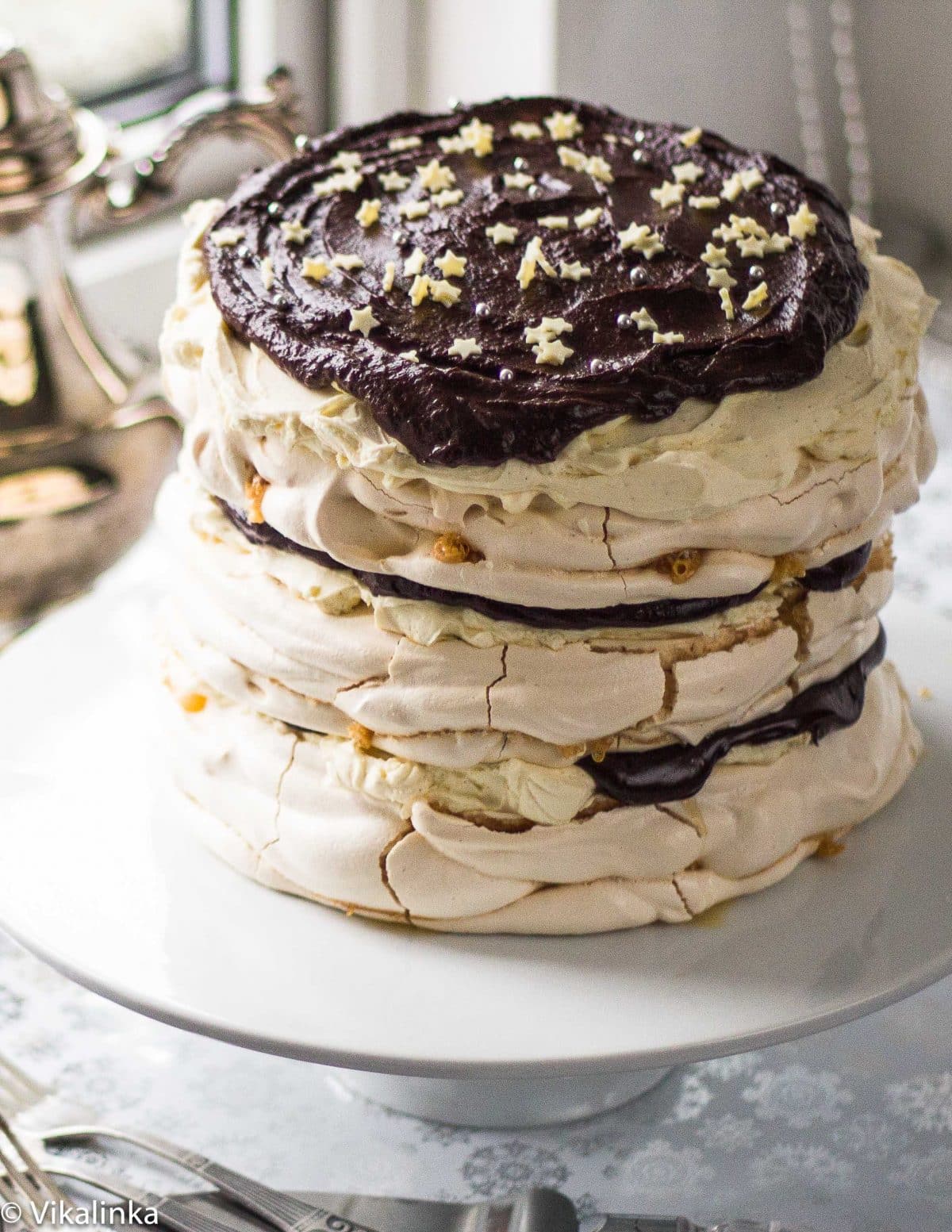 I was so happy I decided to make my own birthday cake this year, especially as unique as this one. The crunchy meringue layers are contrasted by soft and creamy mascarpone and accented by the rich chocolate ganache. Pure perfection!!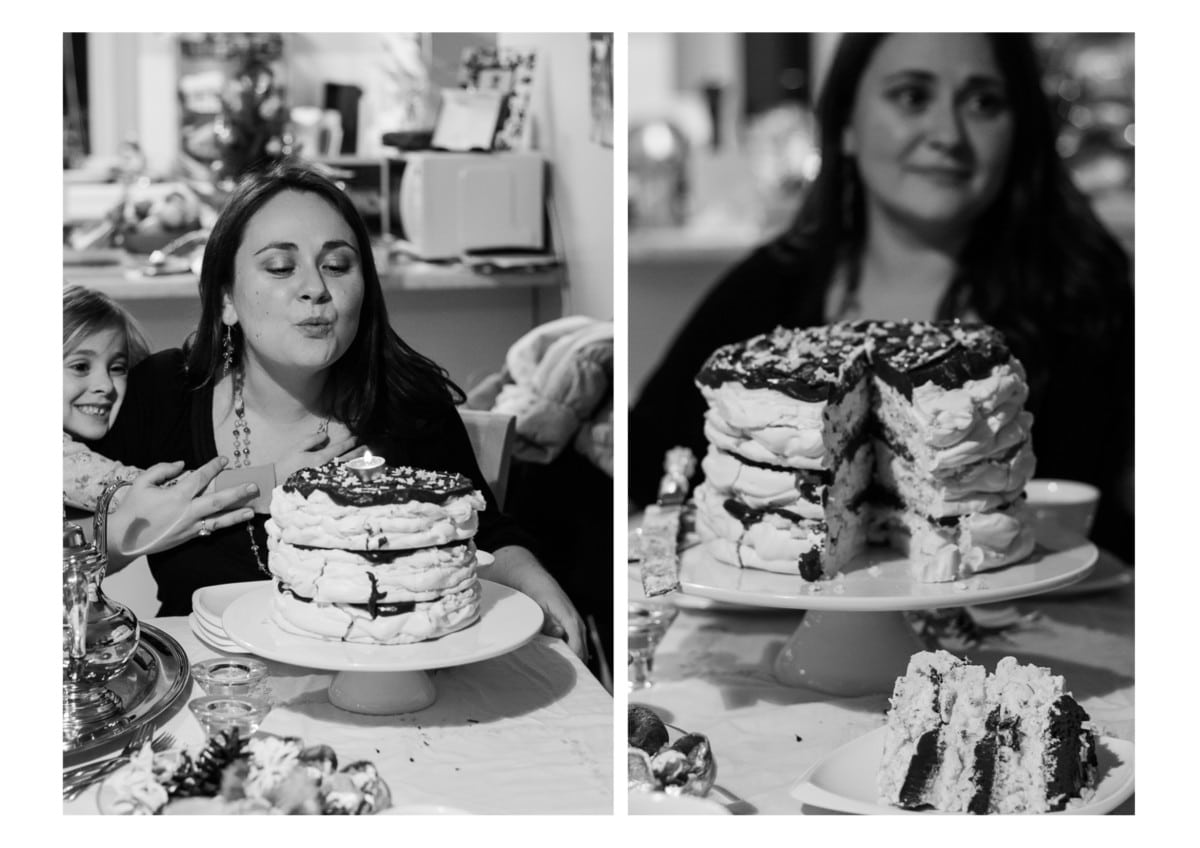 P.S. As Brad and I got to know London pretty well after 2 years of living here, eventually we were able to retrace our steps of the first and memorable night in the city and find that elusive bakery that sold "the crunchy cake". Once again we ordered two slices for "takeaway" and devoured them on the train ride home. As so often happens, the taste was much better in our imagination:-)