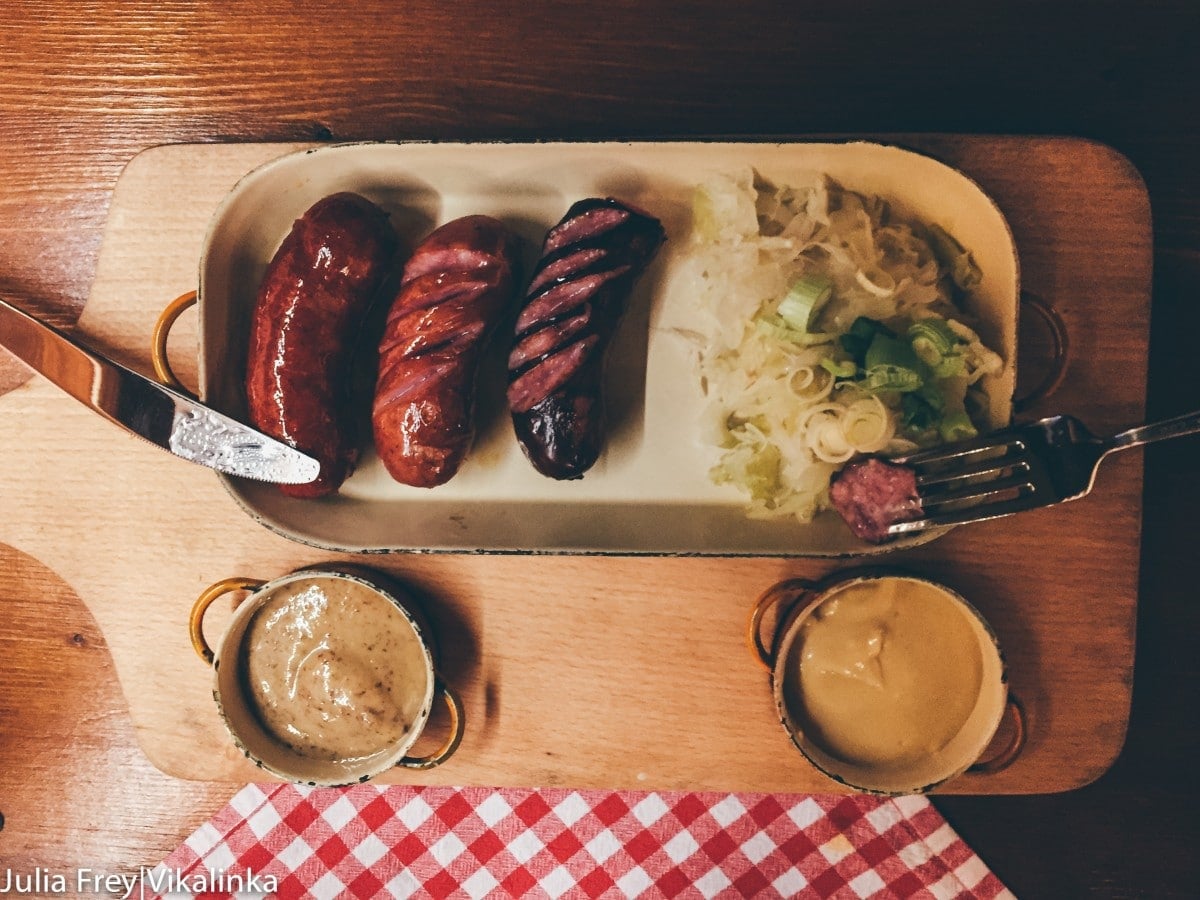 Well, this is a big moment for our site – the official launch of Vikalinka Travels! Since I, Brad, have been a featured character on the food blog for four years, it's high time I piped up and made myself known. I'll be largely taking ownership of the travel section, although you'll be relieved to note that Julia will be behind most of the photos.
While we've brought you a few of our past travels, it's time to open the window to a rather large part of our life. Our list of places to go is pretty much every place we haven't been before, and a few that we've already seen. Would love for you to follow along in our adventures, and hopefully we'll inspire a few of you to take a trip of your own!
We recently took a trip to Prague, a surprise for Julia on her birthday. As a Christmas Baby, Julia is pretty insistent that presents make up for the loss of a day of her own, and a long weekend away seems like the right sort of gift. In any case, Prague has been on our must see list for as long as we've been together, so a trip was long overdue.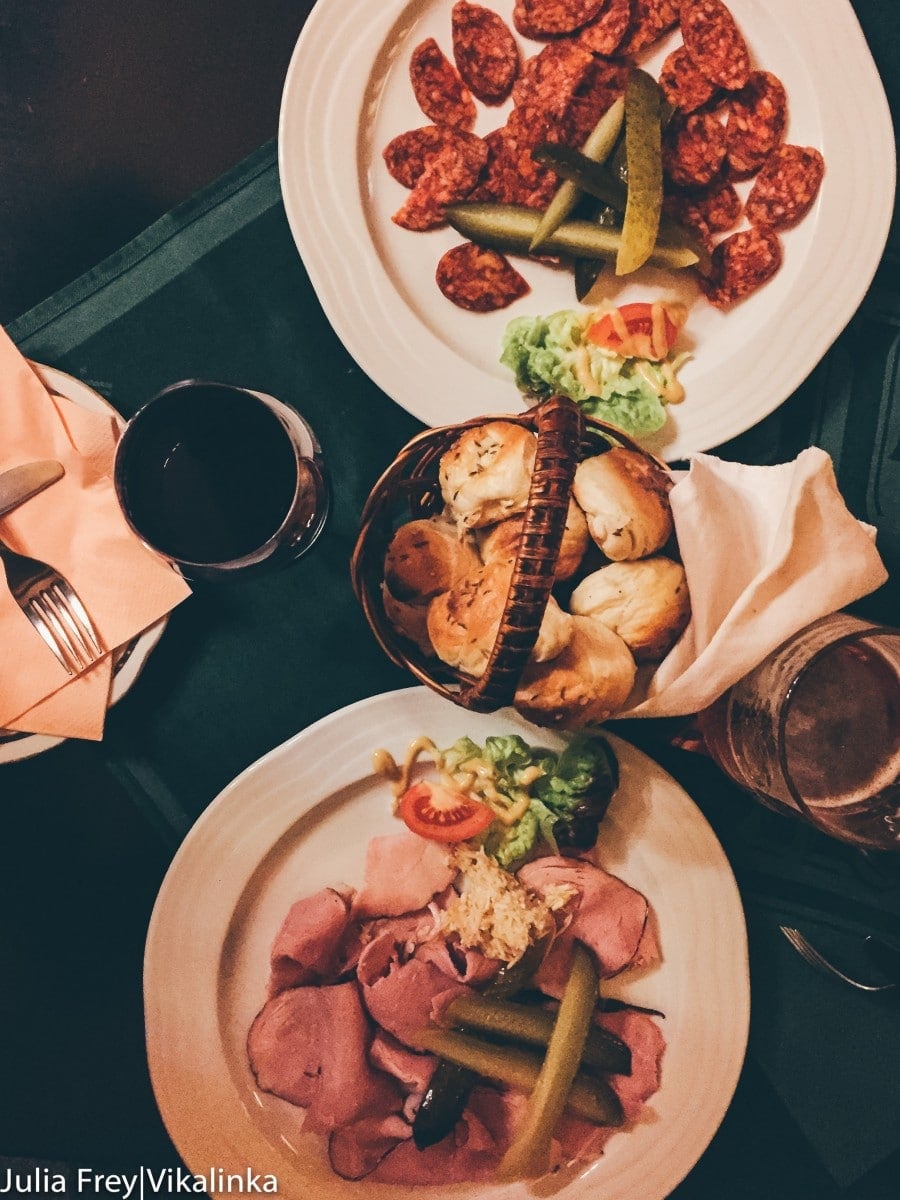 Czech cuisine will be unknown to most of us, possibly because it lacks a strong identity of its own. The dishes and flavours you'll find are familiar to anyone who has spent time in Germany, Hungary, or any other Central European country, a consequence, I suppose, of its long history of union with other nations and cultures. Think of meat and gravy and you have about half the food pegged.
But this doesn't mean that you can't enjoy a great meal out, and it certainly doesn't mean that the food culture isn't worth exploring. The meals are hearty and satisfying, comfort food done very well. The price of a meal out was a pleasant surprise, especially if you avoid the main tourist areas such as the big squares.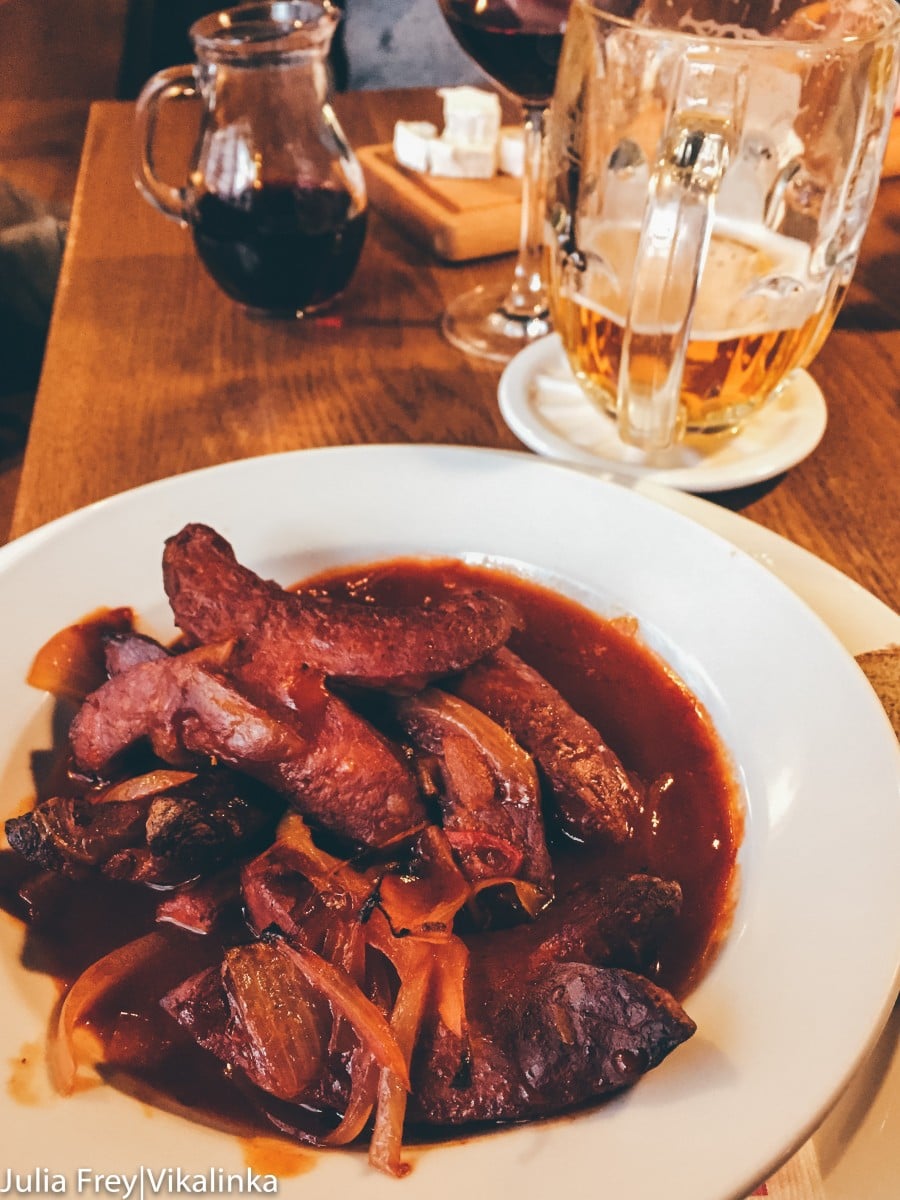 Service is sometimes a bit lacking, so be prepared to sit for a while before the half interested waiter comes by. So long as you aren't in a rush, you'll be fine, but best to lower your expectations. A 10% tip is obviously expected, although I suspect this is due to a precedent set by previous travellers rather than a cultural rule. Waiters will be quite up-front in asking how much you'll be tipping, especially when paying by card. This happened more than once, and I never quite felt comfortable verbalising the tip I was to leave. A waiter should hand you the card machine, step back politely, and let you get on with it. But hey, hardly the worst thing in the world.
Higher end
Prague is awash in French cuisine, which I like, but not why I went to Czech. Fortunately there are plenty of places that do high quality Czech food and do it well. Worth noting that higher end doesn't mean high end. The prices are extremely reasonable, making a night out at a posh establishment something that every visitor should do.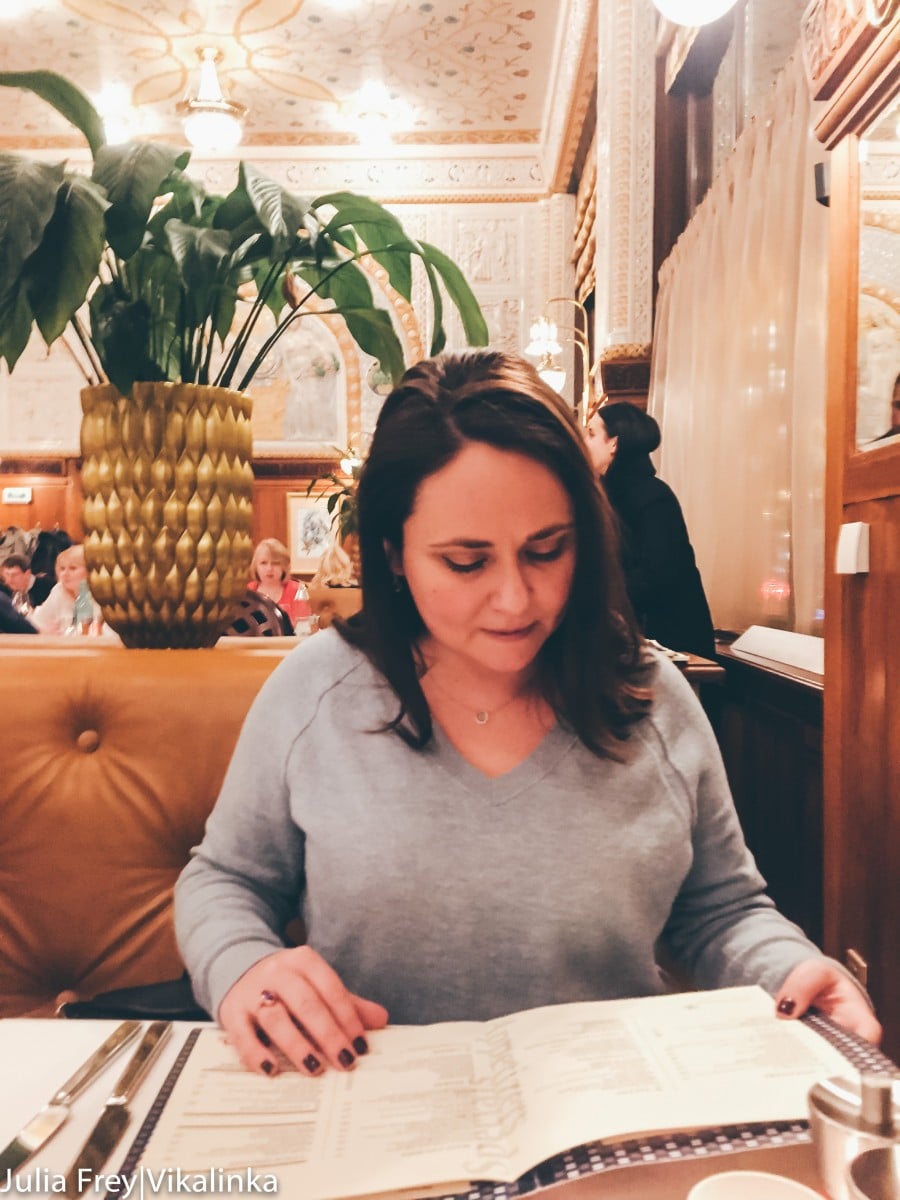 I'm a sucker for anything with historical significance, which took me to Café Louvre, a former haunt of Franz Kafka and Albert Einstein, among many others. The service is the best we found in Prague, and a strong match for the excellent food.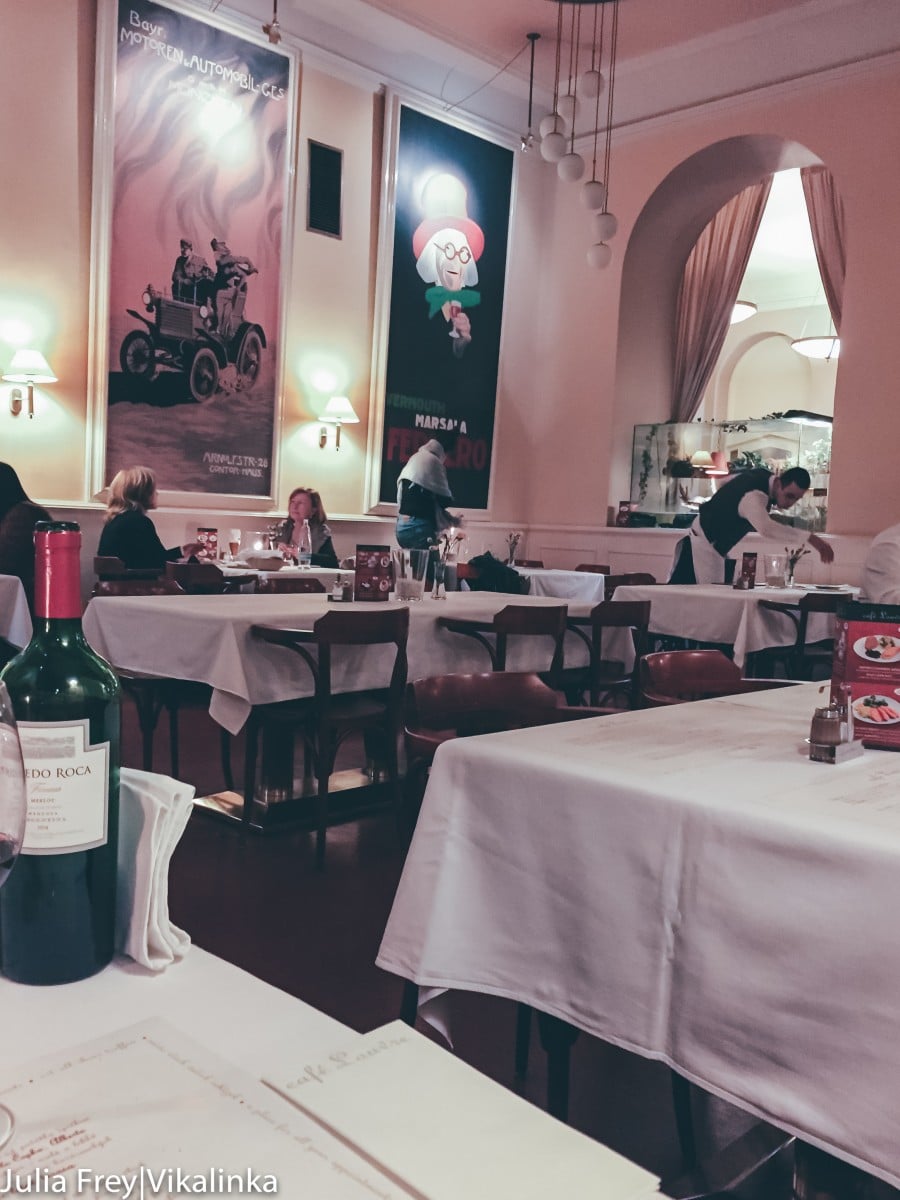 Art Deco Imperial Hotel, though, was the experience to top them all. High ceilings, stunning tile work throughout, and remarkable food. Give yourself a good start with Wild Salmon Marinated in Beetroot. The Rabbit with Mustard is pretty great, as Julia will tell you, but I'm a sucker for Veal Schnitzel, with no regrets.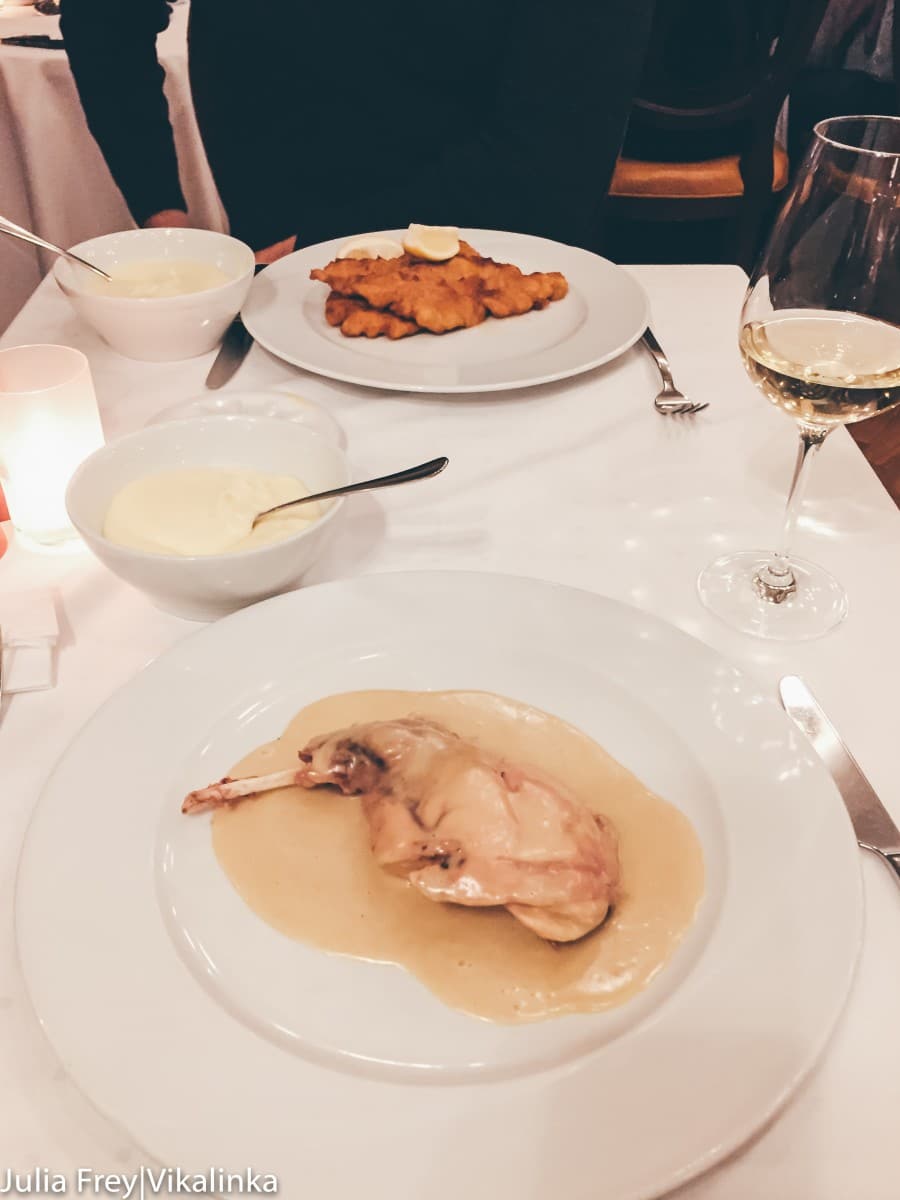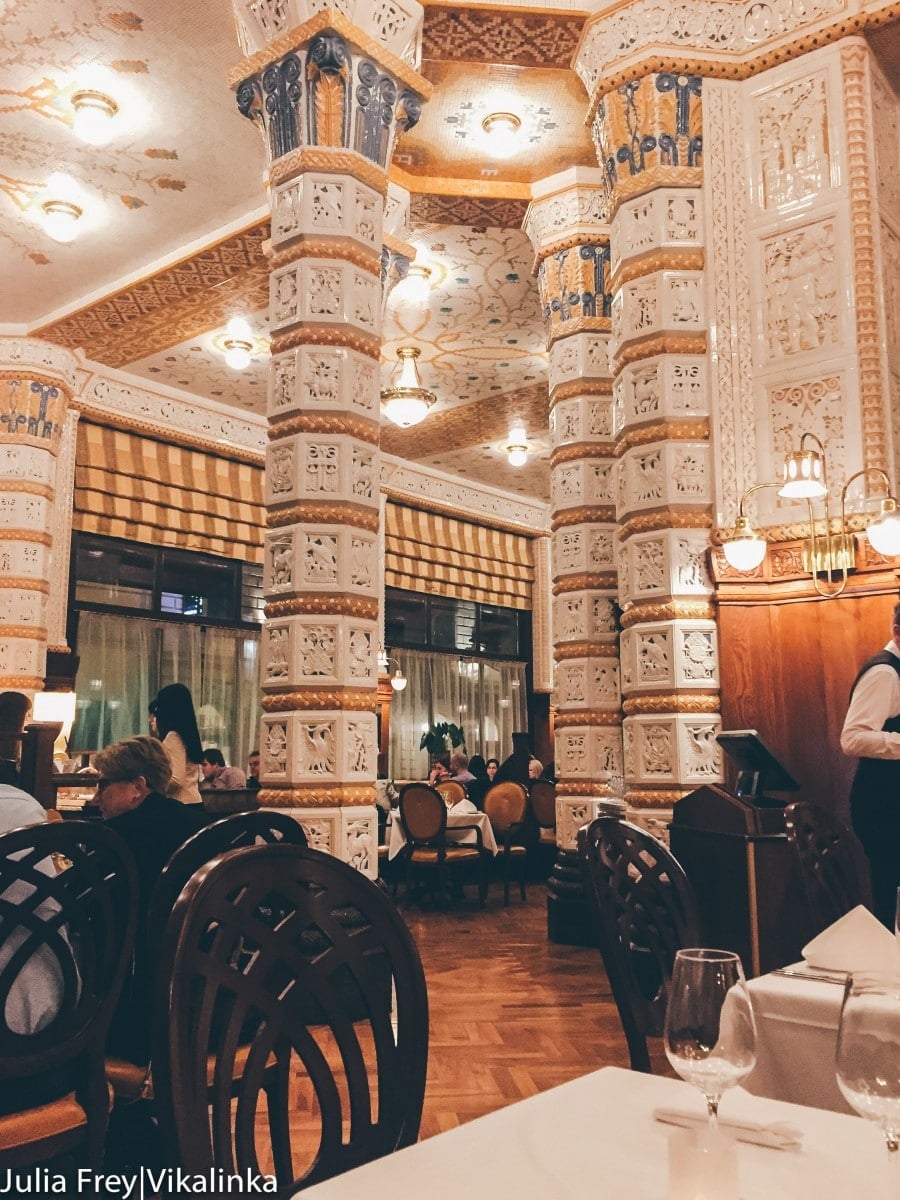 On the cheap
If London has introduced us to anything, it is the charms of a dodgy pub. Fortunately Prague has these in spades. But don't let a bit of shriveled, paint or a rickety door keep you away. Give one a try – as we did when looking for refuge on a particularly breezy January afternoon – and you may well be surprised. Sleepy pubs can be found on almost any side street, and will make the stop well worth your while if you keep your food order simple. Goulash, sausages, dumplings and potatoes can be found almost anywhere, and are always quite good, especially with a bit of bread to go along. It gets quite heavy, though, so for the sake of digestive tract you may want to keep these meals limited to one per day.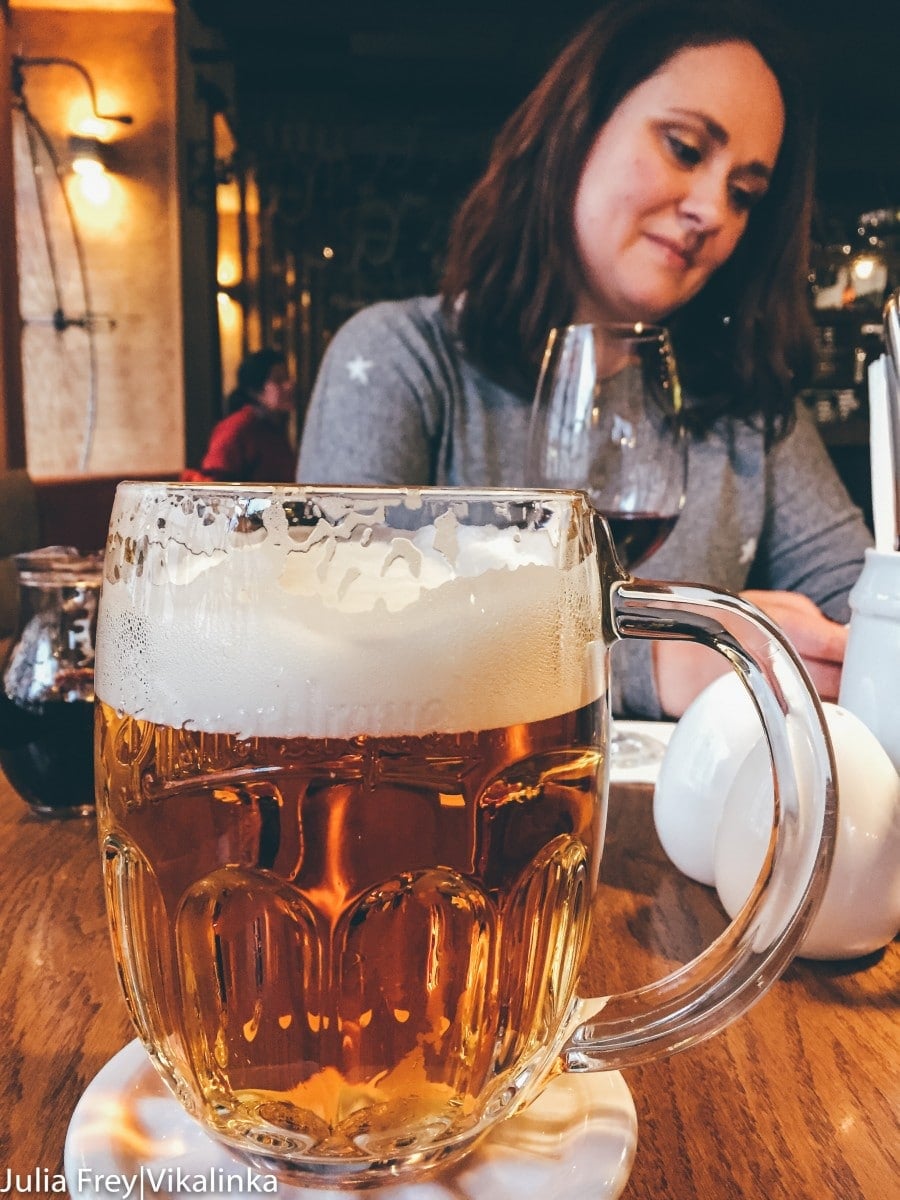 Washing it down
Keep it simple and get yourself a beer, which Czechs do as well as anyone, and drink quite a lot because it's cheap, very good, and cheap. I didn't ever go wrong with a simple pilsner lager, Pilsner Urquell being particularly ubiquitous. Dark lager can be found in most places as well. If you are looking for something different, try a mixed beer – dark on top and light on the bottom. Didn't work for me, but always worth saying you gave it a try.
Czech wines can be found almost anywhere, to the point where it is all that is available in some establishments. I wouldn't say it to their face, but it was a bit disappointing, lacking in body and quite young in flavour. Julia is the wine drinker of the family, and was not impressed. Fans of Italian wines such as Montepulciano d'Abruzzo might find it more to their liking.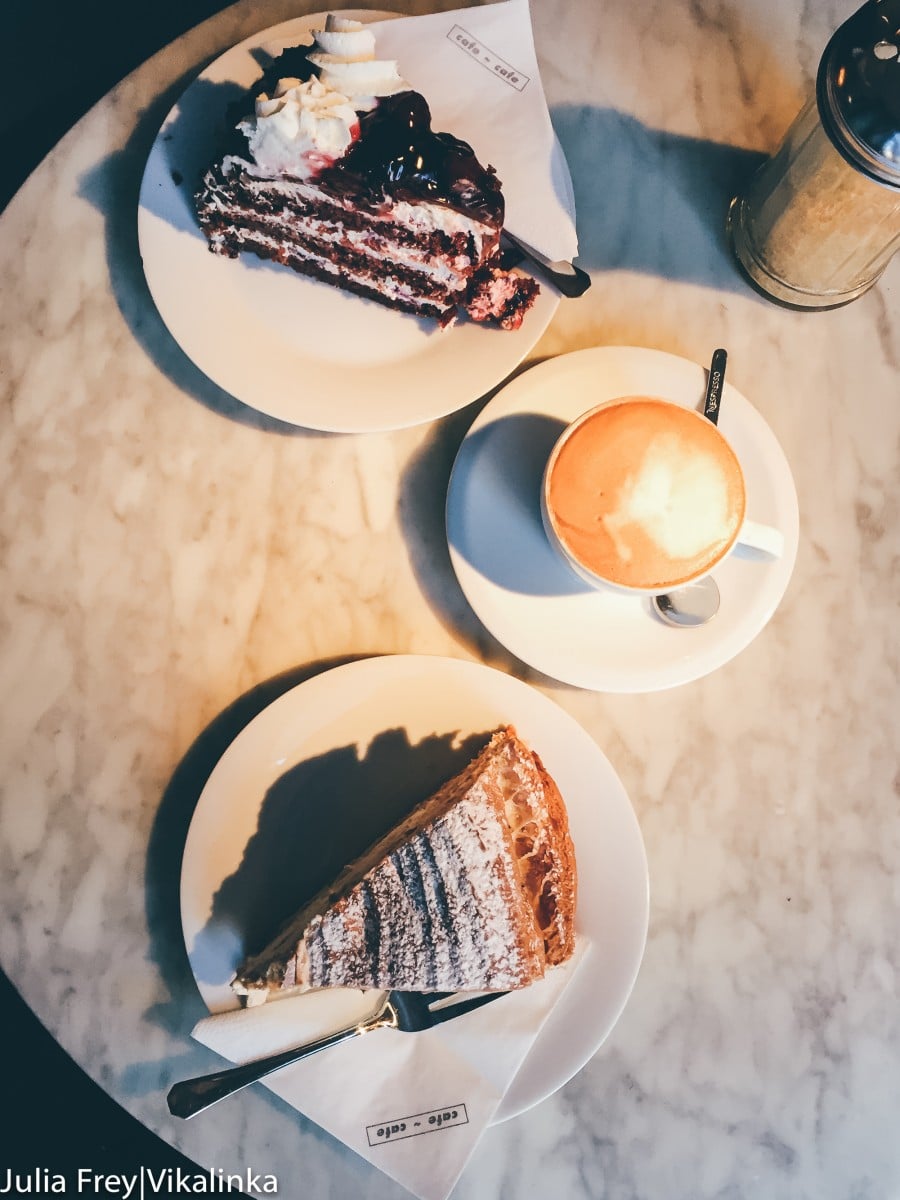 Something sweet
A cake out is a must. Central European countries do baking better than the rest of us, so your visit would be a waste without at least one slice of cake. Café Café (yes, that's the name) has a great selection of cakes, and coffee to match. Just off of Wenceslas square, this is a popular place, and for good reason. Although we didn't give it a try, the light lunch options looked stellar as well.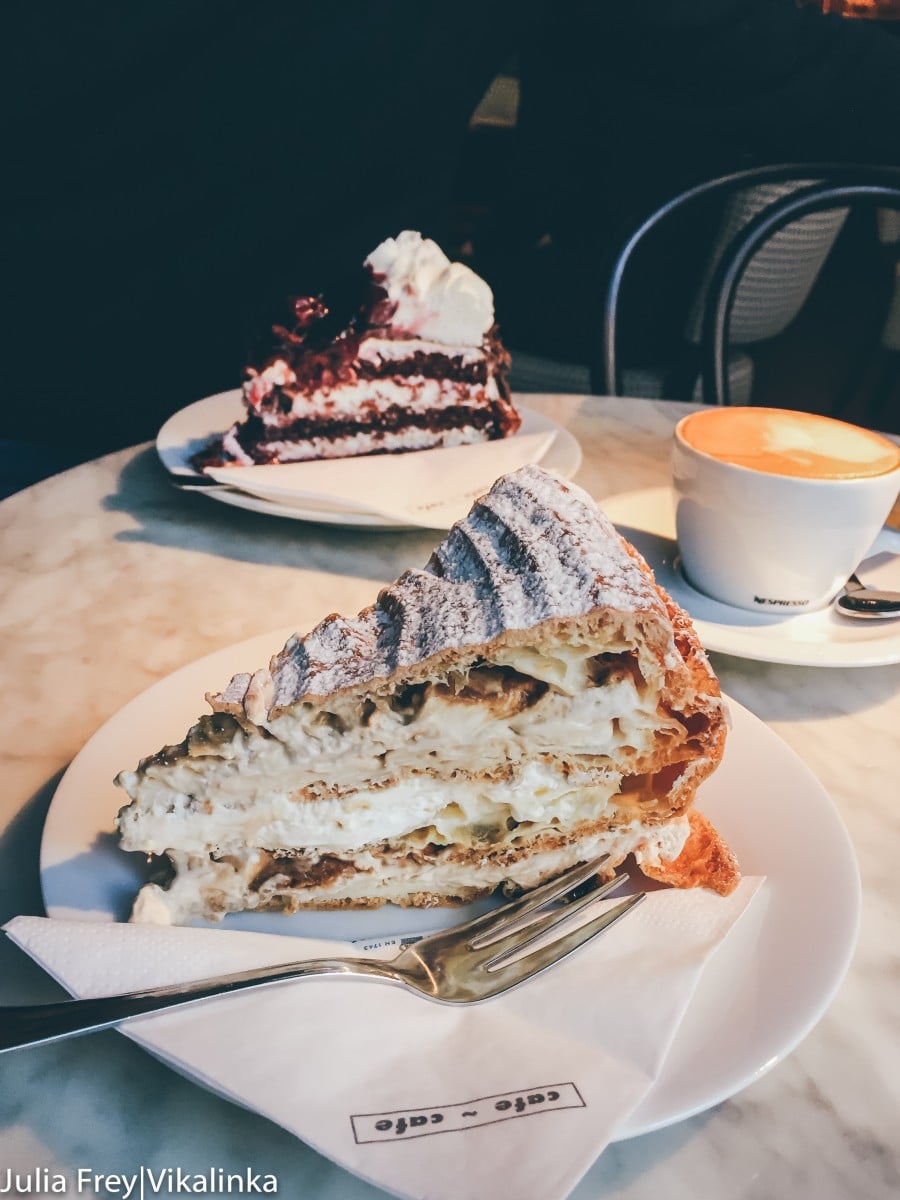 I hear that trdelník doesn't actually originate in the Czech Republic, but that doesn't mean that Prague isn't a great place to give it a try. The obvious distinctive feature of trdelník is the shape – dough is wrapped around a wooden stick and cooked over an open flame, giving it an earthy flavour and making it eminently fillable. I loved it plain, sprinkled with nuts and cinnamon, but give it a try with cream or fruit.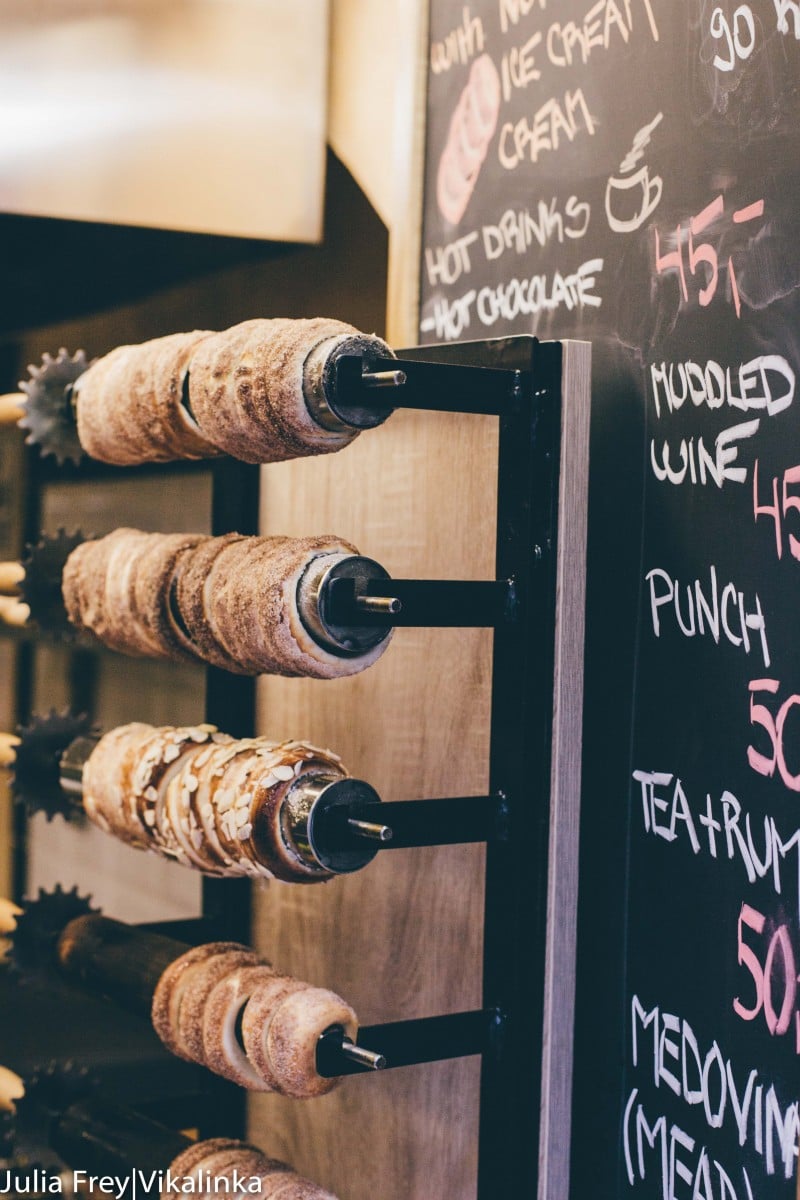 Or perhaps an apple strudel is more your speed. Pick one up at the Havelské Tržiště Market, with a few souvenirs to boot.