This turkey stuffing with chorizo and fig recipe is a delicious twist on my traditional recipe!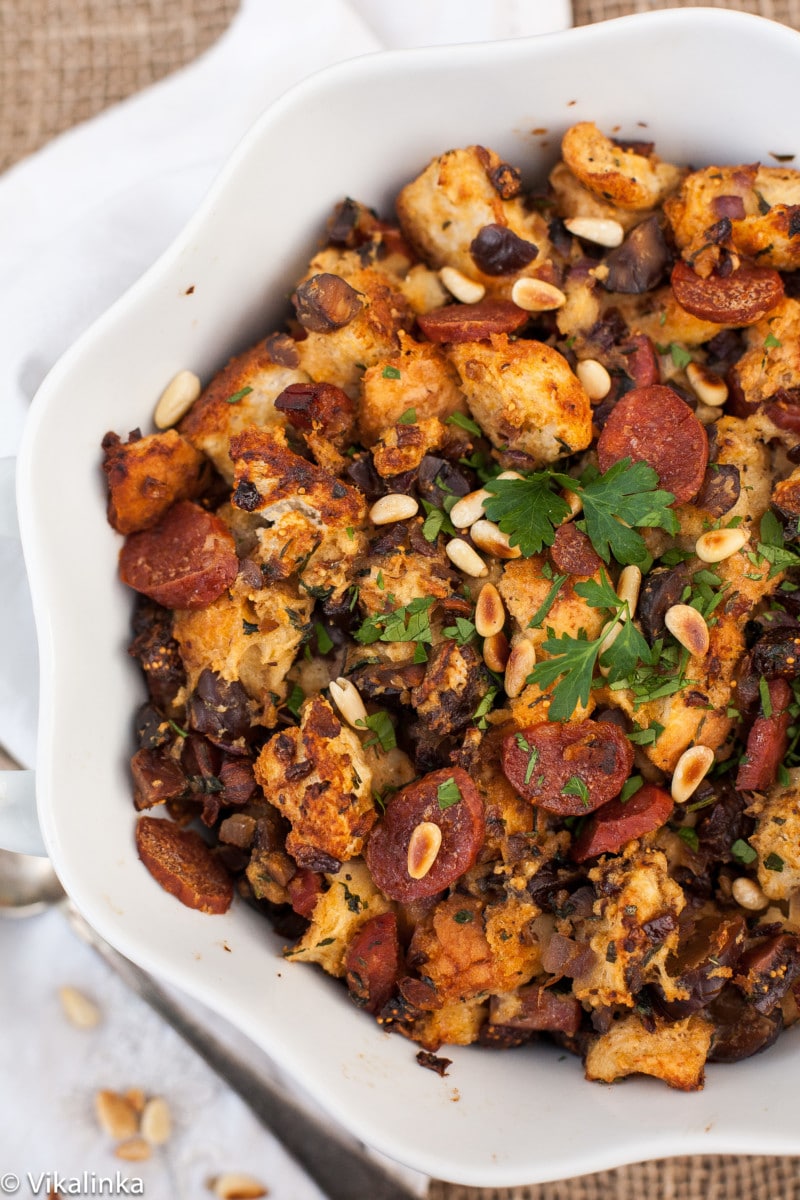 Are you set on your Christmas dinner menu already? If you are anything like me you'd be changing things the last minute, adding to already existing ones and re-arranging everything from top to bottom. It's impossible for me to stick with just one recipe for something, I get so distracted by the variety available to me and I want to try them all!
This post is about a stuffing recipe that I invented on a spur of the moment and surprisingly enough it turned out to be delicious.
In fact, my husband said he could eat it alone as a meal! It wasn't something I thought about or planned. I was simply cooking a pork roast one Saturday and I kept adding more and more sides to it. This recipe was born!
You know I actually already have a perfect stuffing recipe that I've been making for holidays for a while. It's hard to beat perfection and why would I mess with it! More importantly why would I mess with stuffing when everyone knows it has a potential to taste like a bland clump of bread!
The answer is I get bored when things are the same and I need to spice them up every once in a while. Also when you work with ingredients like these how can it possible not be fabulous?!
Another reason for this experimentation is I love cooking with Spanish sausage- chorizo (and I had quite a bit of it kicking around in the fridge that needed to be used), it gives the dishes such lovely flavour and zing!
It also turns everything it comes into contact with yellow or orange which is like a bit of sunshine that the Spaniards share with all of us Northerners! I was curious to see if it would work with this very non-Spanish meal.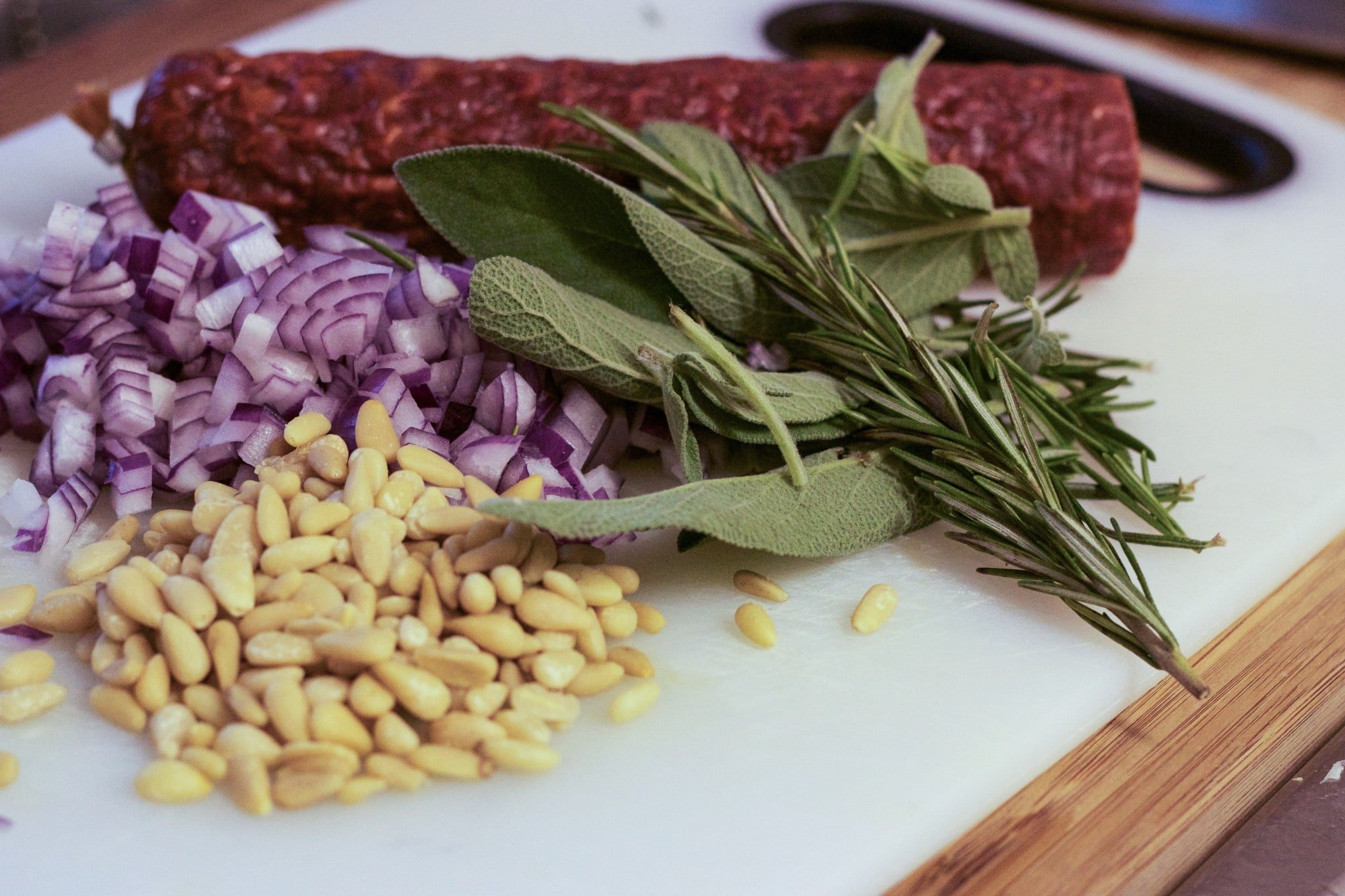 Like I said this was not a pre-meditated affair so I had to use ingredients I had on hand. Next time I make it I think I am going to add chestnuts for more texture!
What can I add to the bread to make a better stuffing?
In my humble opinion, there are a few 'must have' components of a tasty stuffing besides bread or rice- a sausage of sorts or bacon, a variety of herbs, fresh or dried fruit and nuts.
All things combined will give us flavour, texture, a bit of spice and comfort!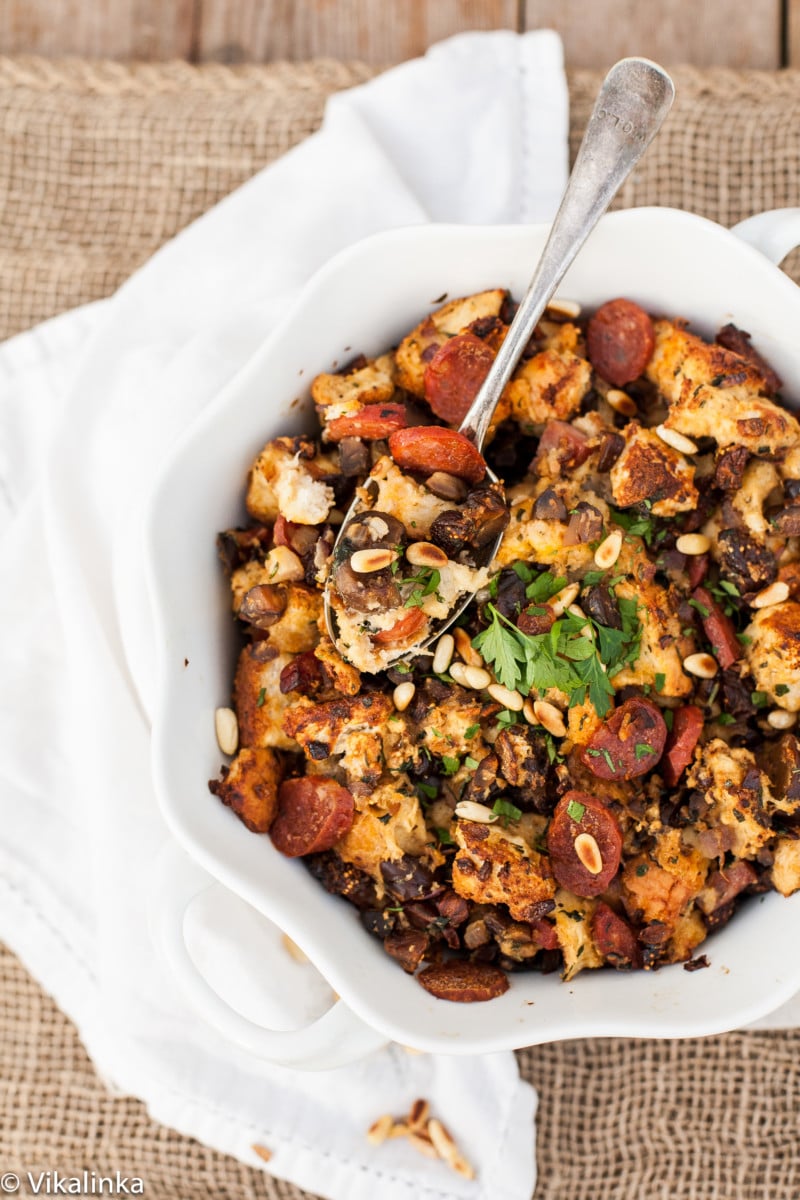 Ingredients:
Bread -stale French baguette- ⅔ or 200gr
Butter- 1tbsp
Onion-1 medium
Garlic-2 cloves
Apple-½ (grated)
Chorizo- 150gr
Dried Figs-10 (chopped)
Chestnuts (pre-cooked), chopped- 1 cup
Sage-2-3 sprigs (leaves only)
Rosemary-2-3 sprigs(leaves only)
Parsley- 2-3 sprigs
Pine nuts-¼ c.
Stock (beef, pork or vegetable)-1c.
Egg-1 large (slightly beaten)
Salt and Pepper to taste
Method:
Preheat your oven to 350F/180C and butter an oven proof dish.
Cube your bread and put it in a large bowl. Chop up your onion and herbs and saute them in the frying pan with butter on a medium heat until translucent but not coloured for about 5 minutes, add garlic and cook for a minute longer. Transfer to the bowl with bread.
Dice chorizo and figs and add them to the bowl with stuffing. Add all the remaining ingredients except the egg. Mix well together adding salt and pepper to taste. Finish off with the beaten egg, mix the stuffing again and transfer to the buttered baking dish.
Bake in the oven for 30-35 minutes until puffed up and golden.
This stuffing has a slightly sweet and spicy taste. It's crazy flavourful and although it doesn't have that traditional and familiar Christmassy taste it's lovely nonetheless and goes especially well with this pork roast.
I hope you are adventurous enough to add this newbie to your Christmas table. I promise you won't regret it and your guests will be so impressed with the bold and innovative combination of flavours!