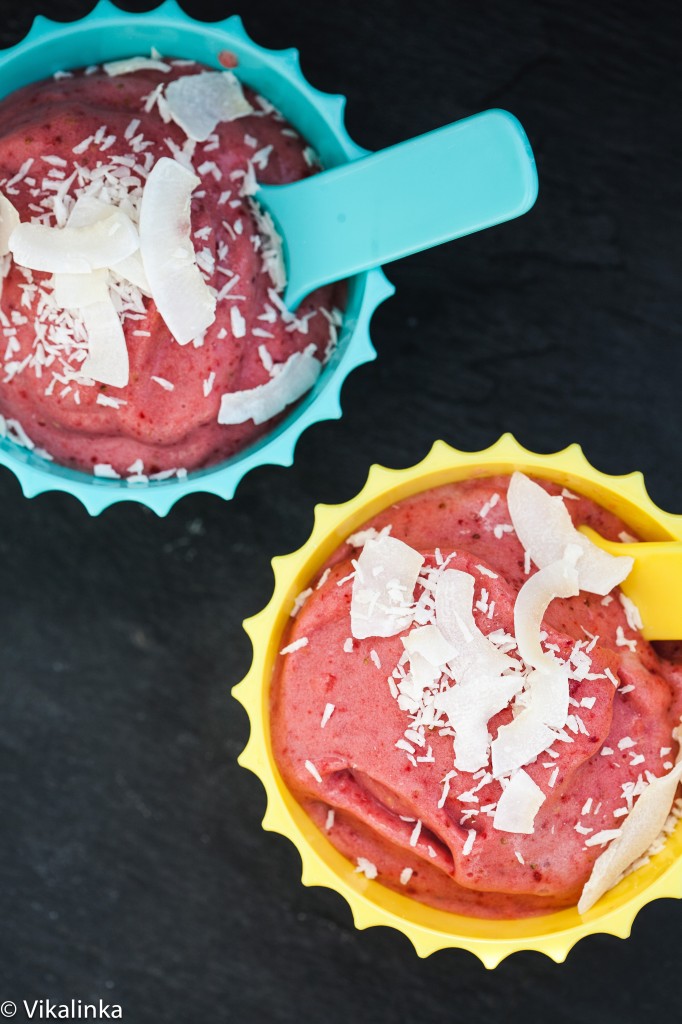 I've enjoyed having my kids at home this Easter holiday for the last two weeks, and although I still had to go to work some days, we've had loads of fun!
As soon as their break started they both announced that one of the things they were looking forward to was making smoothies. Or as they put it, "Mummay, can we 'ave a smoovie?"
No, my children are not toddlers, nor do they have a speech impediment. They are, however, acquiring quite a strong London accent and not the posh accent you'd hear on Downton Abbey.
No, they are speaking with the least desirable South East London accent. Oh well, they are stinkin' cute and I am sure someone somewhere in the world will find that accent irresistible one day.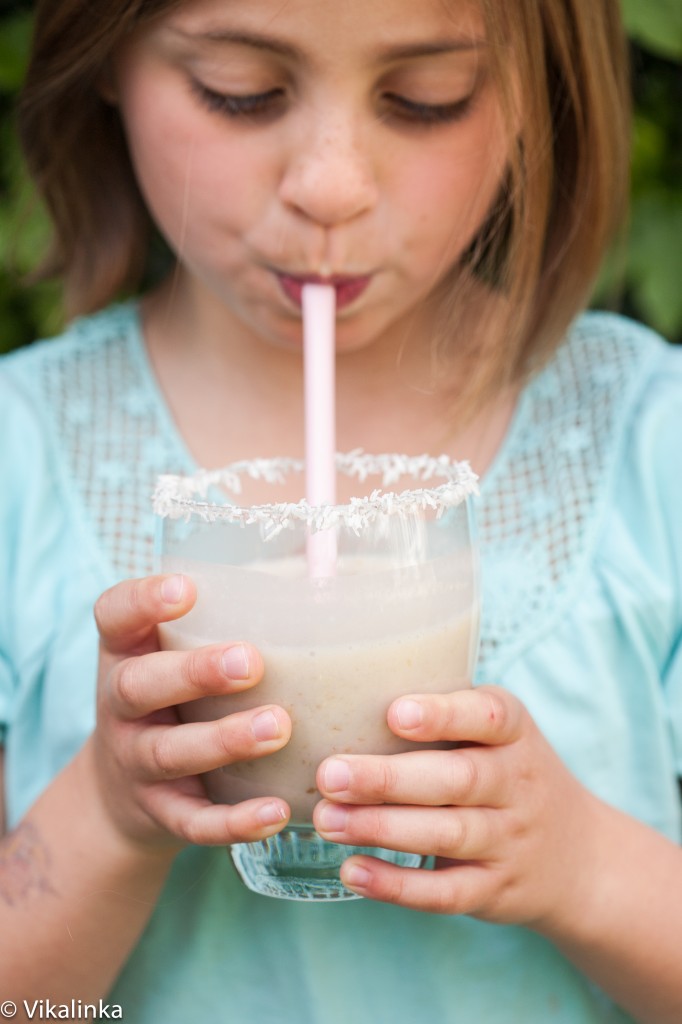 Right, back to smoothies. I like to use up what I have available before I rush off to buy more things.
I had 5 very spotty bananas, which I was planning to use to make banana bread, but the upcoming Easter schedule was pretty full and I figured making smoothies will take far less time and will be much healthier.
I've also recently bought ground flaxseeds, or linseeds as they are known in England, for the first time ever and was dying to try them in recipes.
Bananas and flaxseeds are surely healthy but I was doubting their nutritional benefits would be enough to sell my kids on this smoothie, so I chucked coconut milk in there for extra flavour. No sugar.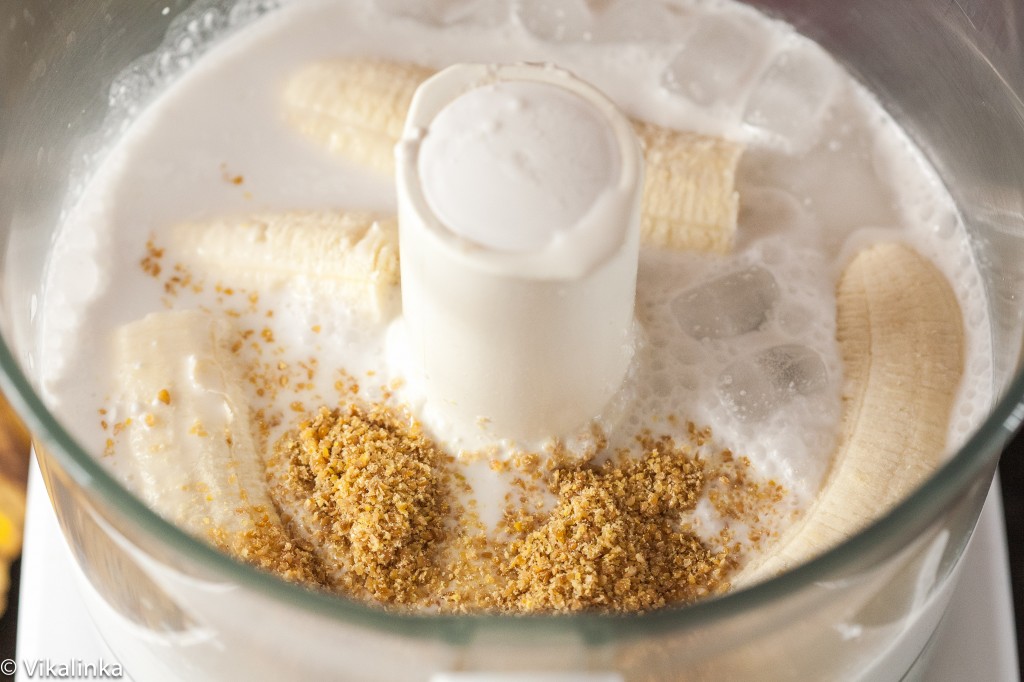 What did it taste like? Quite pleasant…healthy…but, nonetheless, delicious and refreshing.
I wasn't sure what my kids would think but to my surprise, they absolutely LOVED it!!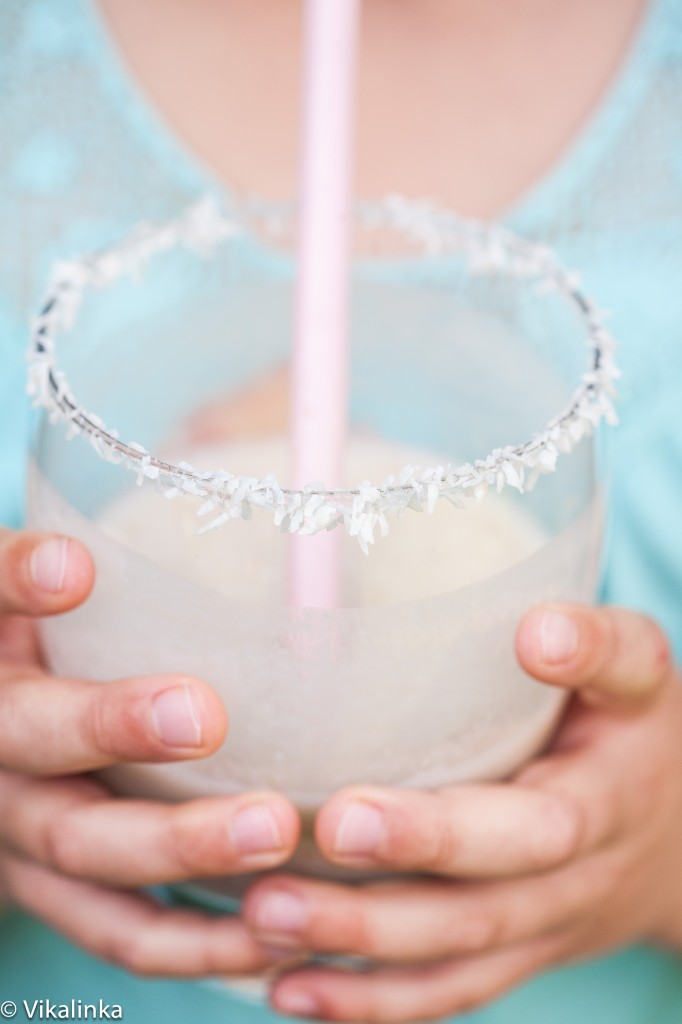 I was astounded by how much they enjoyed this super healthy, full of nutrients smoothie!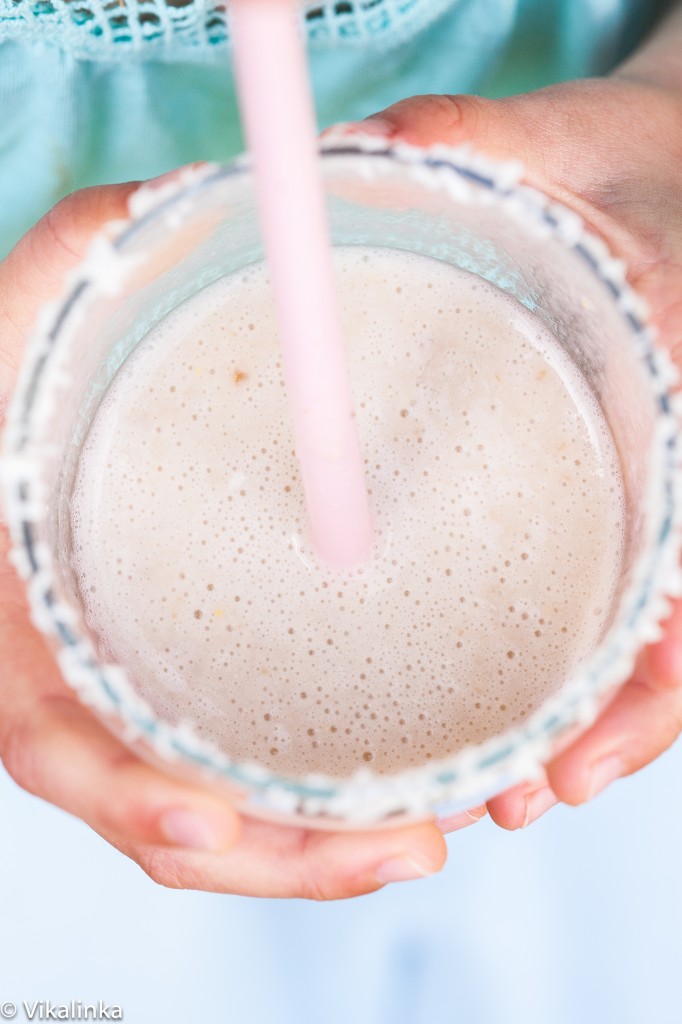 We each had a glass but there was still half a jug left. And then a genius idea popped into my head.
I poured what was left back in the food processor, added a cup of frozen strawberries and hit START. Out came pure magic. It tasted like ice cream!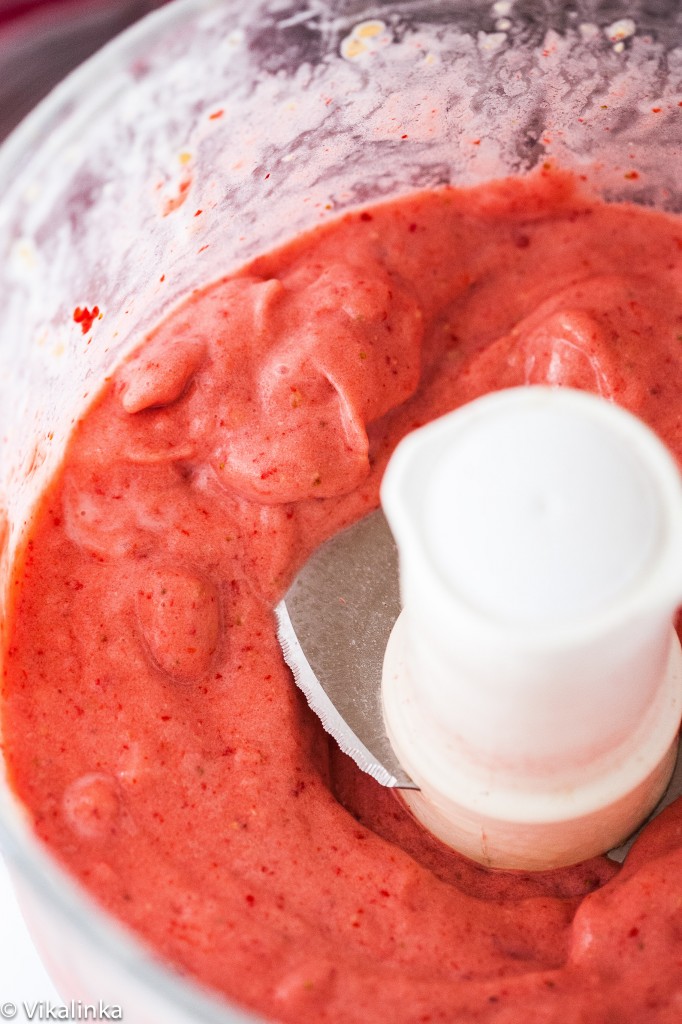 No dairy, no sugar, just vitamins, fibre and…more fibre.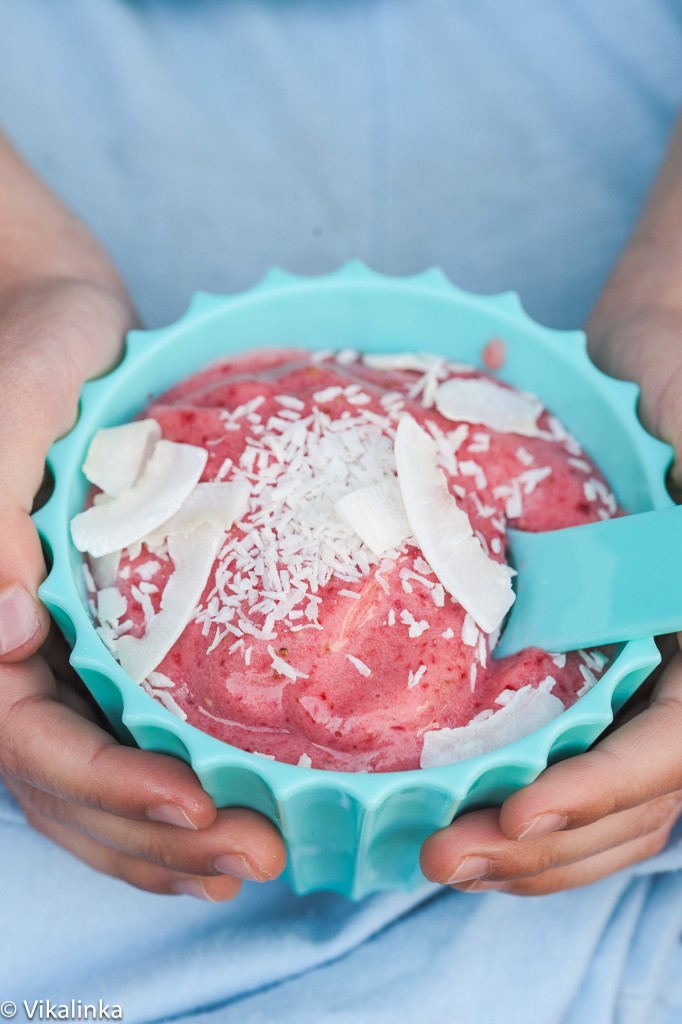 I told you my kids were already thrilled with smoothies they got but they went completely bananas for this ice-cream. I loved it as well.
When I began I wasn't convinced coconut milk and strawberries would jive well, but I adored the taste. I would also recommend adding shaved coconut for extra flavour and CRUNCH!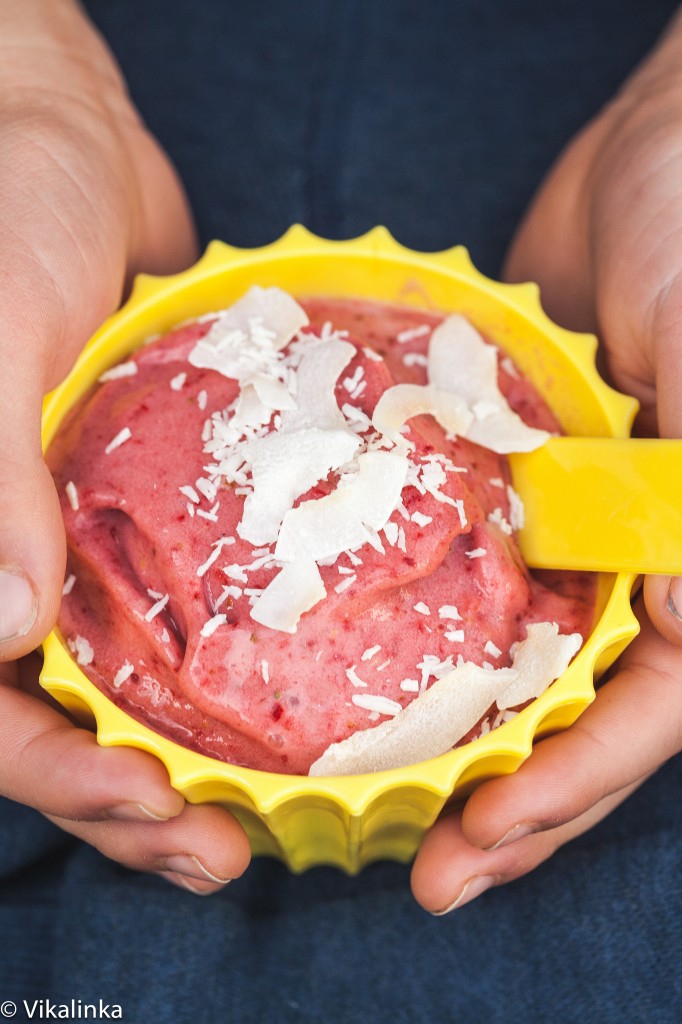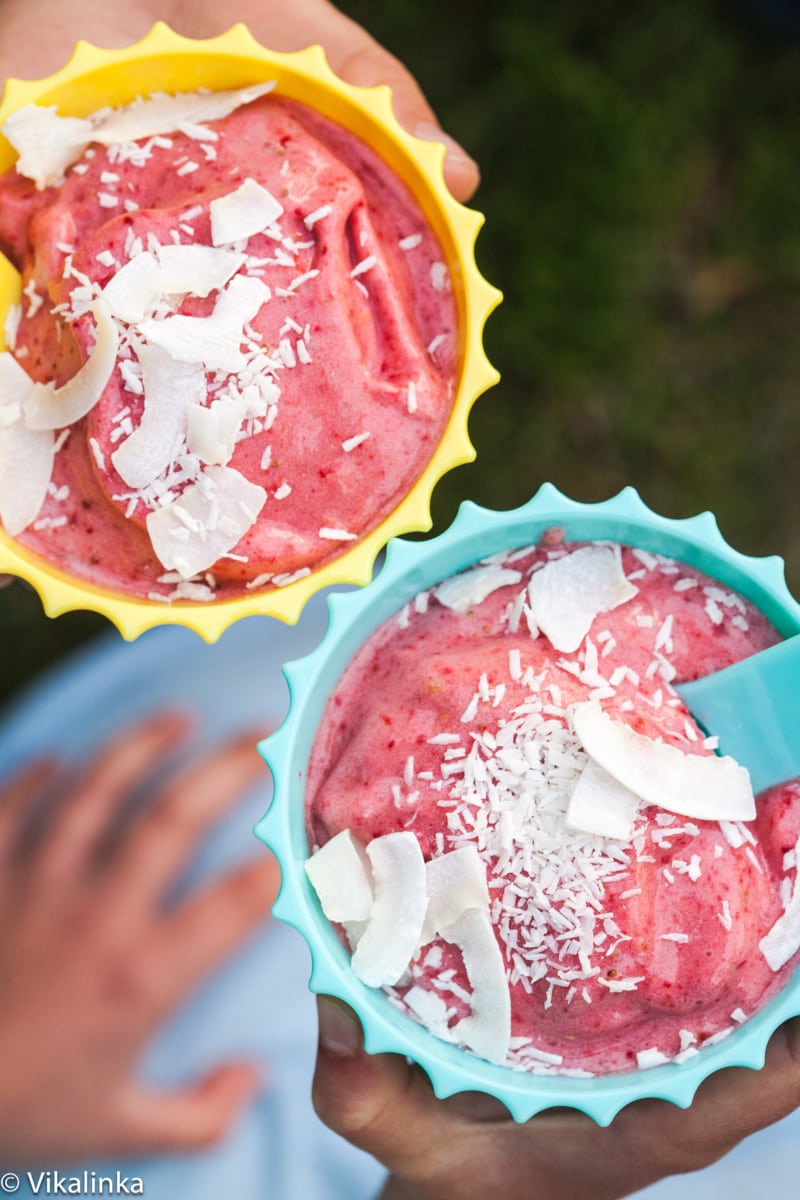 Ingredients
400

ml/ 2 cups- coconut milk

4-

banans

6-8-

ice cubes

2

tbsp- flaxseeds

ground

1.5

cups- frozen strawberries

2

tbsp- shaved coconut for serving

optional
Instructions
Combine coconut milk, very ripe bananas, ice cubes, flaxseeds and frozen strawberries in a food processor.

Blend until smooth about 2 minutes

Serve sprinkled with extra coconut.
Note* The ice cream consistency depends on your fruit being frozen.
Note** The ice cream is not overly sweet so if you prefer it sweeter feel free to add honey or agave syrup. We loved it as it is.
Note*** If you are making a banana coconut smoothie simply omit frozen strawberries.
Did my kids know how crazy healthy their "treat" was? Absolutely not! Did they love it? Heck ya!