This year Easter has been absolutely wonderful. When I look back to the same time last year – when I spent the entire Easter weekend writing a paper for my Cambridge Delta diploma – I can't help but pause and reflect on our lives and that makes me feel so blessed by everything I've been given over this last year.
I love Easter so much for the message of a new beginning that it promises and for the joy that it brings, so naturally I don't mind getting ready to celebrate this special holiday on my days off.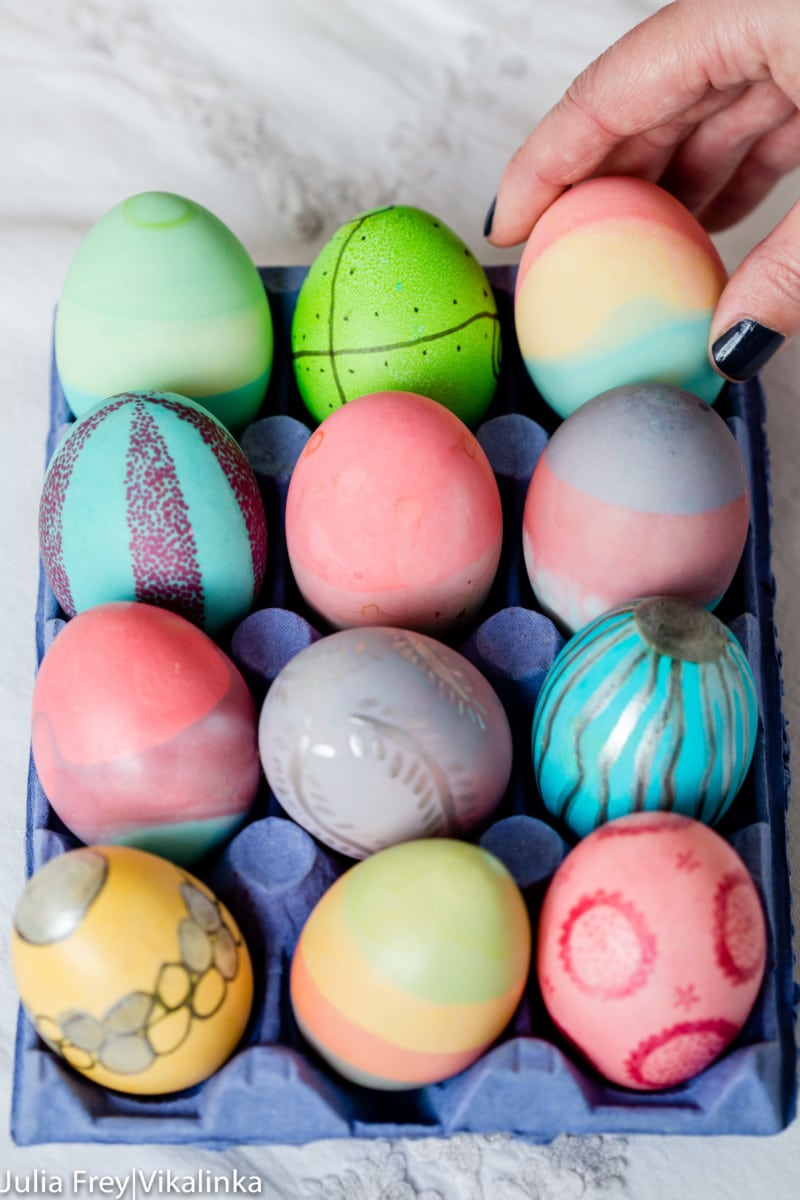 I wrote about Easter celebration in Slavic households in previous years. It is by far the biggest Christian holiday in Russia and Ukraine and it shows through so many delicious dishes that are traditionally cooked this time of the year.
We started the weekend off with sweet cheese fritters Syrniki for breakfast and as soon as breakfast was finished I got to making the dough for Kulich, sweet, brioche-like bread enriched with eggs, butter and sour cream. (I substituted raisins for chocolate chips because it just makes sense!) You won't believe how delicious it is until you taste it. I posted the recipe for Kulich last year.
Traditionally it is glazed with a sugar paste but I decided to leave it naked this year and decorate the top with a white chocolate piping. You can see our friend Carmen writing the letters XB (Russian acronym for Christ is Risen) and piping Russian folk design on Kulich.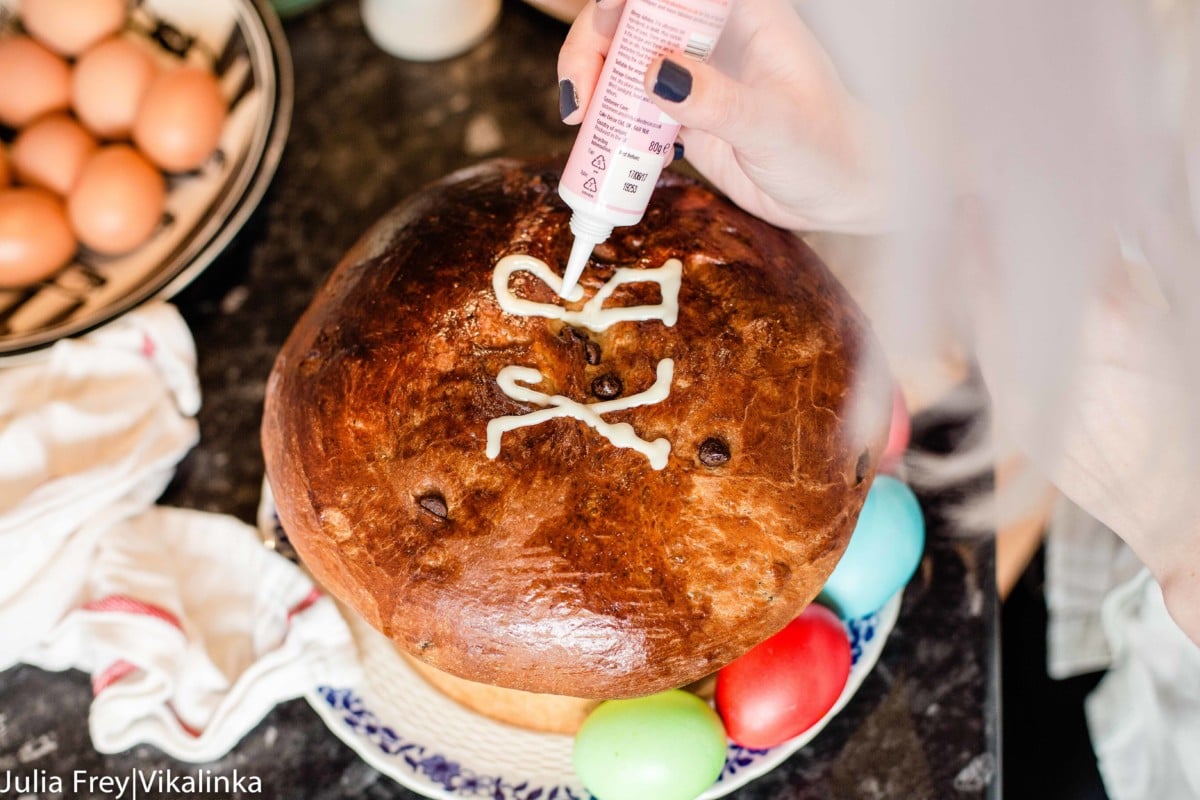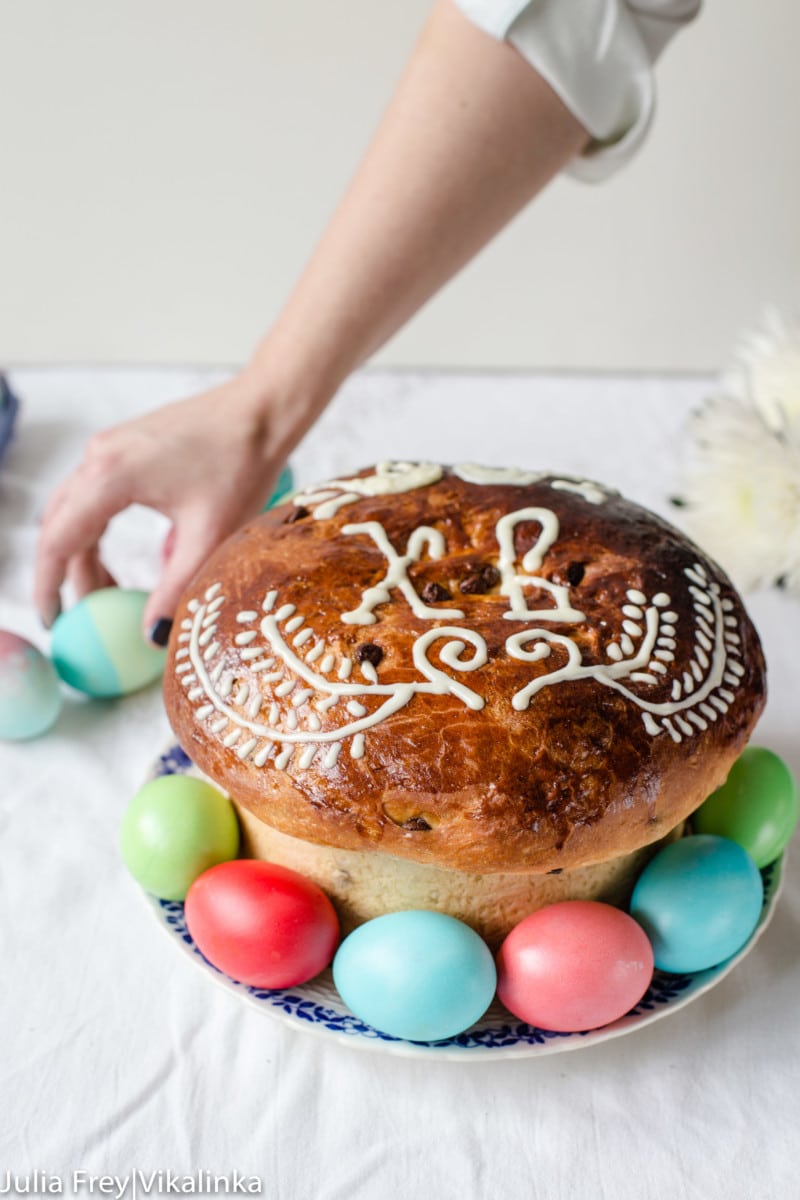 While the bread dough was rising I made the cheese pudding Paskha and put it in the fridge to set.
It was my first time trying the new mold that came all the way from Ukraine just in time for Easter and I was incredibly excited to see the results!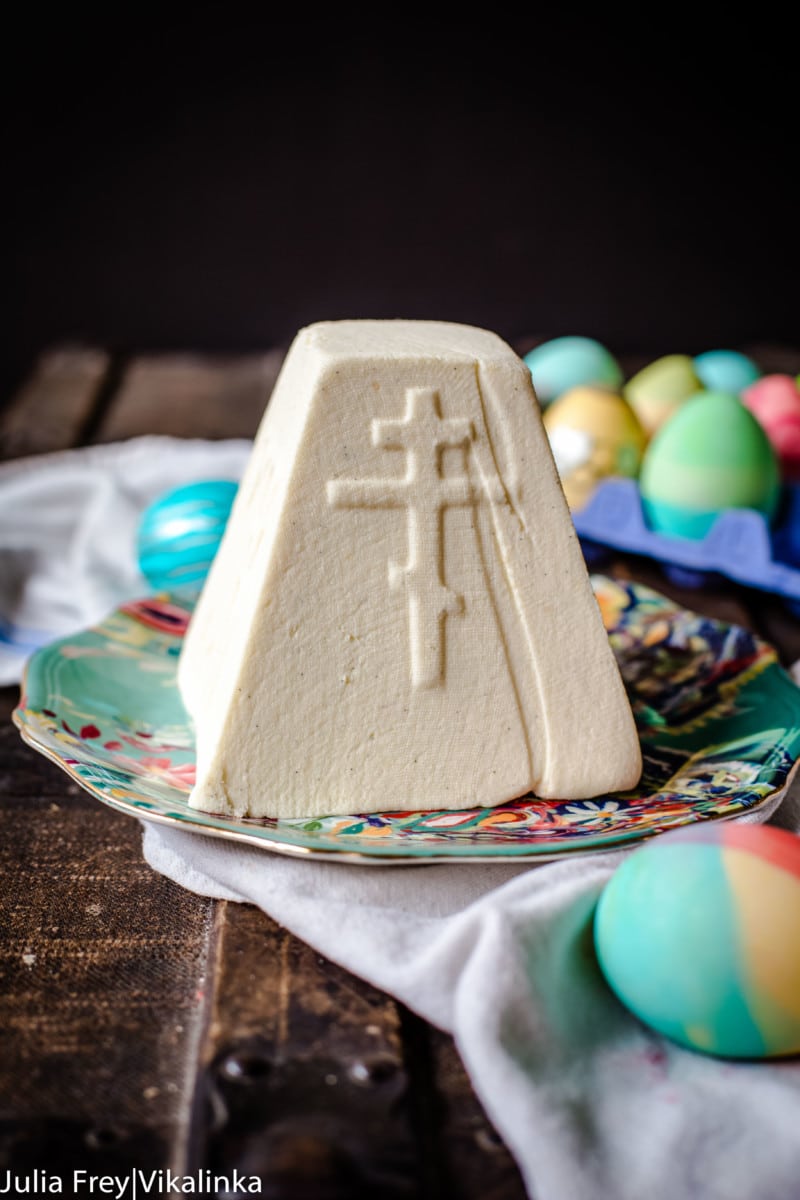 I was thrilled to see that Paskha turned out beautifully and so delicious!!!
Imagine the most flavourful cheesecake and you'll get the picture. The recipe for it is coming very soon.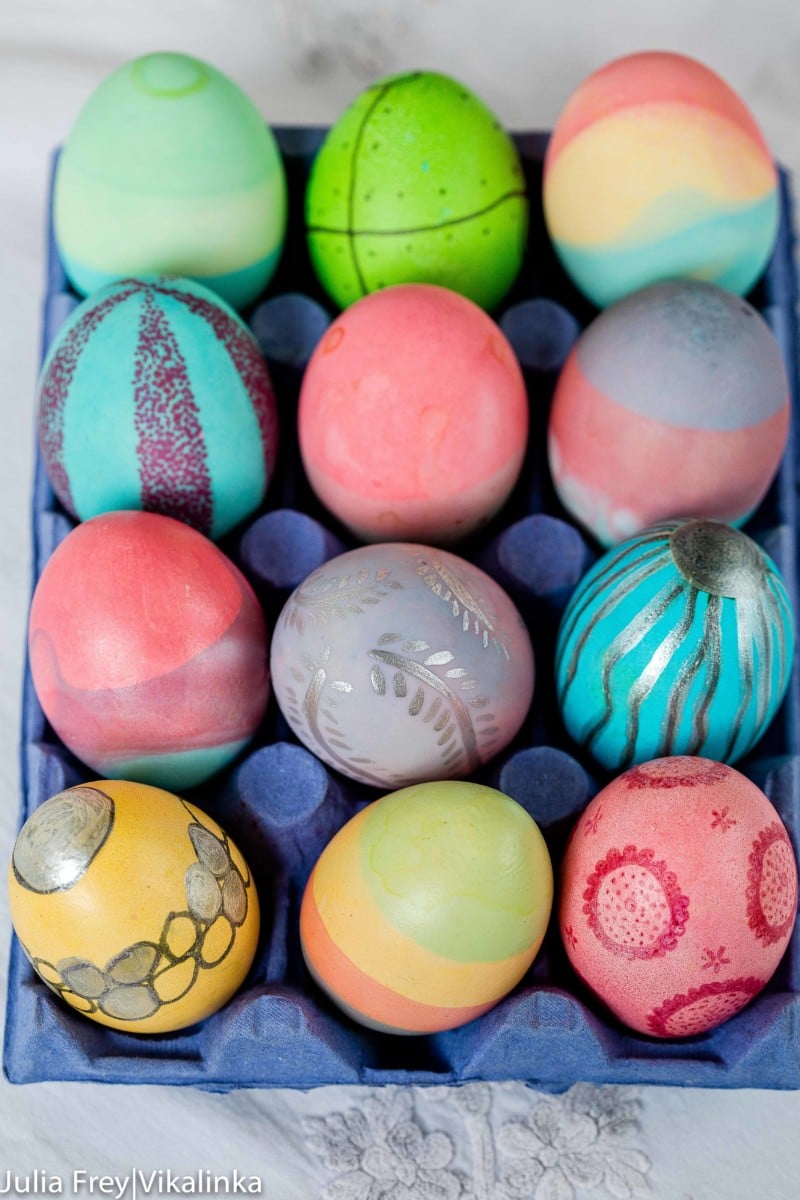 Finally in the evening the kids, Carmen and I sat down to colour eggs. Usually we use the onion peels to dye our Easter eggs but this year I decided to do something different, which has nothing to do with a late realisation we were out of onions. 😉
Egg colouring turned into much more than I expected. We started out with plain, solid colours and somewhere halfway though went a little funky by hand dipping the eggs in different colours to create fun design.
After the kids left Carmen and I grabbed edible paint and brushes and carried on, it was so much fun Vika came back and coloured that yellow egg with black and silver circles and the green one with black lines. Art is so therapeutic!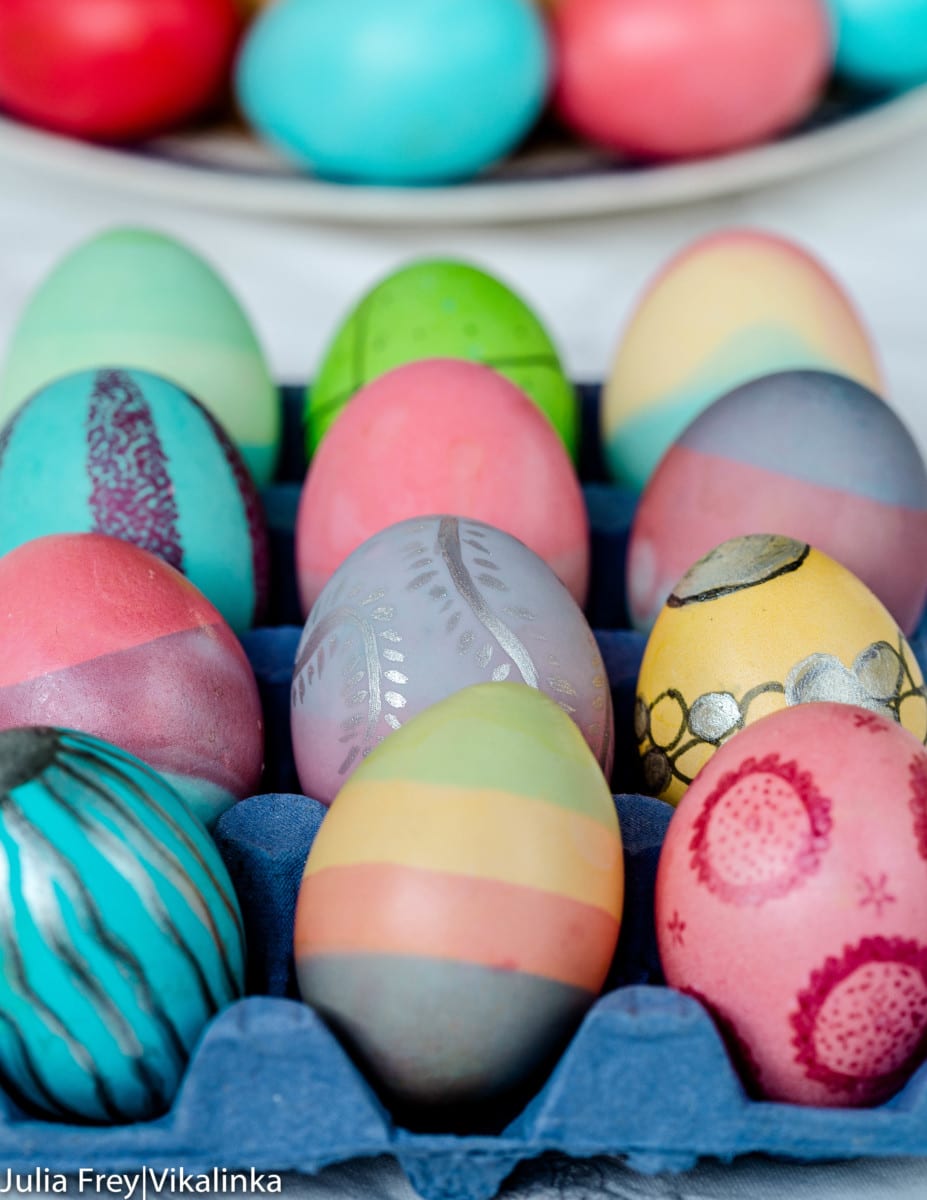 I hope you've also had a blessed Easter and a wonderful time with family and friends. I would love to hear in comments how you celebrate Easter!!