There is no better place for an Austrian beer tour than Salzburg. Here's where to go and what to enjoy!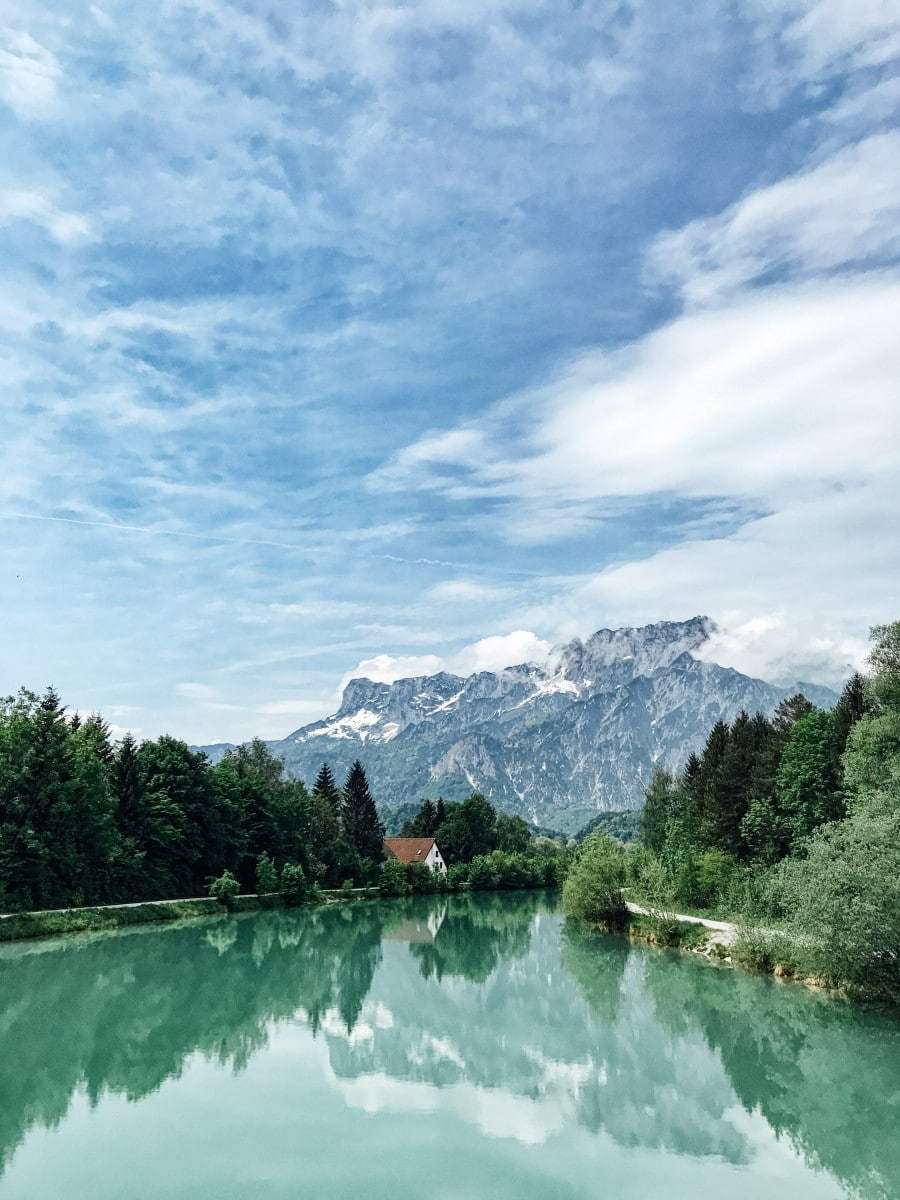 (We've been invited to visit by the Salzburg tourism board, all opinions remain our own.)
I fell in love with Austria in late 2017 while visiting the Christmas Markets of Vienna. And as an enthusiastic admirer of good beer, I was pretty thrilled to get an invite to join a tour of Salzburg to experience the best of Austrian beer. The occasion was an award ceremony for the best beer-restaurants in the city. The truth is that the little I knew about Salzburg came from repeated childhood viewings of The Sound of Music, making this an opportunity to savour.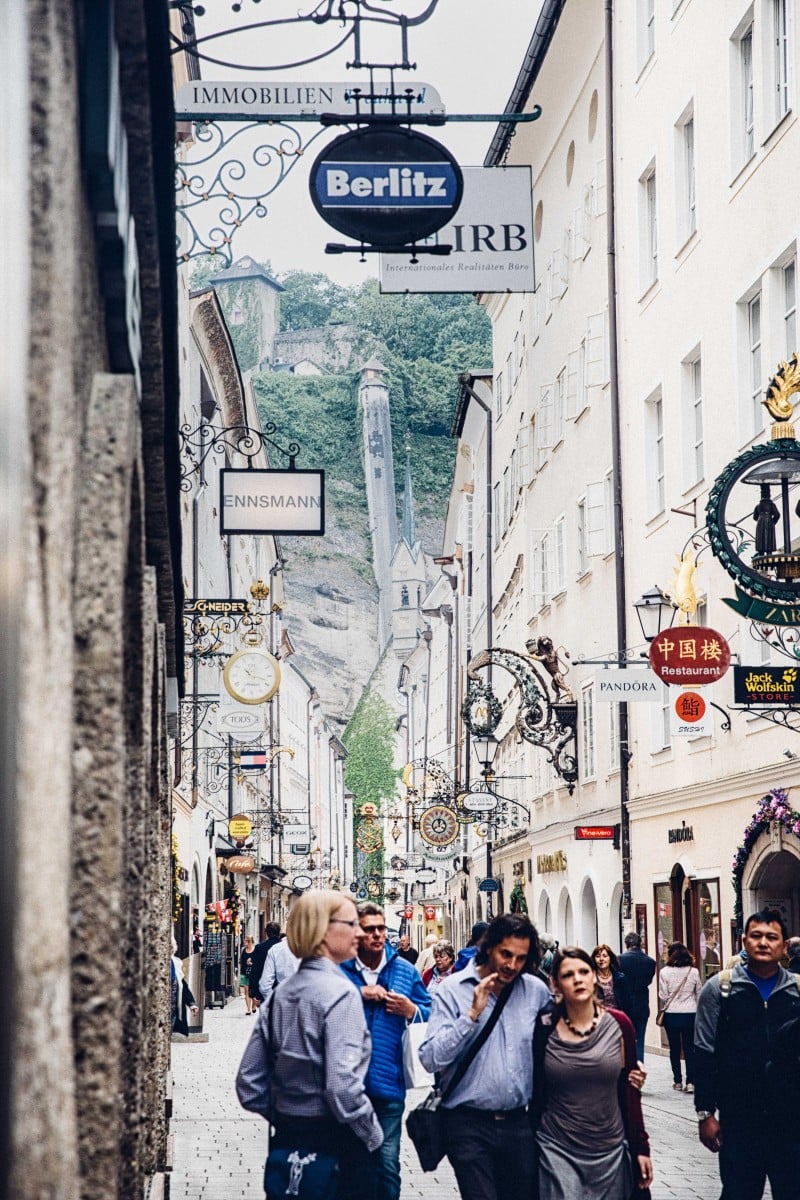 The city
The name Salzburg literally means 'Salt City', a reference to the salt mining that made the city what it is. The fortress, one of three built in the city, was given the extra special responsibility to protect the salt. It's difficult to miss, soaring above the city on the peak of a dramatic hill. It's very well preserved, ridiculously large, and the earliest bits are nearly a thousand years old. The brave can reach it on foot, but the rest of us can take a funicular from the Festungsgasse.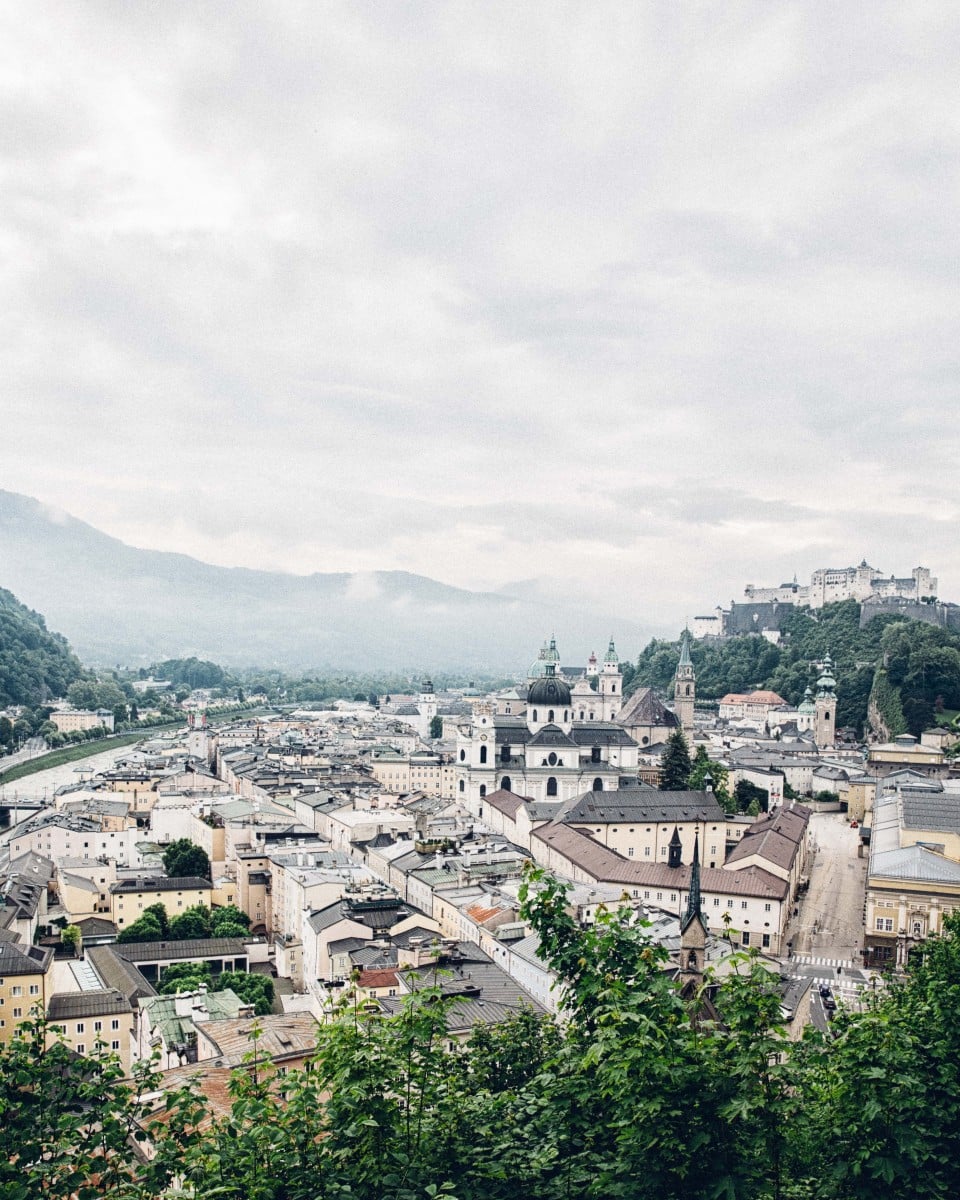 The city itself is small enough to explore on foot, so leave enough time for a stroll. Bicycles are also a great option, with a number of tours on offer. Traditional and e-bikes are easy to find and rent, and are also a good choice for getting outside the city.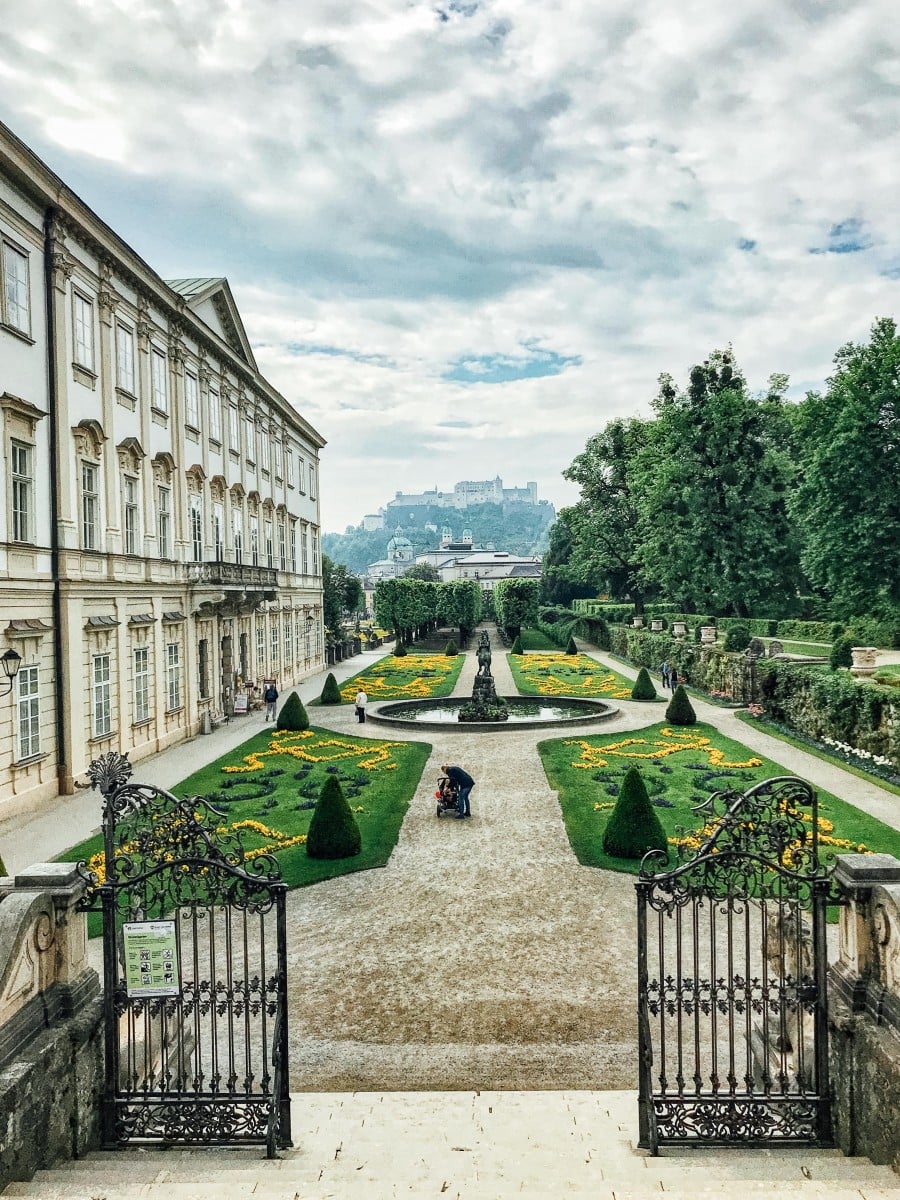 The brews and where to enjoy them
For a not-all-that-large city, there is no shortage of breweries, a signal that we are at the spiritual heart of Austrian beer culture. There are eleven in total, six of which are large and five that are quite small, brewing for their own pub or restaurant. Each has a speciality so there is little evidence of overlap. And the larger brewers prove to be wonderful hosts, with a visit providing an opportunity to sample offerings that don't make it into the shops. Call ahead to find out when tours are available.
The beers themselves show a real love for brewing, sometimes verging on the experimental. While German brewers are restricted by the purity laws, no such limitations when it comes to Austrian beer. The brew masters show a clear love for the extra freedom.
There is no better introduction to Austrian beer than the fantastic Bierkulturhaus. Doubling as an experimental brewery and teaching centre, it's built around a creative room where visitors can brew their own beer. The centre is a labour of love created by Axel Kiesbye, a legend in the industry. Small is key, allowing for experimenting with distinctive beers in batches as small as 100L. We are welcomed with a refreshing summer beer flavoured gently with mint. But the most distinctive brews are forest ales, flavoured with ingredients foraged from nearby mountains. The use of ingredients like juniper berries, spruce needles and cherry blossoms make for distinctive, and rather incredible, beers. Each requires decanting to even out the flavours and carbon dioxide, but is well worth the extra wait.
A very short walk away is Trumer Brewery, specialising in pilsner. The brewery is around 400 years old, and has been passed through the same family for the last 240 years, each time to a firstborn named Josef Sigl. I expect very little from pilsners, but this is next level brewing. Tasting the full range is enlightening, revealing that pilsner can cover a greater distance than I had imagined. The attention for detail is obvious in the perfect flavours and even the design of their glasses, and a love for hops shines in the end product.
The biggest of the Salzburg brewers is Stiegl – also (nearly) the oldest and the largest private brewery in the country. The name is a nod to a staircase next to their original location way back in 1492. Their specialty is quote possibly the best Austrian lager, but there is a lot more on offer. For our visit, the Stiegl beer on offer was a ravishing coral pink, coloured by hibiscus along with salt and coriander. Refreshing, slightly sour, and not like anything else I've tasted. The brewery site is a pleasant spot to visit, with a pub, beer garden, museum and gift shop.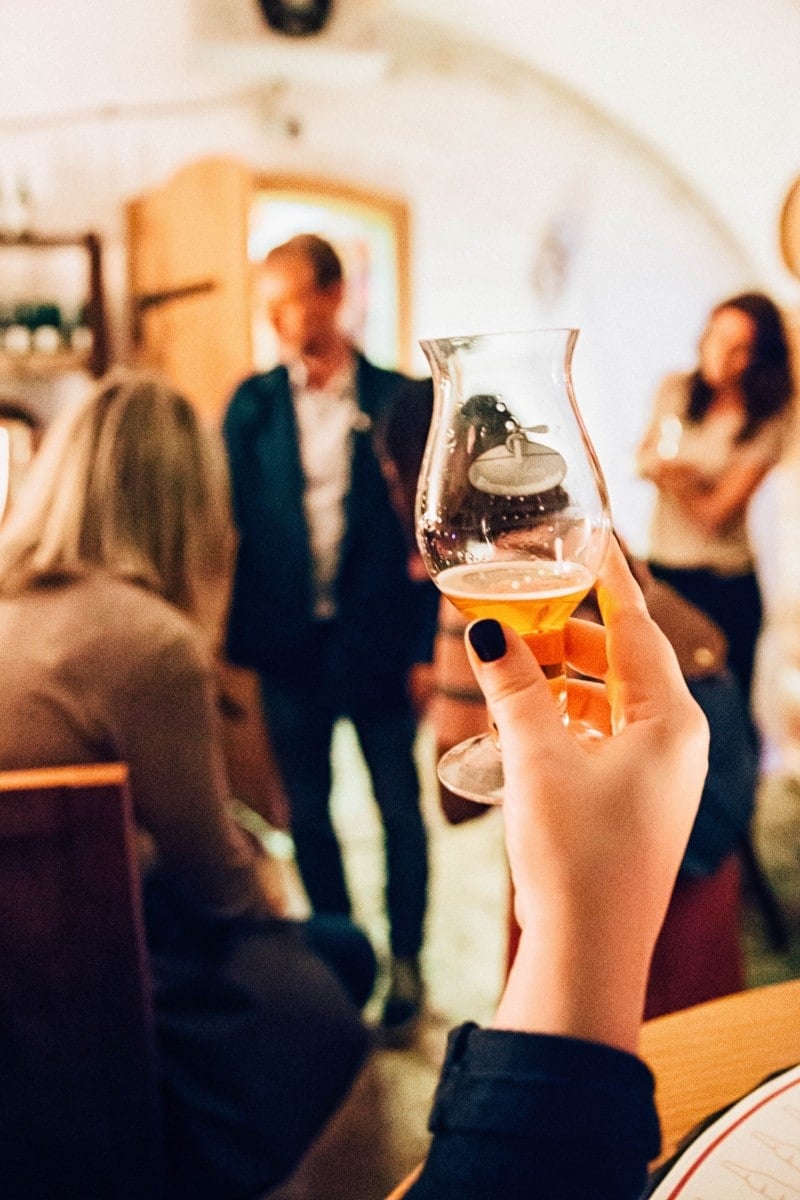 Augustiner Bräu is an experience all its own, and quite possibly the best insight on the beer and food culture of the city. Located on the site of an old monastery close to the heart of the city, it brews its own beer using the same recipe as the monks who came, long, long before. The whole experience is unique. Grab a mug from the shelves as you enter, pay, and have your mug filled with flair by the jovial man behind the counter. The beer is light and, while I didn't find it overly distinctive, is really quite refreshing and a perfect match with the surroundings. There is plenty of food on offer, most of which is simple, traditional, and pretty incredible. Try a plate of potato chips made in front of you, or tender pork with gentle flavour, or any number of treats. And take it all to a table under a chestnut tree in the largest Austrian beer garden.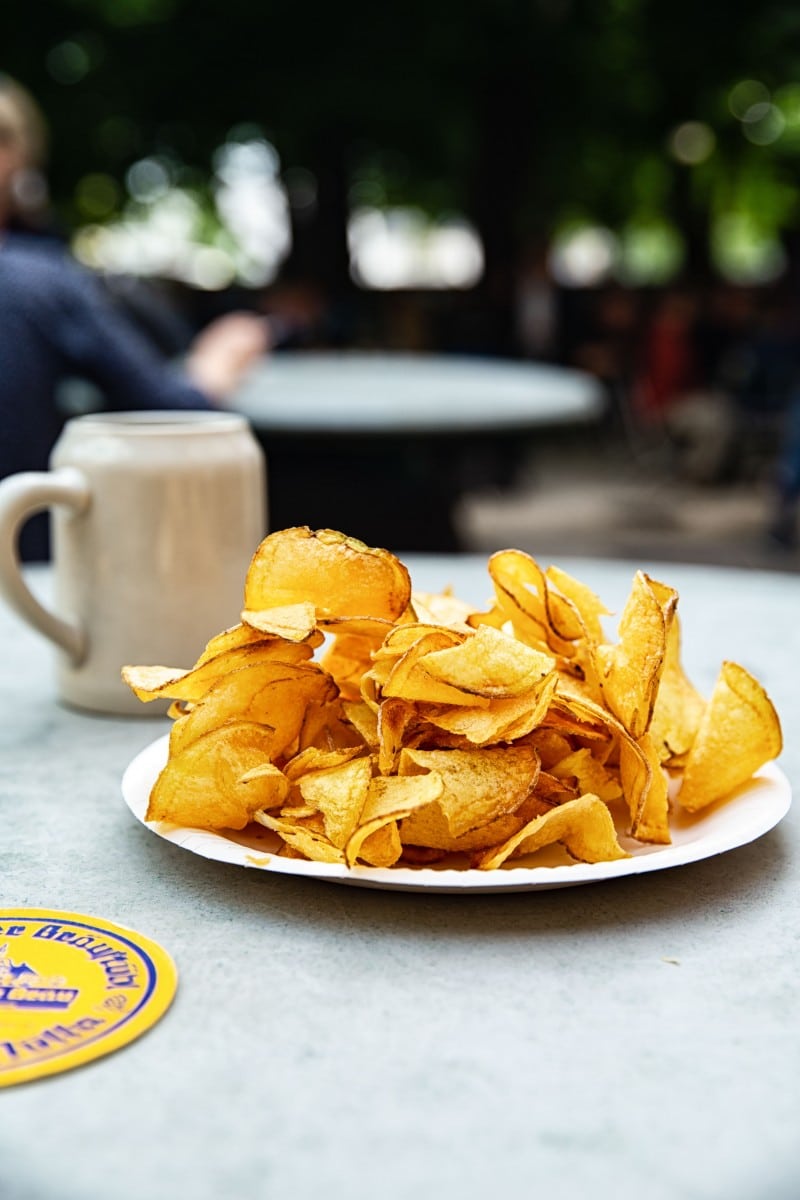 The award winning Alchimiste Belge deserves special mention. The range of beers – both their own and imports – is immense and experimental, providing me with what I expect is both the first and last opportunity of my life to try smoke-infused beer. While there is a good selection of Austrian beer, plenty is sourced from other countries as well. While you could step up to the counter and order a pint of the usual, it's a lot more fun to speak with one of the knowledgeable bartenders. Tell them what you are looking for, and they will find a beer to recommend, likely one you have never heard of before. As a place to experiment with something new, it is really quite special.
The beer is served a bit different from what you may find familiar. A bit more foam at the top is normal, and considered desirable in enhancing the flavour.
Had enough beer? Austrian wine is excellent, especially white varieties, but don't look for anything too local. We hear that the only local winery is run by boy scouts, which doesn't sound like path to a stunning bottle.
For something with a bit more kick, finish your meal with a schnapps. For something a bit more distinctive, try Stone Pine Schnapps. Not for everyone, but a very interesting flavour.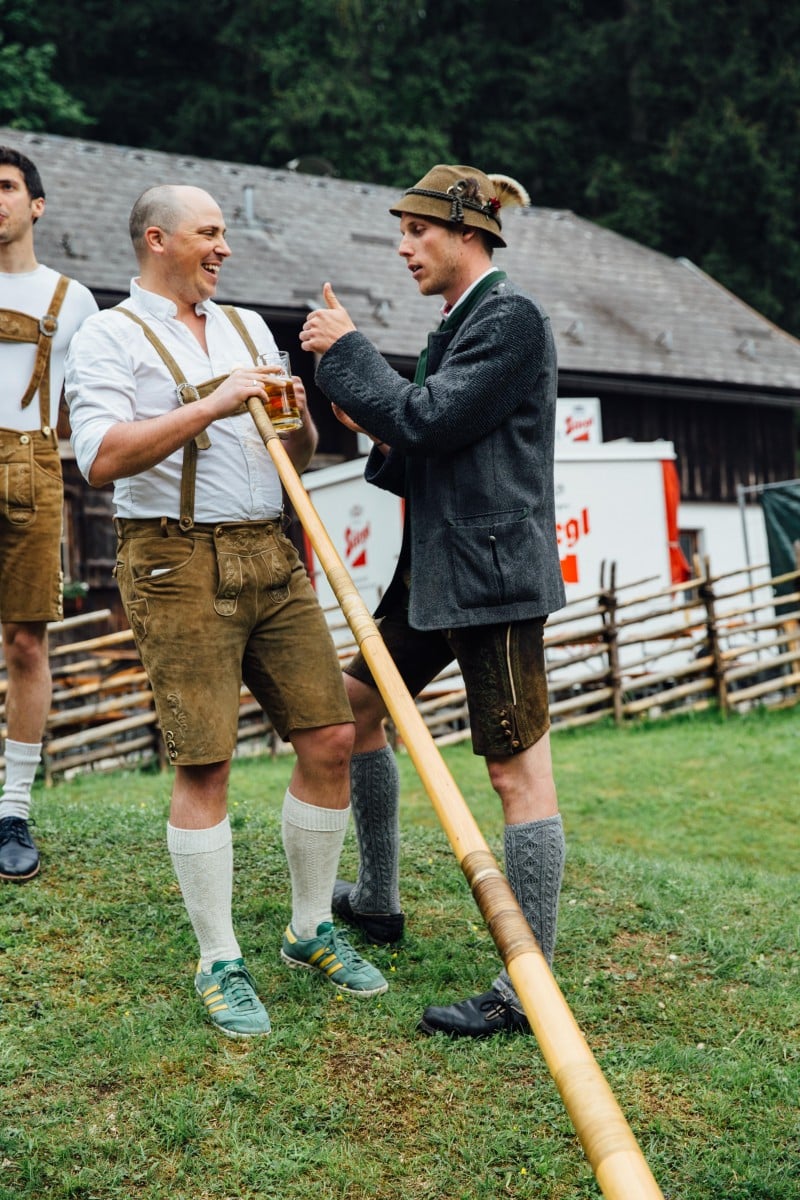 Good eats and the people who make them
The food in an around Salzburg is not all that distinct from other parts of Austria, or even neighbouring Germany. But a city that cares this much about what it drinks is unlikely to neglect food. Meals are delicious and well-priced without skimping on portion size. Give all the classics like veal schnitzel and bratwurst a try.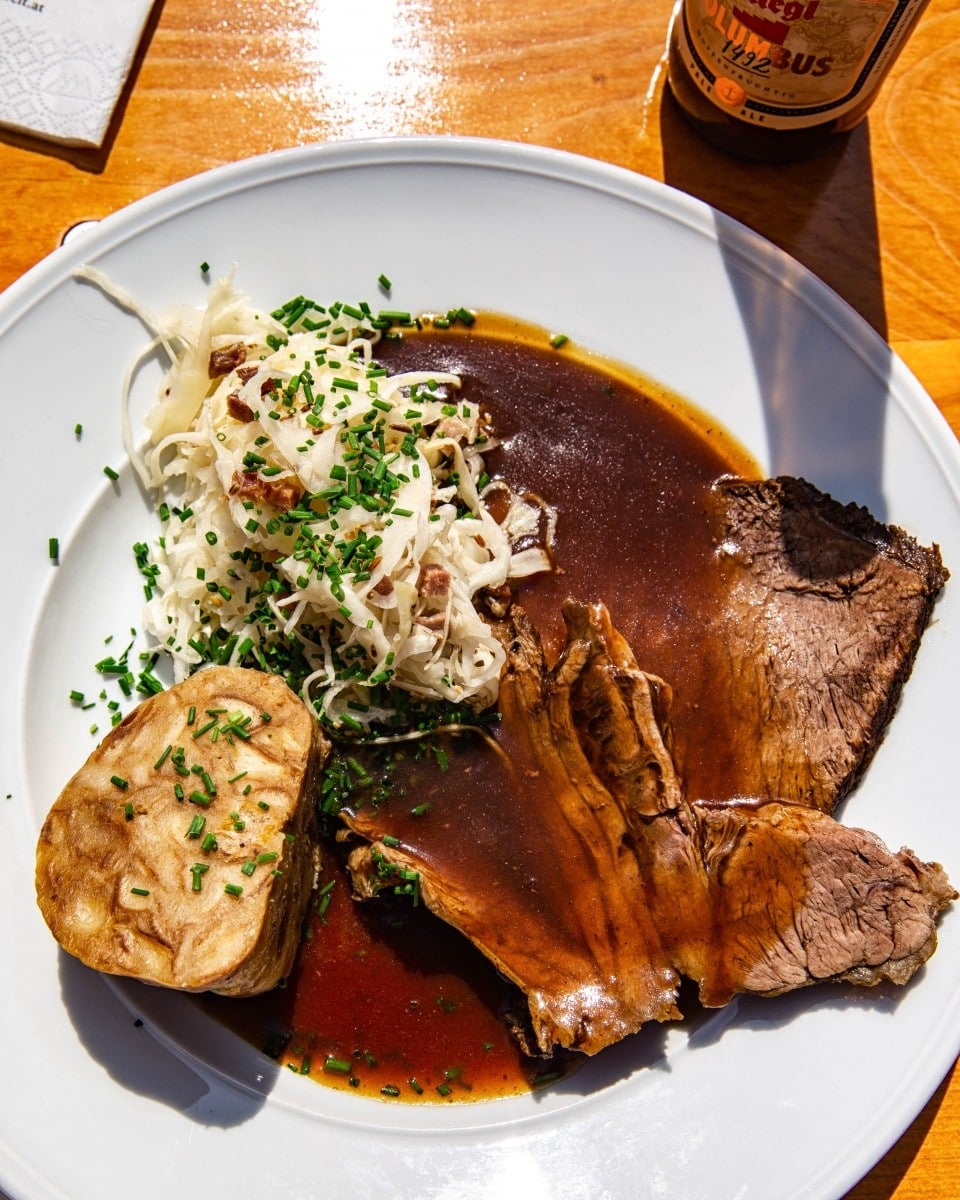 For something a bit more distinct to the area, perhaps indulge your sweet tooth.
The city is rightly proud of Mozart chocolates. The originals came from the visionary Paul Fürst at Café Konditorei, bite-sized balls with pistachio and marzipan centres, surrounded by nougat and coated in dark chocolate. There are plenty of versions on offer from a range of companies, each of them really quite good. But the original version still stands out. You know you've had them by an imperfect round shape and small bump on one side, the tell-tale sign of a handmade treat.
Salzburger Nockerl is a local speciality and iconic dessert. It consists of three peaks – representing local mountains – made out of soufflé and often accompanied by a berry sauce either on the bottom or to the side. It is very light, but quite large, meaning one will serve a few people.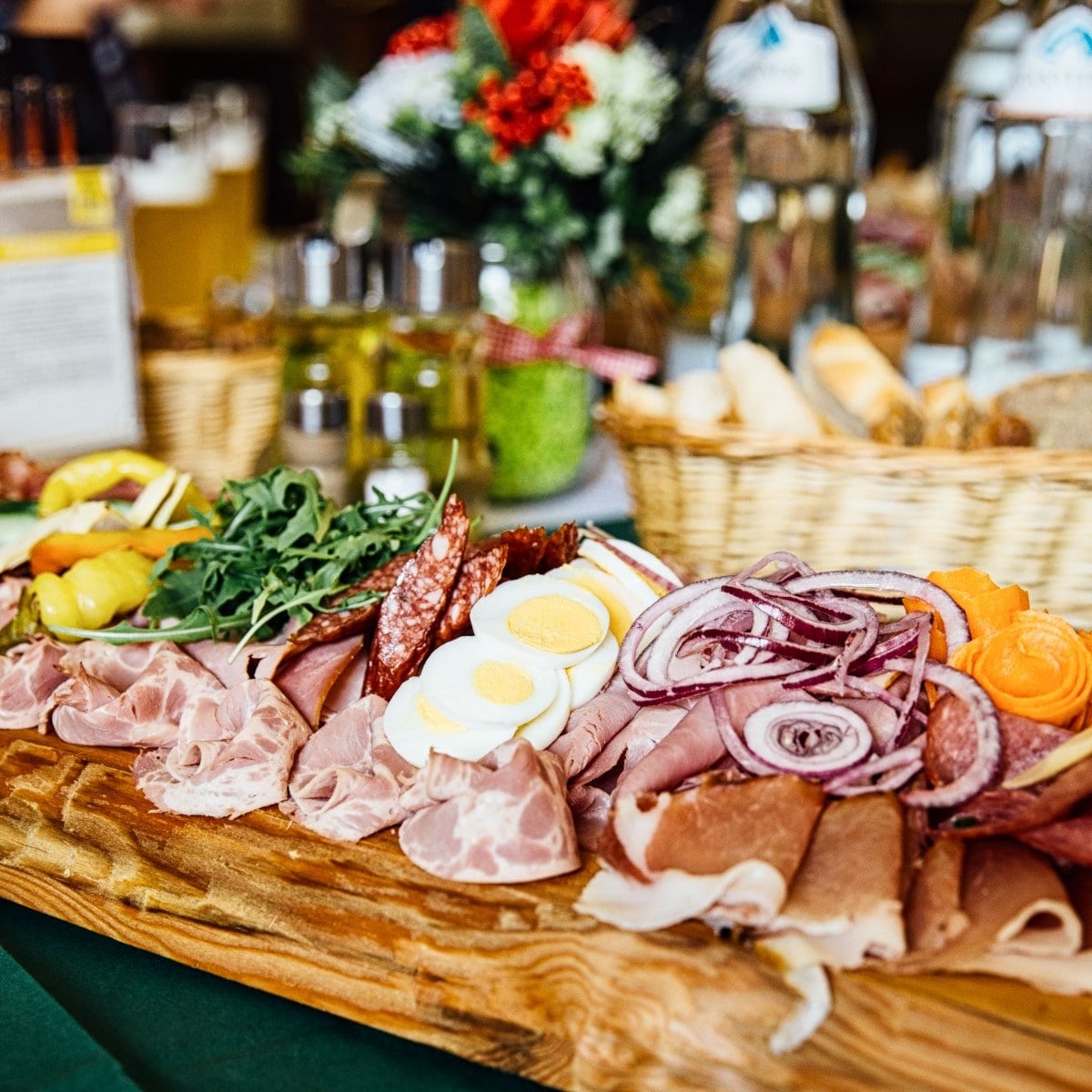 Other bits
It was no small surprise to see the traditional clothes of Austria as (fairly) regular wear. Lederhosen in particular can be seen on a many of the men, and more than a few women. And no surprise, really. They are essentially ornamented shorts, except fitting for formal occasions as well. Proper lederhosen get passed from generation to generation, never getting washed, and gaining a fashionable sheen over the years. They come in two lengths, but the younger and fashionable prefer the shorter versions. Wear them with long socks, a casual shirt, and any shoes you choose, suspenders optional.
Dirndl, the traditional ladies wear, can be quite elegant but far less comfortable, at least according to the comments around me. The trick here is to find one to wear that allows for a meal afterwards, rather than keeping it snug for the sake of fashion. Tie the apron on the right-hand side if married, and on the left if single.
Find both lederhosen and dirndl to rent at various locations around the city.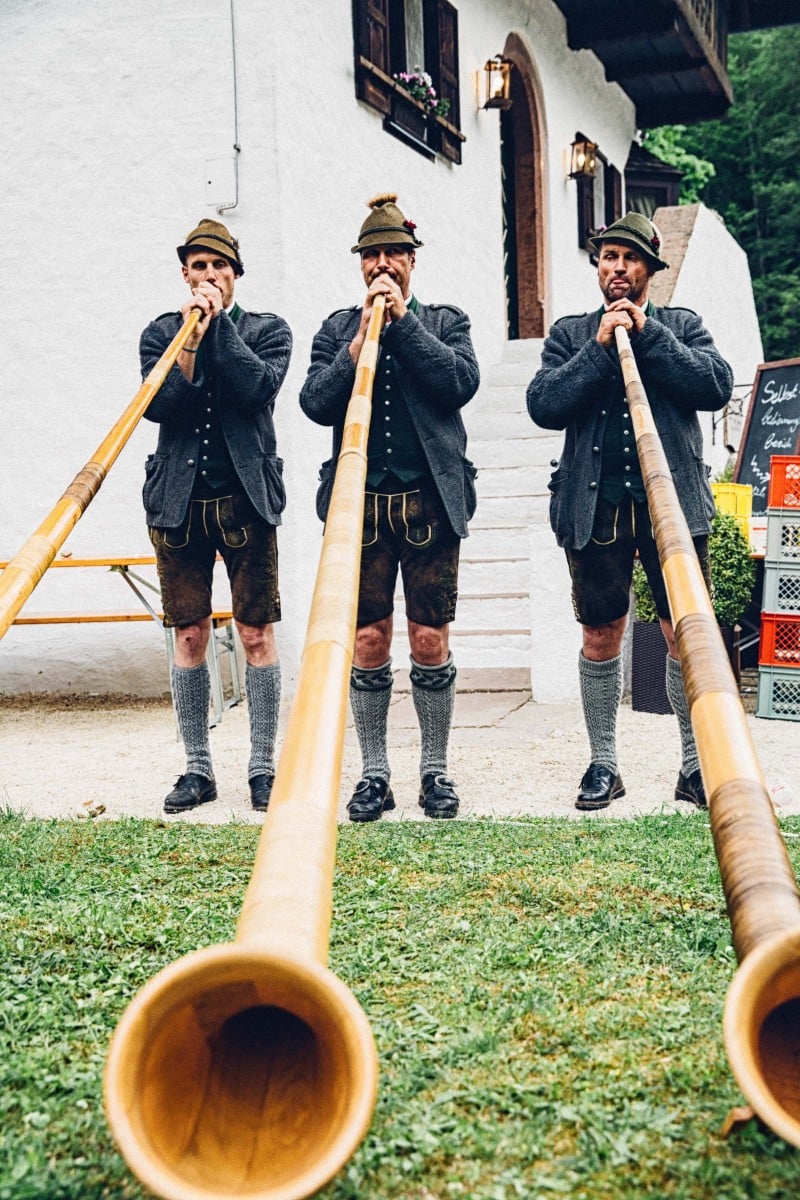 If you really want to strut your stuff in your best rented lederhosen and dirndl, there's no better place than Lederhosendonnerstag. A weekly excuse to strut around in leather shorts, it takes place every Thursday at roving locations, with a live DJ, plenty of food, and even more beer. If you really get in the spirit, have a go at an alphorn. Or, even better, take the fantastic yodelling lessons, best enjoyed with a beer close at hand.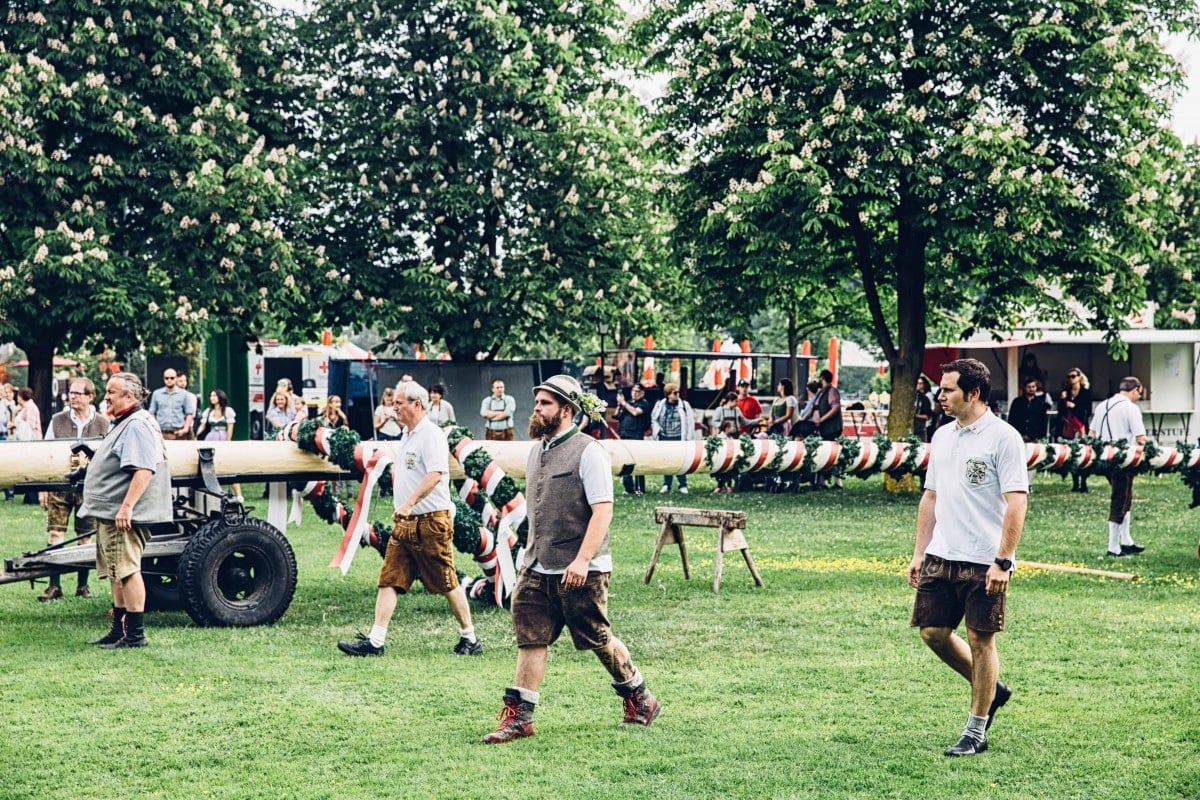 Salzburg is a fantastic city for a visit. If beer isn't quite your thing, there is the lovely city centre, a beautiful countryside, and many iconic locations from the Sound of Music. Whatever your reason, there's plenty to enjoy in this charming city in a beautiful country.