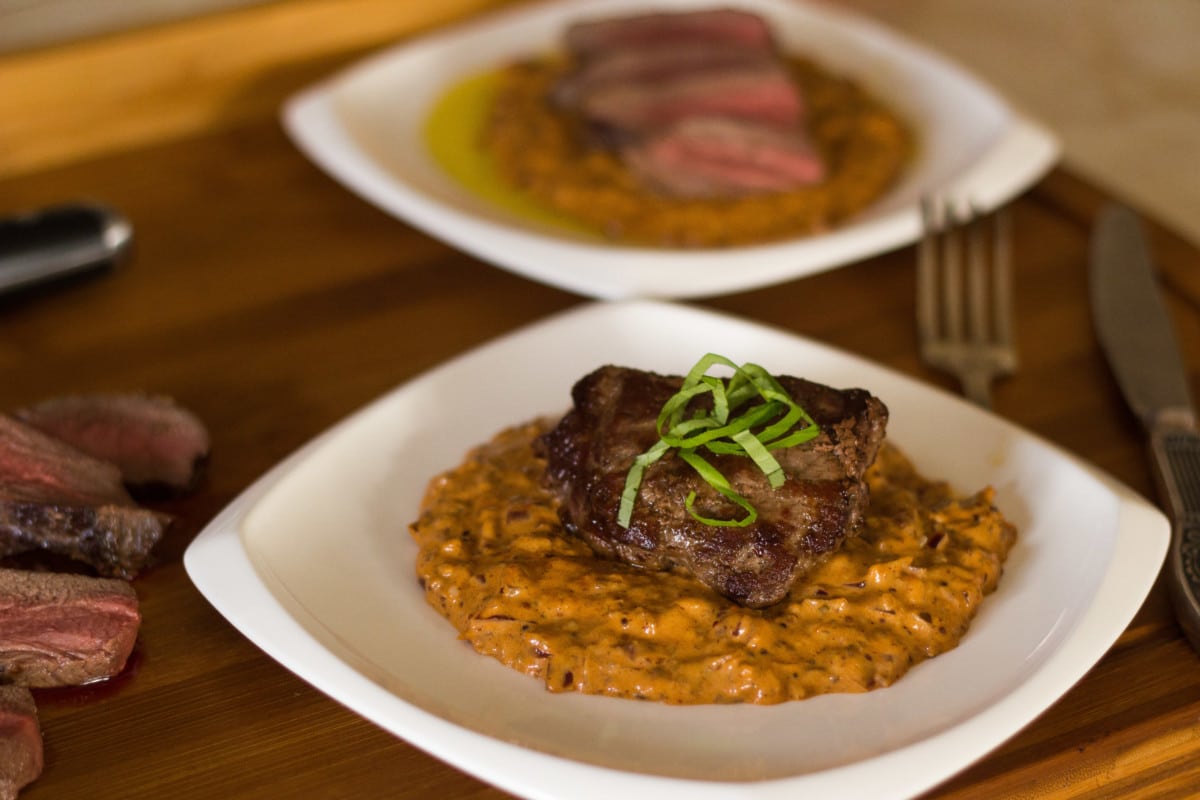 Those of you who follow my blog know that I recently acquired a rather unusual selection of meats with some of the items being entirely new to me. Although I've never cooked venison before I am not a complete wild game virgin. Brad and I spent our honeymoon in a cabin in the middle of nowhere in Northern Ontario that was graciously offered to us by my parents -in-law's friends. When we arrived there we discovered another present inside the cabin- a freezer stocked full of meat, venison and moose, perfectly suited to the surroundings. I had no idea all kinds of delicacies like steaks, pepperoni and sausages could be made out venison. I grew up in Russia and in a very urban setting, the wildest thing I'd eaten up to that point was a stewed rabbit!
I loved the taste of venison but didn't have a slightest idea of how to cook it, so I approached this challenge with a lot of research. I poured over hundreds of recipes on the internet to find the perfect one and get inspired until I stumbled upon Venison Steak Diane on Honest Food website. I am not going to lie to you that the main draw for the recipe was the picture! I really hope you will feel the same about mine:-).
What was keeping me from starting immediately was the name. Steak Diane had a firmly planted association in my head with an old and tired recipe from the 50s that no one would get passionate about. However, that opinion quickly changed when I learned that the name for Steak Diane didn't come from some old lady named Diane who invented the recipe in her 1950s kitchen but Roman mythology and one of their goddesses Diana, who was a huntress. The sauce itself originated in the turn of the 20th century France and was invented for venison, not beef. It'a classic for a reason! That convinced me to give it a try. That, and the short and simple ingredient list.
Ingredients: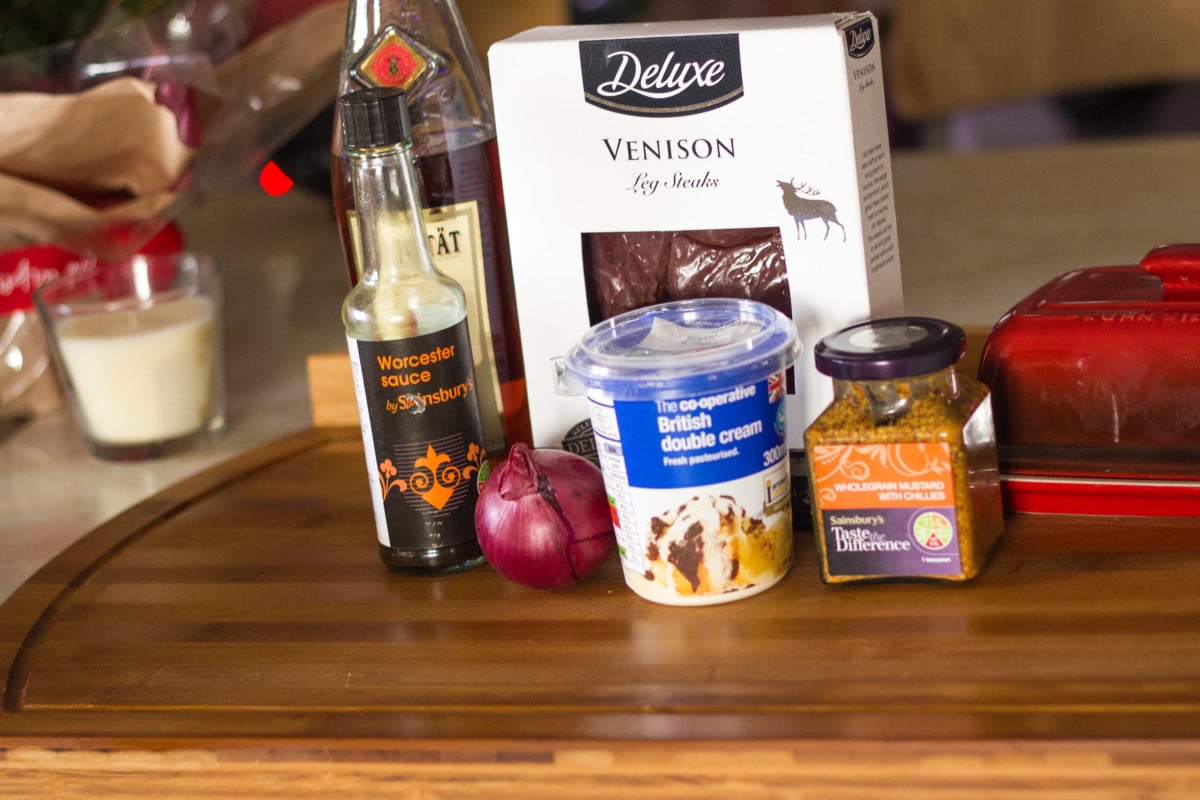 Venison steaks-400gr/1 lbs
Onion-1 small
Garlic-2 cloves
Worcestershire Sauce-1 tbsp.
Whole Grain Mustard with chilies (chilies optional)-1tbsp.
Tomato paste-1tbsp.
Butter-2 tbsp.
Double cream/heavy cream- ¼ c.
Beef stock-⅔ c.
Brandy (or any white wine or whiskey you have on hand)-¼ c.
Basil for garnish- 2-3 leaves sliced
Method:
Take your venison out of the fridge and bring it to room temperature for about 20-30 min. Pat the steaks dry with a paper towel. Melt the butter in the frying pan on medium heat and fry your steak until they develop a brown crust on both sides. It took me about 6-7 min. on one side and 3-4 on the other. They will be pleasantly browned on the outside but won't cook all the way through provided your steaks are 1.25- 1.5 inches thick. Remove the steaks from pan and allow to rest on a plate, cover to keep warm.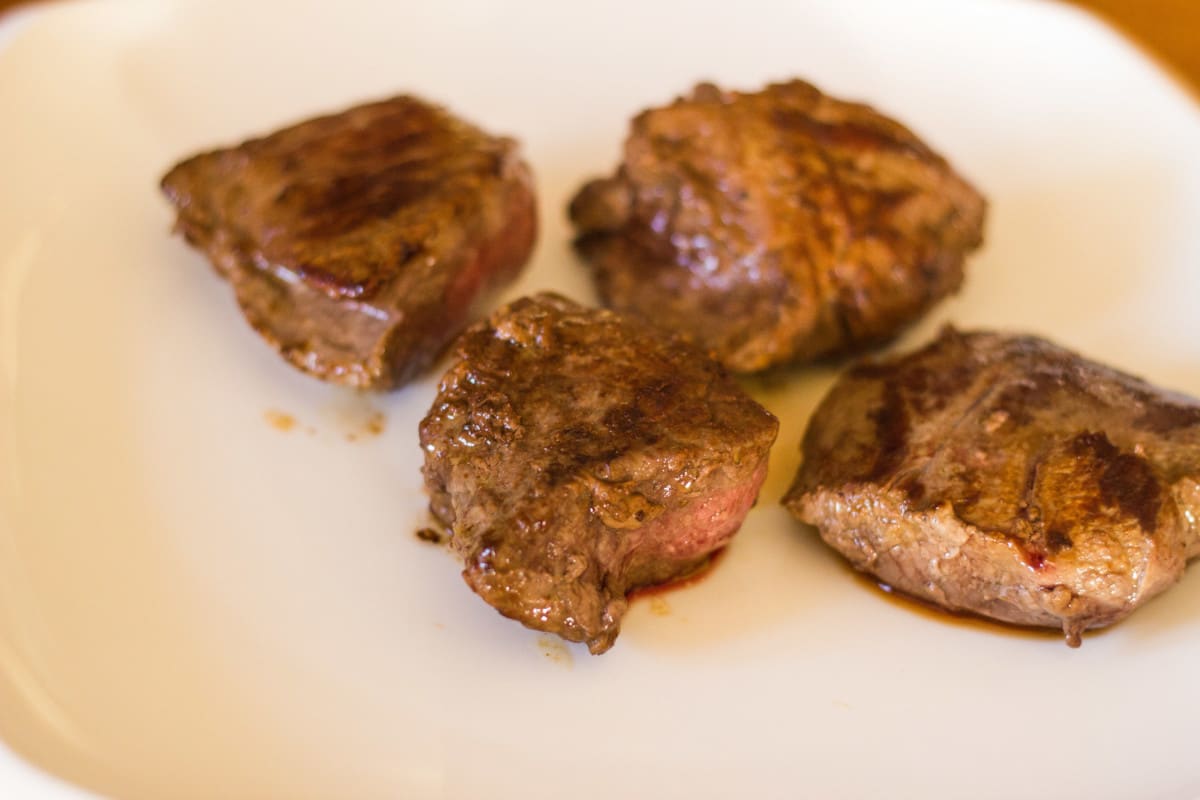 While your steaks are frying, dice the onion quite finely and saute in the same pan for 2-3 min, then add minced garlic to it and continue sauteing while stirring constantly as garlic burns quickly and turns bitter for another 30 sec.
Add your brandy or whatever alcohol you are using and let it cook for 4-5 min so it's reduced and the spoon leaves a trail on the pan when you stir. Brandy is not essential to this recipe but adds complexity to otherwise a very simple sauce. I usually never have brandy on hand but as you can see from my previous post I bought a bottle for my homemade eggnog which was another proof the recipe was meant to be!
Now add tomato paste, Worcestershire sauce, mustard, beef stock, a pinch of salt and pepper to the sauce and cook it until thickened and looks like this…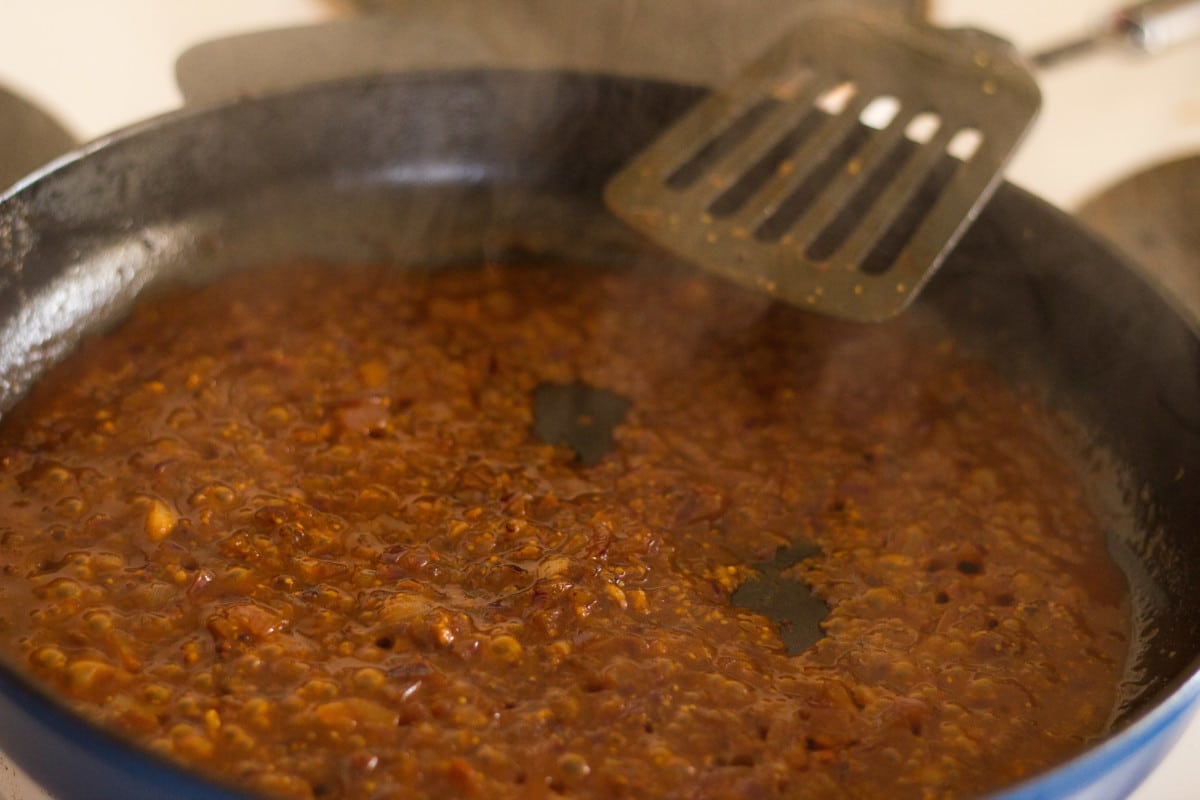 Take your sauce off the heat and wait a bit until the bubbles calm down. Now add cream to the sauce until it looks pretty. Yes, that's exactly how I decide on the amounts of cream in everything-from my coffee to apparently sauces. I like this colour…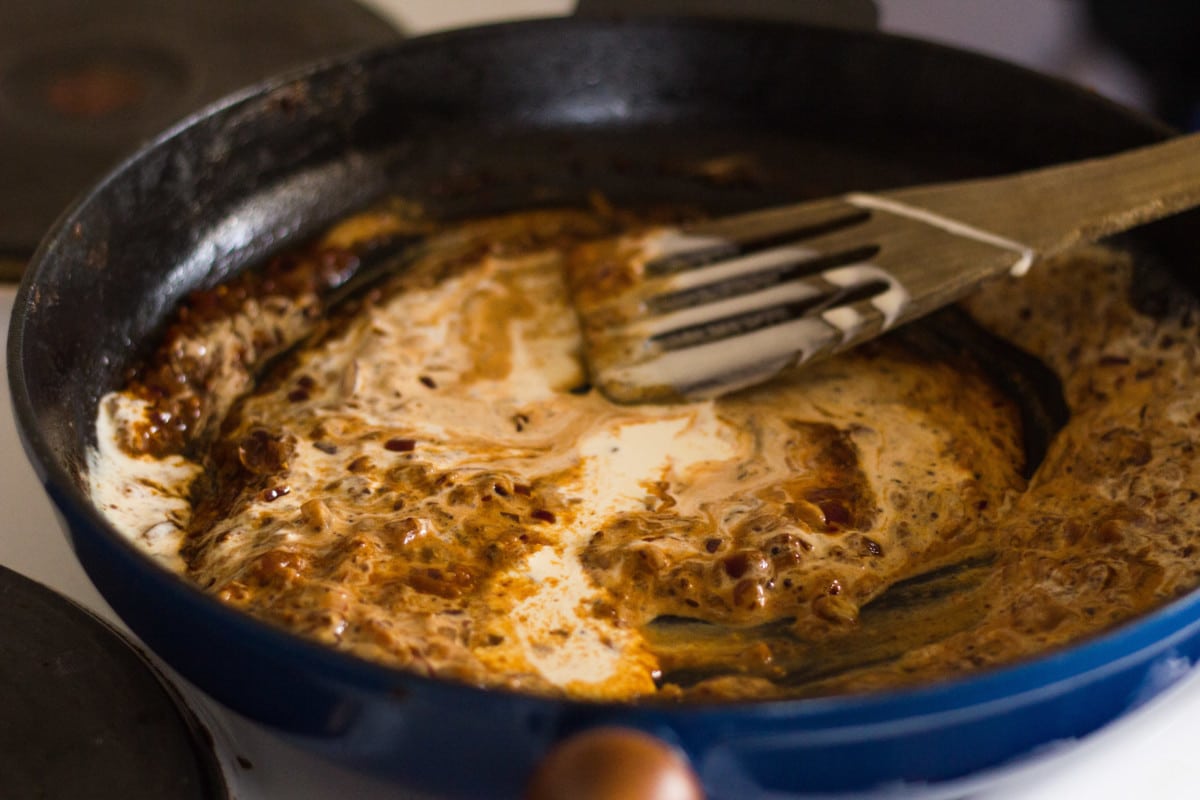 Stir everything together to blend but don't put in back on the heat or it might separate and although it will still taste just as great it won't look nearly as beautiful as this…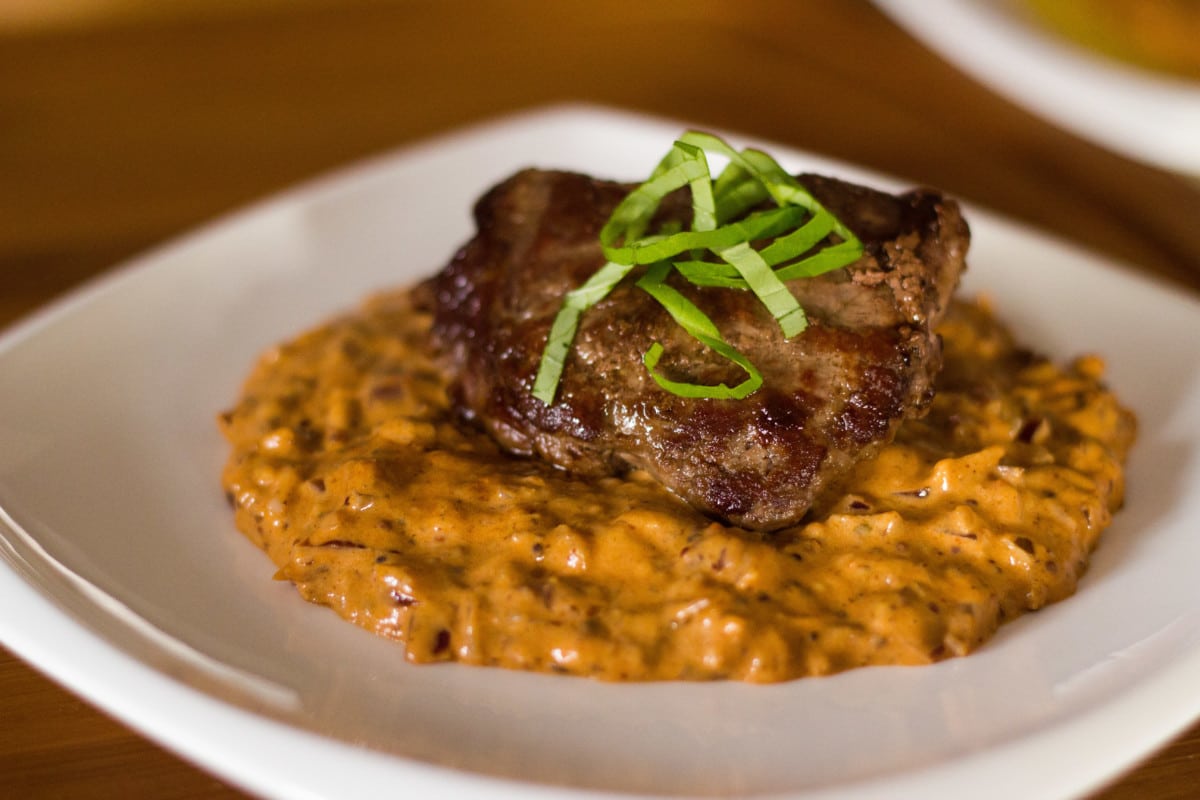 Are you hungry enough yet? You can serve your steaks whole or your can slice them in medallions.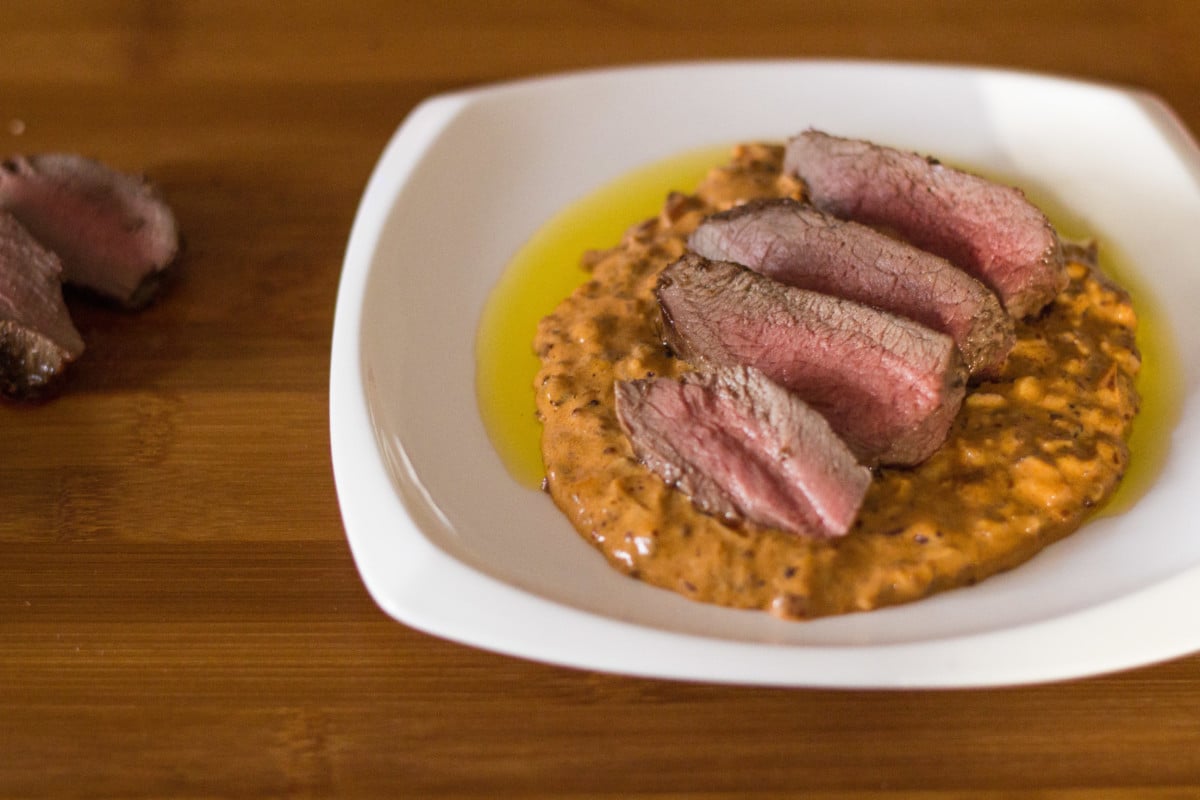 I was quite pleased with the way it turned out but I was also a bit under the weather and too busy taking pictures capitalizing on a brief moment of sunshine streaming through my kitchen window that it didn't even occur to me to taste the meat. It's steak, right? I've had steak before. The reason I went for a small mouthful is to bring variety to my shots and OH MY GOODNESS. All of a sudden, I forgot that I was sick and not hungry! The meat was so tender and flavourfulI had to immediately call for Brad, the main taste tester. Big mistake. It was gone in seconds.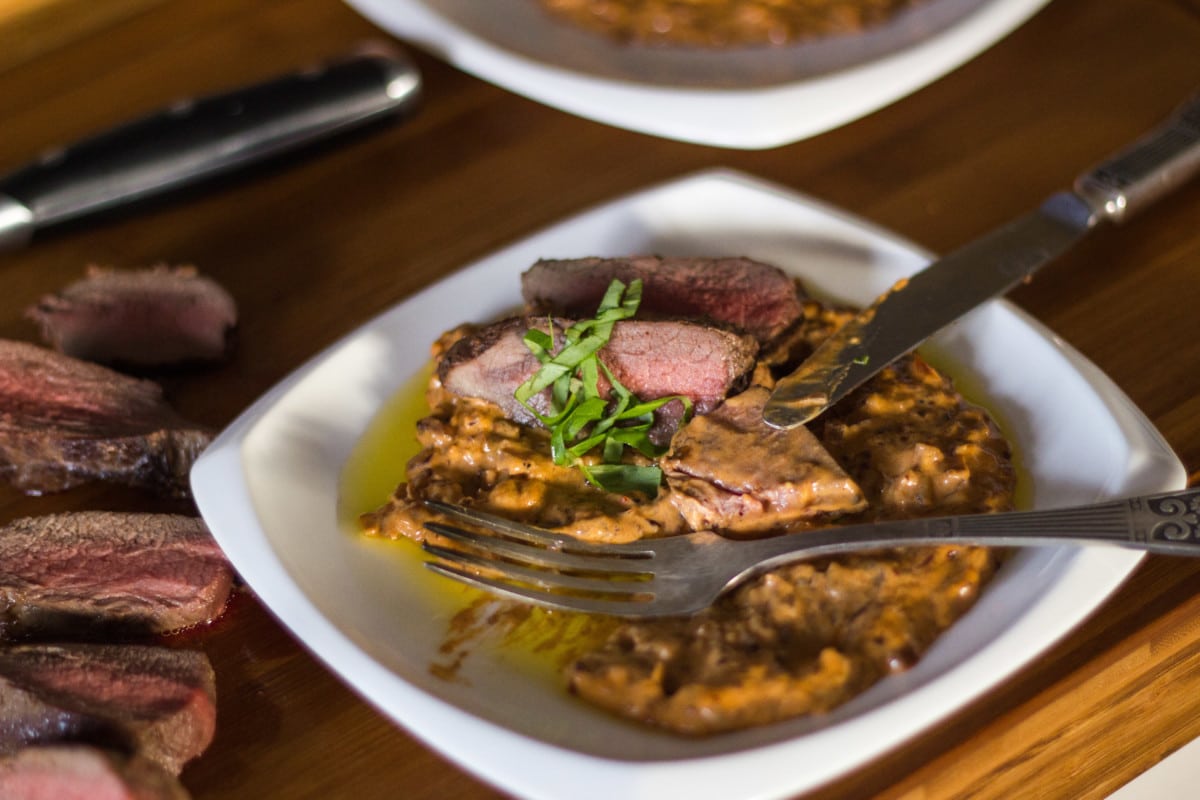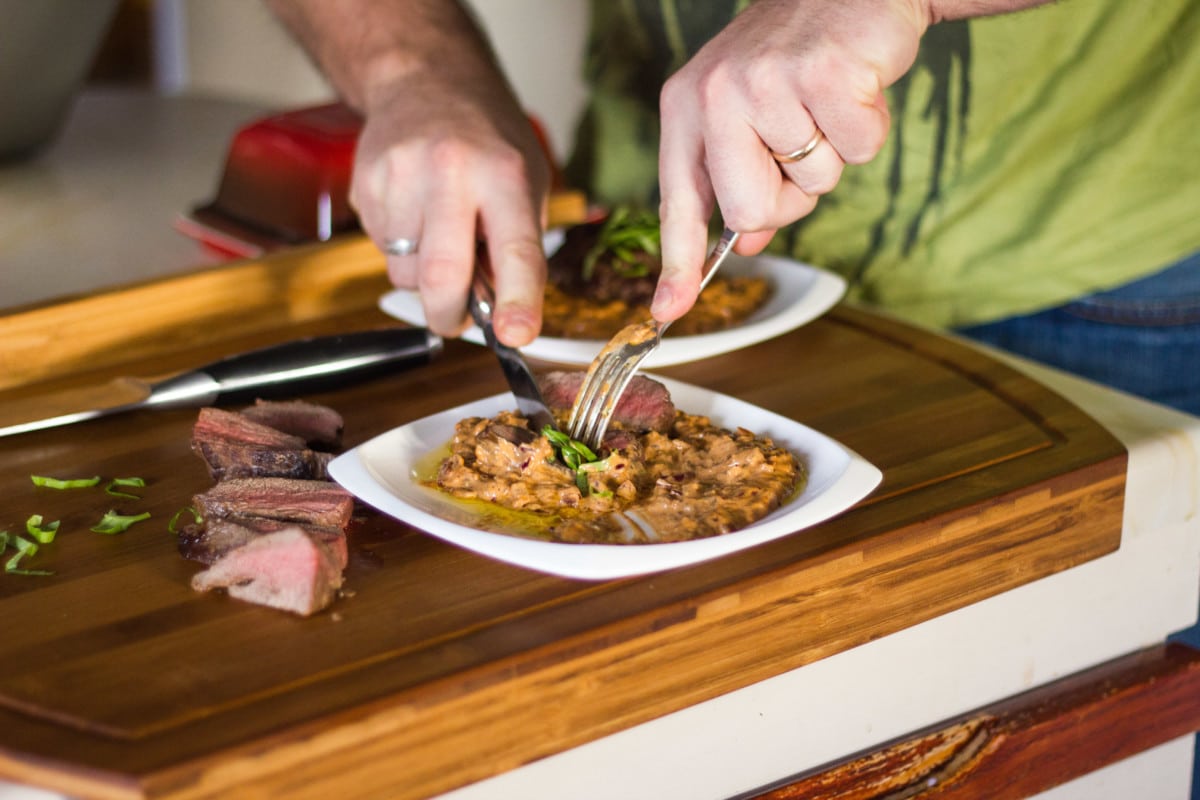 One last word about the garnish. Traditionally parsley is used to adorn Steak Diane. I didn't have any. I have a basil plant growing on my window sill, so used basil. It was outstanding. I wouldn't trade it for anything else. I love intentional substitutions and unintentional mistakes! Did you know that Worcestershire sauce was one of them? I love bold and creative people!
P.S. This recipe was adapted from the one here.
P.P.S. If you buy anything similar at a restaurant it would cost your at least £20! It cost me £2 per person!!