This Thai Seafood Noodle Bowl is light, spicy and so flavourful!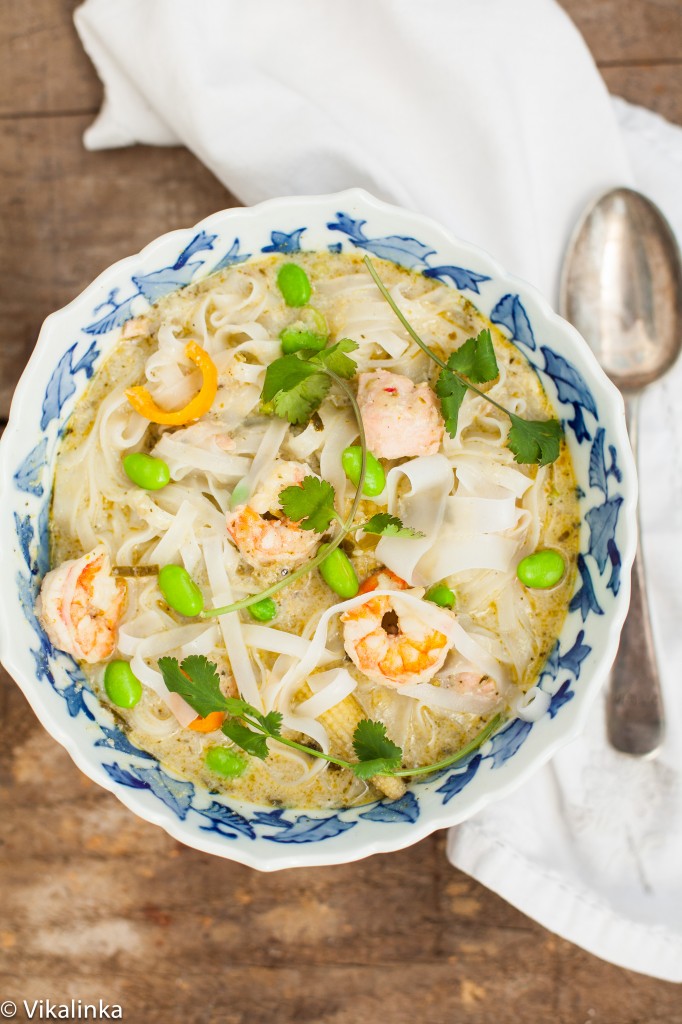 Happy Saturday! Am I ever happy weekend has finally arrived! It also doesn't hurt that it' so lovely out I am wearing a tank top. I've had an uber busy month at work but it's come to an end and I am celebrating today by cooking up a storm in my tiny kitchen.
No, I am not being sarcastic. I love spending time in the kitchen, so working far too much, battling a nasty cold and not having nearly enough time to blog as usual has been hard on me! To put it plainly, I missed you guys. 🙂
As I've mentioned above, having a full teaching schedule this past month has taken away my ability to cook and photograph food during the day when the lighting is plentiful. Of course, I still had to feed my family every night but I couldn't take pictures for the blog. The recipe I am sharing today was actually made on Thursday night. It was such a hit with everyone including the littles that I instantly knew I had to blog it. Lucky for me, there were leftovers and I was able to revive this tasty dish and photograph it in the morning! I am so pleased with myself. Can't you tell? This also proves how wonderfully this meal keeps.
If you are a Thai food lover this noodle bowl is for you- warm, slightly spicy and comforting that comes together in 20 minutes. I've struggled with consistently delivering healthy and balanced meals every night after a full day of work in the past. I am sure you know what I am talking about. It's difficult to face the "What's for dinner?" question night after night when all you can think of is stretching out on the sofa and maybe lesson planning for the next day.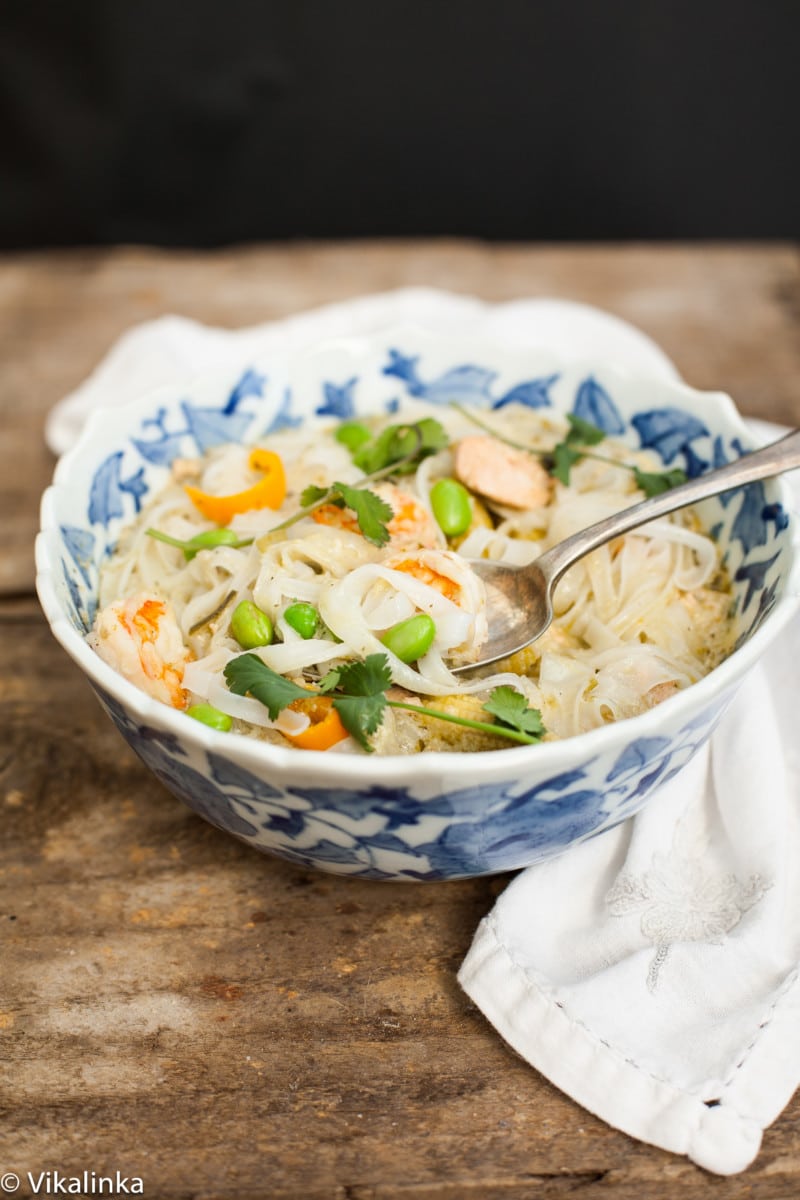 What I've learned is it's important to have a game plan for a week or at least for a couple of days ahead and know your shortcuts. Curry pastes and quick cooking protein like fish and shrimp are your best friends. All you have to do is to choose what vegetables to pad out your curry with and whether you want rice or noodles.
This noodles bowl uses a combination of shrimp and salmon because, let's face it, shrimp alone is pricy. I've also added baby corn, zucchini cut into matchsticks and edamame beans. Alongside some rice noodles this Thai green curry bowl is a flavour and nutrition bomb! It's got it all.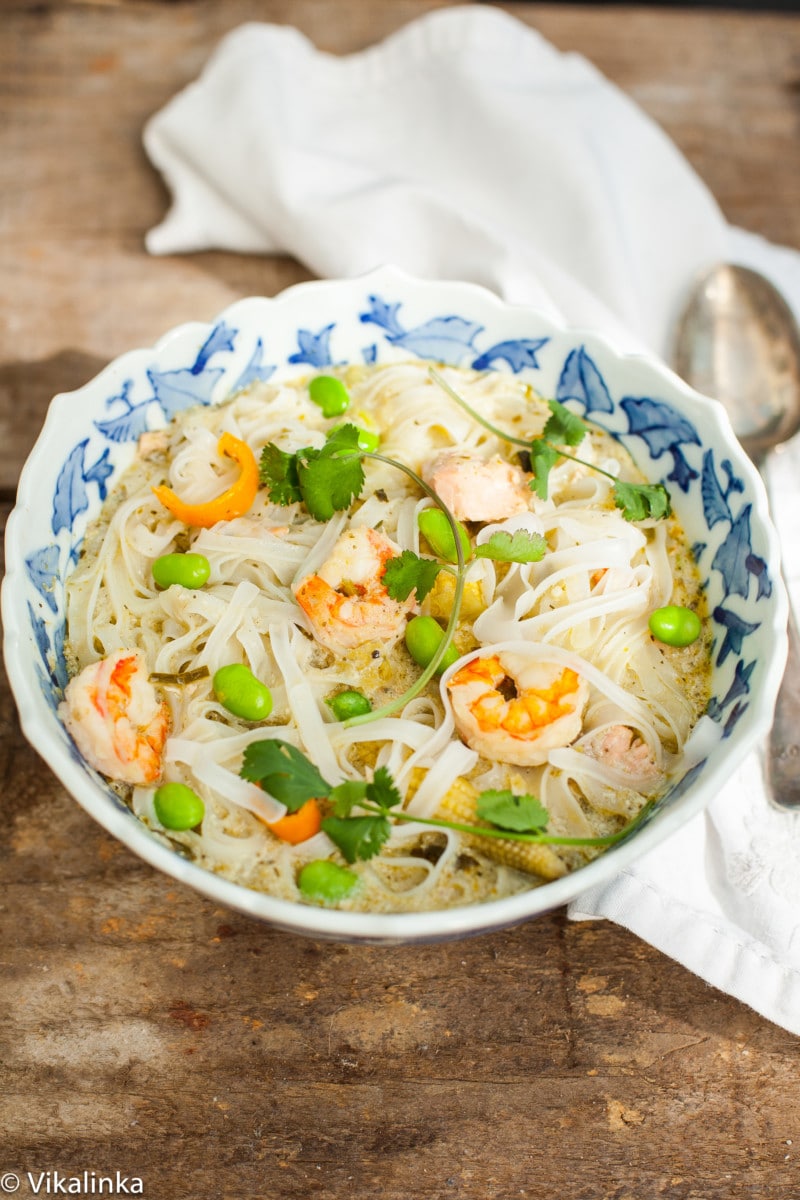 Ingredients
1

tbsp-oil

1-

yellow pepper

1-

zucchini

cut into matchsticks

1/2

bunch- cilantro

2

tbsp- Thai green curry paste if using thick concentrated paste

if using runny paste use 1/2 cup/190gr (for UK readers)

250

gr- shrimp

250

gr- salmon

cut into bite sized chunks

1

can/400gr- coconut milk

1

tbsp- fish sauce

1/2-

lime

juice of

10-

fresh baby corn

1/2

cup- edamame beans

shelled

250

gr- instant rice noodles
Instructions
Slice the bell pepper.

Take cilantro leaves off their stalks, chop up the stalks finely.

Heat a large frying pan on medium heat and when it's hot add vegetable oil.

Then add chopped cilantro stalks, sliced pepper, zicchini and stir fry for a couple of minutes.

Add your curry paste and cook it while stirring for a minute, then pour in coconut milk and fish sauce, mix to combine.

Add your shrimp and salmon, baby corn, edamame beans and cook for 3 minutes.

Meanwhile cook noodles in a large pot of boiling water according to package instructions. They usually take 1-3 minutes.

Stir in rice noodles.

As soon as shrimp turns pink and salmon opaque, turn the heat off.

Stir in cilantro leaves.

Taste your curry and squeeze some lime juice into it if needed.