This Russian eggplant caviar is a silky smooth vegetable spread. It is delicious warm or cold!
Serve as a side dish to any meat. Or as a snack on top of crackers or our Sourdough Bread.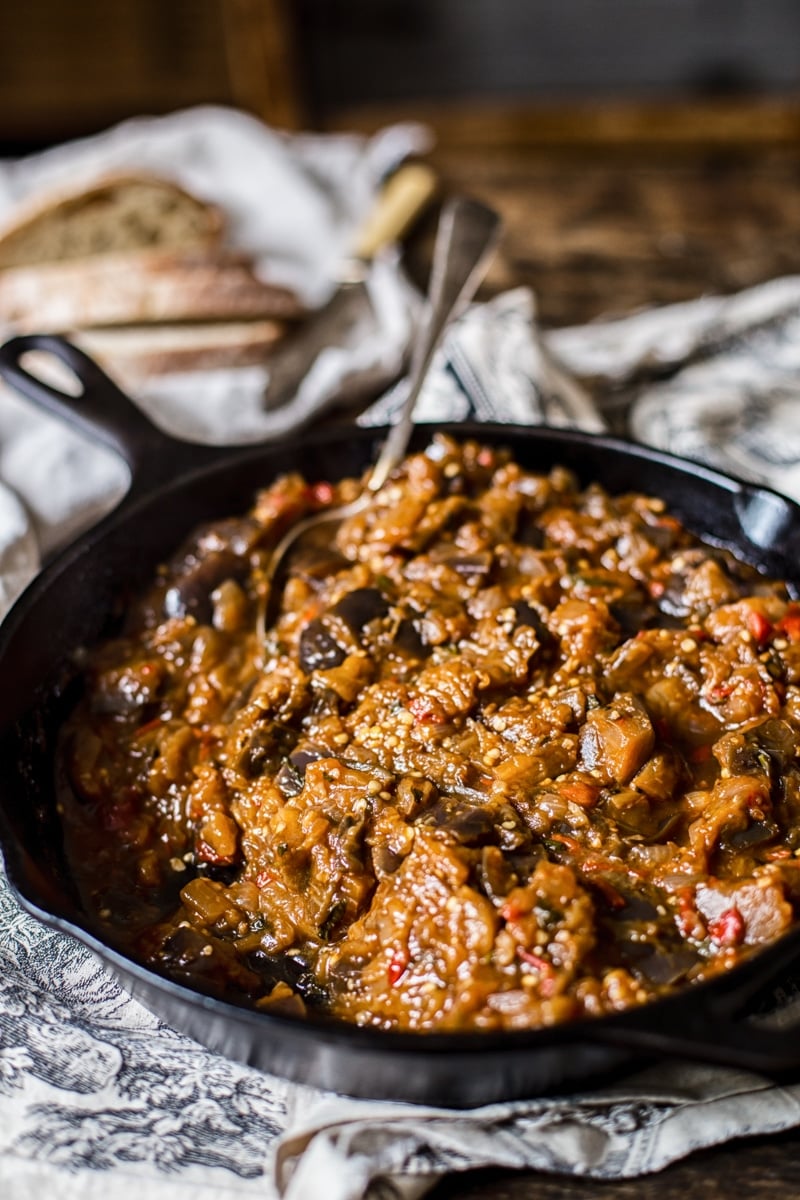 As I was looking through the photos I took I knew right away this eggplant caviar is going to be a hard sell for two reasons.
Not many people appreciate just how amazing eggplants could be, and the unattractive mushy nature of the photo above is not going to do me any favours. BUT…hear me out.
This Russian eggplant caviar is comfort food. It's how you'd want your vegetables to taste but often get disappointed. This vegetable spread NEVER disappoints.
The recipe I am sharing today is my grandmother's or at least a riff on what I remember it tasted like.
Eggplant caviar or 'baklazhannaya ikra' is a very popular summer dish in Russia and a handful of other Eastern European countries but every cook's recipe is slightly different.
Even my mother's and my grandmother's recipes varied. The main reason for so much variety in the method is availability of ingredients and personal taste.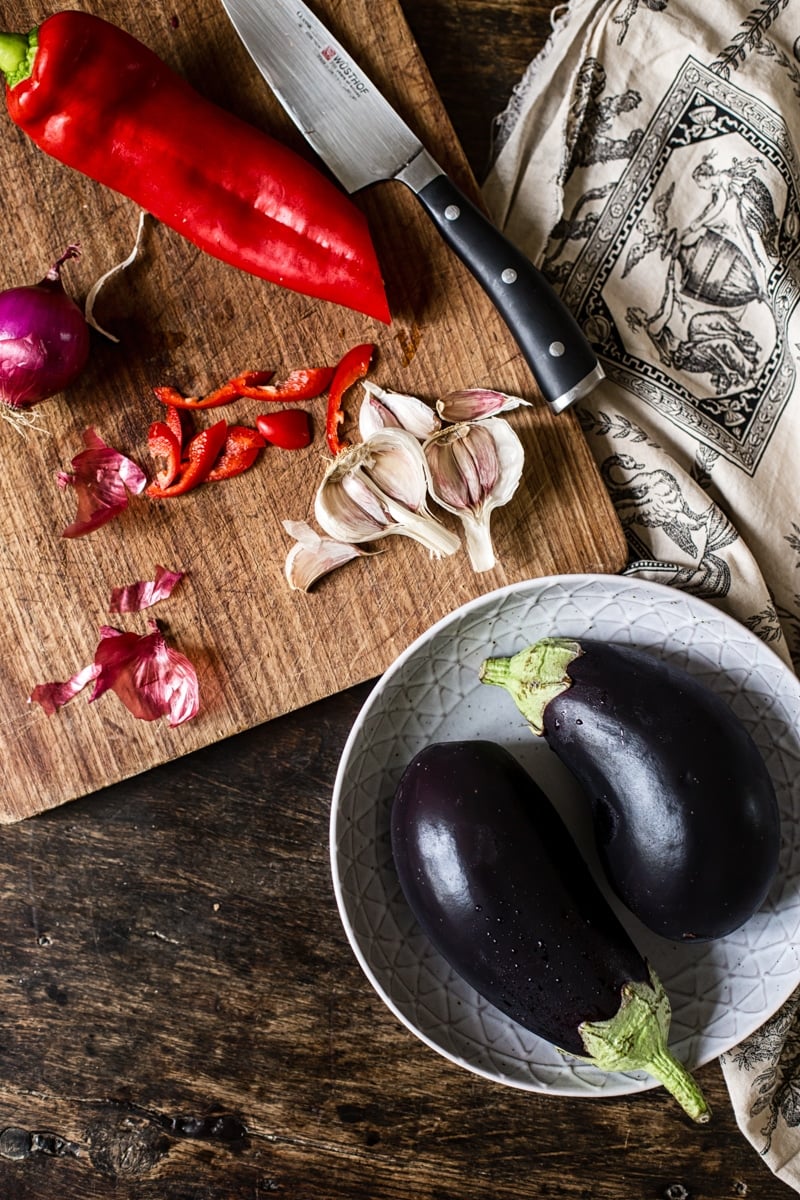 To this day Russian cooking is quite seasonal. People us whatever ingredients are available at the time. Home cooks are generally much more flexible about following recipes and definitely don't get stressed over exact measurements, which is both good and bad.
It's good because it encourages creativity and bad because if you want to get someone's recipe, you get the usual "put in this, add on that, mix it until it feels right". Yep, very vague!!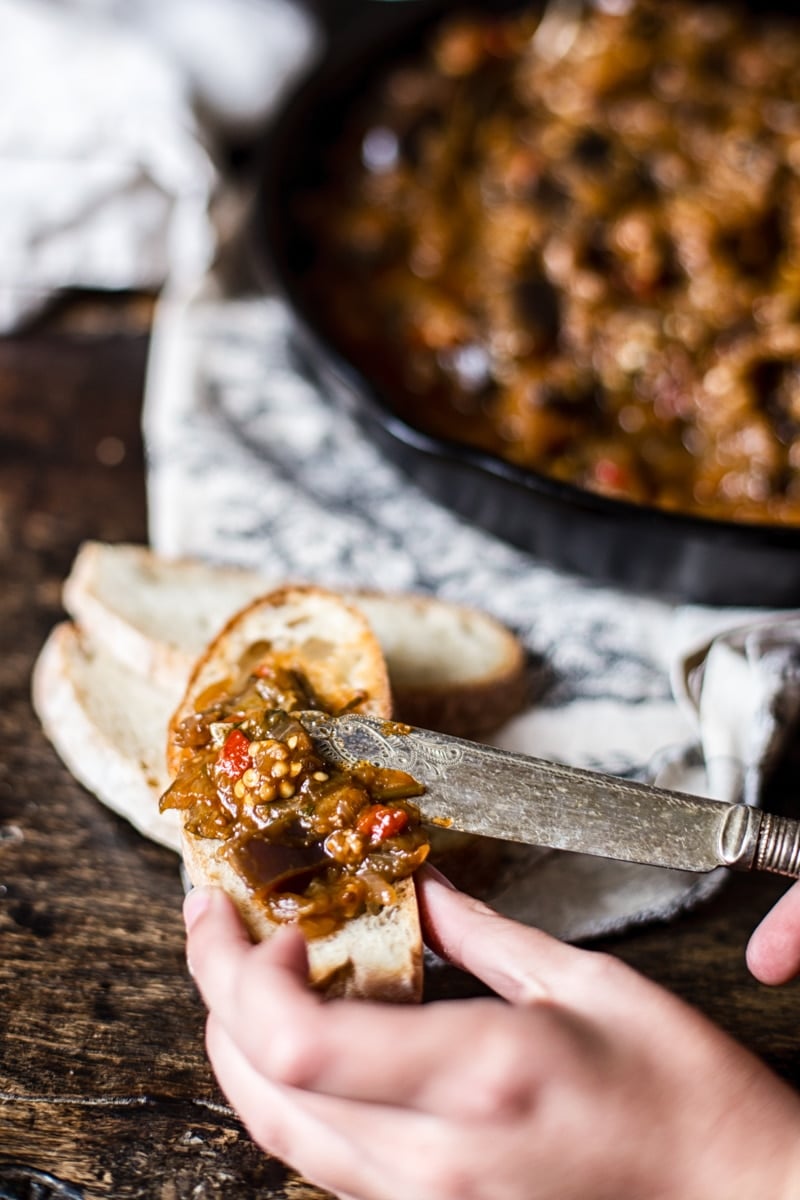 I often hear that Eastern European food is dubbed as 'bland'. And there is occasionally some truth to it but only when it comes to main dishes, which are rarely served on their own.
Meals are eaten accompanied by many sides like salads, pickles and ferments. Together they create a complex flavour that is far from plain.
What is Russian Eggplant Ikra?
This eggplant caviar ('ikra' in Russian) is one of those sides! It's a flavour maker. The eggplants are cooked with garlic, onions and red peppers over low heat for a long time until spongy eggplant collapses and turns into a smooth and silky spread. The eggplants become infused with all the delicious flavours, that are added to them.
Traditionally Russians don't add too many spices besides black pepper, dill and parsley. But my grandmother added cracked coriander seeds, which made her eggplant caviar incredibly fragrant and delicious if not slightly exotic.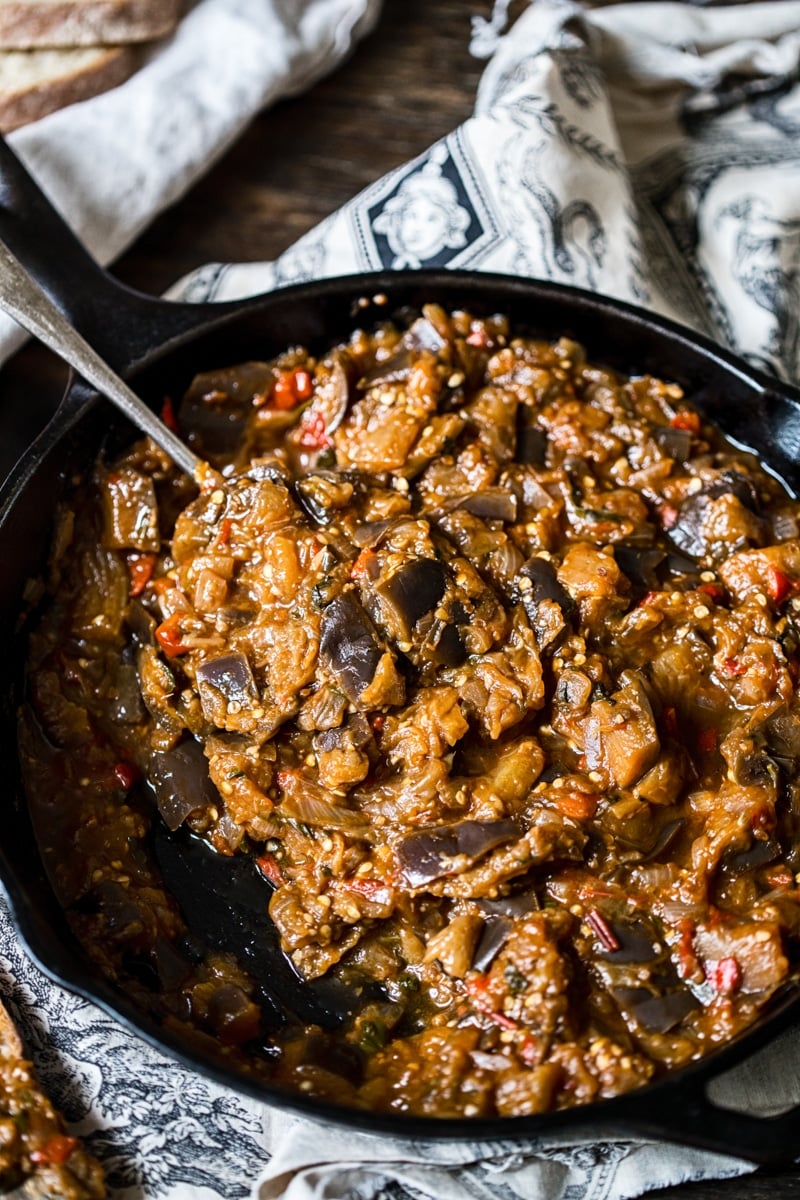 Favourite Eggplant Recipes to Try: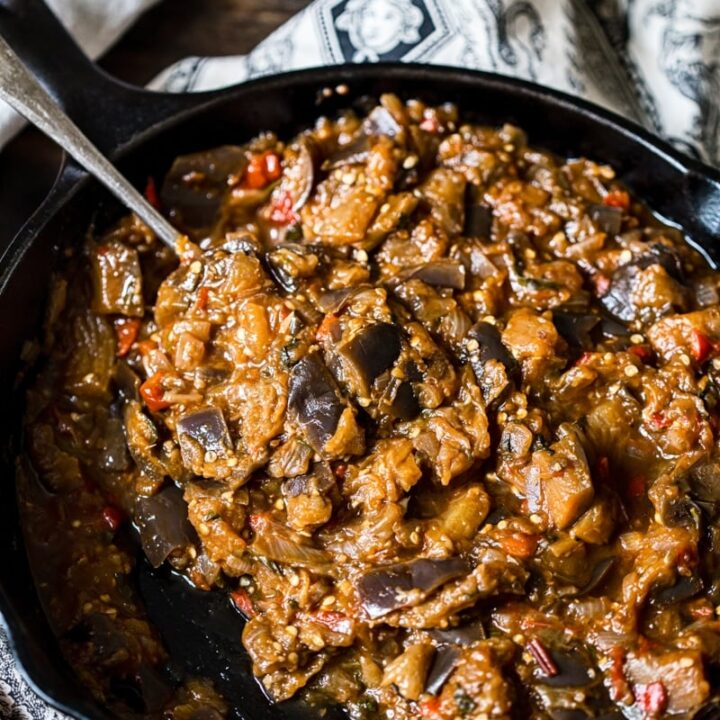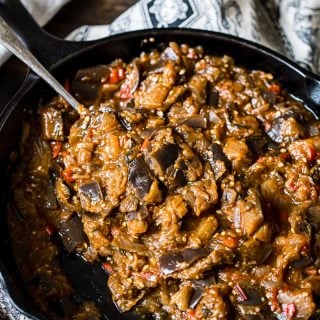 Ingredients
2

tbsp

olive oil

1

large onion

chopped

1

large red pepper

sliced

4

cloves

garlic

minced

1

tbsp

coriander seeds

cracked

4

medium eggplants

cubed

125

ml/ ½ cup tomato juice

2

tbsp

ketchup

10

g/ ¼ cup cilantro

chopped
Instructions
In a large cast iron pot heat olive oil, then add onions and red pepper and cook over low heat for 15 minutes until translucent but not coloured. Then add garlic and cracked coriander seeds (use mortar and pestle to crack coriander seeds), stir until the mixture is fragrant for approximately 1 minute.

Add eggplant, tomato juice and ketchup, stir, cover with a lid and cook on low for 1 ½ hours until there is very little liquid left and the eggplant is a spreadable consistency. Check on your eggplant caviar every 20 minutes or so and stir to avoid it burning to the bottom.

When the mixture has reduced considerably salt it to taste, then add chopped fresh cilantro. (If your eggplant still has a spongy texture at the end of cooking time, cook it for 20-30 minutes longer.)

Serve with bread or crackers.