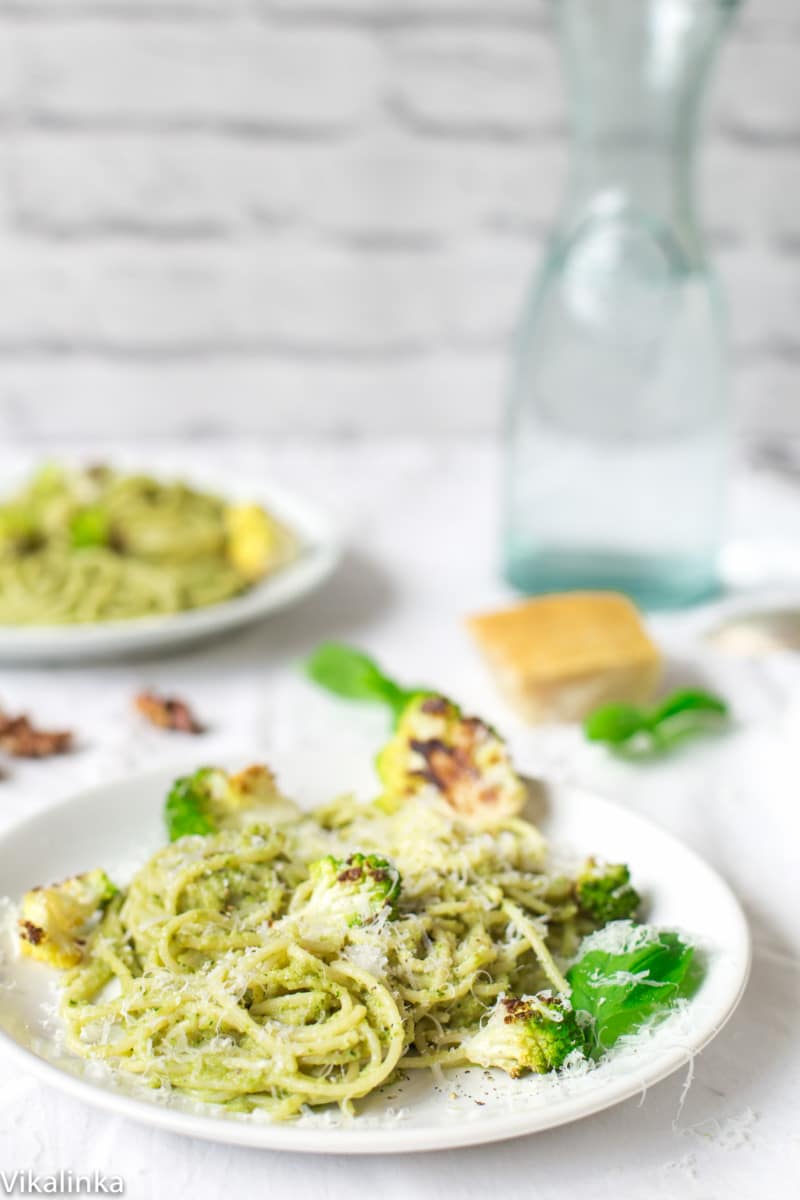 Can I please tell you about this spaghetti recipe that blew my mind?!! I wish it was mine but there is no way I am that good to come up with this treasure on my own. It was an adaptation from Delicious Magazine.
This Roasted Romanesco Cauliflower Pesto Spaghetti recipe is so easy and has so few ingredients it's truly amazing what delicious results it yields! My favourite thing is that an entire head of roasted cauliflower is blended into the sauce, so creaminess comes mostly from a vegetable rather than cream or oil!
I was at a grocery store picking up a few things when I ran into this gorgeous Romanesco cauliflower and I knew I had to buy this lime green beauty with the most incredible floret pattern although I already had a normal white cauliflower waiting for me at home.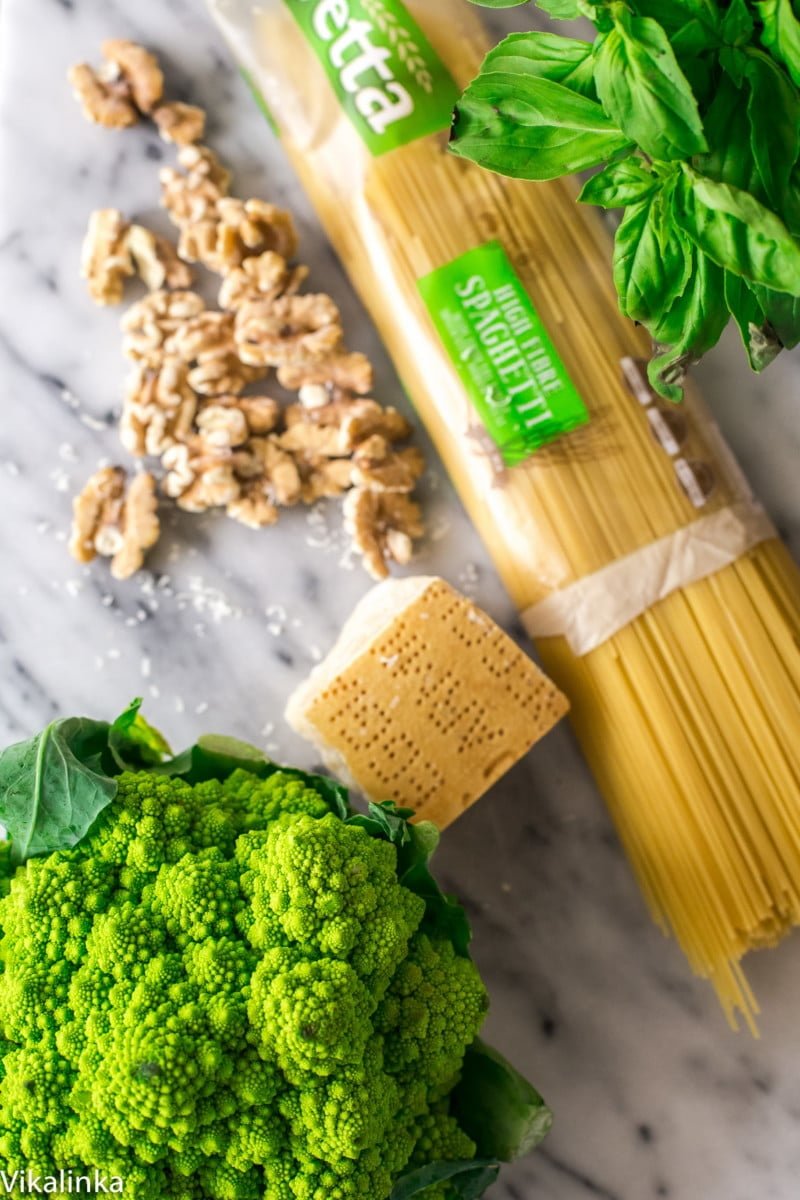 The advantage of Romanesco cauliflower over the regular one, apart from the obvious win in the beauty department, is its lack of the slightly bitter taste the white cauliflower has, which makes it far more popular with children.
If you love pesto this Romanesco pesto sauce will be your best friend! It couldn't be easier, just roast cauliflower and then blend all pesto ingredients in a food processor.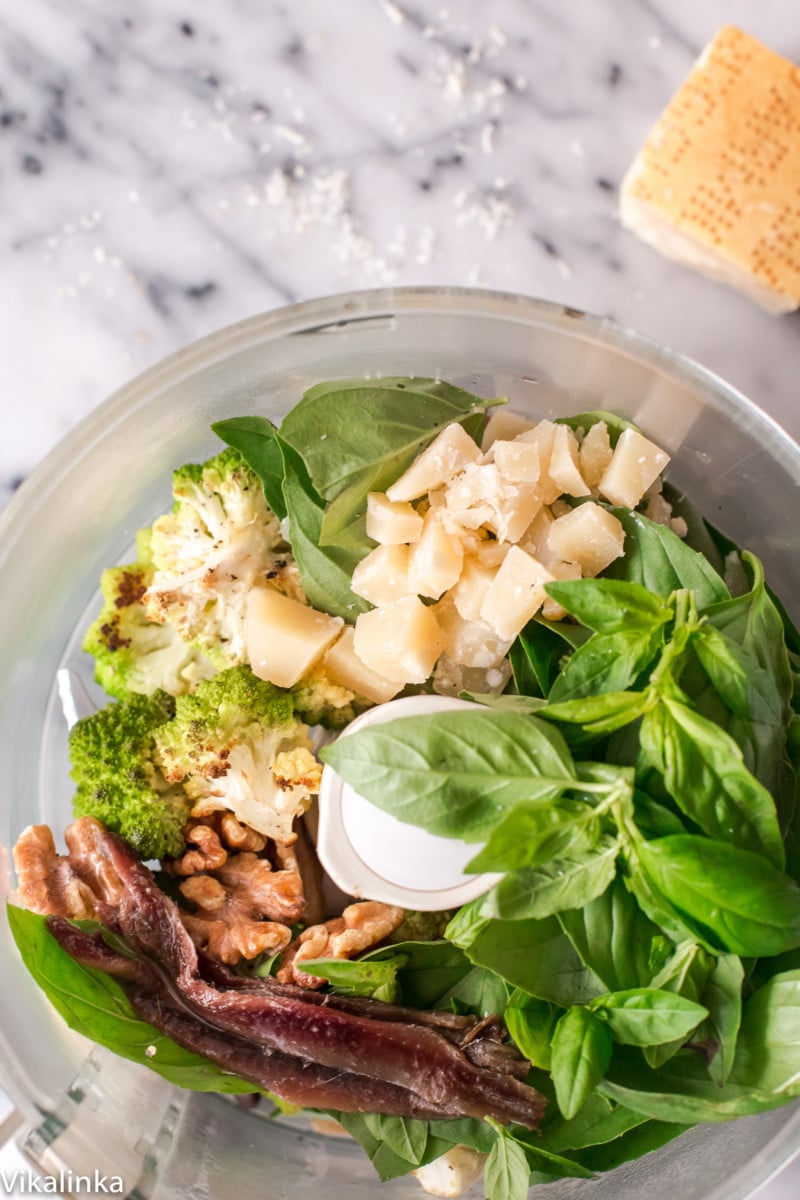 My only word of advice with homemade sauce is taste it for seasoning and add SALT!!
My first attempt at making my own pesto was far from successful but since then I learned that I hugely undersalted it. Yes, it's that simple.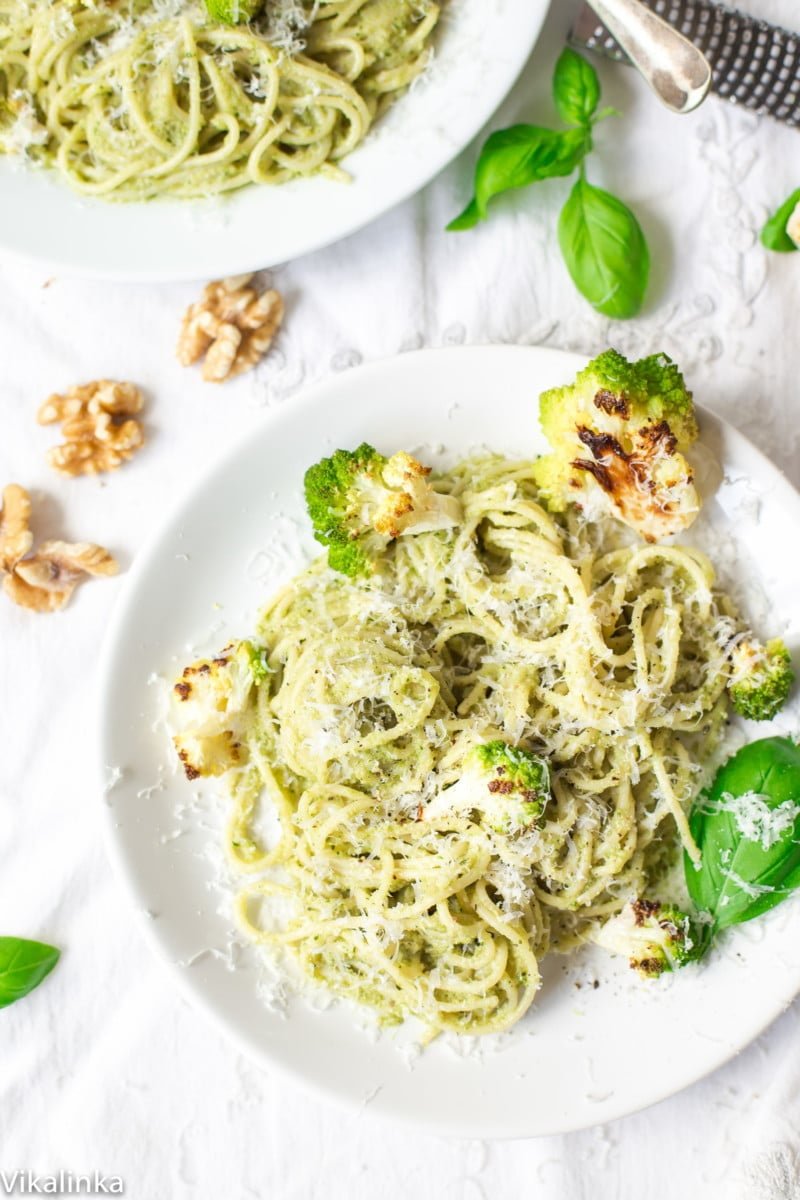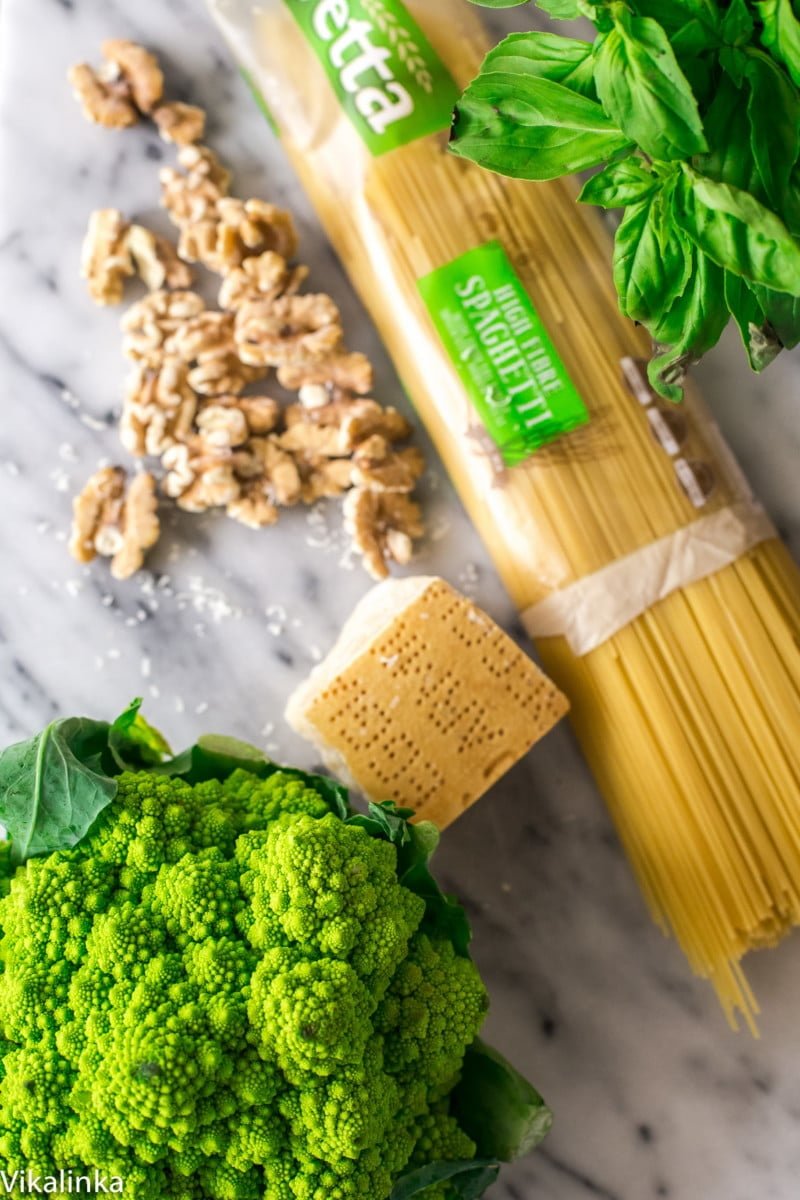 Ingredients
Ingredients for Roasted Romanesco Cauliflower Pesto Spaghetti
1

head of Romanesco Cauliflower

150

ml/2/3 cup olive olive

good quality

30

g/6 toasted walnuts

30

g

parmesan cheese

cubed

large bunch of fresh basil

4

anchovy fillets

drained

zest and juice of 1 lemon

salt and pepper

1

lbs

Vetta High Fibre spaghetti
Instructions
Instructions for Roasted Romanesco Cauliflower Pesto Spaghetti
Preheat the oven to 210C/420F

Core Romanesco cauliflower head and break it into small florets, toss with 2 tbsp of olive oil and salt and roast in the oven for 15 minutes until cauliflower softened and looks slightly charred.

While cauliflower is being roasted, toast walnuts on a dry pan over medium heat for 2-3 minutes until fragrant.

Put a large pot of water on the stove and bring water to a boil, add 1 tsp of salt and cook spaghetti al dente according to the package directions.

In the meantime combine 2/3 of roasted cauliflower florets, walnuts, anchovies, basil and cubed parmesan cheese in a food processor and process until finely ground.

With the motor still running add olive oil through a shoot until the pesto is smooth. Stop the motor and taste the pesto sauce, add more salt, lemon juice and lemon zest and process for a few more seconds.

Drain the spaghetti and toss with the Romanesco cauliflower pesto sauce and reserved roasted Romanesco cauliflower florets.

Serve with extra Parmesan.