With a little help of a food processor this stunning Rainbow Slaw with Lemon Garlic Tahini Dressing is ready in 10 minutes!

A few days I go I did my main weekly food shop and I came home with an armful of stunning vegetables. In fact 70% of my shopping was vegetables. And not just the usual beans and broccoli. I got cabbage, beets, eggplant, romanesco cauliflower.
Don't you just love this time of the year! I think moving to England almost 7 years ago made me appreciate harvest time more than ever before, mostly because the fruit and vegetable supply in Europe is much more seasonal than in North America.
It's not possible to go to a supermarket in November and buy fresh cherries for your Black Forest Cake. I tried. "Seizing the moment" is quite important and so I did.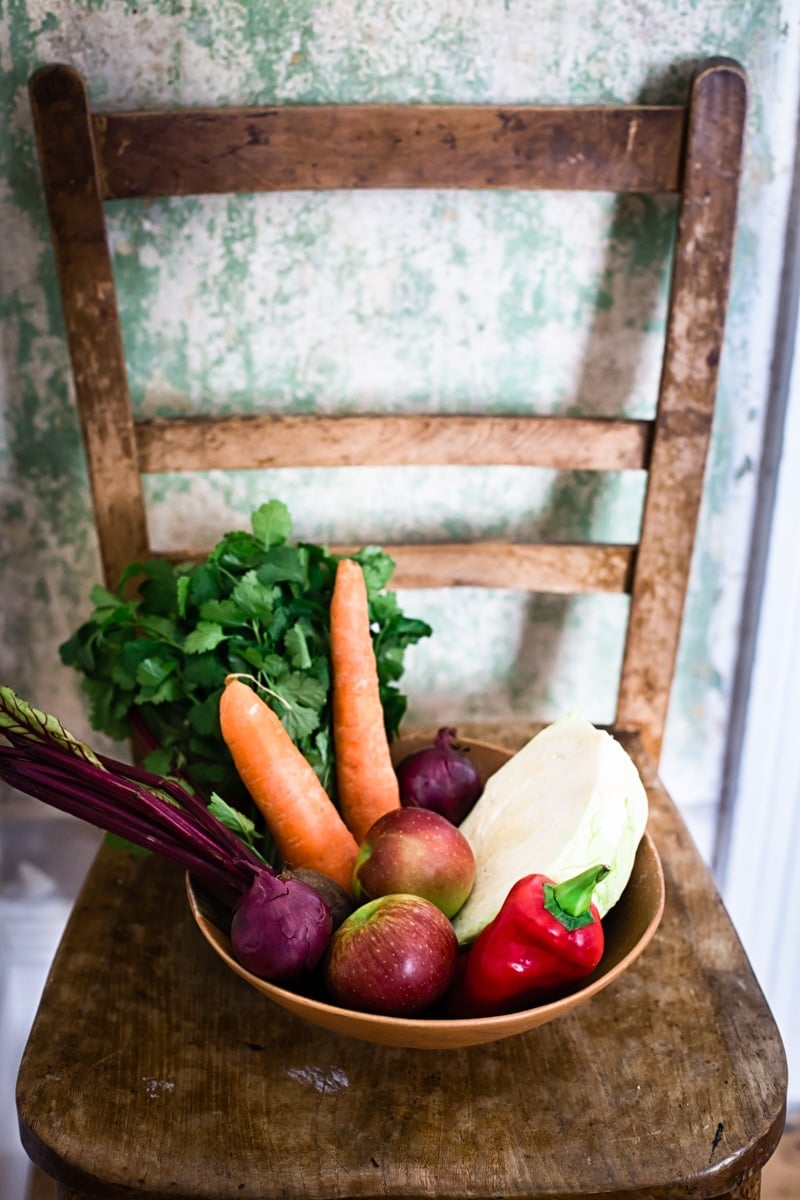 The idea for this rainbow slaw came to me at night. I have the flu at the moment and was tossing and turning in bed thinking about unpleasant things like taxes, the state of London transport and how it affects my kids school route, family health issues, you name it. And then my mind switched to food and just like that I was in my safe place.
I started thinking about what I would like to blog about this year (by the way, if you have any requests, please leave them in the comment section), and I knew I wanted to share more recipes using vegetables in a creative way.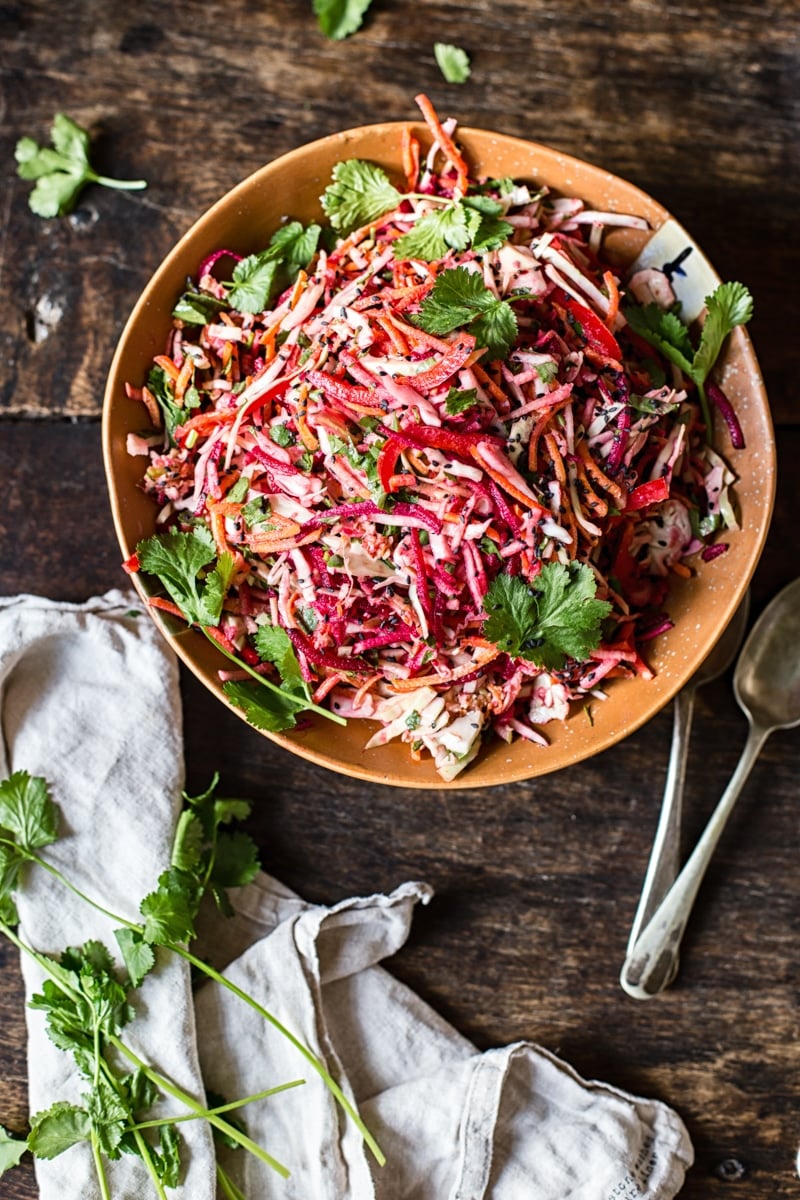 When I met Brad he barely ate any vegetables simply because he didn't enjoy them. He was 18. However, my kids are now 11 and 13, and my son routinely finishes off a salad from the serving bowl at dinner time after everyone else is done eating!
My kids love vegetables and argue over the last piece of broccoli or who got the bigger avocado half!
Watching my kids' relationship with vegetables and comparing it to my husband's when he was a child I've come to this conclusion…
How to get your kids to enjoy vegetables
There has to be a constant exposure to vegetables for kids and sometimes adults to fall in love with them.
Vegetables have to be treated with the same care in recipe development as meat. They have to be prepared in a way that is appealing, innovative and delicious.
By the way, Brad is now a huge vegetable lover and often asks me for vegetarian meals.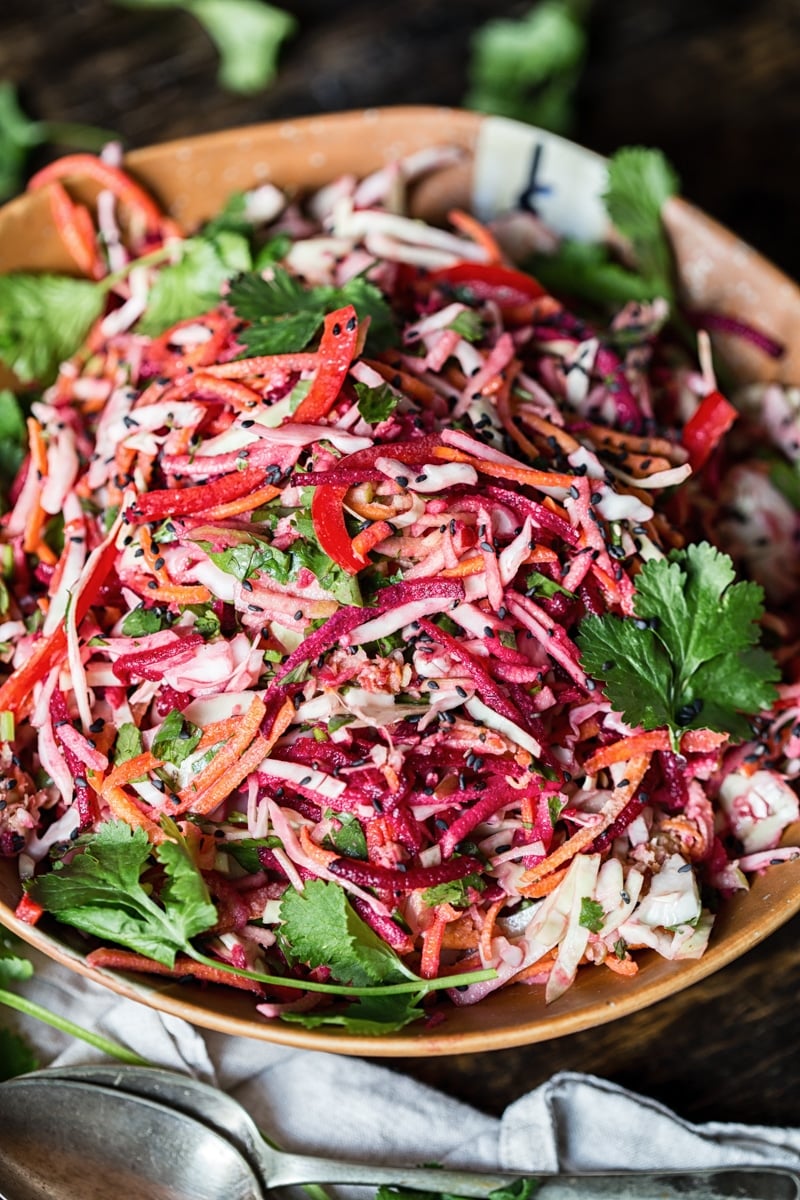 Time saving tips for making this Rainbow Coleslaw
I am sure I won't be the only one thinking that one of the main things that deters us from cooking this way is vegetable prep. It takes a while to peel and cut them, doesn't it!
That is why I am such a huge believer in the right equipment for the kitchen. I don't love gadgets but I do love useful appliances like a food processor. I sometimes call my MagiMix my sous chef. It is not an exaggeration to say I use it daily.
This pile of vegetables took a whole FIVE minutes to turn into a slaw. Why would you buy a store ready-made mix that costs double and comes out dry or, worse yet, discoloured!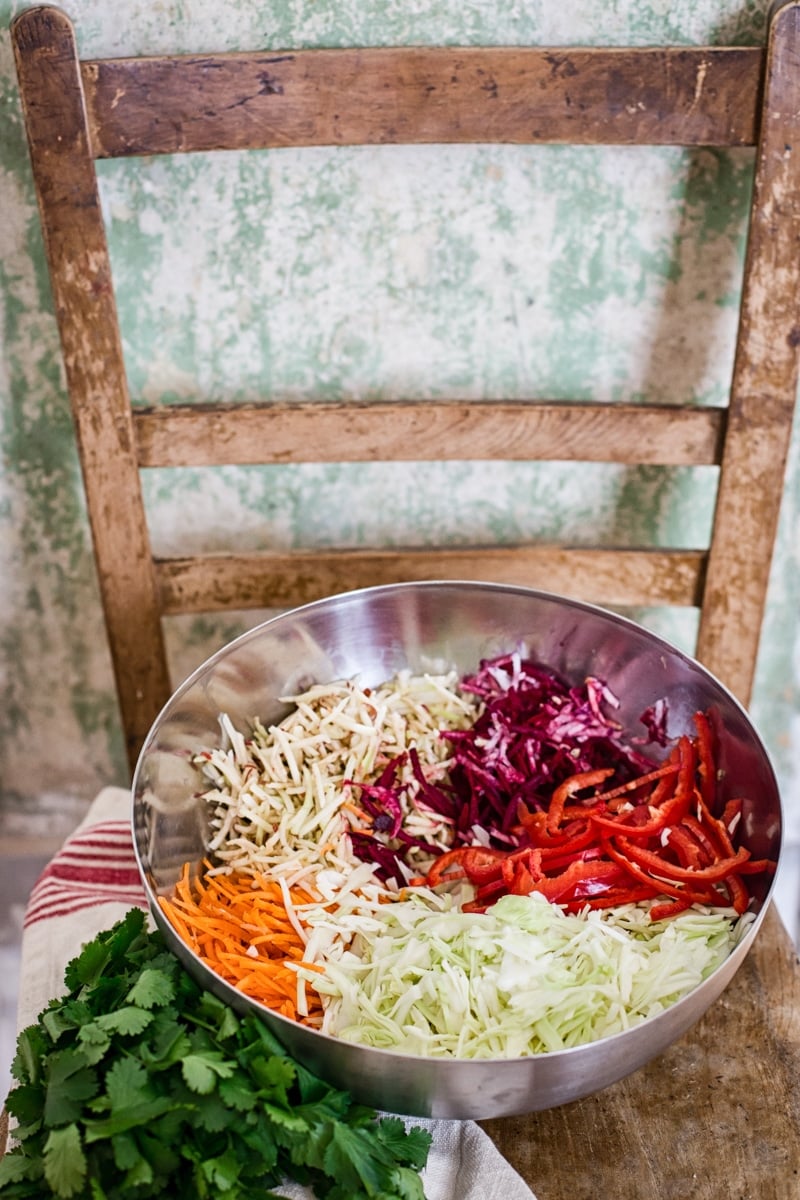 How do I make a delicious Rainbow Slaw
I used vegetables that I had at home and also a combination that I find delicious but what YOU put in your slaw is entirely up to you! Just make sure you mix lots of colours together for a visual appeal and an added health boost as different coloured vegetables are rich in various vitamins and minerals.
One last word about beets, or beetroot as it is called in England, that polarising vegetable that people either love or hate.
If you love it, you are already with me but if you hate beets, I suggest trying them raw as they are in the rainbow slaw. Raw beets are delicious in salads and taste surprisingly similar to carrots!
What can I do with leftover Coleslaw?
This recipe makes a lot of rainbow slaw. Use leftovers to fill your sandwiches, paninis, wraps or to top your pulled pork!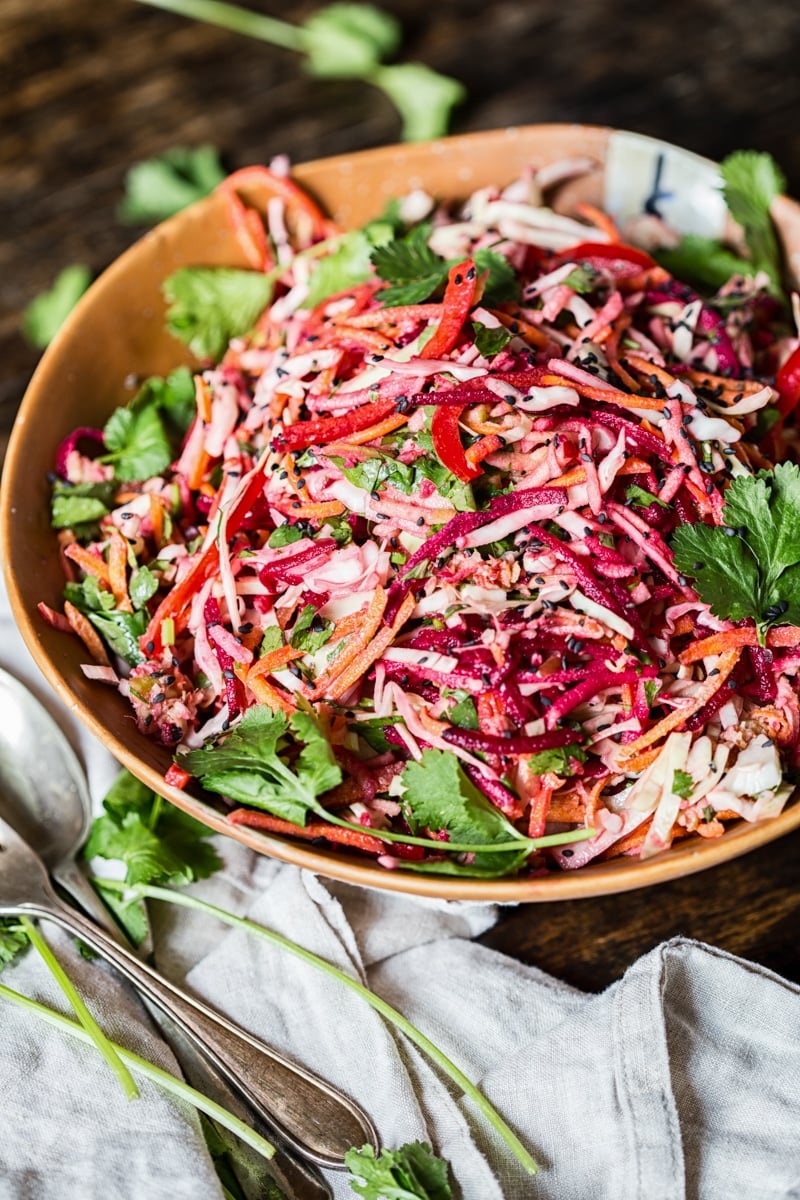 Ingredients
For the rainbow slaw
½

small white cabbage

core removed

1

large red pepper

2

apples

1

beet

1

small red onion

1

large carrot

a large bunch cilantro/coriander

chopped
For the lemon garlic tahini dressing
⅓

cup

tahini paste

1

tbsp

olive oil

1

garlic clove

crushed

1

lemon

juice of

4-5

tbsp

cold water

salt to taste

black sesame seeds

optional
Instructions
Fit your food processor with a slicing blade and cut cabbage and red pepper using it.

Wash and scrub all the vegetables well but do not peel. Remove the ends from beets and carrots. Then switch to a large grating blade and process the rest of the vegetables. Alternatively you can use a sharp knife to cut the cabbage and red pepper and a vegetable grater for the rest.

Chop cilantro and combine all vegetables in a large bowl.

In a jam jar combine all the dressing ingredients but the water and shake vigorously to combine. Add water 2 tbsp at a time to achieve a desired consistency.

Add half of the lemon garlic tahini dressing to the slaw and toss gently to coat. Salt to taste. Sprinkle with sesame seeds. (Keep the remaining dressing in a fridge for another use.)