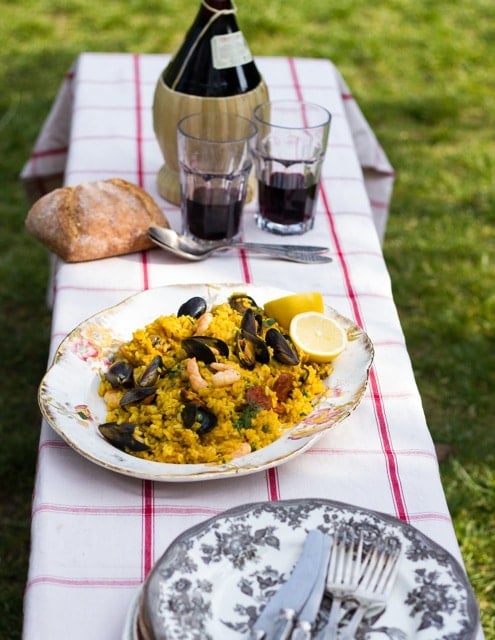 How often do you look at your life and feel contemplative about the course it's taken- decisions made, places visited and lived and food eaten? I seem to find myself reminiscing quite often as our life keeps charging forward with so many changes which leave me feeling desperate to hold on to every fun memory we've ever had. Those moments, of course, were often created around a meal. If the memories are really special wouldn't you want to re-create them?
This post is about one of those great memories which incidentally includes our good friend Paella Valencia. Although it is a friend now and shows up regularly for dinner at our house 10 years ago when Brad and I decided to go for a little getaway for our 2nd wedding anniversary neither of us ever heard of Paella. Here we were really excited to have a proper mini-holiday like two grown-ups, the feeling we promptly lost upon our check-in into a beautiful Victorian mansion Bed and Breakfast. Our first and definitely last stay in a B&B. We just couldn't escape the feeling like two teenagers staying at their spinster aunt house but also paying handsomely for it.  For the duration of our stay we were trying to avoid the all hearing ears of our eccentric and ever so curious hostess but alas we were lacking much needed ninja finesse to be successful. Venturing out to a fancy restaurant we had a voucher for made us feel even younger and more out of place. After surveying the menu for a couple of minutes we quickly realised that the place was far out of our price range even with the discount we were clutching in our hands. Well the decisions was made quickly. We simply ordered the  only item we could afford-the foreign sounding Paella Valencia and tap water.
That was my first introduction to the Spanish staple. It was delicious yet simple and achievable at home. No wonder it's been the country's hero among the peasants for generations and many consider paella the national dish of Spain. It gets its beautiful yellow colour from saffron, the world's most precious and expensive spice. The dish is as tasty as it is gorgeous- vibrant yellow rice punctuated with the colourful bits of red chorizo, pink shrimp, black mussels and green peas!
Paella Rice- 2 cups/500 gr
Olive Oil-1 tbsp.
Saffron- a pinch
Onion-1 medium
Garlic-2 cloves
Flat Leaf Parsley- half a bunch
Chicken Stock (homemade or prepared)-4 1/2 cups/1.2 litres
Chicken thighs (skinless and boneless)-4
Prawns- 1 cup/250 gr
Mussels- 1lbs/450gr
Chorizo- 250 gr
Frozen Peas- 1/2 cup
Lemon-1
Salt and Pepper to taste
I find it helpful to dice and slice everything that needs to be diced and sliced before we start our paella because once the heat is on you will be throwing things in quickly and won't have the time to do the prep. Chop up your parsley, slice chorizo and dice chicken into bite sized chunks. Also, dice the onion and finely mince the garlic. Heat the chicken stock.
Set a large pan over medium heat and put in the olive oil. Add the chicken, chorizo and parsley and stir everything together. Cook until the chicken is cooked, then add onion and garlic and cook for 3-5 minutes. Add rice, a pinch of salt and saffron and stir everything making sure the rice in coated in olive oil, cook for 3 minutes. I once watched Antonio Banderas cook paella on TV and he said that frying of the rice is what makes paella. Don't know about you but I trust the man with silky voice and charming Spanish accent.
Now pour in your hot chicken stock and bring everything to a boil, cover the pan with a lid and lower the heat. Cook for 15-20 minutes. When the rice is almost done but still a bit chewy add the prawns, mussels and frozen peas. Cook for 10 minutes longer, stirring occasionally so the paella is not sticking to the bottom of the pan. Squeeze the juice of one lemon and grind some fresh pepper over the paella before serving. Taste to make sure there is enough salt, add more if necessary.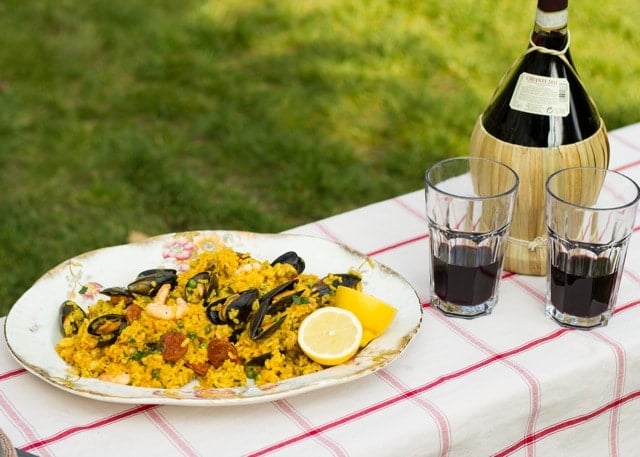 Serve with some crusty bread and robust Spanish wine.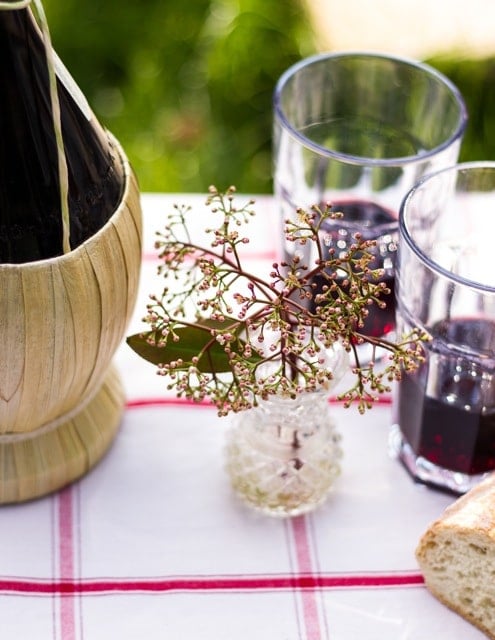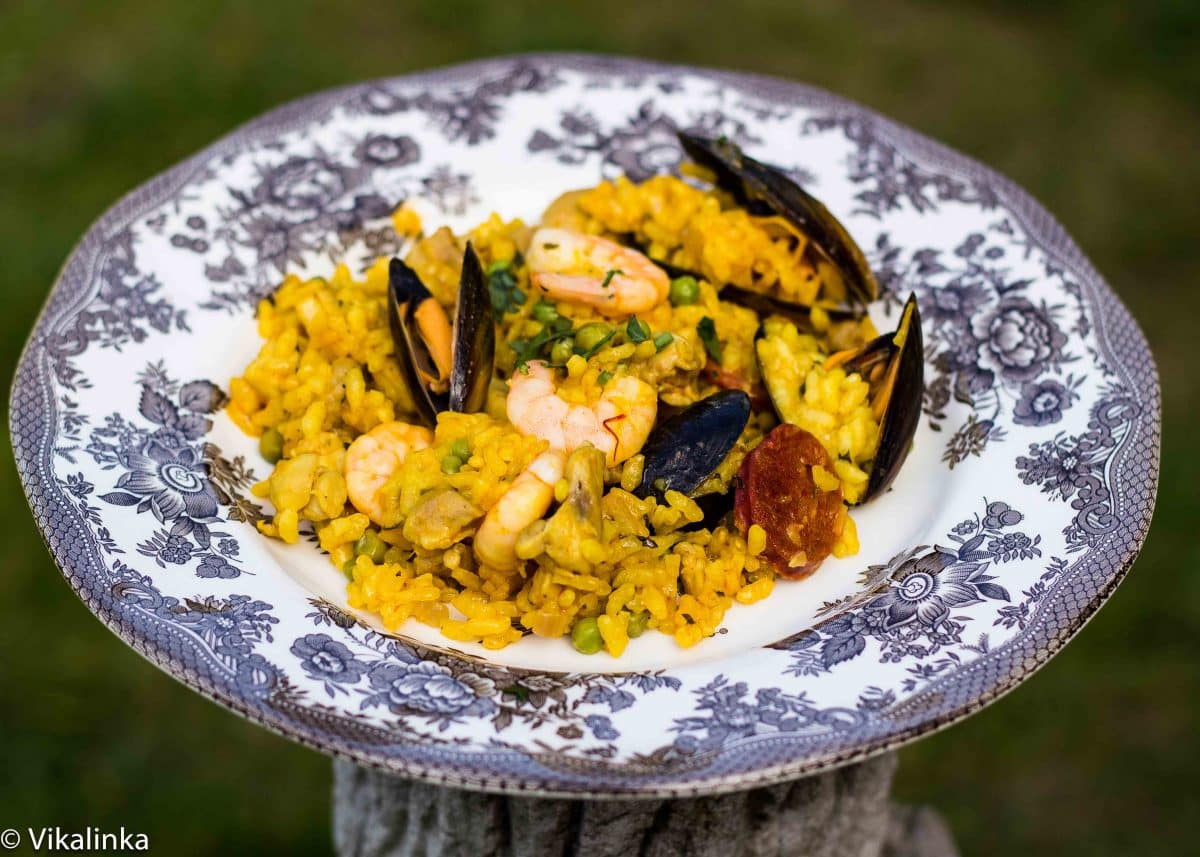 Note: This recipe was adapted from Jamie Oliver's "Jamie Does Spain".