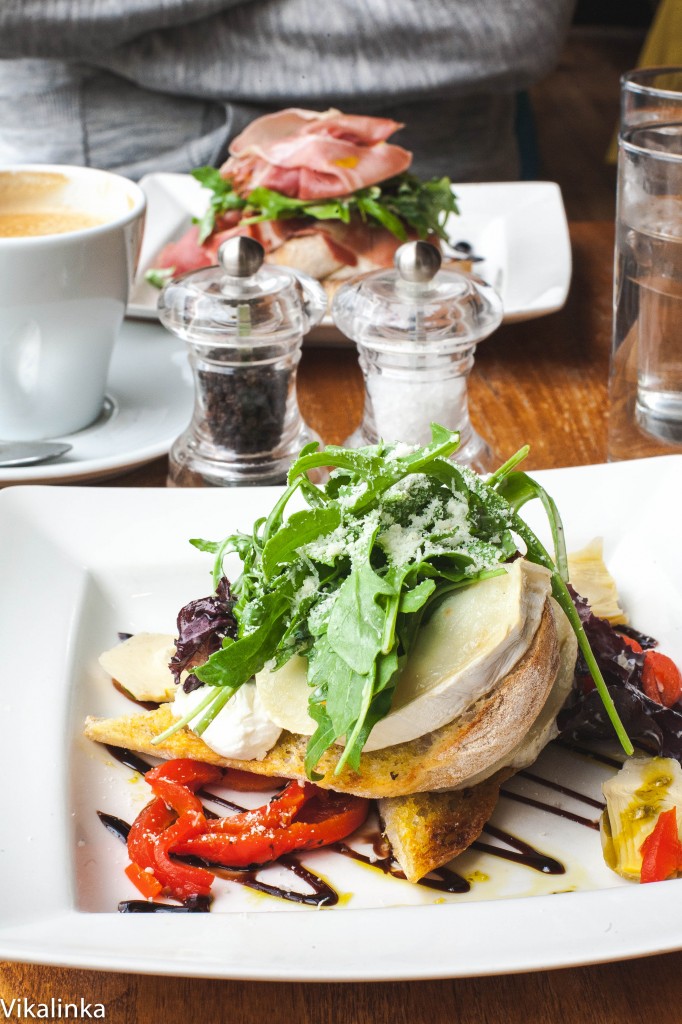 I am a HUGE fan of bruschetta, especially in the summer. I can't think of a better light dinner than a slice of grilled bread topped with all things imaginable and perhaps a glass of wine. This scrumptious combo would taste even more alluring if I were eating it while basking in the sunshine. All I want to enjoy in the summer is its abundant produce.
Brad and I snuck away for a weekend in Bath recently thanks to our wonderful friend who offered to babysit. An offer like this for busy parents of young children is more valuable than gold and those of you who are in a similar situation would undoubtedly agree. We spent a slow weekend walking the old streets of Bath, visiting old Roman ruins and eating. Yes, we did a lot of eating.
One of the cafes we visited in Bath was called Cafe Lucca that served an array of bruschettas. I loved mine so much I came home and recreated it from memory. It takes 5-10 minutes to rustle up but tastes infinitely more glorious than an ole boring sandwich.
I absolutely adore all ingredients in this bruschetta- crusty bread that has a nice chewy crust but soft on the inside, slightly warm and tangy goat cheese balanced out by the sweetness of roasted red peppers and crispiness of artichoke hearts. A handful of arugula add a pleasant peppery taste that pulls all flavours together, and last but not least is a drizzle of pesto and balsamic reduction. Just dip and swirl little morsels in that gorgeous concoction.
Those are my favourite things. However, there are no hard and fast rules when it comes to the flavour combination so feel free to use whatever makes your heart sing.
I love goat cheese but if goat cheese is not your cup of tea, feel free to substitute with brie or camembert.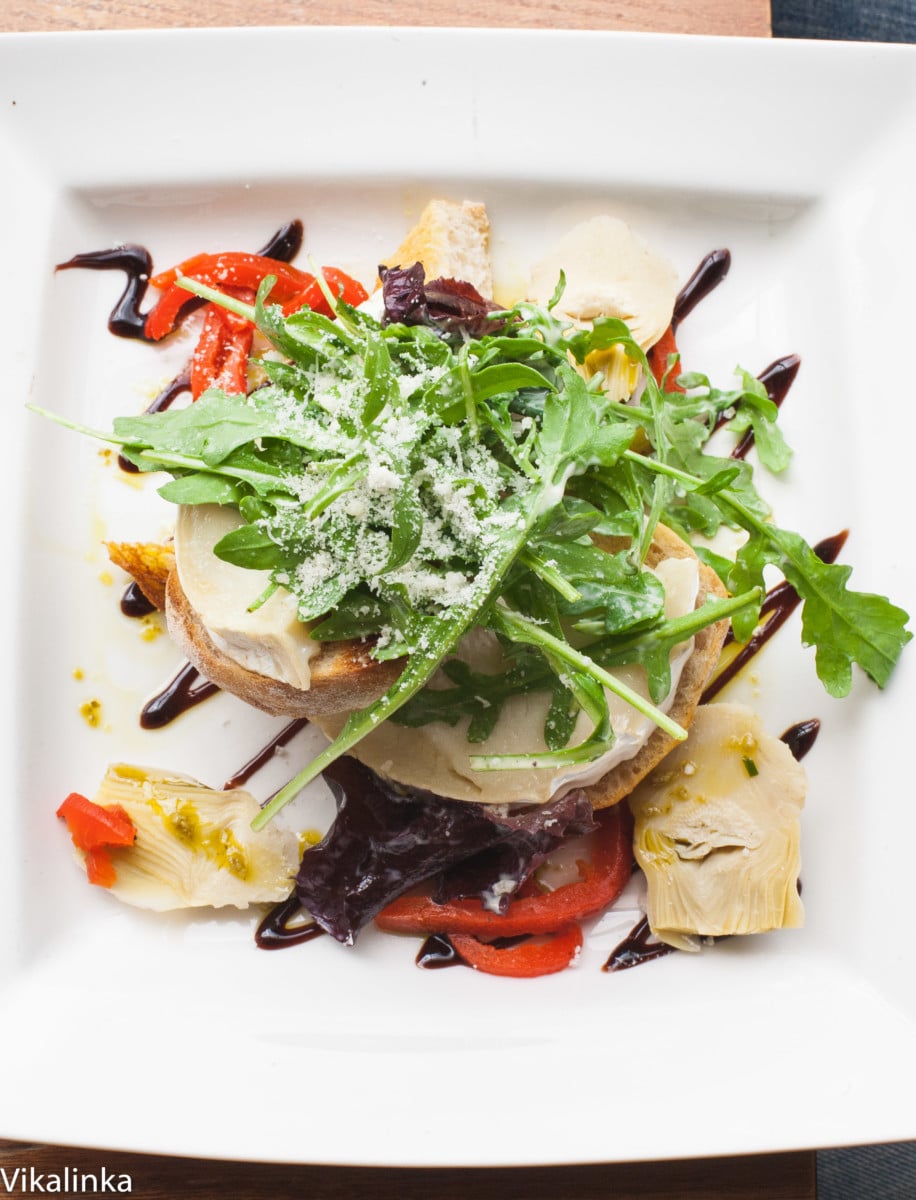 Ingredients
2

thick slices of bread

4

thick slices of goat cheese or brie

not spreadable goat cheese

1

roasted red pepper

from a jar or your own

2-3

artichokes packed in oil

1/2

cup

arugula/rocket

2

tsp

freshly grated parmesan cheese

2

tsp

balsamic reduction

1

tsp

basil pesto

2

tsp

extra virgin olive oil
Instructions
Slice your favourite crusty bread and goat cheese thickly.

Arrange slices of cheese and bread on a preheated grill or a griddle. Grill both bread (2-3 minutes) and cheese (about 1 minute) on one side only. Do not allow goat cheese to melt.

Sprinkle a serving plate with pesto mixed with extra virgin olive oil and balsamic reduction. (Link for recipe in the post.)

Cut each slice of bread in half and place it on a serving plate, top with grilled goat cheese, red peppers, artichokes and arugula. Sprinkle with a teaspoon of freshly grated parmesan cheese.
Nutrition Facts
Grilled Goat Cheese, Red Pepper and Artichoke Bruschetta
Amount Per Serving
Calories 372
Calories from Fat 234
% Daily Value*
Fat 26g40%
Cholesterol 57mg19%
Sodium 956mg42%
Potassium 182mg5%
Carbohydrates 18g6%
Protein 16g32%
Vitamin A 1027IU21%
Vitamin C 18mg22%
Calcium 178mg18%
Iron 2mg11%
* Percent Daily Values are based on a 2000 calorie diet.