This rustic Italian Beef Ragu requires minimum skill or effort as it is made easily in a slow cooker. Use it with spaghetti or in lasagna and freeze the rest!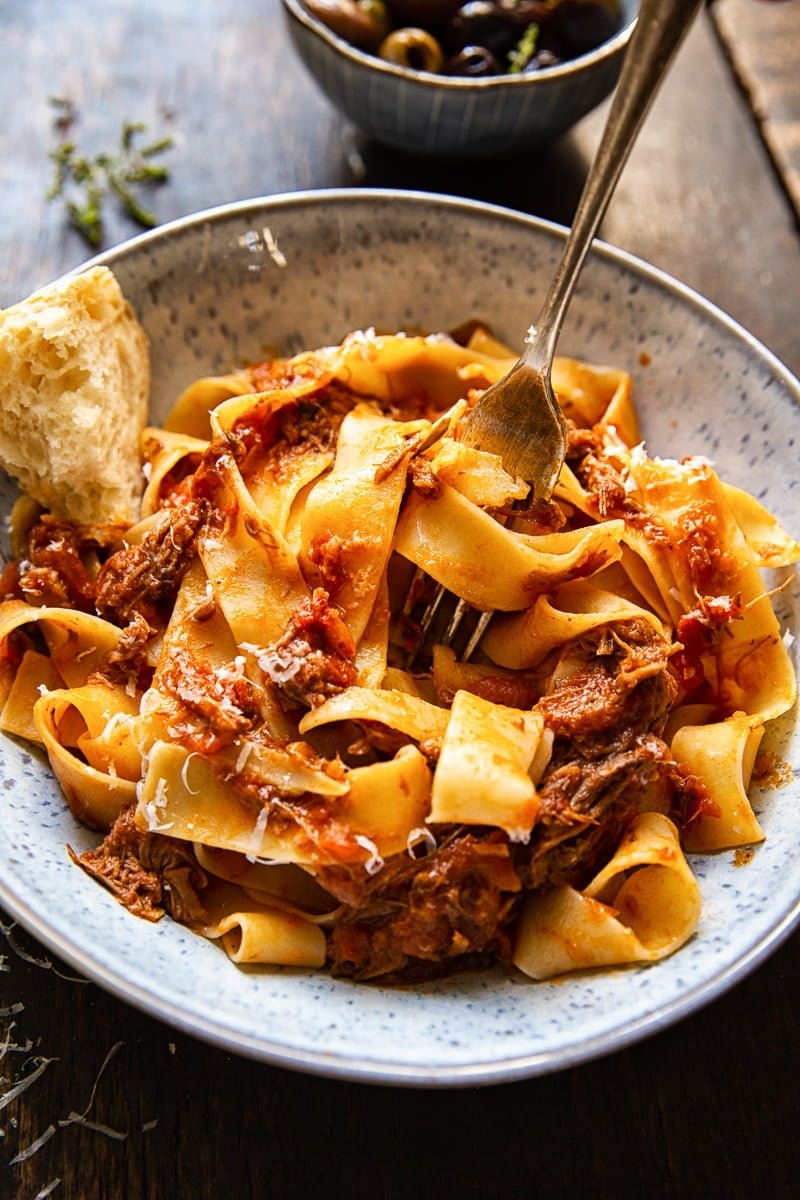 I am going to admit openly that I am not a big fan of crock pots. I don't use mine very often, mostly because I enjoy the cooking process and am too much of a control freak to let the slow cooker take over.
I also find meals cooked in a crock pot taste too similar to each other. They taste like stew. I like stew but not every day of the week.
I am however, a HUGE fan of tender, melt-in-your-mouth, big and bold flavour meat. And if a slow cooker has to take the centre stage for this to happen, so be it. I suppose I can share the limelight…for one day.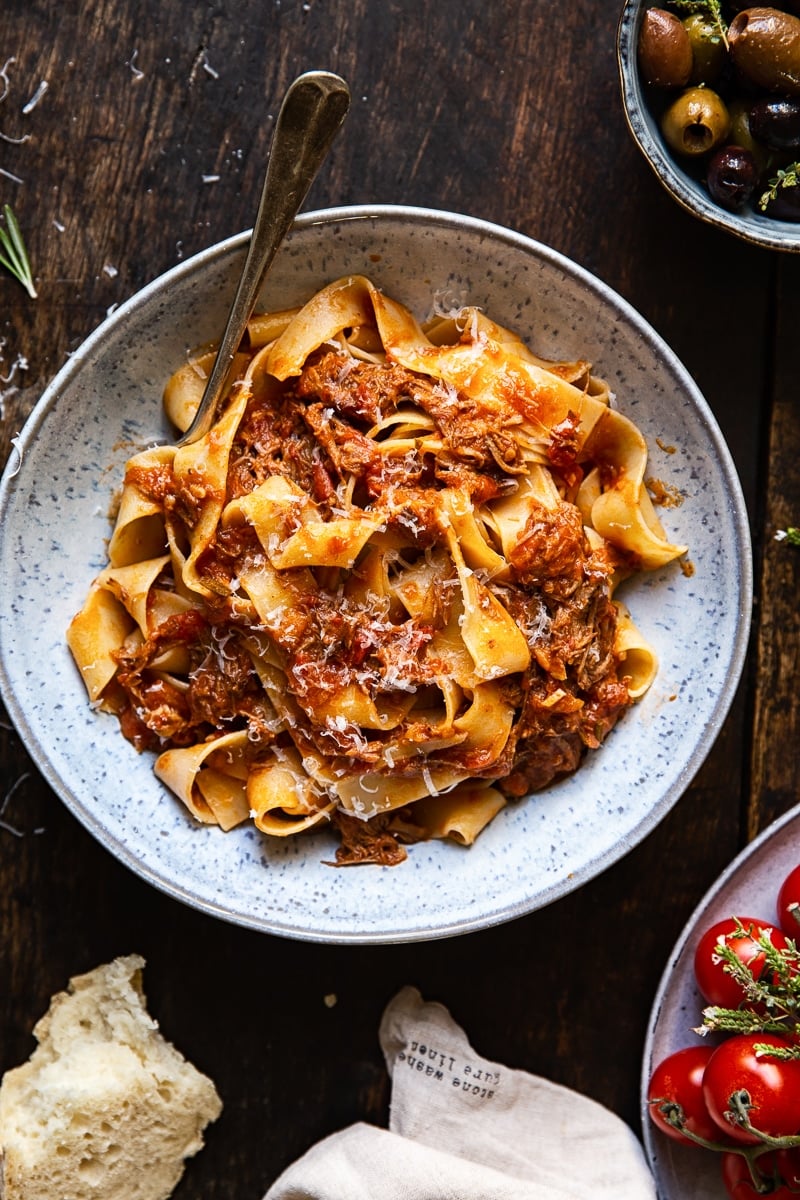 Have you ever had a really tasty and satisfying Italian beef ragu at your favourite Italian restaurant?
I am talking about rich and satisfying meat based tomato sauce that's been cooked for hours allowing for deep flavours to build and blend into a beautiful medley.
I really love rustic dishes that look scruffy and taste earthy. I am not a trained chef and can never attain to high cuisine dishes those guys create but I do understand flavour, and therefore can cook some kick-ass tasty food.
Italian beef ragu is my kind of thing. Every time I eat it at a restaurant I vow to myself to re-create it at home one day.
I am so pleased the day is finally here. Lo and behold. Maybe not exactly food art but a beautiful sight nonetheless.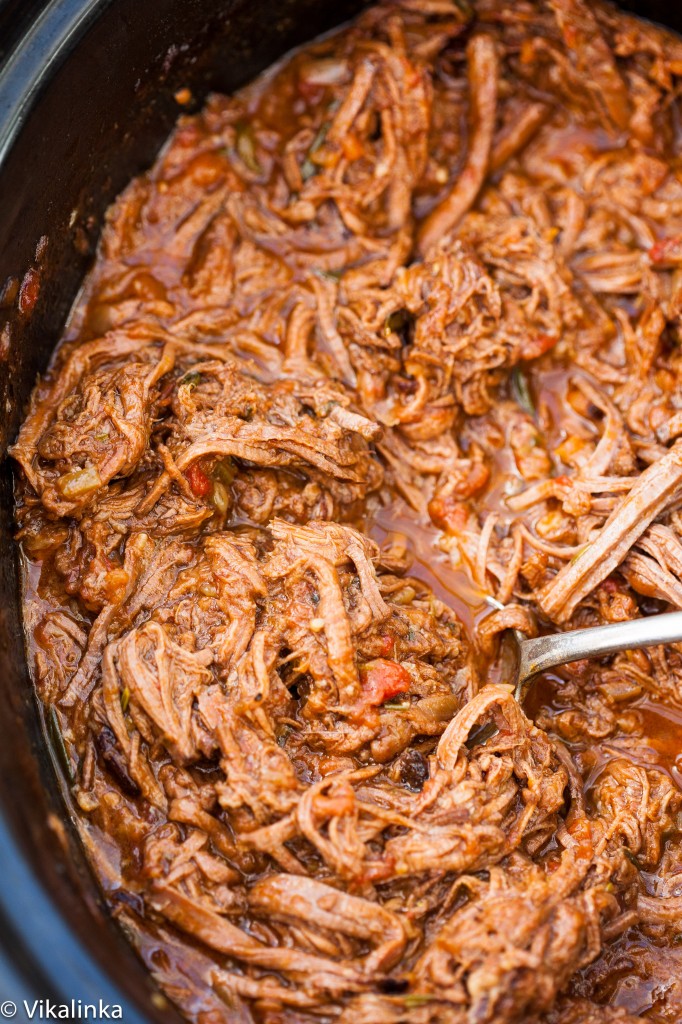 I can't even begin to describe how tender and flavourful this ragu is.
What is Italian Beef Ragu?
Just imagine a 4 pound hunk of beef smothered in plum Italian tomatoes, fresh rosemary and thyme. Then it is sprinkled with salt and pepper and minced garlic and drowned in half a bottle of Chianti. It is then left simmering slowly for 12…that's right I said 12 hours over low heat.
How can it not taste divine? I ask you HOW?
In all seriousness though Italian Beef Ragu and Bolognese sauces are twins but not exactly the same. There are differences but they are so subtle that many Italians use the words interchangeably. The main characteristic of the beef ragu is it's heavily meat-based sauce.
If you see more meat than tomato, you've got yourself a proper Italian beef ragu.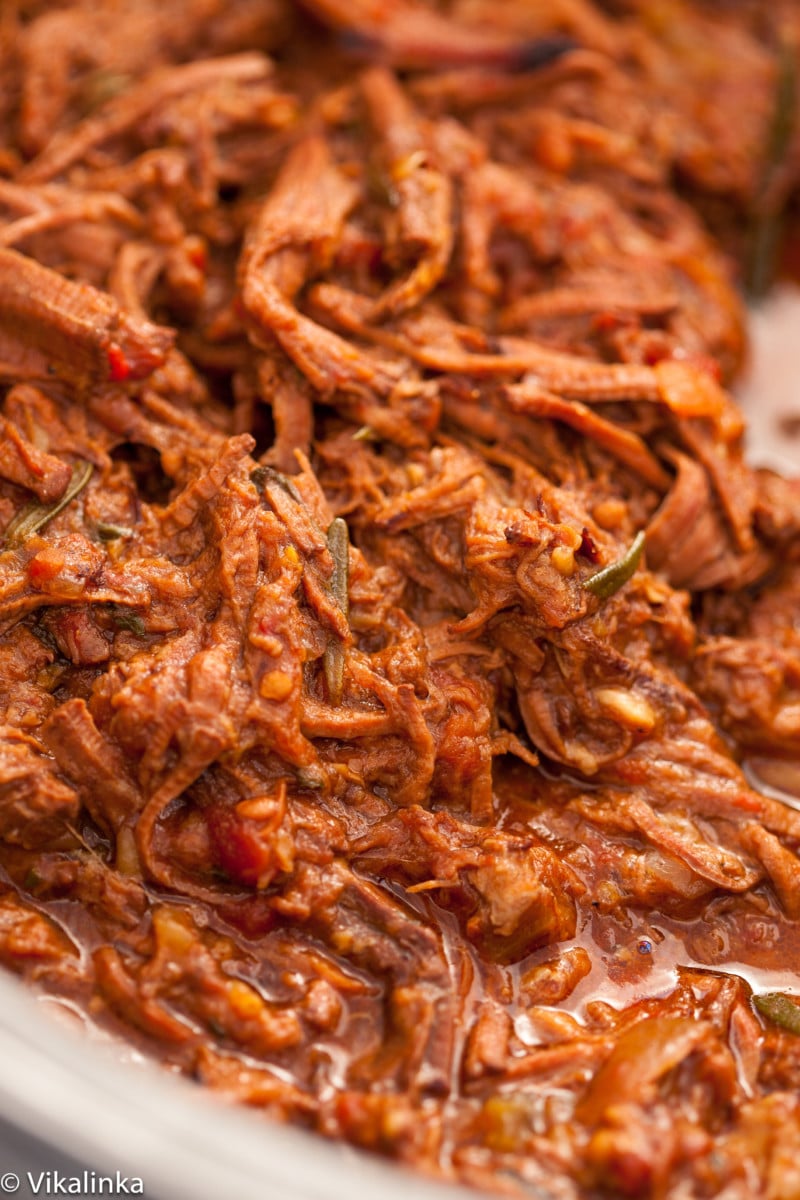 The bold taste of this sauce will leave you gobsmacked. I mean in a complete disbelief that you barely lifted a finger for this awesomeness to come out of your kitchen. Crock pot you win.
What can I serve alongside this beef ragu?
You are probably wondering how to eat this delicious sauce. Well, seeing that it's Italian I served it with pappardelle pasta and and generous grating of parmesan cheese.
Actually you can serve this beef ragu with any pasta of your choice. Just bear in mind that it's a robust sauce, so your pasta should match it.
No delicate capellini or even spaghetti will do. It will however, taste great with rigatoni, penne or any other sturdy pasta.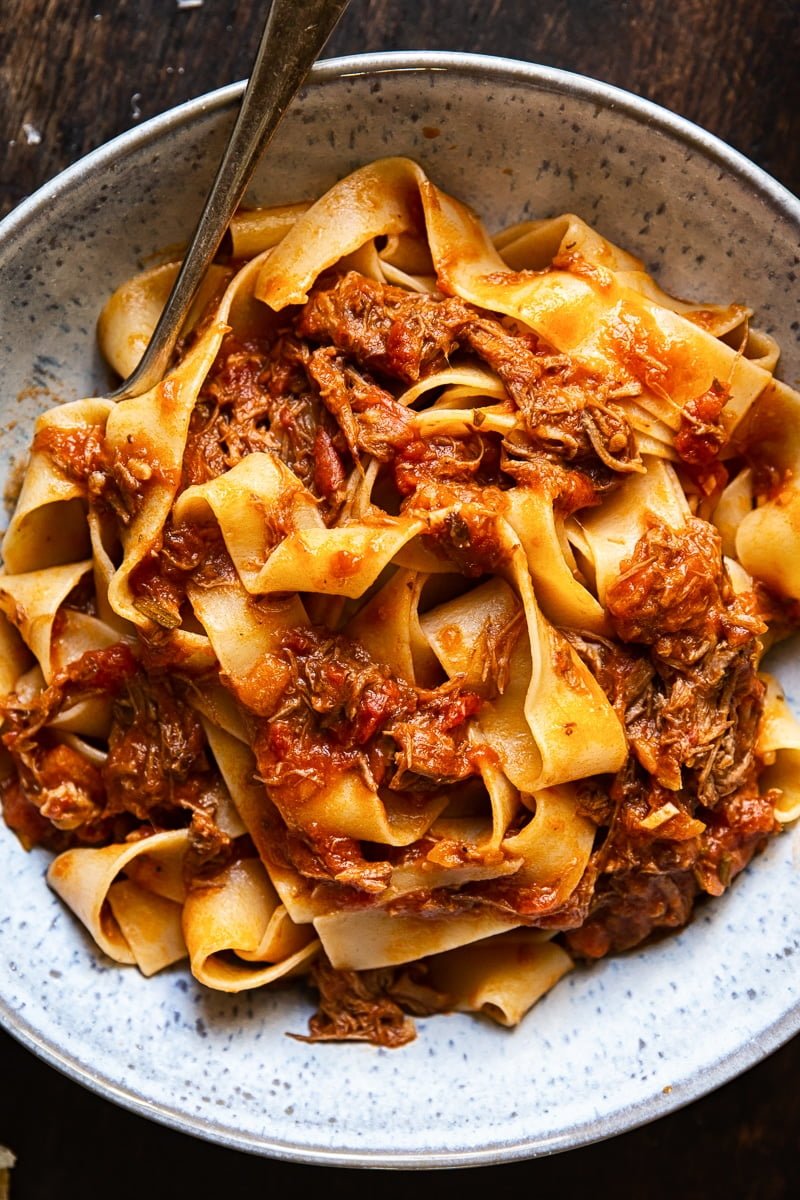 How versatile is this beef ragu recipe?
Although this delicious beef ragu is Italian by origin don't let it stop you from serving it with anything you can think of.
At the end of our dinner tonight, we all agreed this meat would taste absolutely amazing in a burrito, served on top of rice or even with some potatoes.
This Italian beef ragu incredibly versatile and because you cook a whole roast you are bound to have lots of leftovers. I froze mine and can't wait to put them to good use later in the month. Stay tuned.
Update: Since I made this Beef Ragu I published two more recipes using it- Rustic Three Cheese Lasagna and Italian Beef and Roasted Red Pepper Quesadillas.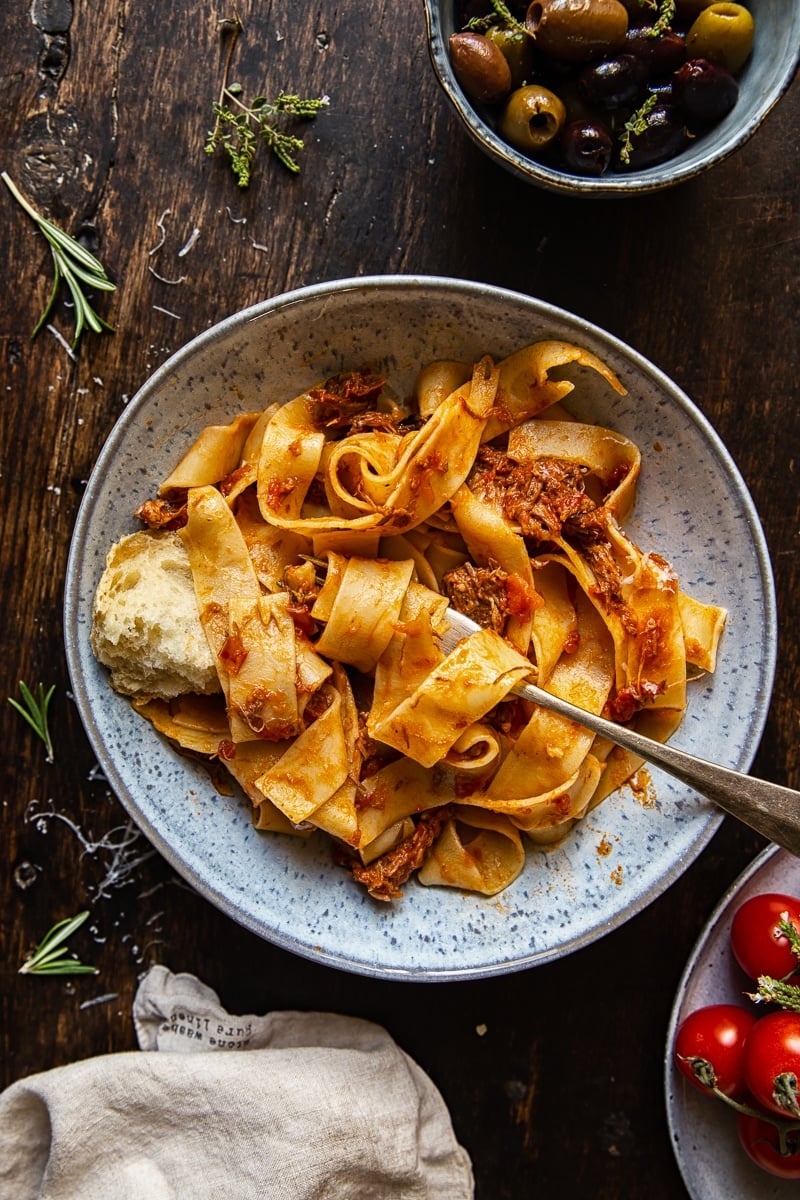 This ragu freezes absolutely beautifully! And let me tell you, you will be so pleased to find a container of this goodness on a night when you can't possibly face the kitchen!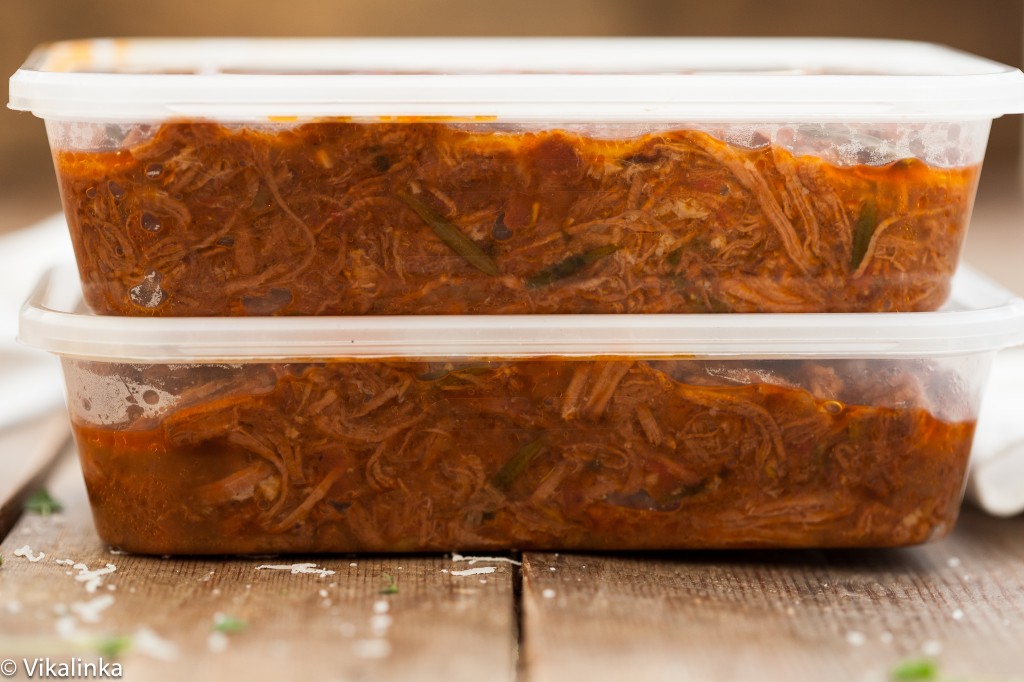 If you love using your slow cooker, let me suggest some of my favourite recipes
Slow Cooker Beef Bolognese Sauce
Slow Cooker Thai Chicken and Wild Rice Soup
If you make any of these recipes, tag @vikalinka in your Instagram snaps to show off your creations!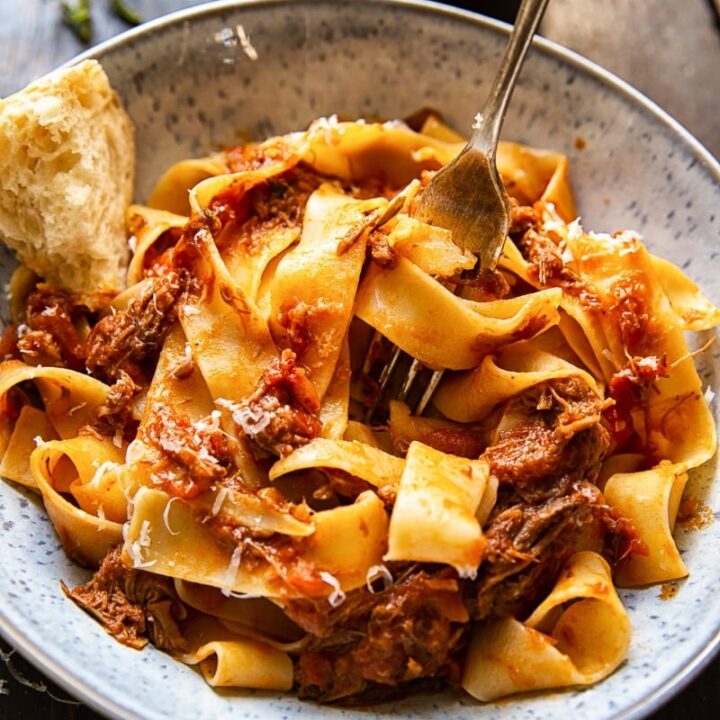 Crock Pot Rustic Italian Beef Ragu
Rich Italian beef ragu slowly simmered in your slow cooker for maximum flavour. Use this delicious sauce on any pasta you love!
Print
Pin
Rate
Ingredients
3-4

lbs

beef roast

the cheapest cut will do

2

tbsp

olive oil

2-3

sprigs

handful each fresh rosemary and fresh thyme

stems discarded and leaves finely chopped

1

small red onion

peeled and finely chopped

4

garlic cloves

peeled and finely chopped

1

carrot

peeled and finely chopped

1

celery stick

finely chopped

375ml/ 1 ½ cups

red wine

such as Chianti

3x400g/14oz

cans chopped tomatoes

crushed tomatoes for North America

2

tablespoons

pearl barley

optional

1

tsp

salt and freshly ground black pepper

500

gr

fresh or dried pappardelle pasta

or rigatoni

2

tablespoons

unsalted butter

2

handfuls grated Parmesan cheese

plus more for garnish
Instructions
Chop onion, carrot and celery, mince garlic and chop rosemary and thyme and put everything on the bottom of a crock pot.

Cut roast into 2"-3" cubes and brown them in olive oil in a frying pan over high heat in stages, don't overcrowd the meat so it browns nicely. Add it to the vegetables.

Off the heat pour wine into the frying pan and use wooden spoon to loosen all the delicious bits from the bottom of the pan, that's where much of the flavour is concentrated. Pour the wine into the crock pot along with canned tomatoes.

Sprinkle barley all over, which will add texture and more flavour to your ragu, not to mention fibre and nutrients.

Add a teaspoon of salt and freshly ground pepper.

Cook on low for 10-12 hours.

In the last hour take the lid off and shred the beef with two forks, add one more tablespoon of fresh rosemary and thyme and a splash of water or wine if the meat is too dry.

Cook for one hour longer.

At the end of cooking time stir in butter for more flavour and to add a gloss to your ragu.

Before serving cook your pasta in a large pot of salted water according to package directions.

Combine ⅓ of beef ragu with hot pasta and sprinkle with freshly grated Parmesan cheese.

Freeze the rest of ragu for later use.
Recipe adapted to a crock pot recipe from ever so awesome Jamie Oliver.